Today, we can observe a true video revolution because clips and reels of any concept and message surround us everywhere. Social media networks, websites, TV – present-day reality is impossible without video content. It is not surprising that clips and reels have become a new normal in the context of digital marketing.
According to Word Stream's latest statistics, video brings much more customer retention to businesses. In 2021, people started to watch various video content twice as much than 2 years ago. While watching catchy clips, stories, or promo reels, 95% of viewers were retained in comparison with only 10% of respondents who read text messages!
The key benefit of video content is its flexibility and brings the easiest perception of material. According to CISCO's survey, video marketing is expected to generate about 80% of total online traffic by 2022. There will be 5 billion video-driven Internet users in a year, according to the CISCO's predictions.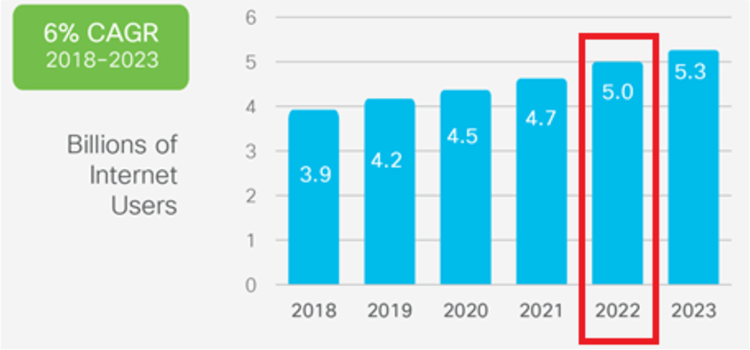 It is recommended to develop a well-thought digital marketing strategy with an efficient video SEO optimization campaign to generate more organic traffic with the help of high-grade and catchy video content on your website.
What is Video SEO?
Video SEO is a win-win tactic that will optimize your video content in the best way. SEO-friendly clips and reels are indexed and ranked high on search engine results due to their relevance to keyword searches. Together with improved website SERPs, you can count on other advantages of video SEO optimization:
Boosting conversions and sales – according to a Treepodia survey, SEO-friendly video content can boost sales and conversions by 80% of any business.

Excellent return-on-investment rates – great ROI is one more benefit to count on when it comes to video SEO optimization.

Perfect motivation for newcomers – SEO-friendly videos are not only about trust, but for motivation as well. Attract more audience with interesting content.
To sum up, it is worth noting that Google and other search engines love video content. For example, according to Moovly research, your chances to hit Google's top searches is increased by 53 times if an SEO-friendly video is embedded on the website.
You are likely to increase your organic traffic with a qualitative video SEO campaign that includes high-grade multi-media. It means that you can use images, documents, checklists together with videos on donor websites and enjoy increased search positions with improved credibility with search engines regarding your online resource.
How Videos Can Increase Your Organic Traffic?
Remember that your site is like one mechanism with many details. Videos can become your true boosters of on-page search page optimization and link building. Let's take a closer look on how The best video SEO practices bring more organic traffic and improve other essential processes for your brand recognition, conversions, and business showings:
High-quality video content helps entrepreneurs win backlinks. Improved link building brings a higher ranking to your website while enhancing your website SEO.
Catchy clips and reels catch the audience's attention and promote social shares. This way you will make your website more visible on the Internet and well-recognized by search engines.
Interesting videos increase the time online visitors spend on your website. Prolonged sessions promote better SEO for sure and bring higher SERPs.
The best-matching video content reduces bounce rate time. This is beneficial for SEO because high bounce clicks are recognized by search engines as a signal of low-quality content on the website.
Hit-the-spot videos increase UX and conversions that are highly appreciated by Google and improve your SERPs.
SEO-friendly video content generates rich snippets. According to Search Engine Journal, videos that are short but best-matching to user queries can help your business stand out. Google will show the clip, video guide, or other video content as a recommendation in the search results.
For example, the user query "How to install Windows 11?" will have Google show in top results websites with how-to videos. This way recommended sites in these search results managed to generate rich snippets with the help of their explanatory video content.
Organic Video Results
Besides paid video advertising that is in the focus of modern marketers, it is critical to pay attention to organic search. Having optimized your videos, you can generate fresh and relevant leads and get a new traffic source.
3 Types of Organic Video Results to Consider:
1. Thumbnail video – users see your thumbnail image and the link. Note that this organic search result does not demonstrate any enhanced features. For example, the search query "OG tags" brings three thumbnail videos at once. You can see that there are no enhanced features like preview, strings, or content segments shown.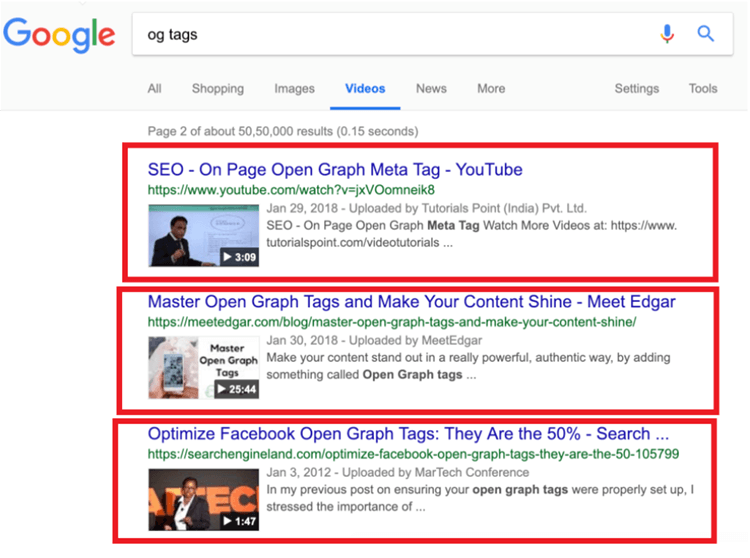 2. Video Carousel - this is the way Google customizes a former video box. Now, you can see some video content grouped according to the search query and presented together. Videos can be shown in a row or in a column for searchers' comfort. Note that this type of video search result features an enhanced appearance. Let's take a look at an example of the video carousel where videos suggested for a query "visit Scotland" are performed in a row.
3. Featured video - the most SEO-friendly search results in the context of your video content. First of all, users will be able to find answers easily because of the video's enhanced appearance. Secondly, this type of video search result is beneficial for your SERPs due to its featured snippet and improved UX. For example, a query "How to make videos with your phone" brings a feature video as an answer and the most relevant suggestion.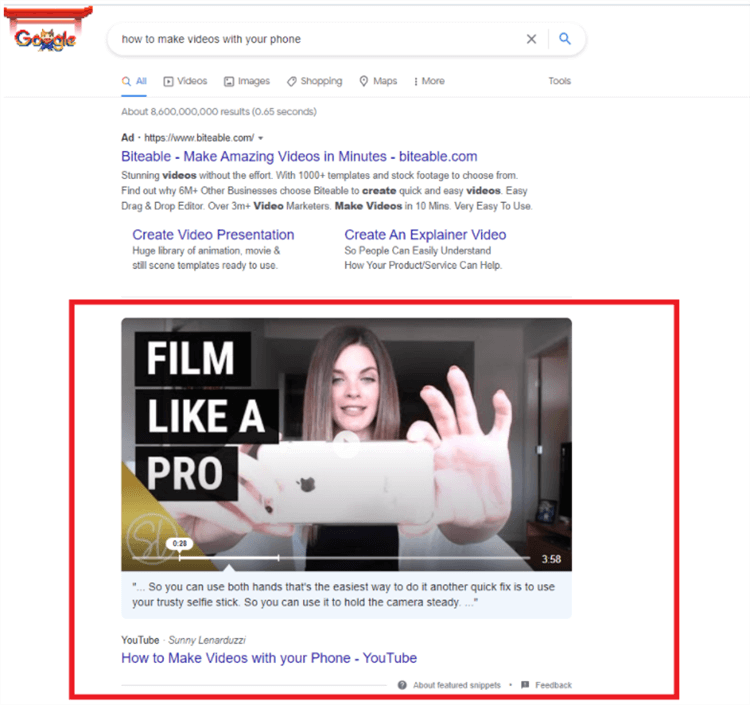 To sum up, your task as a marketer is to hit the organic search results with the help of qualitative video content. To make branded clips and reels more attractive for search engines like Google, video SEO optimization should take place. There are 7 key milestones to take into consideration for your digital marketing strategy.
How to Optimize Your Video for SEO?
To maximize your business ROI and get better website SERP performance with the help of videos, you need to optimize your video content for SEO. For this purpose, follow the most helpful tips in the context of your digital search engine optimization strategy.
#1 Keyword Research for Video SEO
Relevant keywords help you target video content and optimize metadata. That is why extensive keyword research should take place at the very beginning of your video SEO optimization. Use a keyword tool to find the most promising keywords and then utilize them strategically for your website content. To get helpful SEO insights in the context of keywords, follow these steps:
Identify your keyword space. Explore key phrases that are relevant for the topics and your video content concept.
Analyze core keyword parameters to select the best-targeting ones. Pay attention to such characteristics as search volume, CPC, and difficulty score.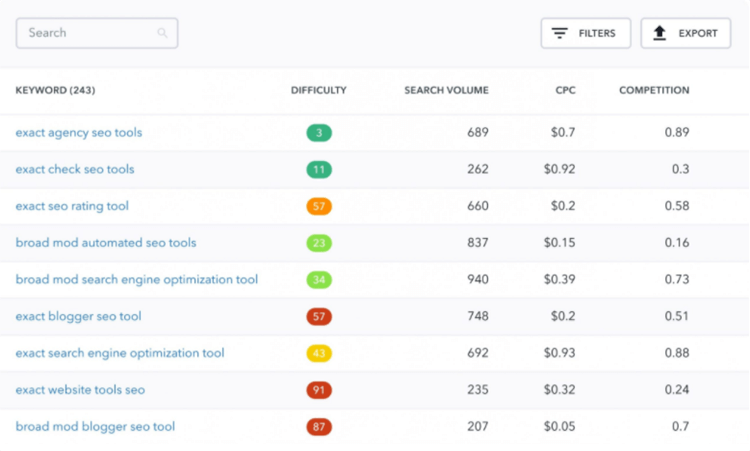 Assess the competition while taking a closer look at the organic search results and advertising keywords of your rivals in the market niche.
Create a keyword list based on an analysis for targeting your video content and metadata optimization. A fantastic example is how American Trucks use their video show, The Haul, to increase traffic and touch on topics like wheels or rims for trucks since they've identified their competitors to have an edge.
#2 Uploading the Video
Note that you need to upload only relevant videos to meet the demands of your target audience. Upload your video content to the host page or your business YouTube channel in the highest resolution and with a high-grade audio background. The video should be 100% relevant to the topic and completely cohesive to meet the requirements of Google or YouTube's ranking algorithms.
According to Propelrr video SEO recommendations, the best resolution is 1280p x 720p for a 16:9 aspect ratio or 640p x 480 p for a 4:3 aspect ratio. Speaking for maximum video quality, it will be the most optimal to opt for 1920p x 1080p or 4K.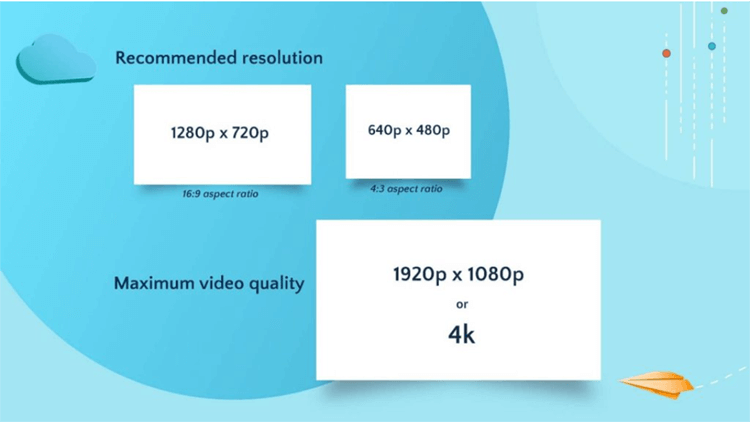 Note that video hosting also matters for SEO. Here is a comparative analysis of self-hosting (when the video is uploaded on the host page) and using YouTube or Vimeo as alternative hosting services.
✓ Self-Hosting

✓ Other Services

✓ It is possible to get domain-driven rich snippets easier and faster

✓ The video player can be customized

✓ Video embedding can be used for link building purposes

✓ Video content gets more media outreach.

✓ It is possible to get higher SERPs while meeting YouTube or Vimeo ranking algorithms.

✓ Additional analytic tools in the creator's studio.
Nevertheless, according to MOZ's team survey results, all hosting solutions have the same SEO background on average. Just decide what video content you are going to use for self-hosting or for uploading on other services.
#3 Attractive Thumbnail Image
Remember that your thumbnail image is the best way to improve your CTR rates. Help users find and understand the concept of your video content from first sight. Additionally, Google requires a valid thumbnail image to make your video possible to appear in Google video features. If you want your page with video content to be indexed well, follow the main requirements for the thumbnail image in the context of Google's video SEO best practices:
Use only supported image formats for your thumbnail image (Google supports BMP, GIF, JPEG, PNG, WebP, and SVG formats).
Use images at least 60x30 pixels or even bigger. It is recommended to provide high-quality thumbnail images.
Check if your thumbnail image is accessible for Google bots and crawlers. If this file is blocked by robots.txt, the page will not be indexed.
#4 Video Transcript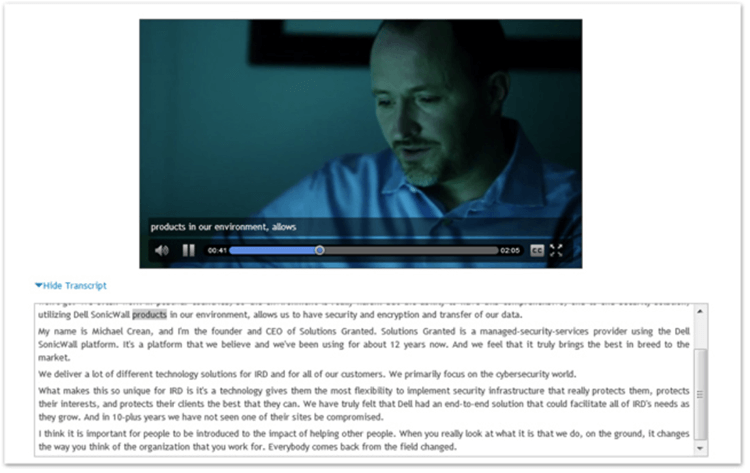 To make your page with video content easier to be crawled, transcripts and captions are used. This is a text that can be read instead of listening to the audio background. With the help of video transcripts as a textual representation of your video content, search engines can index your website pages better and faster.
Additionally, you can use video transcripts both for on-page and off-page SEO strategies. For example, paginated transcripts help with internal cross-linking capabilities. At the same time, video transcripts improve your on-page keyword strategy due to more frequent usage of targeting key phrases.
#5 Add Structured Data
While switching from basic to enhanced appearance, always choose an effective tactic for your SERPs. That is why adding structured data also matters for your website ranking. Use a snippet of JSON-format code to make your video content easier to be recognized by search engines.
Google gets more useful data about your clips and ranks your website higher. For example, you can use Schema Markup Generator to make the process of adding structured data automated.
#6 User Engagement
Remember that Google ranks higher websites with informative and catchy content that is highly appreciated by users and gets excellent viewer responses. That is why video SEO should also be focused on the engagement of your target audience. For example, you can increase your watch time with the help of a teaser at the very beginning of the clip or use other hacks for user engagement:
✓ Encourage viewers to share your video content (promotions, contests, helpful tips to save, etc.).

✓ Initiate commenting on your videos while asking questions and touching sharp questions to be discussed.

✓ Show immediate response while answering comments and questions under the video.

✓ Add search terms or hot-topic questions to the title to increase users' intent.
#7 Video XML Sitemap
The alternative to the practice of structured data is using a video XML sitemap that also provides the same beneficial impact on your page indexing and SERPs. According to Google's video SEO guidelines, a video sitemap makes your video content easy to find by search engines. To submit an XML sitemap, you can use Google Search Console. Testing the video XML sitemap can be carried out with the help of Search Console API as well.
Track Your Analytics
Note that implementation of any SEO approach needs comprehensive analytics to measure results and monitor any changes. In the context of the video content, your main parameters to check are those that relate to the viewers' behavior and retention rates. This way you will see if traffic is increasing or not, determine the potential viewer base growth, etc.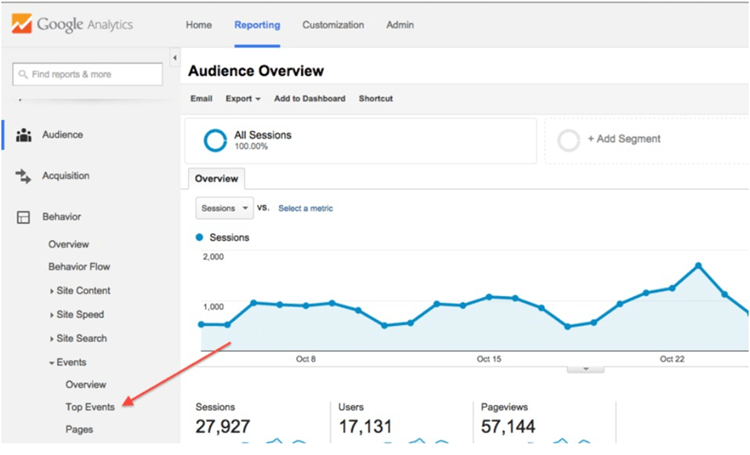 Use online metrics of service providers like YouTube or Vimeo and other helpful tools like Google Analytics, Vidyard, SE Ranking, ViralStat to track your analytics. Your video SEO optimization performance can be analyzed with the help of the following metrics:
Watch session time (the longer viewers watch your video content the better it is)

CTR impressions (the number of people who interact with your videos on the page)

Call-to-Action CTR (click-through-rates after some notification card is shown)

Traffic sources (ways you get your traffic and bring you user engagement)

Unique viewers ( newcomers on your website who watched the video for the first time)
With the help of comprehensive tracking of your analytics, you will be able to estimate your performance and customize your video SEO strategy to get even more excellent results. Use metrics regularly not to miss any critical changes in your statistics.
Final Word
Video content is powerful today in the context of present-day marketing. People prefer watching clips, and video guides instead of reading texts and how-to articles. To catch your target audience's attention, get media outreach, increase traffic, and boost your conversions, video SEO optimization is used.
There are many tactics and hacks to make your video content SEO-friendly and bring higher search rankings to your website. Among the most essential ones are keyword research, metadata optimization, video transcripts, structured data submission, thumbnail image customization, and user engagement practices.
To monitor your video search engine optimization performance, you should track your analytics with the help of suitable metrics like CTR, watch time, unique users, traffic sources, etc. Remember that video marketing together with video SEO is our new normal that can take a business to a new level!
Interactive Templates
200+ Editable Drag & Drop Templates