Have you been on a journey to find the ideal survey tool, only to find shortcomings in each?
I've been there too! 😒
During my quest for the perfect survey tool, Qualtrics appeared on the horizon. While it does possess commendable features, there were gaps that couldn't be ignored.
My search for a more comprehensive solution brought me to involve.me. Now, the question is, can it be the alternative that outperforms Qualtrics and truly caters to our needs?
To find out, we'll dive into a direct comparison of these popular survey tools, analyzing their prominent features to identify the best tool for your business in 2023. 
Qualtrics Vs. involve.me Rating
 

Qualtrics

Best For

Creating targeted surveys,
polls and dynamic feedback forms

Creating beautifully designed, responsive and custom
forms, surveys, quizzes and calculators.

Trustpilot

1.4

4.4

G2

4.4

4.7

Crozdesk

4

4.7
Qualtrics Vs. involve.me Pricing Plans
 

Qualtrics

Free Trial

No

Yes

Free Version

Limited: 3 surveys, no customization,
basic analytics, no data export

Allows 100 submissions/month, 3 live projects,
200+ design templates, partial submissions,
test paid features and much more.

Target Audience

For large enterprises only
(Not suitable for individuals or small businesses)

Suitable for all business sizes including individual users

Pricing

Subscription-based, prices of basic plan starts at $119.35/month

Four plans: Free, Starter plan ($19/month),
Professional plan ($49/month), and Business plan ($149/month)
Qualtrics Vs. involve.me Features
| | | |
| --- | --- | --- |
|   | Qualtrics | |
| Multiple Outcomes | No | Yes |
| Quiz Functionality | No | Yes |
| Calculator Functionality | No | Advanced |
| Advanced Math Functions | No | Yes |
| Live Support | No | Yes |
| Data Validation | Basic | Advanced |
| Pop-up Embeds | No | Yes |
| Design Options | Basic | Advanced |
| Detailed Funnel Analytics | No | Yes |
| Completion rates | Yes | Yes |
| Response Summary | Yes | Yes |
| Export Data | Yes | Yes |
| Custom Font | Yes | Yes |
| Answer Piping | Yes | Yes |
| Conditional Logic | Basic | Advanced |
| Automated emails | Yes | Yes |
| Insert images | Yes | Yes |
| Insert Videos | No | Yes |
| Payment Collection | No | Yes |
| Integration capabilities | Limited | Yes |
| Coupon fields | No | Yes |
| Email Validations | Yes | Yes |
| Device Specific Preview | Yes | Yes |
| Social Sharing | Yes | Yes |
| Webhooks & API | Yes | Yes |
| Drag and Drop | Yes | Yes |
| Custom Formula Builder | No | Yes |
| Distribute Discount Codes | No | Yes |
| Skip Logic | Yes | Yes |
| Templates | Limited | 200+ |
| | | |
Registration Process
The registration process for involve.me and Qualtrics differ significantly. Qualtrics follows a traditional registration process. Users need to manually fill in their details, sign up, and then verify their account via a confirmation link sent to their registered email. While this provides an added layer of security, it also adds an extra step and potentially more time to the process.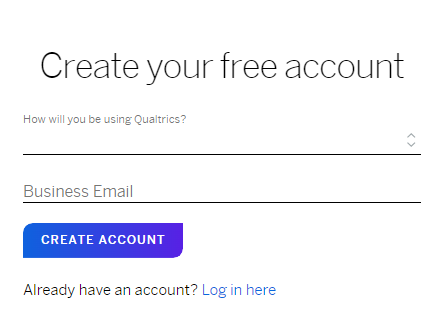 On the contrary, involve.me offers a swift and user-friendly registration procedure. It has option of both account authenticity through its email verification step and simultaneously, it allows users to sign up using their Google or Microsoft accounts. This direct authentication system accelerates the sign-up process, eliminating the need for email verification.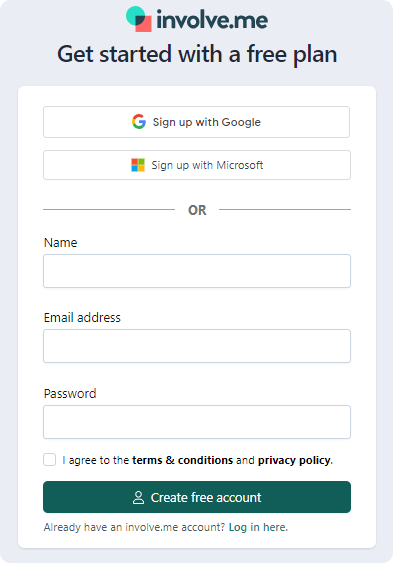 Onboarding Experience
involve.me impressed me with its simplicity and personal touch. As soon as I entered the platform, it requested information about my industry, company size, and intended usage, effectively customizing the onboarding process.
Conversely, Qualtrics provided a basic tour, introducing key features like account settings, catalog, pre-built survey questions, and the help support function. However, this approach felt somewhat overwhelming, leaving me unsure about the starting point and the process to create an interactive survey.
Templates
When comparing involve.me and Qualtrics in terms of templates, the differences are clear in both quantity and ease of access.
involve.me stands out with a broad selection of over 200 well-crafted and interactive built-in templates for surveys, calculators, forms, and quizzes.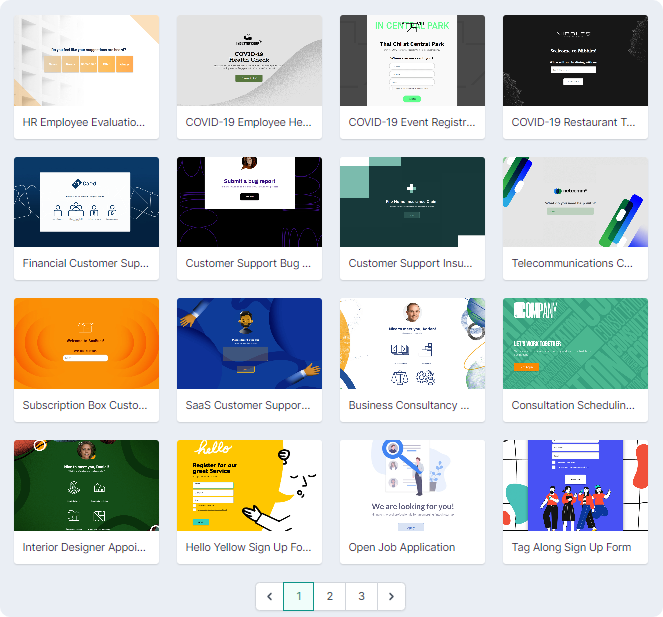 These customizable survey templates are mobile-friendly and highly responsive, allowing users to create a survey in minutes that are accessible across various devices.
Create Your Own Online Surveys
Get Started with 200+ Templates
On the other hand, Qualtrics provides a template library of around 100 ready-to-go survey templates, which can be somewhat difficult to find due to its user interface design. While Qualtrics excels in market research for larger businesses, smaller entities seeking to build simple product pages or contact forms may find the platform less accommodating.
The available survey templates cover popular survey types like Net Promoter Score, customer satisfaction surveys, employee feedback forms and demographic polls, however, you need to start from scratch to create unique use cases.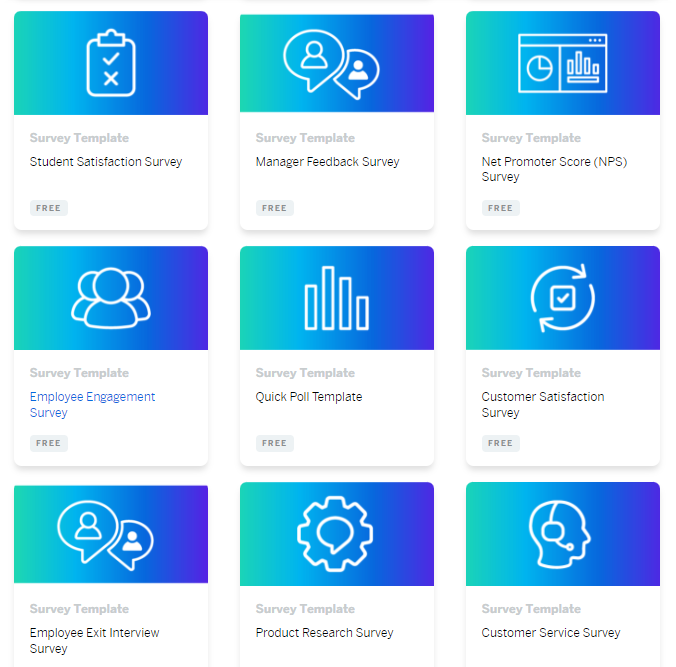 Usability and Customization
Qualtrics offers a robust platform with a suite of features, but its usability can be challenging, particularly for beginners. Navigating the initial steep learning curve might require some technical expertise or training. It has limited customization options with the ability to modify survey colors, fonts, and styles within preset survey layouts. Unique survey elements like auto-advance and custom CSS are available, but overall, customization is not Qualtrics' strong suit.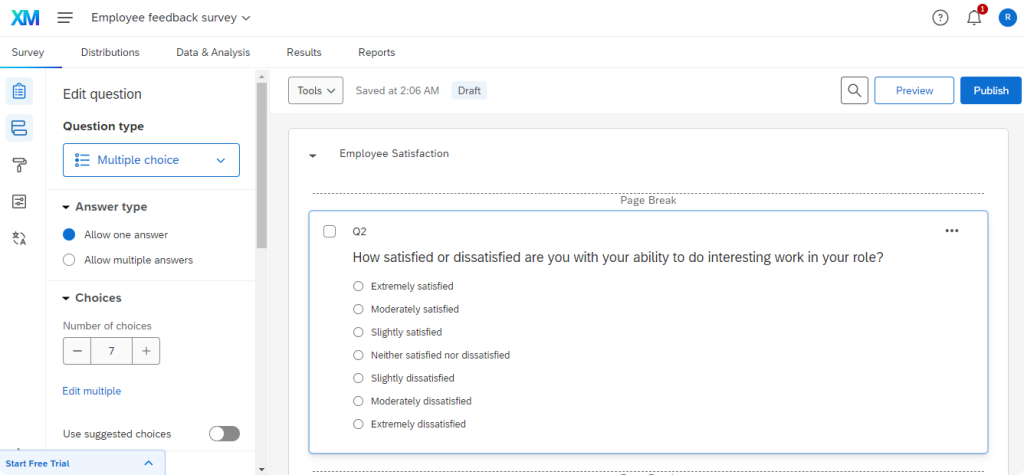 When it comes to usability, involve.me is more accessible for novice users and small businesses. Its "Content Elements" panel simplifies the process of adding diverse question types and multimedia elements like videos, images, GIFs, and audio, which enriches user engagement.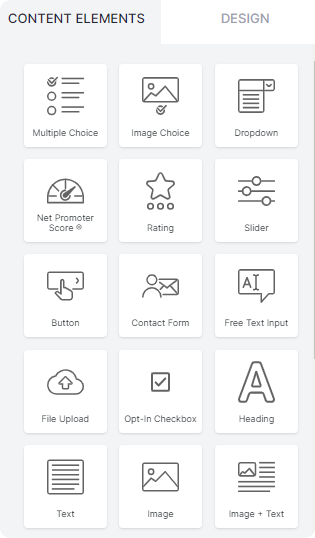 In the realm of customization, involve.me provide extensive design options including survey themes, background change, image adjustments, color modifications, and more. Lastly, with a vast selection of templates, an easy-to-use drag-and-drop editor, and advanced design tools, involve.me has an intuitive user interface offering limitless customization options.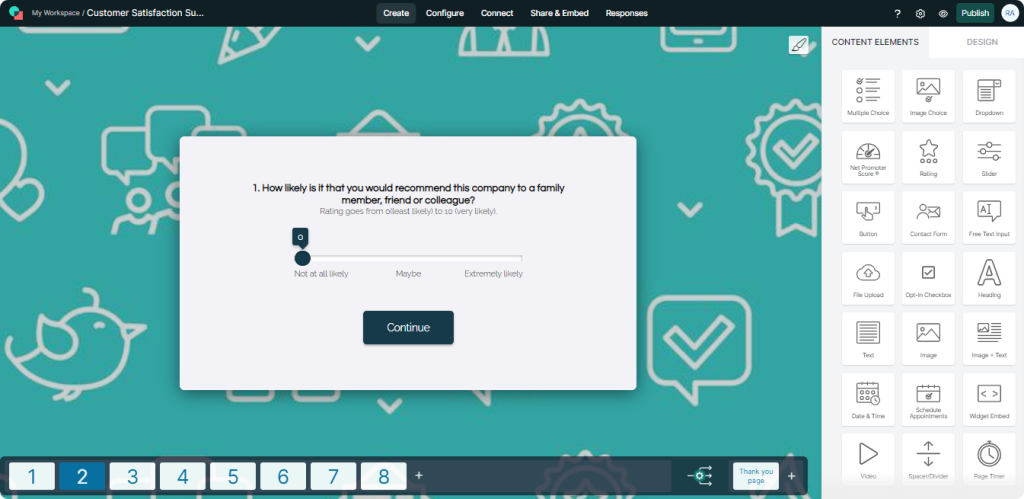 Try involve.me for Free
Creating Quizzes
involve.me streamlines the process of creating quizzes with an array of pre-built templates suitable for different quiz types, including trivia, knowledge-based, product recommendation, Buzzfeed-style and personality quizzes.
Create Your Own Interactive Quizzes
Start with 200+ Templates
In contrast, Qualtrics requires a bit more work. Users can create quizzes using CSS snippets for survey themes.
The process includes adding custom CSS in the "Look and Feel" section, inserting a link to the desired background image, and setting up introduction pages or graphic headers using the Descriptive Text/Graphic question type.
However, you need to have a deep understanding of CSS and the platform's functionalities.
Calculator Functionality
Qualtrics does not provide the ability to create calculators, limiting its usability for certain applications that might require dynamic calculations based on survey responses.
On the other hand, involve.me offers advanced features for calculator creation. Not only does it has pre-designed templates, but it also has complex calculator functions.
involve.me enables the creation of beautiful forms and engaging surveys with capabilities for simple to complex calculations. It has conditional logic feature that allows for IF/THEN scenarios with multiple conditions. This platform is enriched with a formula builder for crafting intricate calculations using basic operators and bracket symbols.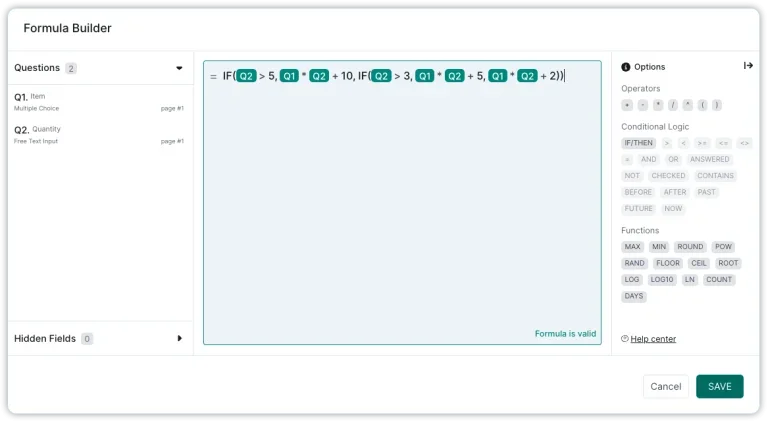 It takes user responses, perform calculations, and display results according to custom formulas. You can also generate varied outcomes based on individual scores, thereby delivering a personalized result based on user inputs. This heightened level of flexibility enhances user interaction and engagement.
Conditional Logic
Qualtrics utilizes a feature known as "Survey Flow" to manage conditional logic within its surveys. This tool allows users to determine the paths their respondents follow based on their answers.
The survey element's order can be manipulated to guide respondents down specific routes, and conditions can be randomized for a diversified experience. Furthermore, once a participant follows a particular route, this can trigger additional actions such as assigning a special value, redirecting the respondent, or ending the survey early. 
However, involve.me takes conditional logic to another level, providing a more advanced, personalized survey experience. Its outcome logic feature accommodates several content elements, including "Multiple Choice", "Image Choice", "Dropdown", "NPS", and "Sliders".
Notably, involve.me allows users to
Create their own scoring logic

Build complex custom formulas

Users can also map one answer to many outcomes and give different weightage to each, so the outcome with the most points gets selected.
Specifically, involve.me provides options for single thank you page projects or multiple outcome projects.
In multiple outcome projects, respondents are directed to specific outcome pages based on their answers or overall scores. This interactive feature is beneficial for creating score-based projects that deliver tailored experiences based on a participant's performance or answer-based projects ideal for profiling users.
Score-based Projects
In score-based projects, scoring can be calculated in three ways:
through an individual score,
 counting correctly answered questions,
or a custom scoring formula.
This flexibility allows users to tailor the scoring process to fit their needs, such as assigning greater importance to specific answers.
Answer-based Projects
In answer-based projects, each answer can be linked to one or more outcomes, or no outcome at all. The platform's advanced "Individual Score & Calculation" option also enables users to assign different weight values to each answer, including zero or negative values, providing greater flexibility and complexity to projects.
So, we can say, with involve.me's diverse outcome logic functionalities, users are empowered to create highly personalized and engaging experiences, making it superior choice for projects requiring dynamic calculations and advanced conditional logic.
Accepting Payment
Qualtrics lacks a built-in mechanism for accepting payments, essentially nullifying any ecommerce functionality. While it's possible to integrate a PayPal account with Qualtrics as a workaround, this method doesn't provide the capabilities needed to adequately design a payment page or embed a payment field, likely resulting in an underwhelming experience journey for users.
On the other hand, involve.me delivers a flexible solution for payment acceptance. It natively integrates with several major payment platforms, including Stripe, PayPal, Mollie, Square, and Braintree.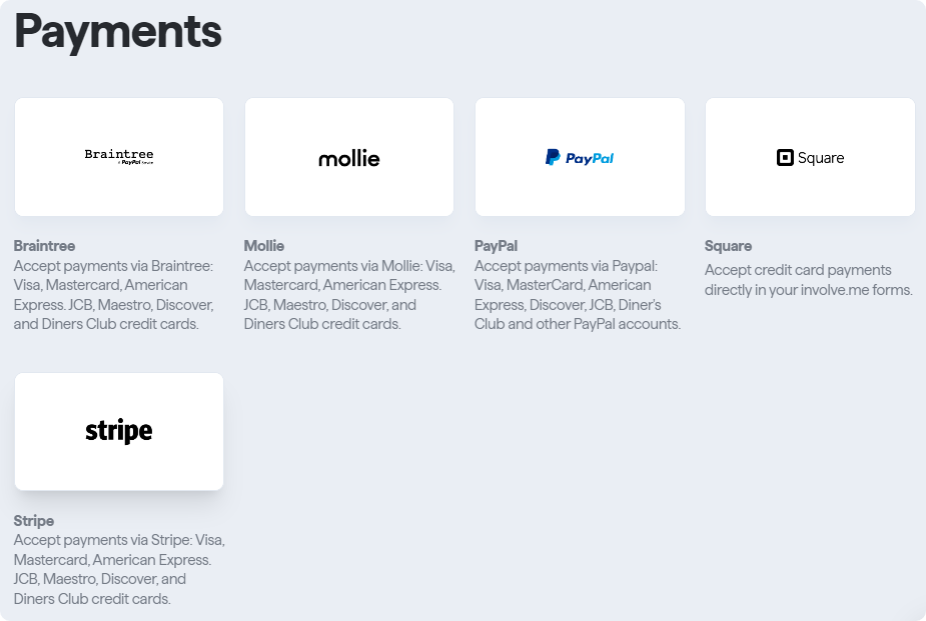 These seamless integrations enable involve.me users to accept one-time and recurring payments directly through their forms, quizzes, surveys, or lead pages. This feature keeps the user experience smooth and uninterrupted, as respondents don't have to leave the platform to make payments.
Data Analytics
While Qualtrics offer powerful data analytics for enterprise businesses, involve.me provides equally effective and, in some respects, superior analytical tools.
Qualtrics focuses on advanced data analysis as its core, allowing users to filter, classify, merge, clean, and statistically analyze survey response data from the Data & Analysis tab.

An additional feature, Stats iQ, enables users to identify trends and develop predictive models. These models could, for example, help anticipate when a prospective user might churn, thereby enhancing customer experience and satisfaction.
In contrast, involve.me offers advanced analytics that not only provide a breakdown of visits and submissions over the last 30 days but also includes detailed funnel analytics.
This suite of features let users track where visitors drop off during the form completion process, offering valuable insights into user behavior and areas that might need improvement.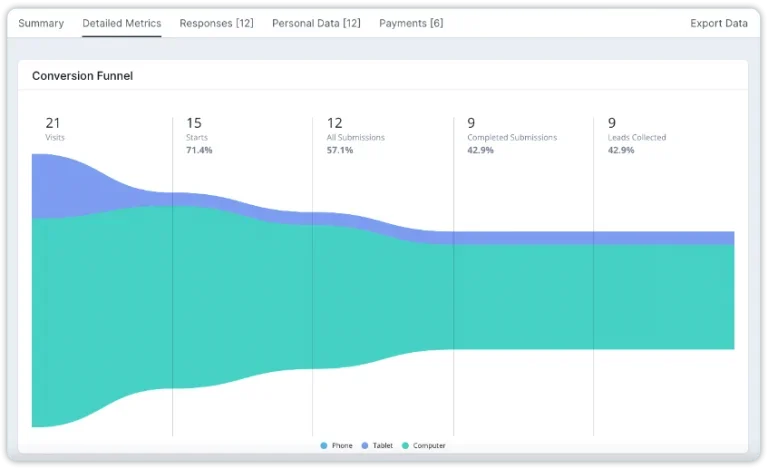 Also, users can browse through the complete participant data set, remove incomplete form submissions, and review partial submissions.
Such analysis features are not present in the Qualtrics platform. Therefore, involve.me provides a more comprehensive view, particularly useful for smaller businesses or those seeking detailed actionable insights into the user journey.
Customer Support
Qualtrics offers multiple support resources, which include detailed support pages addressing a myriad of common queries. These resources are complemented by step-by-step guides that make learning this online survey software straightforward. In addition, Qualtrics has a dedicated customer support team that operates 24/7, accessible via an online request form.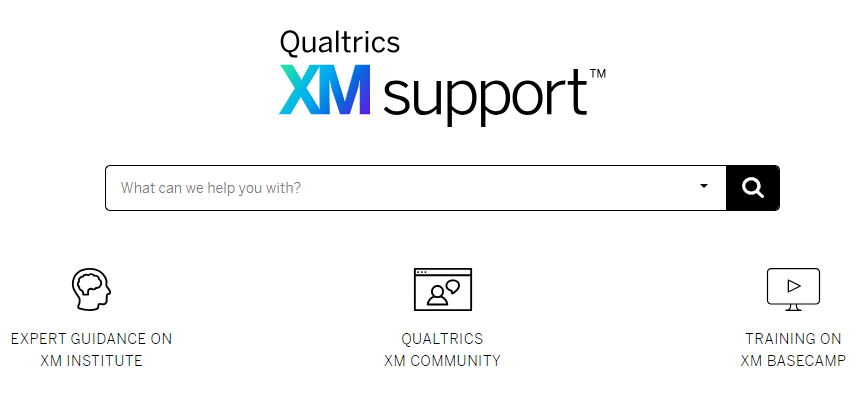 Whereas, involve.me provides an array of customer service support channels. Their live chat feature is a notable advantage, providing users with real-time assistance from experts. Other help resources include YouTube tutorials, webinars, documentation, FAQs, and guides.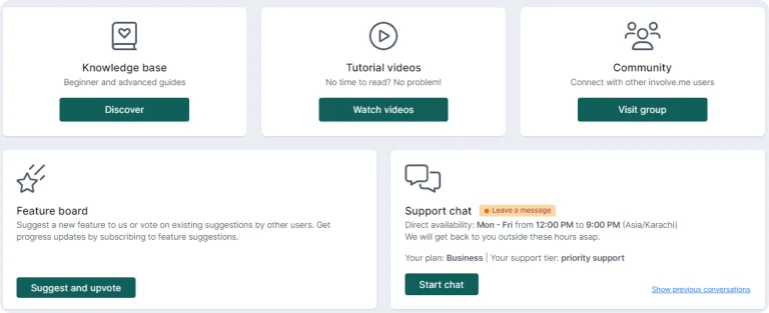 A unique feature of involve.me is its community, where users can ask questions, connect with others, and suggest features or improvements. This all-encompassing approach to customer support ensures users are equipped with all the necessary information for effectively leveraging the platform's capabilities.
Integrations
Qualtrics provides a number of integrations with widely-used software tools, these extensions are only available as paid additions to the Qualtrics license. Some of these integrations include Salesforce, Tableau, Marketo, Slack, Adobe Analytics, Zendesk, Freshdesk, Hubspot, ServiceNow, Microsoft Dynamics, Zapier, Facebook Messenger, Jira, Microsoft Teams, Brandwatch, ReviewTrackers, WhatsApp, and Google.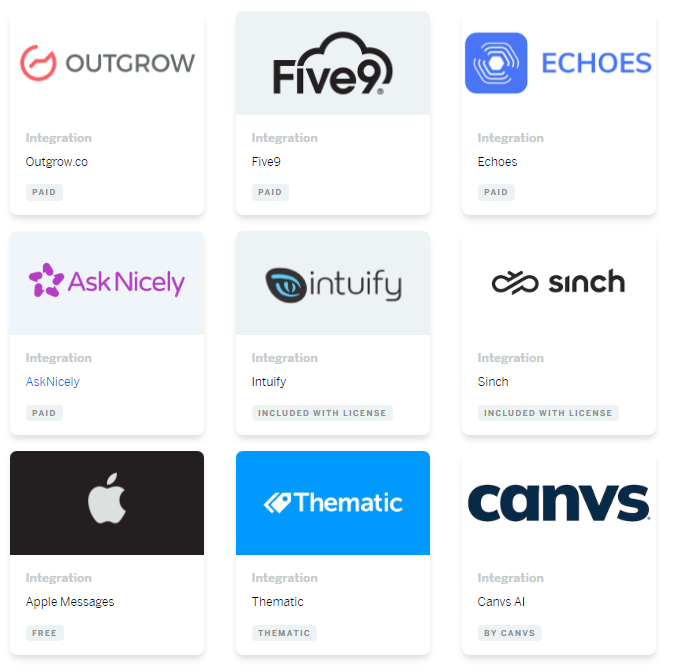 However, involve.me provides a more extensive range of integration options that cater to different user needs. involve.me integrates with several apps via Zapier, thus ensuring seamless interoperability between involve.me and other online tools.
Some of the native integrations include Mailchimp, Google Sheets, Google Analytics, Google Tag Manager, Facebook Pixel, Hubspot, Salesforce, ActiveCampaign, Sendinblue, Slack, and more.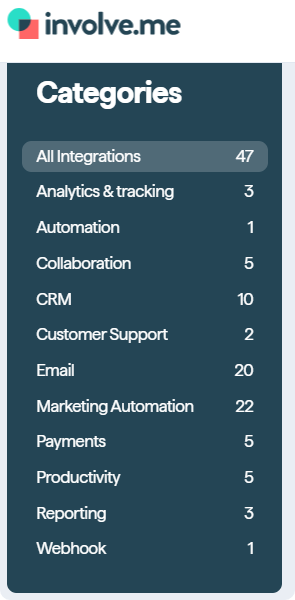 This broad integration capabilities simplify the data management process and improves workflow automation, making involve.me a more versatile platform. Its advanced integrations with payment platforms like Stripe, PayPal, Mollie, Square, and Braintree also set it apart, facilitating quick transactions within the platform.
Try involve.me for Free
Team Collaboration
Qualtrics provides a collaboration tool that enables multiple users to work on the same project without sharing account details. It allows you to control the level of access other users have to your project, tailoring permissions to specific needs. This extends to sharing surveys with individual users and groups within an organization, with shared access to surveys, contacts, and project data. However, collaboration might require extra considerations for single sign-on (SSO) users and those from different organizations.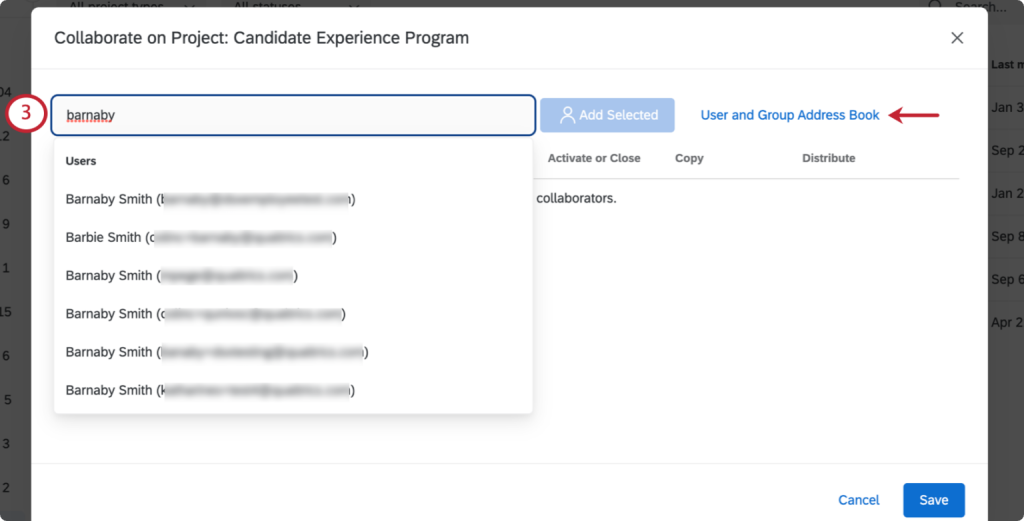 involve.me presents more flexible collaboration options than Qualtrics. It allows users to invite team members to their organization account and assign them to specific workspaces and projects. This system also allows for varying levels of permissions—'editor' and 'viewer'—granting teams control over their workspaces.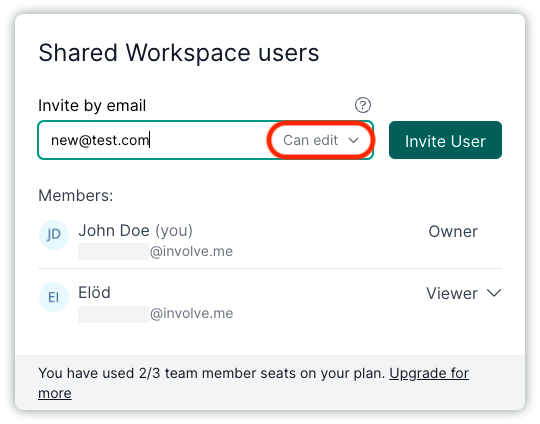 Invitations to collaborate are managed efficiently through email, facilitating ease of access and collaboration among team members. 
Data Validation
Qualtrics and involve.me both offer substantial data validation features to ensure the reliability and correctness of user-submitted data.
Qualtrics provides seven distinct content validation types for text entry questions. These include validations for email addresses, phone numbers, US States, postal codes, dates, numbers, and text-only entries.
Each type of validation checks if the respondent's input adheres to a particular format, such as a valid email structure for the 'Email Address' validation, or only numeric characters for the 'Number' validation.
For example, phone numbers must be valid and cannot contain a country code. Similarly, postal codes must follow the format based on selected countries. This ensures that respondents answer in a manner that is consistent with the question's requirements and eliminates incorrect or irrelevant responses.
On the other hand, involve.me has implemented various input validation features that provide a similar function, yet expand upon Qualtrics' capabilities. This includes email address validation, phone number validation, free text input validation, and file upload restrictions.
For email validation, involve.me goes beyond checking the format, by offering features to prevent the use of disposable, personal, and duplicate email addresses.
Free text input validation enables users to define answer requirements, including length and character type and phone number validation checks format of the number based on the country code selected.
The platform also offers restrictions on file uploads, such as limiting the number of files, restricting file size, and limiting file type. These additional validation features increase the quality and reliability of data collected through involve.me.
Customer Reviews
Lastly, let's take a look at a selection of customer reviews that we've gathered from a reputable review site.
Qualtrics Reviews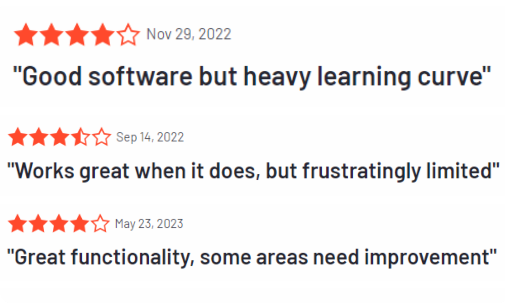 Involve.me Reviews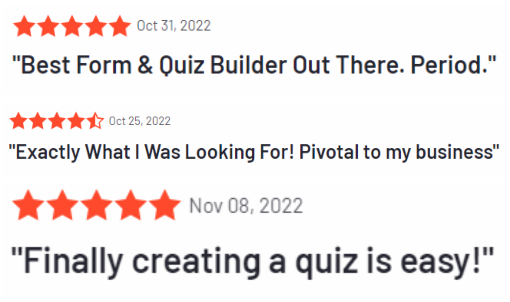 Try involve.me for Free
Final Verdict
After meticulously comparing and contrasting the features and functionalities of both Qualtrics and involve.me, it is clear that involve.me provides a more comprehensive solution that outperforms Qualtrics in several critical areas.
With its simplified registration process, superior calculator functions and extensive template library, involve.me stands out as a versatile solution. Its ability to integrate seamlessly with major payment platforms, advanced analytics, and wide-ranging customer support make it an all-encompassing tool.
So, get started with involve.me to create unlimited surveys, conversational forms and much more
Create Your Own Online Surveys
Get Started with 200+ Templates