Online forms have become an essential tool for businesses and individuals alike, making it easier to collect and manage data. Jotform has long been a popular choice for building forms, offering a range of features and integrations to make the process simple and efficient. However, with the growing demand for online form builders, new alternatives have emerged, providing more customization options than one can ever imagine!
As we have entered 2023, it's a good time to compare these platforms and see how they stack up against each other in terms of features, pricing, and overall user experience.
In this article, we'll take an unbiased look at Jotform vs. involve.me popular form builders. By comparing and contrasting the differences between the two, you can decide which tool is best for your needs.
Jotform Vs. involve.me Rating
| | | |
| --- | --- | --- |
| | Jotform | involve.me |
| Best For | Creating simple responsive forms for collecting data. | Creating responsive and interactive forms with individual user journeys. |
| Trustpilot | 4.2 | 4.4 |
| G2 | 4.7 | 4.7 |
| Crozdesk | 4.7 | 4.7 |
Jotform Vs. involve.me Pricing
| | | |
| --- | --- | --- |
| | Jotform | involve.me |
| Free trial | No | Yes |
| Free version with limited features | Yes | Yes |
| Basic plan / mo | $39 for up to 1000 submissions | $49 for up to 1000 submissions |
| Starting price / year | $34/mo | $39/mo |
| Number of forms | Limited | Unlimited |
| Form views | Limited | Unlimited |
| Team members | No | 3 from Pro plans 5 for Business Plan |
| Generic domains | No | Yes |
Jotform Vs. involve.me Key Features
| | | |
| --- | --- | --- |
| | Jotform | involve.me |
| Multiple outcomes | No | Yes |
| Outcome logic | No | Yes |
| Quiz functionality | No | Yes |
| Calculator functionality | Basic | Advanced |
| Formula builder | No | Yes |
| Advanced math functions | No | Yes |
| Live support | No | Yes |
| Data validation | Basic | Advanced |
| Pop-up embeds | Basic | Advanced |
| Design options | Basic | Advanced |
| Contacts CRM | No | Yes |
| Detailed funnel analytics | No | Yes |
| Google Analytics integrations | Yes | Yes |
| Completion rates | Yes | Yes |
| Response summary | Yes | Yes |
| Export data | Yes | Yes |
| Partial submissions | Yes | Yes |
| Custom font | Yes | Yes |
| Answer piping | Yes | Yes |
| Conditional logic | Yes | Yes |
| Automated emails | Yes | Yes |
| Partial from submissions | Yes | Yes |
| Export to CSV | Yes | Yes |
| Insert images | Yes | Yes |
| Insert videos | Yes | Yes |
| Payment forms | Yes | Yes |
| Integrations | Yes | Yes |
| Coupon fields | Yes | Yes |
| Email validations | Yes | Yes |
| Hidden form fields | Yes | Yes |
| Device specific preview | Yes | Yes |
| 3rd Party appointment scheduling | No | Yes |
| Opt-in check box | Yes | Yes |
| Social sharing | Yes | Yes |
| File upload | Yes | Yes |
| Email notifications | Yes | Yes |
Usability
Both Jotform and involve.me are drag-and-drop form builders that help users create custom forms without the need for coding expertise. However, there are some notable differences between the two.
Jotform's user interface includes a "Form Elements" panel that is divided into three sections: "Basic", "Payments", and "Widgets". While this categorization does aid in finding the right elements for your form, there are dozens of options in each category, which can be overwhelming and time-consuming to navigate.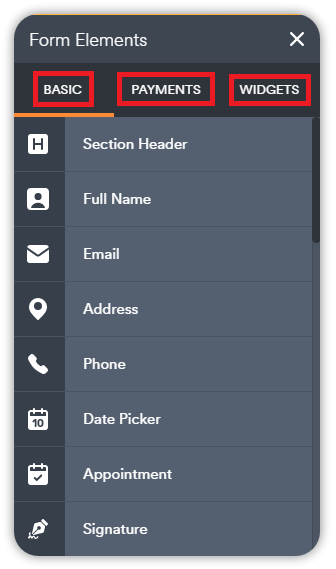 involve.me is more intuitive and user-friendly, specifically for beginners. Rather than offering a wide variety of form elements, it has a simple "Content Elements" panel that allows users to add different question types and multimedia elements like videos, images, GIFs, and audio to their forms to make them more interactive and engaging.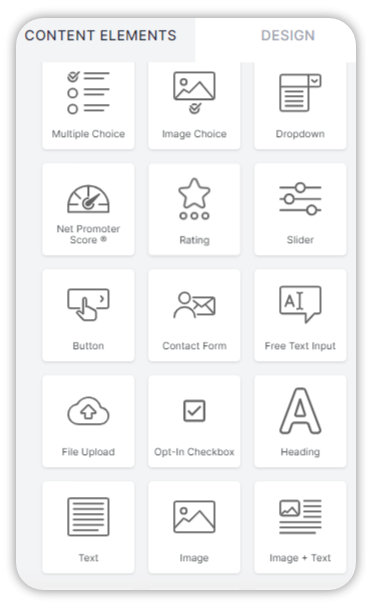 Customization 
When it comes to customization options, involve.me surpasses Jotform in several ways. With involve.me, users can create personalized forms using the project design options. This includes the option to change the background, images, colors, and more. The customization options are all easily accessible and visible on the screen, making it easy for users to make changes quickly and efficiently.
One standout customization feature of involve.me is the "Content Card Visibility" option. This feature allows users to make their form card almost invisible according to their liking, which can enhance the background image. This gives users more control over the appearance of their form and allows them to create more visually appealing designs.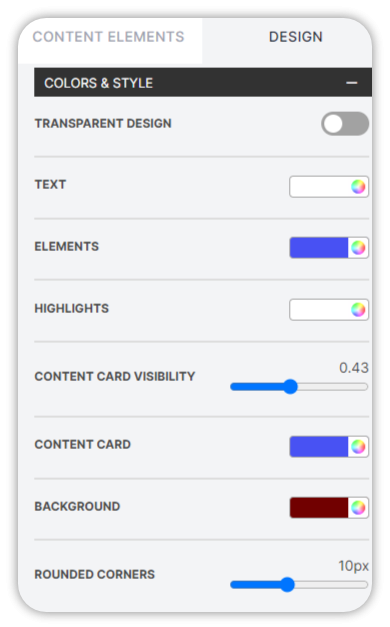 On the other hand, users can customize forms in Jotform via the "Form Designer" menu on the editor. You can add images, logos, and videos, and change the size and colour of the font. However, there are limited placement options. Besides, to access "themes" and "custom" options, users have to click on a separate menu within the sidebar. This leads to an unpleasant and incoherent experience for users.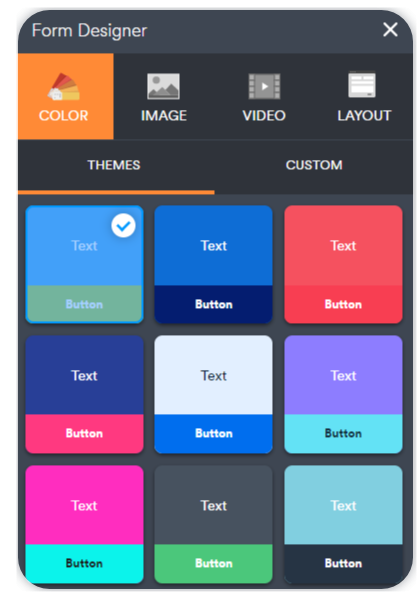 Also, their template forms have a coloured box behind them, which is part of Jotform's design and cannot be removed. This can be frustrating for users who want complete control over the look of their forms.
Help Support
For Jotform, users can turn to the support forum for assistance or browse past questions and answers. The platform is publicly accessible, meaning that other users can benefit from the answers provided by Jotform's support team.
However, there is no live chat option available for real-time support. Jotform also offers YouTube tutorials, but for personalized support, users have to reach out to the team directly.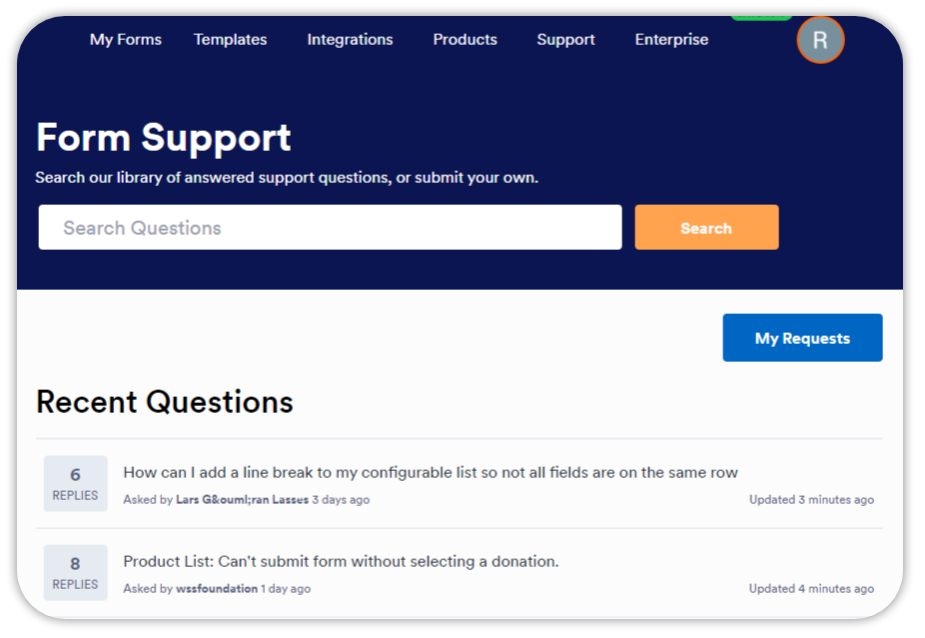 In comparison, involve.me offers a more hands-on approach to help and support. In addition to YouTube tutorials, an extensive help center and support staff are readily available to guide users through any issues or questions they may have. The live chat option allows you to communicate in real time with an expert who can provide you with personalized solutions.
Also, a wealth of resources is available, including webinars, documentation, FAQs, and beginner and advanced guides. The involve.me community allows users to connect, get support, and suggest or upvote new features or improvements.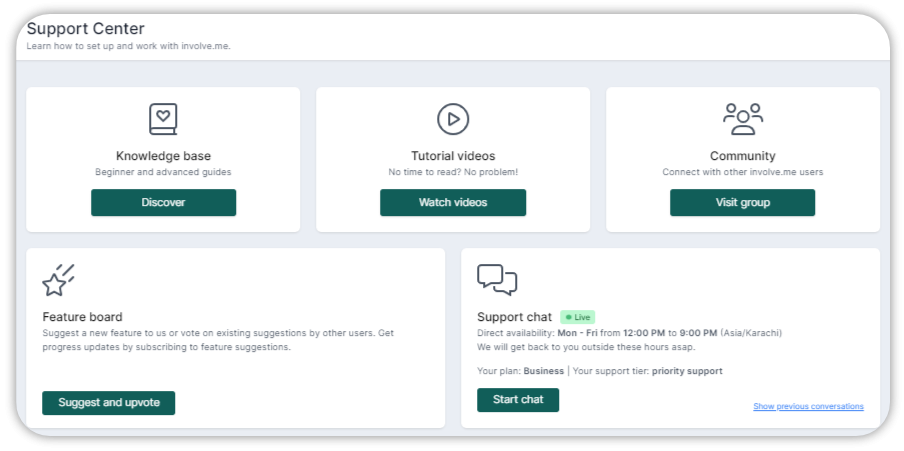 Templates
Although Jotform's selection of templates is vast, most templates are generic in design and style, and some users may find them uninspiring. Also, these templates require more customization to make them mobile-friendly, which can be time-consuming and difficult for users with limited design skills.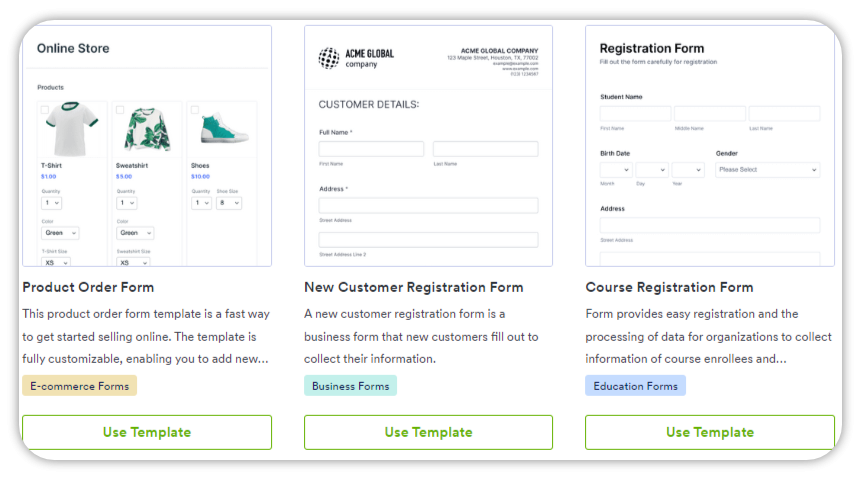 Conversely, involve.me offers a better selection of visually appealing, well-designed, and engaging (200+) built-in templates, making it a better option for users who want to create customized forms that will stand out. 
All customizable templates are mobile-friendly and highly responsive. Thus, users can create forms that are accessible and easy to use across devices.
Check The Template Library
Forms, quizzes, surveys, calculators
Data Analysis
Jotform and involve.me both offer standard form analytics features, including views, submissions, partial submissions, average time, completion rates, and the ability to export reports as Excel or CSV files.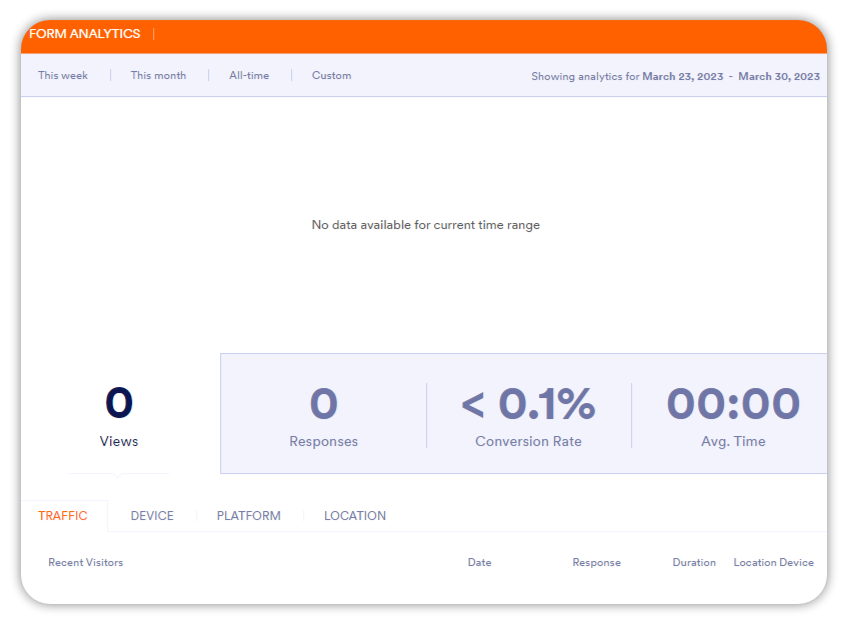 involve.me takes it a step further by providing advanced analytics (Detailed metrics) that allow users to track the development of visits and submissions over the last 30 days. Also, involve.me's Funnel analytics enables users to track where visitors are dropping off in the form completion process, providing valuable insight into user behaviour and potential areas for improvement.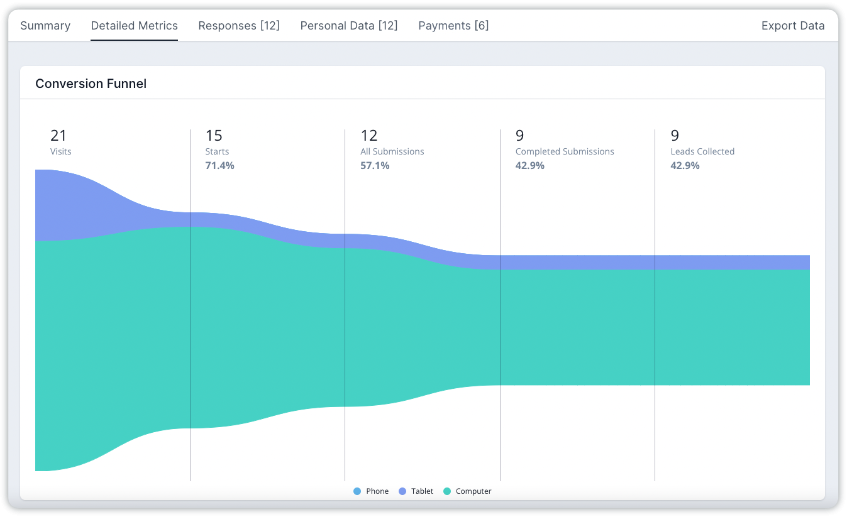 You can also browse the full participant data set, remove incomplete form submissions, and reveal partial submissions. These rich features are not available on the Jotform platform.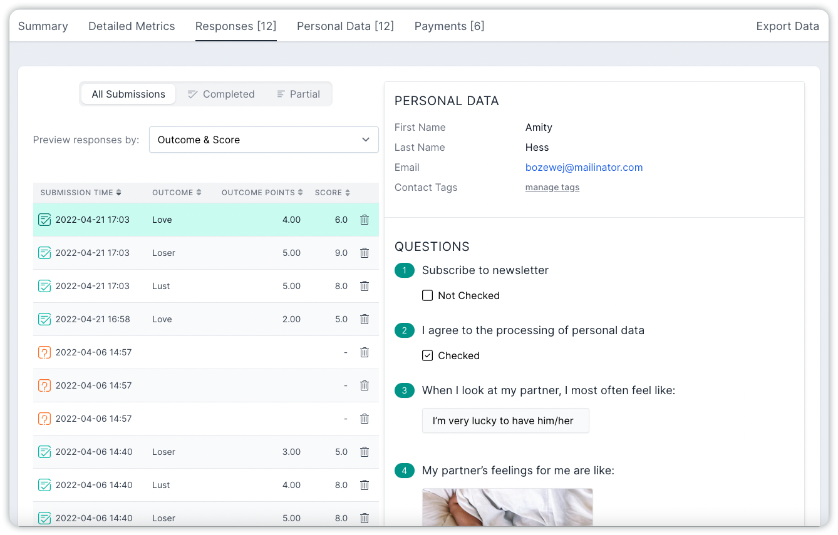 Try involve.me for Free
Conditional Logic
When it comes to outcome logic features, involve.me takes the lead.
Jotform allows users to set conditions in the Jotform Builder under the "Settings" tab and select the desired action for a specific condition. This can be done using the IF/STATE/VALUE blocks to construct logics.
Jotform's outcome logic feature is limited in its functionality and is less user-friendly. For example, you cannot create your own custom scoring formula or customize how the score gets calculated.
In simple words, if you are creating a quiz for a cosmetic brand and want the results to be based on a complex scoring logic working with specific answers, unfortunately, this is not possible with Jotform.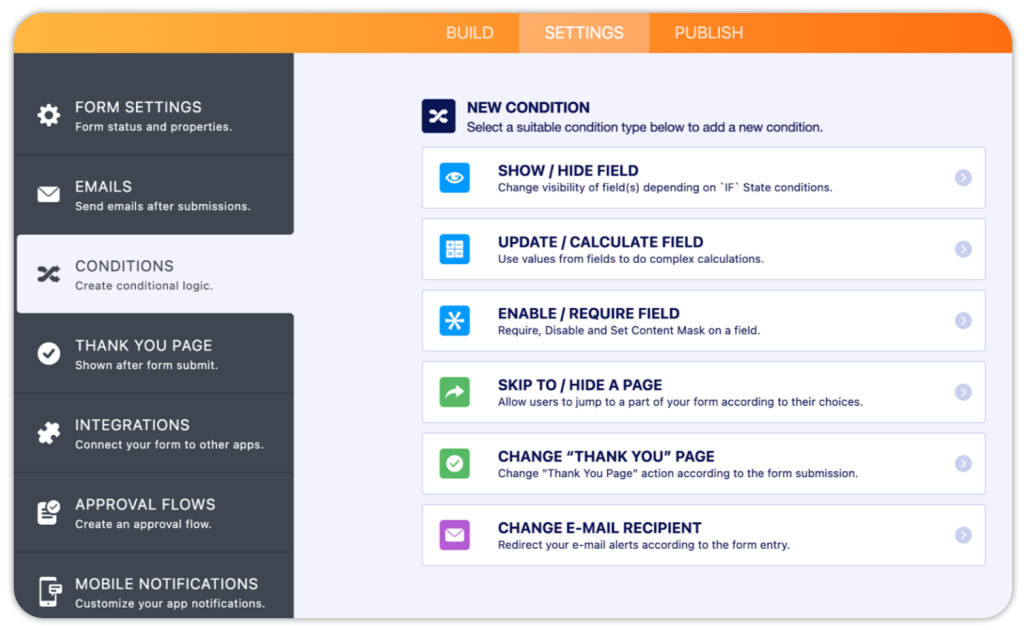 On the other hand, involve.me's outcome logic feature is more advanced and flexible. The conditional logic feature works with values placed behind answers for  "Multiple Choice", "Image Choice", "Dropdown", "NPS" and "Sliders" content elements.
The best part is involve.me allows users to:
Create their own scoring logic

Build complex custom formulas

Users can also map one answer to many outcomes and give different weightage to each, so the outcome with the most points gets selected.
Let's understand involve.me outcome logics in detail:
At involve.me, users can create single thank you page projects or multiple outcome projects.
Multiple outcome projects direct participants to specific outcome pages based on their answers or overall scores.
Answer-based projects are ideal for profiling users through personality tests, while score-based projects are great for testing knowledge and scoring individual participants.
Score-based Projects
With score-based projects, you can show participants different pages depending on their scores. In this way, you can provide a more personalized experience for participants based on their performance.
To set this up, go to "Outcome Settings" and assign score ranges for each outcome. 
Scoring Formula
There are 3 ways the scoring can be calculated:
1. Individual score (sum of all the values of selected answers regardless of the correct/incorrect status)
2. Correctly answered questions (it is the number of questions that have been correctly answered. Only the correct answers are counted. A correct answer is always 1 point.
3. Own scoring formula (where you can create complex conditional function-based scoring).
However, if you want to create more complex scoring models, you can also modify the default answer value using the "Individual Score & Calculation" setting. This setting allows you to change the values for each answer, making certain answers more important than others.
Answer-based Projects
For answer-based projects in involve.me, you have the option to link each answer to one or more outcomes. you can also choose to have an answer not connected to any outcome, by selecting the option "No outcome mapped". The outcome with the most points is shown at the end of the quiz or survey.
Here you can again change values and create more complex projects using the "Individual Score & Calculation" option under "Options." In this way, you can assign different weight values to each answer and even assign zero or negative values for certain answers. Besides, you can also map a single answer to multiple outcome pages.
Overall, involve.me outperforms Jotform in terms of outcome logic capabilities, offering more advanced and flexible features to create highly personalized and engaging experiences for participants. With the two types of outcome-based projects you have a powerful toolkit for qualifying and segmenting leads on autopilot.
Email Data Validation
Jotform primarily relies on traditional email verification methods to validate the email addresses provided by users.
You can add a text field and a button to your registration form using Email Validator Widget. Users will type in their email address, click on the Verify Email button. They will then receive the verification email in their inbox, which will contain a unique verification code that remains valid for 24 hours and can be used once. While this approach provides some level of validation, it does not go beyond the basics of verifying the email address.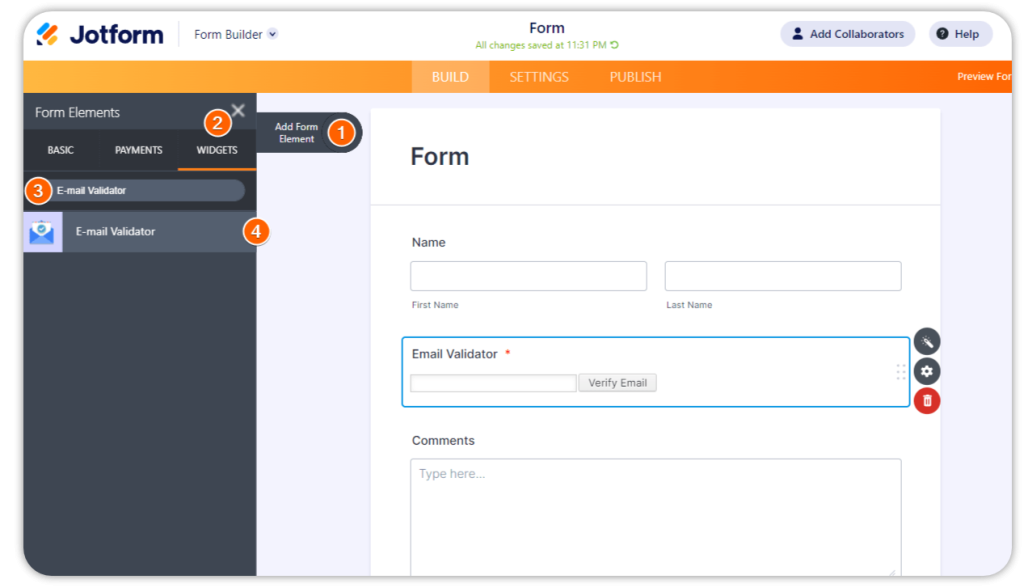 involve.me offers more advanced email data validation options to ensure the accuracy and reliability of email data collected through their forms.
It automatically checks all email addresses entered into a contact form for a valid format. It also verifies if the domain can receive emails, offering users an extra layer of data validation. Users can choose from three different email validation settings: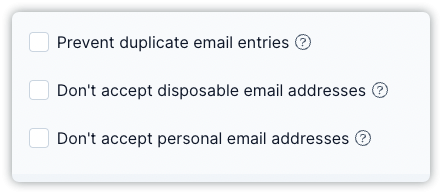 Success Pages and Redirects
involve. me's custom redirect feature allows users to use custom URL instead of the default "Thank You page" or "Outcome pages". This feature is particularly handy when your project requires multiple outcomes, as you can set a different URL for each. You can also test the feature by clicking the "TRY IT" button.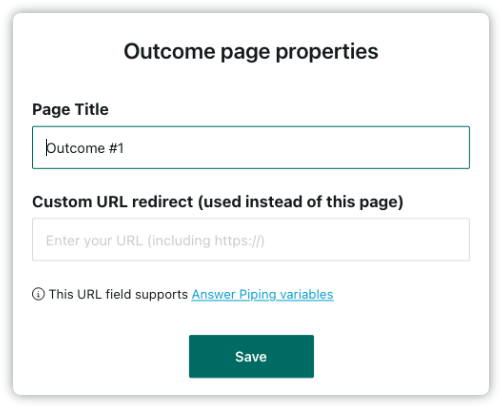 JotForm also offers customizability for success pages that require manual formatting for each page. Users can edit fonts, change colours, and add images, but they must apply these changes to each success page individually.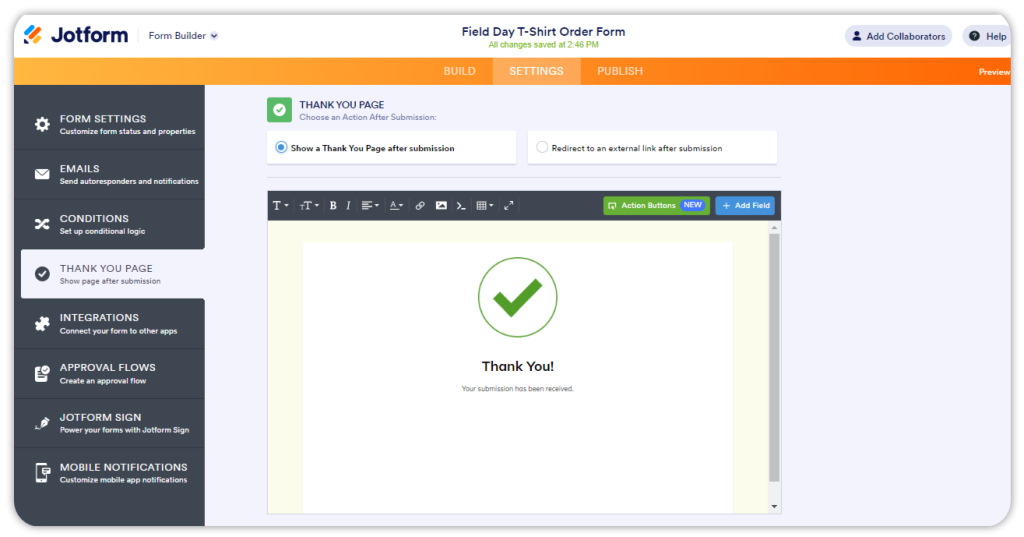 Calculator Functions
Jotform offers a calculator widget that allows for basic calculations. It also provides calculation with conditional logic, but it is limited in scope. There is no formula builder to make calculations more manageable.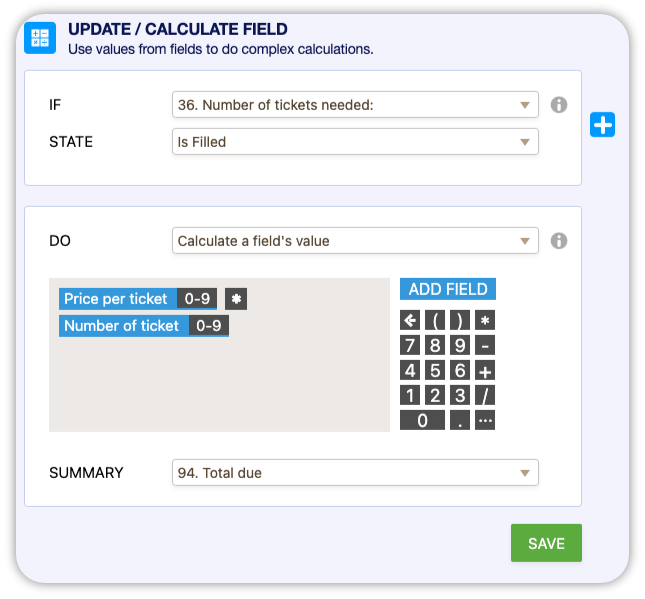 In contrast, involve. me's calculator has built-in conditional logic feature that is more advanced and user-friendly. It offers:
the use of basic operators (plus, minus, multiply, divide, exponent), as well as bracket symbols to control the order of operations

IF/THEN logic that includes multiple conditions

a formula builder that allows for complex calculations using basic operators and bracket symbols

the ability to take answers given by the user and calculate and display the result according to the custom formula

calculation formulas to reach different outcomes based on individual scores. This makes the calculator highly flexible and capable of showing customized results based on the user's inputs.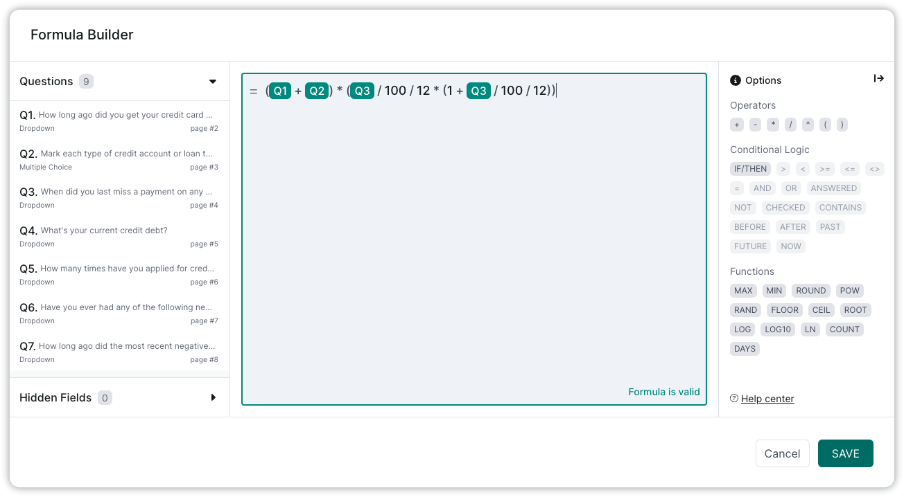 Customer Reviews
Lastly, let's take a look at a selection of customer reviews that we've gathered at random from reputable review sites.
Jotform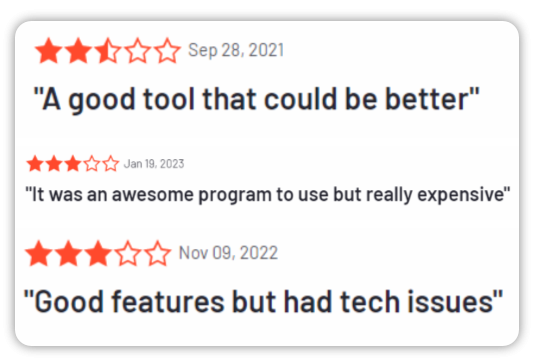 Involve.me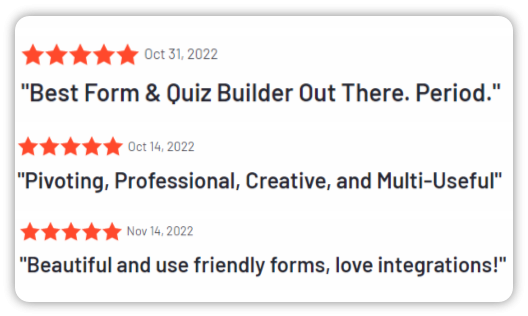 Try involve.me for Free
Have You Made Up Your Mind?
Because I have! It's clear that involve.me comes out on top in all categories! Not only does it offer competitive pricing, but it also boasts advanced features, form templates, excellent ratings and reviews, data analysis, unmatched customization options, and beautiful form design elements.
involve.me's calculator functionality feature alone sets it apart from the competition, offering IF/THEN logics, a formula builder, and score-based outcomes. And let's not forget about the convenient custom redirects and advanced email data validation options.
With involve.me, you can create engaging and interactive experiences that will impress your audience and drive results. It's safe to say that involve.me is the clear winner when it comes to building impactful and creative forms and surveys! So why settle for anything less when you can have the best?