Now more than ever, many businesses are looking for a way to go digital. Collecting payments online and building a digital sales cycle are the two biggest challenges many entrepreneurs face. Have a quick look at how to solve both.
Shifting your business online will have 3 benefits, regardless of the crisis:
1. Additional revenue from online channels
2. A fighting chance against seasonal influx swings
3. Working smarter, not harder with automated processes
Worsening market conditions are forcing brick and mortar businesses to switch to an online model. Times of economic uncertainty push for go-to-market solutions anyone can use.
Amidst the COVID-19 crisis, restaurants, theaters, and cinemas need to transform into e-commerce in a matter of days. Cooks and event promoters are familiarizing themselves with new technology to keep their businesses afloat.
In times of crisis, there are always opportunities. Established companies are jumping to everyone's aid and new ones are emerging by the hour. Zoom is lifting online meeting time restrictions, Google is curating COVID-19 search results and involve.me is helping people assess their risk factor and bust common myths and misconceptions about the virus.
Putting an online model in place now will not only help people keep their livelihoods thought the crisis, but also bring additional benefits further along. With almost 2 million cases, the world will never be the same. Businesses, as well as individuals, are learning to adapt to everything being online and that trend is here to stay.
Online Benefit 1: Additional Revenue from Online Channels
In a post-COVID-19 economy, there will be only two kinds of business. Those who adapted to it and those who didn't make it through. Every industry is taking creative steps to continue its mission whether it is to entertain, feed or delight with commercial goods.
Some of the improvised solutions seem to be working well enough to keep them around after the crisis. Theaters are streaming their performances into thousands of homes internationally, expanding their viewership beyond seat capacity.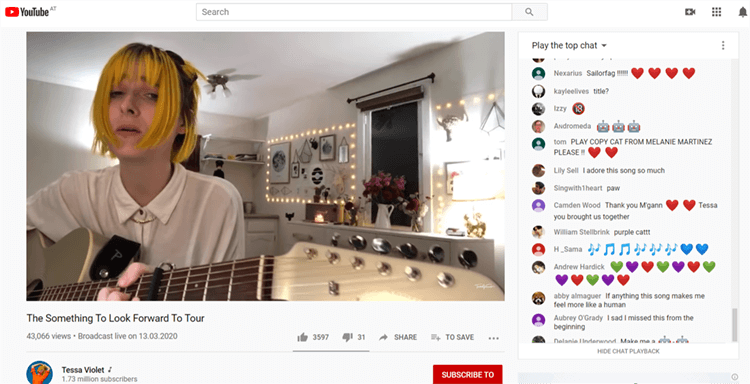 Musicians hold online tours live from their bedrooms to give their fans something to look forward to and connect in a way that wasn't possible before. Yes, meet and greets are canceled, but those of us who can't afford a VIP backstage ticket can appreciate a quick chat shout-out from a favorite artist.
Many restaurants are thriving thanks to online orders they had in place before the crisis, but others struggle.
Restaurants that don't deliver have always been sad news for foodies who prefer to have their favorites on the couch with a Wes Anderson movie. But there are valid reasons restaurant owners choose not to deliver.
Food delivery apps charge restaurants up to 30% of the entire order. This gives restauranters two options: raise the prices or make less profit. Either decision comes with its own set of issues.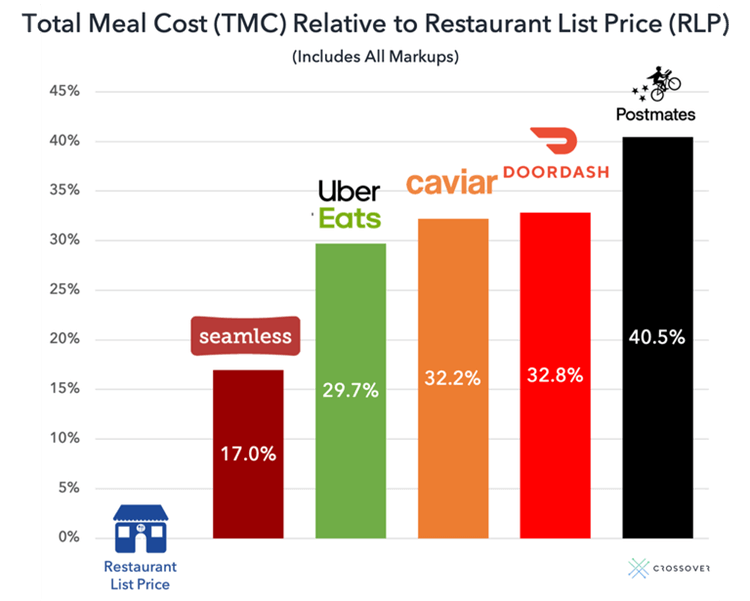 An independent study from December 2019 monitored 10 US restaurants listed on multiple apps and compared the markups. Postmate deliveries were almost twice as expensive as the restaurant list price. Doubling the prices is not the way to sustain a restaurant, especially not while 10% of Americans have already lost their jobs and can barely afford groceries.
Finding a delivery solution that doesn't chip away at your profit or overcharge your customers is a long and costly process. You'd either need a developer to build a custom online order system or go back to 2002 and write down orders on a piece of paper and test your customers when they are ready.
That was the exact situation JD.com, a Chinese B2B retailer, found themselves during the SARS breakout in 2003. With 12 physical stores, online orders were an impromptu solution, rather than a service.
In an act of desperation, the owner started posting his products on student bulletin boards and instant messaging groups. Unknowingly pioneering a digital marketing strategy, JD.com's sales started going up, transforming it into China's largest online retailers today.
Similarly to JD.com, Alibaba also started as a B2B goods platform. Only 4 years running, Alibaba was one of the few online solutions available when international travel was banned and salesmen could no longer fly to China to source goods.
Starting in March 2003, Alibaba's B2B e-commerce business added 4,000 new members and 9,000 product listings each day, a 3-5x increase over the pre-SARS rate. Alibaba's business grew 50% that year and was seeing daily revenues of 10 million RMB.
Shifting your sales online or building a delivery system is not just a temporary crisis survival solution. It makes room for innovation, automates processes and will help you grow your business years after the crisis.
Online Benefit 2: Fight Seasonal Influx Swings
Every business that depends on people going outside is drastically impacted by the weather. Food delivers go up during snowy/rainy days, outdoor events get crowded when the weather's nice plus let's not forget the holiday shopping season craze.
Online is not seasonal. (Unless you're selling Christmas trees.) Seasonality and weather is something you can't control, but you can build preemptive safety nets for it. Let's have a look at seasonality in the events industry.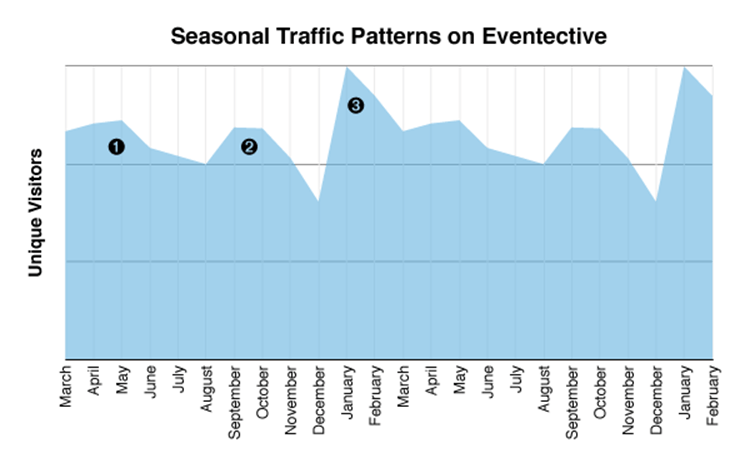 The two-year timeline above shows event planning demand trends. Eventective has identified three times of the year when event planning displays distinct upward trends. These trends occur in the spring (April-May), early fall (September-October) and mid-winter (January-February). Summer and the holiday season are less busy event-wise.
Event planners, bookers and venue owners agree with this trend and have already adapted to it. Many have low-season jobs or focus on preparing larger projects during high season, but holding events online hasn't really been an option until recently.
Leading event authorities like TED responded to the quarantine in a timely, creative and compassionate manner. Long format interviews with experts we need to listen are streamed and published daily on TED.com.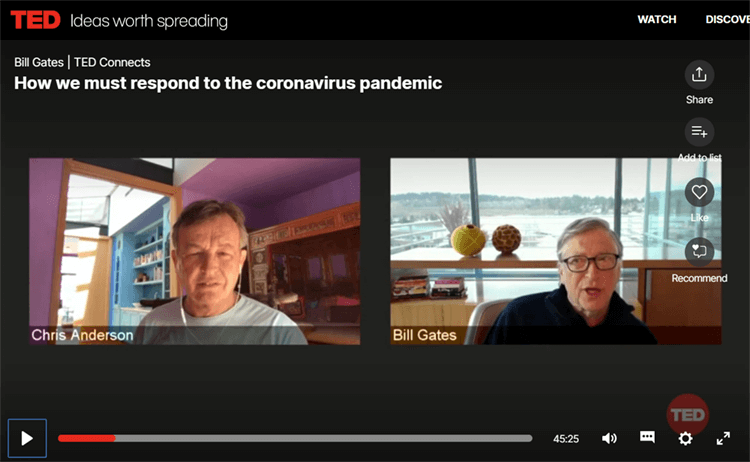 Smaller, community-centered initiatives like TED Connects went fully online before most countries entered lockdown. Online gatherings have allowed TED Connects to "help reflect and work through this uncertain time with a sense of responsibility, compassion and wisdom."
Google Arts and Culture are gaining popularity while museums and galleries remain closed. 1.200 institutions have digitalized their collections, including New York's famed MoMA (Museum of Modern Art) or The Lourve in Paris.

We hope to see these emerging online trends and initiatives stay long after the crisis. Digital content has always been in high demand, but creators and entertainers are proving that even with limited resources, lack of equipment and remote teams, there are still ways to up everyone's content game.
Online Benefit 3: Working Smarter, Not Harder
Brick and mortar businesses often struggle with digitalization. Explaining customer relationship management and automating recurring payments to your local pub owner is not an easy task. But the crisis demands that we do.
A local brewery in New Jersey is seeing a growth spurt after launching a "Mug Club Memberships," which means paying a monthly upfront fee for beer to drink later. The recurring payment model is doing so well, the brewers had to buy 2.500 growlers for canning beer.
Running an online monthly membership community was not the plan for Axe and Arrow Brewing, but their loyal fan base and growing demand shows that it was a good idea.
Being forced to work online is a good opportunity to get rid of time-consuming manual processes and repetitive tasks. Axe And Arrow show that it's possible for any business willing to shift their focus and sell online.
Learn how to set up a similar system for your business too →
Free remote work resources have been teaching professionals with varied skill-sets how to automate their workload and create new income sources before any of this happened. Now is the time to take a second look at them, think out of the box and foster innovation.
If a local pub has an online sales cycle and stay-at-home moms are generating passive income with affiliate links, you too can start collecting payments online.
How to Set Up an Online Sales Cycle?
Once you've figured out how to adapt your business model for the digital space or finally came up with your first ebook, setting everything up can take less than an hour.
The customer's journey from discovering your business to completing a purchase is called a Sales Funnel. Sales funnels help guide your customers to the perfect product and help you keep track of where people drop out and when you need to reach out personally.
Setting up a mechanism that sells your product while you sleep does not need to be expensive. Like many others, especially now, you can do it yourself with no technical skills.
Learn how to set up sales funnel in under an hour →
How to Collect Payments Online Without a Website?
In 2020, collecting payments online is as quick and easy as setting up a PayPal account. You could just leave it there and manually send PayPal links to customers, but who has time for that?
Collecting payments online is everything but manual. And you don't need an online store to make it happen. You don't even need a website. Have a look the following 3 ways to collect payments online with minimum effort.
1. Shoppable Quiz
Viral, social media-friendly nature of online quizzes makes them the perfect solution for generating online sales even without a website.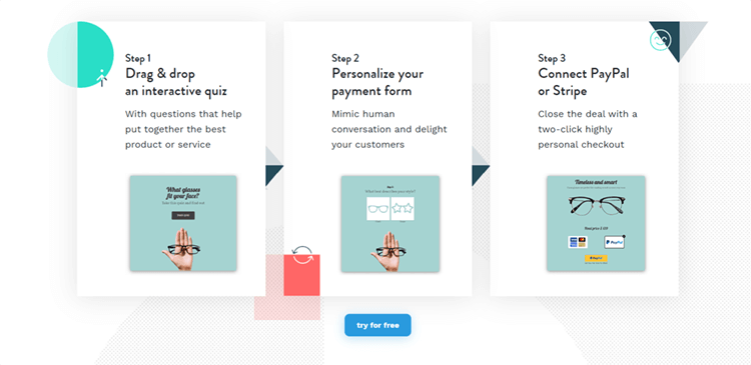 A shoppable quiz is exactly what is sounds like - an online quiz that leads to a payment form. It guides customers to the perfect product and collects online payments automatically.
Hosted on involve.me it doesn't charge a commission, you get to keep 100% of the payments you collect, excluding taxes that may apply of course. It works with PayPal and Stripe, which included G Pay and most credit cards.
Make your first shoppable quiz →
2. Lead Page Connected to PayPal and Stripe
If you're familiar with online advertising, you know what lead pages are for. A lead page is a page your audience sees after clicking an ad, an email or tries to sign up for a newsletter.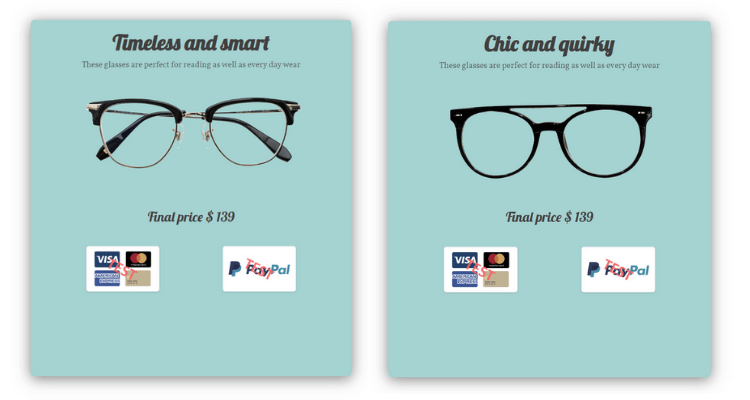 Instead of collecting emails and registrations, this lead page would collect payments.
Adding payment links to your lead page makes it an automated payment collecting machine. If you don't have a website, all you need to do is drag & drop a quick lead page and connect your PayPal and/or Stripe account.
If you're not a designer, you can pick from over 140 templates and adjust them to match your brand perfectly.
3. Drag & Drop Payment Page
A payment page is a cross between a pricing page and an e-commerce product listing. It does not replace an e-store, but it doesn't charge commission. Payment Pages are also more automated than sending PayPal links, without losing a personal touch.
Unlike a pricing page or an e-store, payment pages take minutes to make and require zero technical skills. No need for a developer or designer. Looks custom codes, but it's really just drag & drop.
A quick payment page with solid click analytics will help you sell more, even without a website. According to a recent study, 85% of customers turn away at checkout. Making a smart payment page and keeping it optimized will lower the number for you.
Start Accepting Payments Now Through Interactive Forms
Using One Of Our 200+ Payment Form Templates