By 2023, the global online survey software market is expected to reach an estimated $3.2 billion.
With such explosive growth, it's clear that companies across the world are increasingly leaning into data-driven decision making. But with an abundance of platforms available, which stands out from the crowd?
For many years, SurveyMonkey has been a go-to option but does it hold its ground against the innovative, user-centric platform like involve.me?
Let's find answer to this question and explore these two platforms, comparing their diverse offerings, key features, and pricing in detail.
SurveyMonkey Vs. involve.me Rating
 

SurveyMonkey

Best For

Creating customizable surveys, forms
and quizzes

Creating beautifully designed, responsive and custom
forms, surveys, quizzes and calculators.

Trustpilot

2

4.4

G2

4.4

4.7

Crozdesk

4.4

4.7
SurveyMonkey Vs. involve.me Pricing Plans
 

SurveyMonkey

Free Trial

No

Yes

Free Version

Limited: 10 question per survey,
basic customization options,
basic analytics

Allows 100 submissions/month, 3 live projects,
230+ design templates,
test paid features and much more.

Starting Price / mo

$35 for up to 1000 submissions

$25 for up to 1000 submissions

Starting Price / year

$31/mo

$19/mo

Number of forms

Limited

Unlimited

Form views

Limited

Unlimited
SurveyMonkey Vs. involve.me Features
| | | |
| --- | --- | --- |
|   | SurveyMonkey | |
| Multiple Outcomes | No | Yes |
| Quiz Functionality | Yes | Yes |
| Calculator Functionality | No | Advanced |
| Advanced Math Functions | No | Yes |
| Data Validation | Basic | Advanced |
| Pop-up Embeds | Basic | Advanced |
| Design Options | Basic | Advanced |
| Detailed Funnel Analytics | No | Yes |
| Completion Rates | Yes | Yes |
| Partial Submissions | Yes | Yes |
| Response Summary | Yes | Yes |
| Export Data | Yes | Yes |
| Custom Font | Yes | Yes |
| Answer Piping | Yes | Yes |
| Conditional Logic | Basic | Advanced |
| Automated emails | Yes | Yes |
| Insert images | Yes | Yes |
| Insert Videos | Yes | Yes |
| Payment Collection | Limited (Just Stripe) | Multiple Options |
| Integrations | Yes | Yes |
| Coupon fields | No | Yes |
| Email Validations | Yes | Yes |
| Device Specific Preview | Yes | Yes |
| Social Sharing | Yes | Yes |
| Webhooks & API | Yes | Yes |
| Drag and Drop | Yes | Yes |
| Custom Formula Builder | No | Yes |
| Distribute Discount Codes | No | Yes |
| Score Based Outcomes | Basic | Advanced |
| Project Timer | No | Yes |
| Skip Logic | Yes | Yes |
Onboarding Experience
involve.me makes a good first impression with its impressively user-oriented onboarding process. Right off the bat, it personalizes the customer experience by asking three key questions: the user's industry, company size, and the intended use for the platform. This approach makes getting started with the platform feel like a smooth, tailored journey, finely tuned to the user's specific needs.
On the other hand, SurveyMonkey's onboarding process leaves much to be desired, particularly for new users who might be unfamiliar with its interface. After logging in, users are directly ushered into the platform with no guided tour or even a set of initial questions to establish user context.
The absence of such introductory guidance can lead to confusion, given the array of options available on the survey platform. Consequently, users might find themselves spending a significant chunk of time just to understand the layout and capabilities of SurveyMonkey, potentially hindering their initial engagement with the survey tool.
Templates
SurveyMonkey stands out for its template library, spanning a broad range of categories such as business, education, events, healthcare, and more. These templates are designed to cover many use cases, from customer feedback, employee feedback to event feedback surveys. However, it's important to note that many of these templates aren't free. This leads to potential disappointment when users find a suitable template only to realize it requires payment. In terms of design, SurveyMonkey templates are noticeably generic, requiring significant customization to create something unique.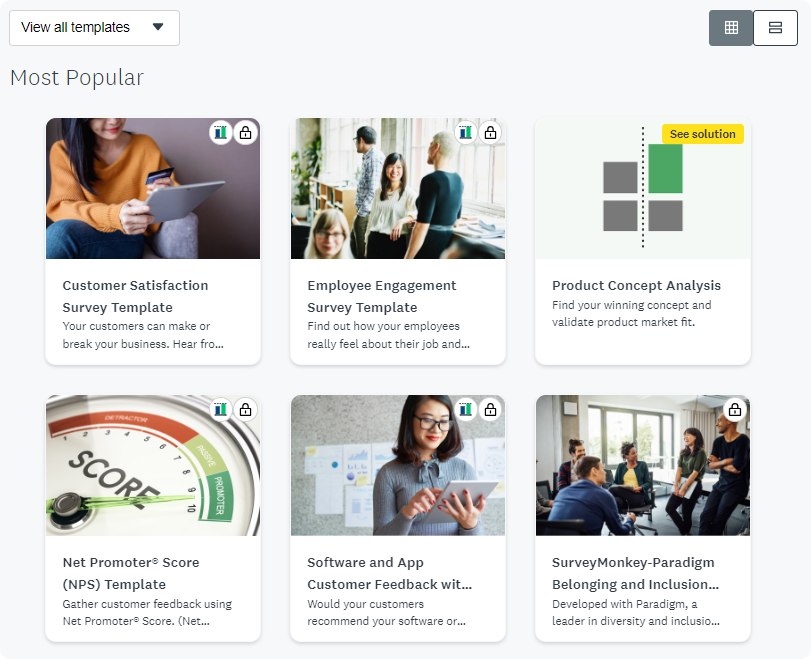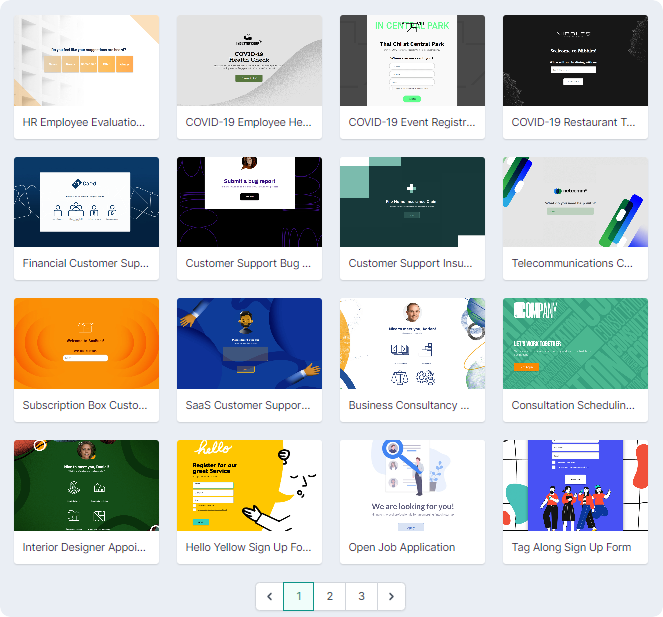 What makes involve.me's templates unique is their visual appeal, designed to be engaging and customizable. This makes involve.me an attractive choice for contemporary users looking to create distinct surveys, quizzes, calculators, or forms. The flexibility of involve.me's platform allows for easy modifications to the design, adding or removing questions, and adapting the template to meet specific goals. An additional benefit is template category descriptions, supplying users with useful insights on potential uses and the target audience. This is especially helpful for users who may be uncertain about their specific needs.
Create Your Own Online Surveys
Get Started with 200+ Templates
Usability & Customization
Creating a survey or form using the SurveyMonkey editor can be somewhat overwhelming, especially for users new to form-building software. Although it provides the option to choose from survey templates, but it has limited customization options. Its interface can feel crowded, making it challenging to locate all the basic features and form elements.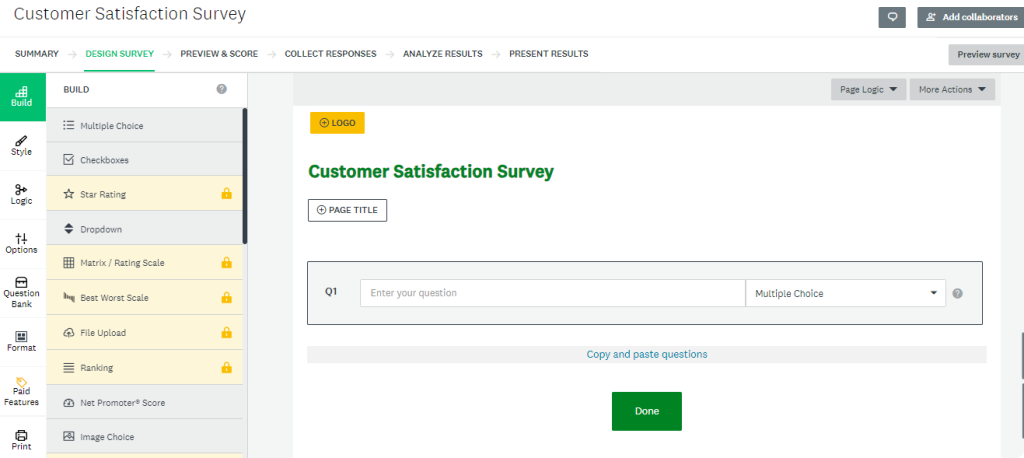 You can adjust questions from the sidebar on the left of the screen, where users can also implement conditional logic, modify formatting, and tweak design elements. However, the user experience (UX) design can feel dated at times, and the basic plan doesn't offer much in the way of survey design features.
Also, free plan users are frequently reminded to upgrade when adding an excess of questions, which could be a potential source of frustration.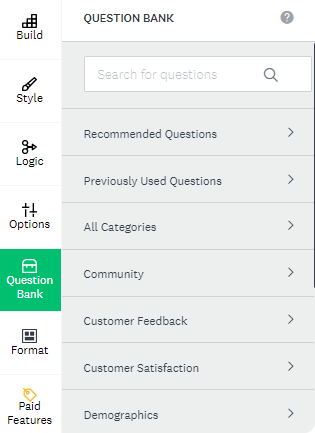 involve.me, on the other hand, puts an emphasis on the client experience by delivering a user-friendly, intuitive online survey tool with advanced features for all skill levels. The platform's well-organized drag-and-drop functionality makes it easy for users to create customizable forms, quizzes, and interactive content.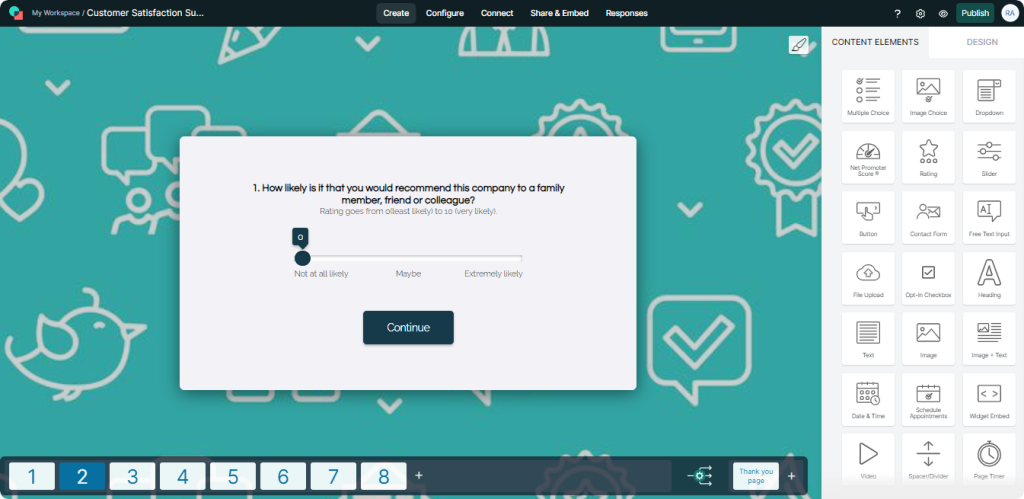 The interface is clean and simple to navigate, with all options clearly displayed under the "Content Element" tab, making the design process smooth and efficient. involve.me also outperforms SurveyMonkey in customization options, offering a variety of fonts, colors, themes, and question types to perfectly align content with brand aesthetics.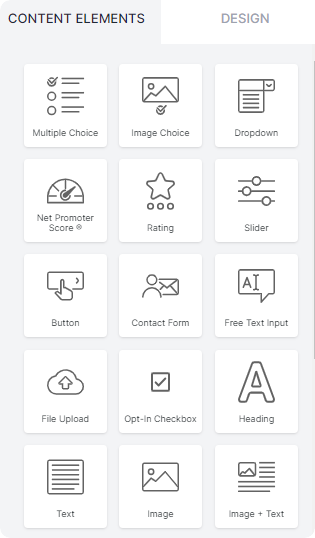 Users can easily add, move, and resize elements including images, videos, and logos, allowing for a higher degree of personalization. With involve.me, users can create truly unique content without any coding skills, demonstrating its adaptability and versatility as a platform.
Try involve.me for Free
Language Support
SurveyMonkey provides substantial language support, featuring translations in different languages for all buttons and fields. Survey monkey's multilingual surveys are best for global user outreach, allowing bilingual respondents to switch languages within the same survey. Moreover, it has a library of common questions for automatic translation.
However, involve.me offers a more versatile approach to language support. In addition to the wide range of languages offered - from English and French to Arabic and Hebrew, what sets involve.me apart is its flexibility. While the default language for new projects is English, users can change this setting when duplicating a project. All text within a project can be directly edited, allowing for greater customization based on specific user needs.

Furthermore, involve.me's commitment to expanding its language support is clear - users are encouraged to contribute translations in their native languages via support chat. This proactive approach caters to a wider user base and also encourages user collaboration, underlining involve.me's dedication to being an inclusive and user-friendly platform.
Accepting Payment
SurveyMonkey does allow users to accept payments, but it comes with a few restrictions. Firstly, this feature isn't available on the free tier, and secondly, the only payment platform it integrates with is Stripe.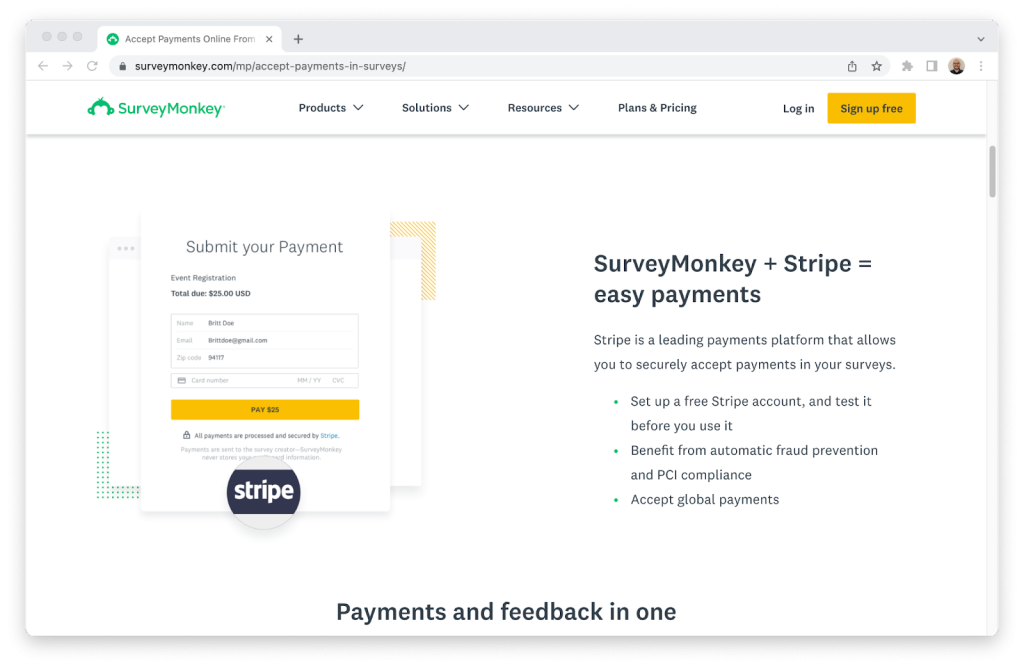 While Stripe is undoubtedly a reputable payment processor, the lack of alternative options such as PayPal or Square could be seen as a limitation, potentially excluding respondents who prefer or rely on these payment methods.
involve.me provides a more comprehensive payment solution, offering integrations with numerous native payment platforms including Stripe, PayPal, Mollie, Square, and Braintree.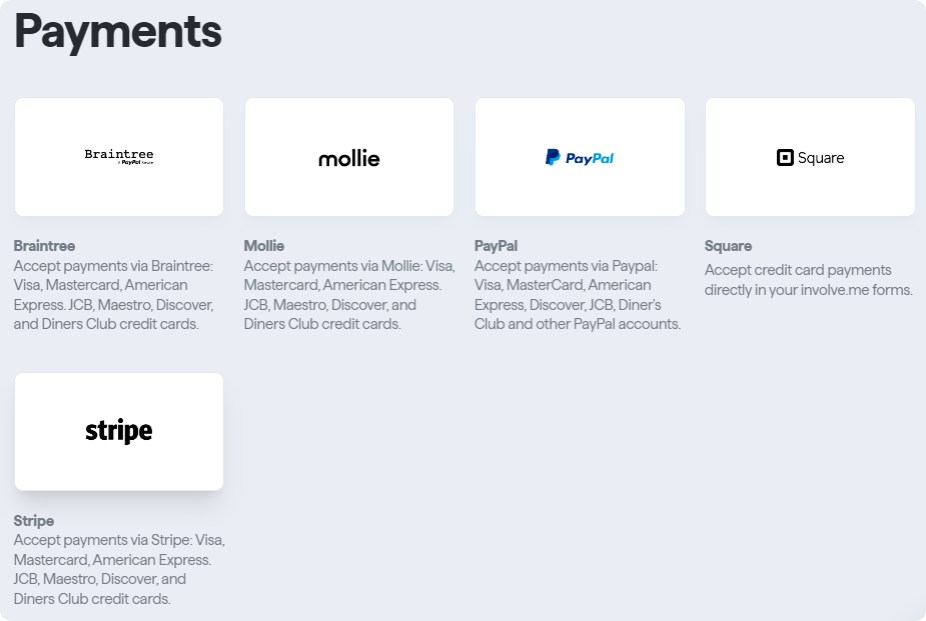 This wide array of payment options empowers users to effortlessly accept both one-time and recurring payments directly through their involve.me forms, quizzes, surveys, or lead pages.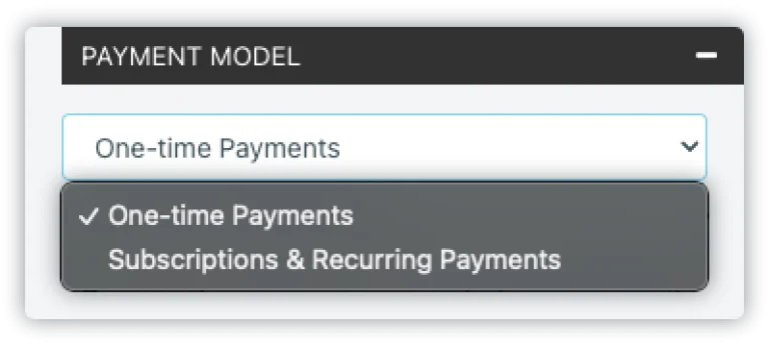 In fact, these transactions can occur without respondents having to leave the platform, streamlining the process and improving the user experience.
Calculator Functionality
SurveyMonkey, while comprehensive in many aspects, falls short in offering a calculator functionality. This valuable feature is crucial for certain applications that necessitate dynamic calculations based on survey responses. The lack of this advanced functionality limits SurveyMonkey's versatility and means that it may not meet the requirements of all potential users, especially those needing complex calculations and condition-based results.
In contrast, involve.me shines in providing advanced calculator features. This platform supports both simple and complex calculations, with pre-designed templates and a conditional logic feature for IF/THEN scenarios with multiple conditions.
The platform's formula builder enables intricate calculations using basic operators and bracket symbols, allowing it to take user responses, perform calculations, and display results based on custom formulas.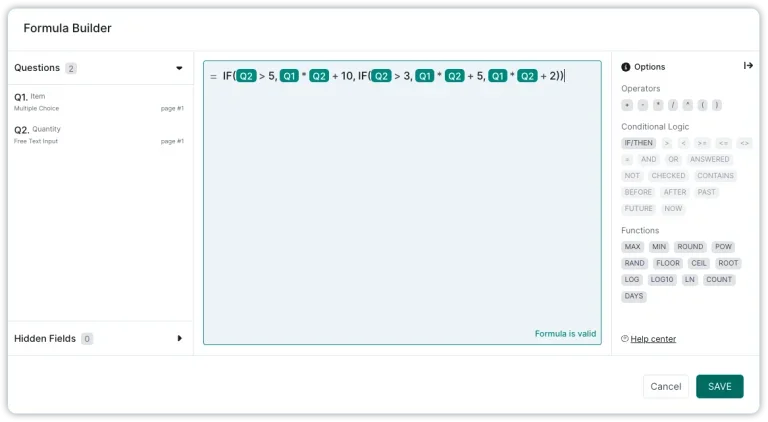 Moreover, involve.me can generate varied outcomes based on individual scores, delivering personalized results according to user inputs. This enhanced flexibility in calculations significantly bolsters user interaction and engagement, making involve.me a standout option for users requiring detailed and dynamic calculations.
Team Collaboration
SurveyMonkey does offer team collaboration features in its team plans. These include granular permissions which can grant different team members varying degrees of access - allowing them to view, comment, or edit surveys. It also offers notification features when changes are made to a survey.
On the flip side, involve.me takes team collaboration to a whole new level. It provides users with the ability to invite team members to their organization's account and then designate them to particular workspaces and projects.

Moreover, it provides variable permission levels like 'editor' and 'viewer', offering more control to users over their workspaces.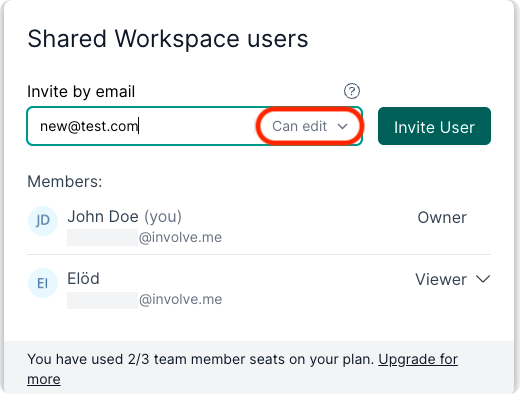 These collaborative measures are executed efficiently through email invitations, thus simplifying the process. Not only can users invite new members, but they also have the flexibility to withdraw invitations, remove users, or modify user roles.
Data Analysis
Survey Monkey offers a decent selection of data analytics feature that aids in understanding responses per survey. It provides a summary of results, complete with automatically generated charts (bar graphs, basic graphs) for a quick glance at your data. The platform also provides range of features such as cross-tabulation, filtering, and sentiment analysis to dive deeper into the data.
Data can be easily exported in user-friendly formats such as CSV and XLS. While these features are impressive, they are rather standard in the field of survey data analysis, and don't necessarily offer a unique experience.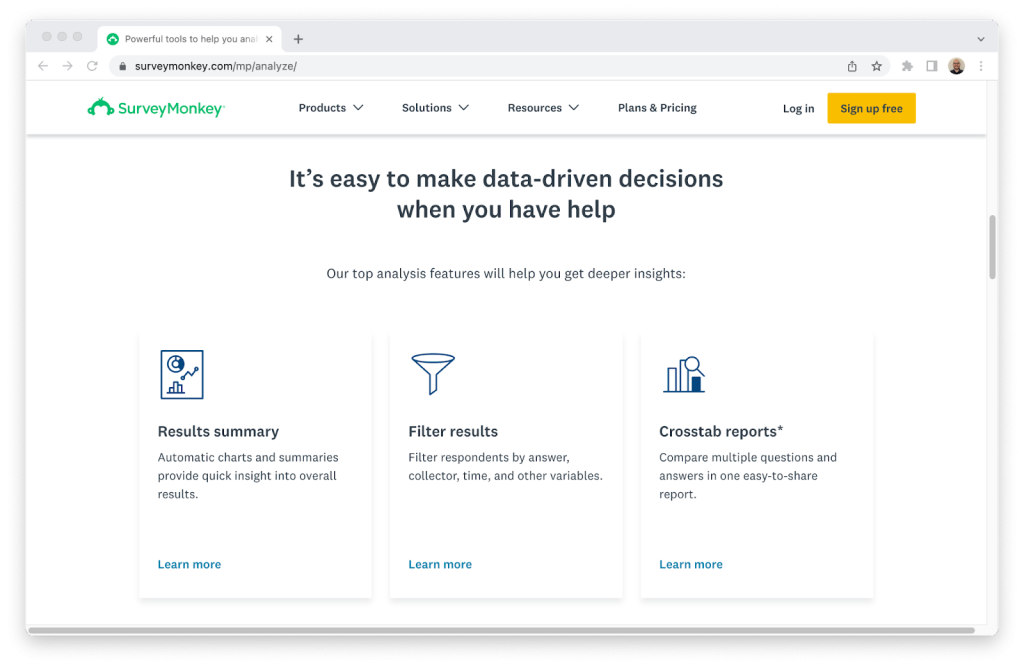 In contrast, involve.me elevates the data analysis experience to an entirely new level with its detailed and advanced features. The analytics section provides access to your project's overall performance, offering key metrics like visits, submissions, completion rate, average completion time, and more.

In addition, it presents a response summary that gives an aggregated overview of all participants' answers and outcomes. The 'Detailed Metrics' section offers insights into the user funnel, showing where drop-outs occur, the geographic distribution of users, and website embedding statistics.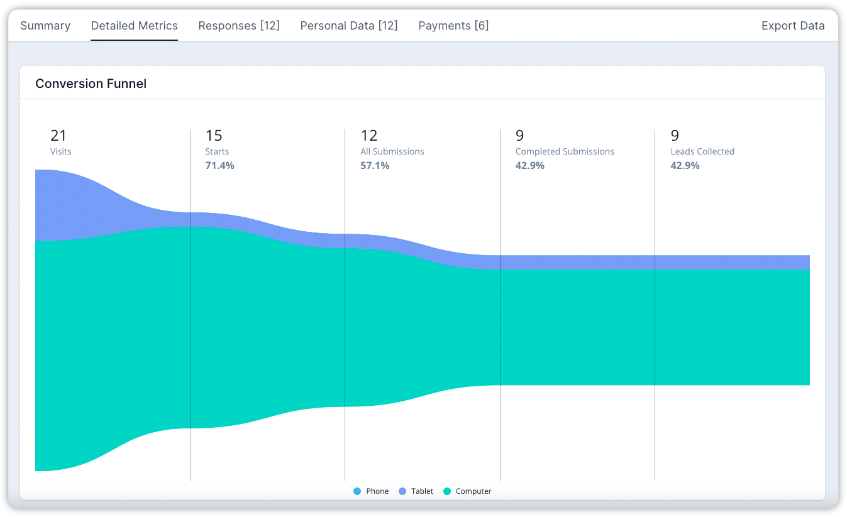 The 'Responses' view enables a comprehensive view of individual participant data, while 'Personal Data' offers a search and sort feature for all collected personal data.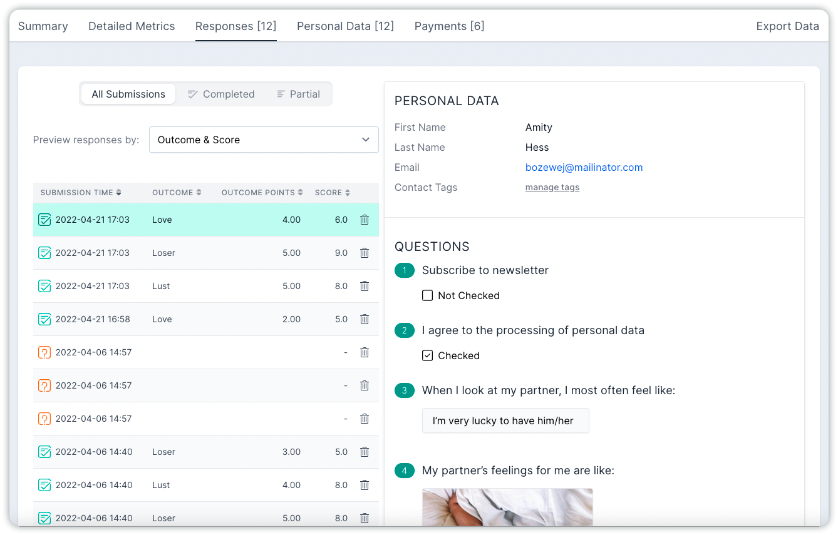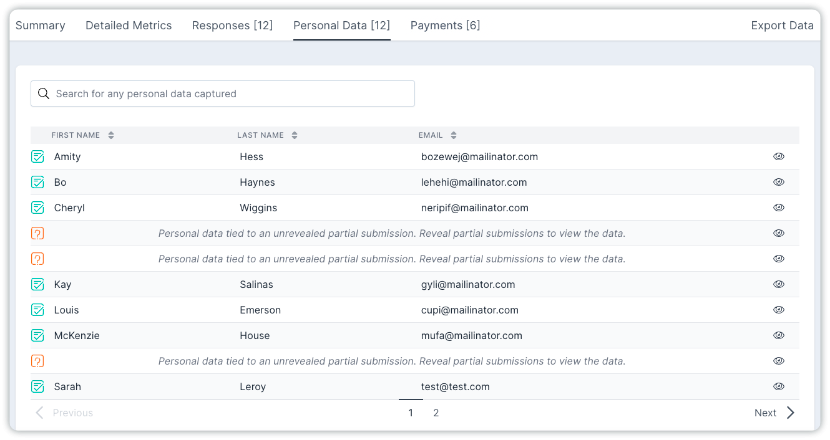 In the 'Payments' tab, the status of all submissions can be viewed. The platform also allows for easy data exporting, with options to filter responses by date, making the data management process much more flexible. These advanced reporting features demonstrate involve.me's commitment to providing thorough and user-centric data analysis tools.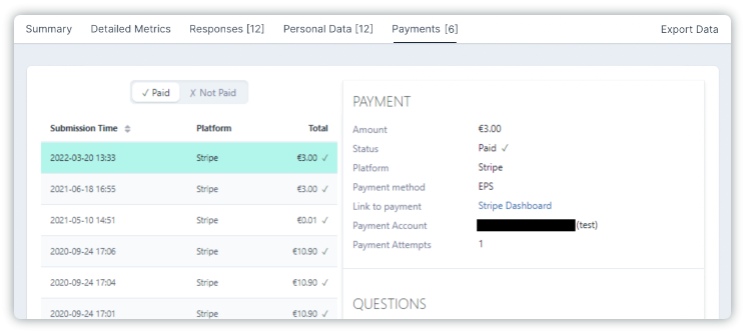 Integration
SurveyMonkey supports integrations with popular platforms including, but not limited to, Google Sheets, Slack, Salesforce, and MailChimp. It allows you to automate workflows, sync data, and extract insights without having to manually transfer information from one system to another. However, integration options are limited and may not accommodate the needs of all businesses.
Whereas, involve.me offers a wide array of integrations, bridging the gap with more than 5000 apps through its Zapier integration.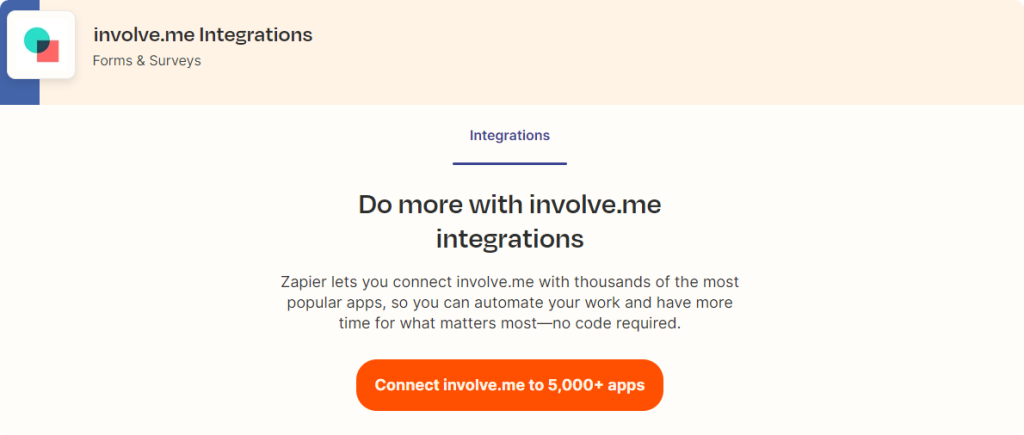 This compatibility extends to tools across various functions such as CRM, email marketing, automation, project management, and more. Services like Google Analytics, MailChimp, ActiveCampaign, HubSpot, Salesforce, and many others are readily supported. Moreover, involve.me provides webhooks for seamless data transmission, and its native integrations with Stripe and PayPal offer a smooth payment collection process.
With its broader spectrum of integrations, involve.me offers adaptability, making it an excellent choice for businesses seeking extensive connectivity with their existing software ecosystem.
Try involve.me for Free
Success Pages and Redirects
SurveyMonkey provides options for a Custom Thank You page or a URL Redirect page at the end of their surveys, enabling users to add a personal touch or direct respondents to a different webpage. These two types of exit pages offer a basic way to conclude surveys or form experiences, yet there are limited features for customization and personalization, especially when considering projects with multiple possible outcomes or sophisticated follow-up actions.

In contrast, involve.me offers advanced custom redirect feature. This tool gives users the flexibility to replace the default "Thank You page" or "Outcome pages" with a custom URL of their choice, thus facilitating more personalized and dynamic user experiences. The feature is especially useful when a project requires multiple outcomes as each outcome can be linked to a unique URL, providing a highly tailored follow-up for each respondent.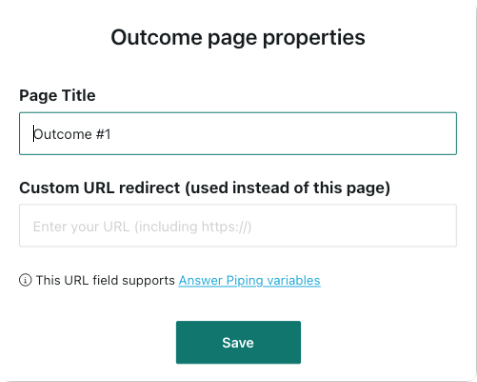 Furthermore, involve.me enhances user confidence in the setup by offering a "TRY IT" button, allowing users to test the functionality before launching their project.
Data Validation
SurveyMonkey ensures data integrity through necessary field requirements. This means respondents must provide answers for all the required fields defined under the Options tab. However, one drawback is that the platform doesn't offer validation for the 'Contact Information' question type, meaning respondents can input data in any format, length, or range without encountering validation error messages. This lack of input validation may impact the consistency and quality of the collected data.
involve.me excels in data validation features, ensuring higher data quality and reliability. It offers email address validation, which not only checks for proper formatting but also prevents the use of disposable, personal, and duplicate email addresses.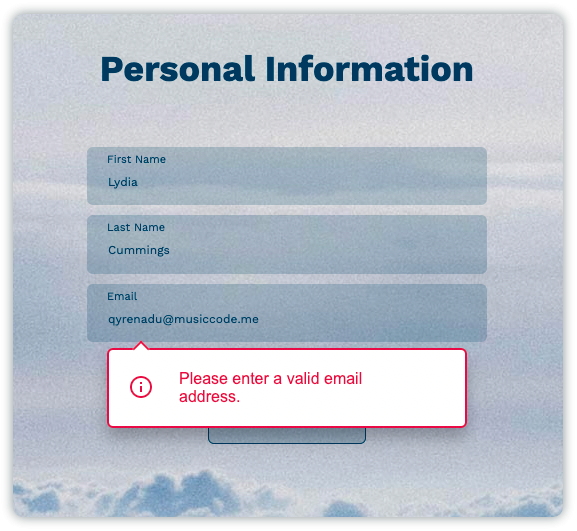 Free text input validation lets users set answer requirements, including the length and character type, and phone number validation checks for the correct format based on the selected country code.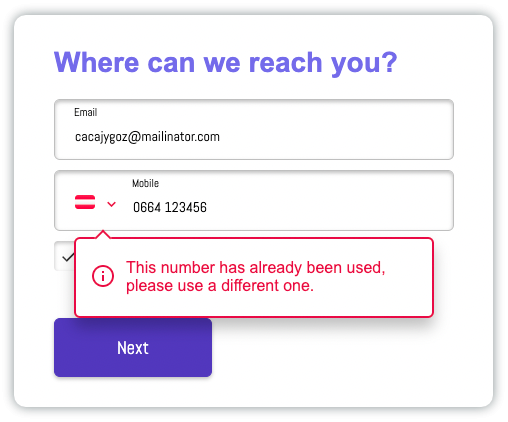 Also, it imposes restrictions on file uploads, allowing users to limit the number of files, restrict file size, and set file type limits.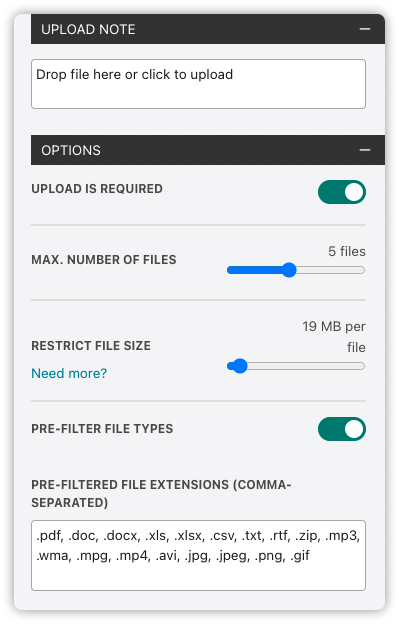 This plethora of validation features provided by involve.me strengthens data integrity, which can greatly enhance the effectiveness of data analysis, positioning involve.me as a superior choice for data validation.
Conditional Logic
SurveyMonkey's conditional logic features adopt an 'if/then' approach, which simplifies the user journey through forms and surveys. Users can easily add logic from the sidebar, directing respondents to different questions or pages based on their specific responses. While this approach to conditional logic is straightforward, and certainly helps in structuring the flow of the survey, it may lack the depth and flexibility needed for more intricate projects or advanced personalization.
involve.me, conversely, provides a more sophisticated and tailored approach to conditional logic. Its outstanding outcome logic feature supports a diverse range of content elements such as "Multiple Choice", "Image Choice", "Dropdown", "NPS", and "Sliders".
With involve.me, users have the ability to create their own scoring logic, build complex custom formulas, and map one answer to multiple outcomes with different weights. This allows for projects that deliver tailored experiences based on a participant's performance or user profiling.
In score-based projects, involve.me offers a variety of scoring methods:
individual score calculation,

counting correctly answered questions, or
creating a custom scoring formula.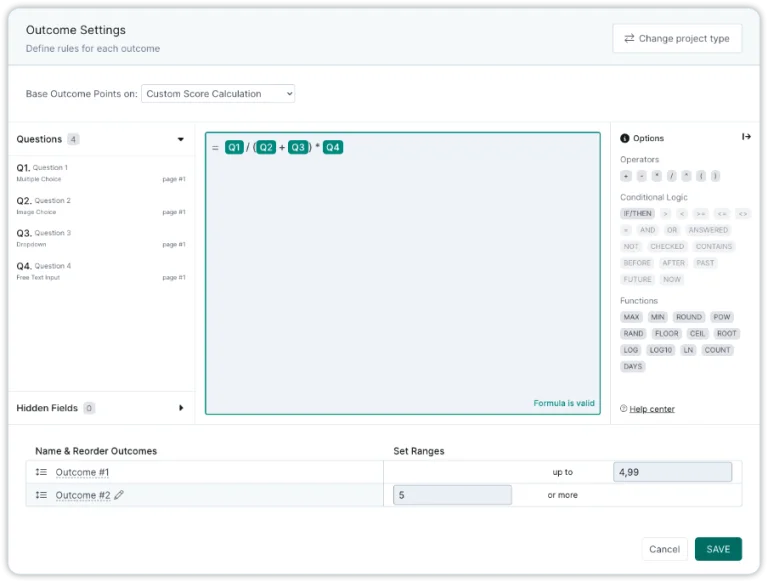 This multifaceted approach allows users to adjust the scoring process to match their unique needs, such as prioritizing certain answers over others.
There are answer-based projects in which you can link each answer to one or more outcomes, or even no outcome at all. Also, with the "Individual Score & Calculation" option, users can assign different weight values to each answer, including zero or negative values.
Customer Support
SurveyMonkey delivers customer support with email assistance for users experiencing urgent issues. Their comprehensive Help Center is packed with instructional articles and video tutorials, providing valuable insights into how to make the most of the platform's features. They also provide tips and guidance through their Surveys 101 section, aiding users in creating effective surveys that yield fruitful results. While this level of support is noteworthy, it primarily operates through asynchronous channels, which might not provide immediate help when users need it most.

involve.me, on the other hand, amplifies the customer support experience with a variety of touchpoints. Users also have access to a wealth of resources including YouTube tutorials, webinars, documentation, FAQs, and guides, all designed to help them make the most out of involve.me's platform.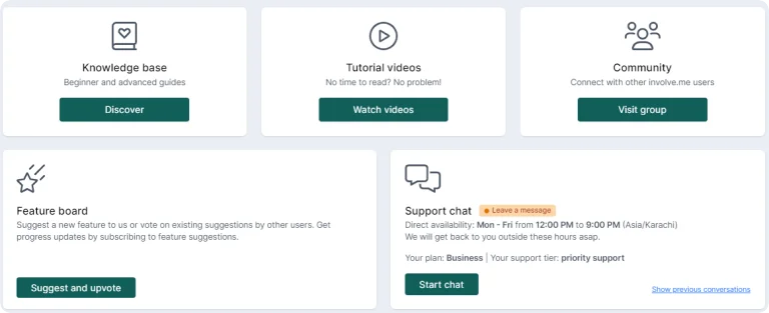 Users can reach out via email, fill out a form on the website, or best of all, start a chat conversation through the Support Center, facilitating immediate interaction with the involve.me team.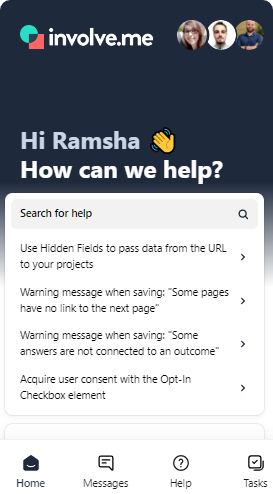 The involve.me community is another standout feature, providing a platform for users to ask questions, interact with others, and suggest features or improvements. involve.me's comprehensive and accessible customer support system ensures users are well-equipped to maximize the platform's potential, ensuring they always have access to the help they need, exactly when they need it.
Customer Reviews
Lastly, let's take a look at a selection of customer reviews that we've gathered from a reputable review site.
SurveyMonkey Reviews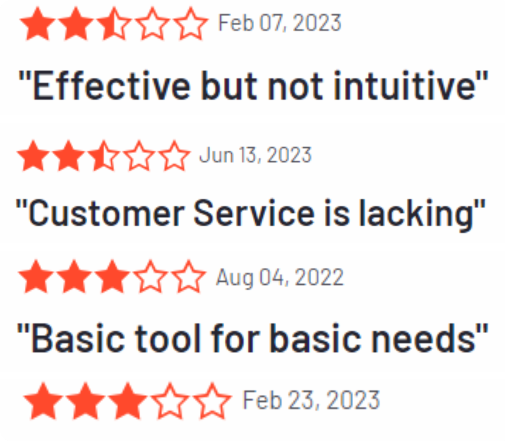 Involve.me Reviews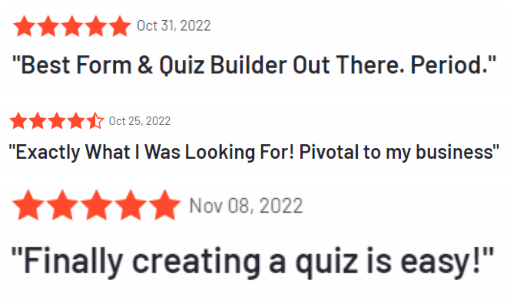 Try involve.me for Free
Final Words
As we wrap up our in-depth exploration of the online survey platforms of 2023, involve.me undeniably stands out. It's the full package, offering user-centric design, advanced features, and integrations that surpass the likes of SurveyMonkey. If you're seeking a flexible, innovative, and engaging platform for your data collection needs, your search ends here. Start your journey with involve.me today, and transform the way you connect with your audience.
Create Your Own Online Survey
Get Started with 200+ Templates