Knowledge is power, but data is just data. The shorter the path between data and knowledge gets, the faster you'll be able to make decisions for your business. involve.me's new and improved analytics serve you data in digestible pieces of information you can act on immediately.
Marketing would be a lot less stressful if your job ended by launching a campaign. But that's where it actually begins. Evaluating your campaign and optimizing it to perform better is where the biggest questions are asked and the toughest decisions are made.
Even identifying your campaign's KPIs is a challenge. How do you know what metric to even look at? And where do you find this data once you figure it out?
Many marketing and advertising platforms like Google Adwords or Facebook's Business Manager show you all your campaign data. involve.me now does too.
Let's have a look at what kind of information you can visualize and export in your involve.me account.
There are two types of analytics for you to look at when evaluating your interactive content:
1. Organization level analytics
2. Project level analytics
3. Cross project level analytics
Organization Level Analytics

Organization level analytics show you the overall performance of all your projects. They are great if you want to have a quick look at your month and see growth and drastic changes compared to the previous month.
Your organization level key metrics show overall visits and submissions across all projects over the last 30 days. They also compare your data to the last month so you can get a rough idea if you're improving.

If your main focus is not submissions, but new leads collected, you can find that number in the same banner. The difference between submissions and leads collected is that leads collected are new contacts created while submissions are any kind of project completion.
For example: An existing lead filling in a customer feedback survey is a submission. A new email collected from a lead page is a lead collected.
Completion Rate is a crucial metric to pay attention to. It's the percentage of viewers who have completed your project, creating a submission. Taking a quiz and making it to the results page, answering all the questions on your survey or picking a payment method are examples of completed projects.
Completion Rate below 30% is an indicator of a not engaging project. It means most visitors do not make it all the way through your project. An easy fix for low completion rates is making your projects shorter.
Ask fewer questions, address the viewers by their first name with Answer Piping, use Logic Jumps to skip irrelevant information or add Hidden Fields to autofill data you already know.
Looking at your completion rate on the Organization level is helpful to get the general idea, but if you want actionable data and see immediate improvements, look at the same metric on individual Project levels. Project level analytics show you where exactly do your visitors drop off, making it clearer what to fix.
Avg. Time to Complete is how long it takes your average visitor to complete your average project. You will see that longer projects tend to get fewer submissions, as they have a lower completion rate.
Pro tip: If you have a long project and you can't sacrifice any questions to make it shorter, split your project into 2. That way your submission data will save after the first project is completed. Your visitors will be directed to the next project seamlessly as if it was the next question, so they won't notice anything.
Completed Payments is where you can see how many payments all your projects collected over the last 30 days. To see where exactly these payments came from, look at individual Project level analytics to see full payment details.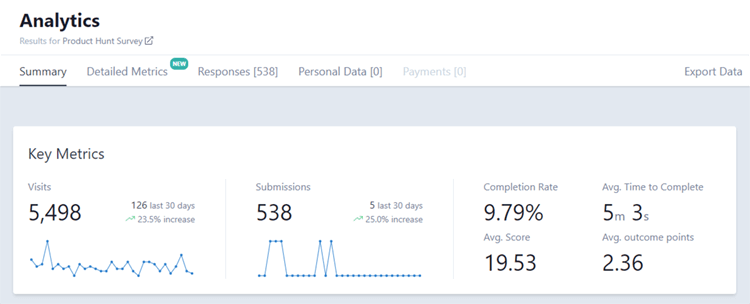 Moving on to the next section, underneath Key Metrics is where you find Account Usage information. It's important to have an occasional look here, especially towards the end of the month, since it shows how many Submissions you have left before you run out.
Team Member Seats available are displayed in Account Settings, as well as remaining Storage, Custom Domains, Workspaces, and Live Payment Accounts.
Project Level Analytics
Project level analytics is the main source of actionable data to make your interactive content campaigns perform better. Key Metrics values tracked remain the same as on the Organization level, except this time, they only show data for the individual project you have selected in the drop-down menu above.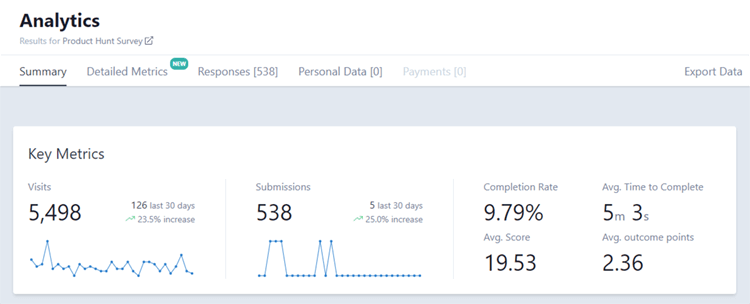 In this project for example, we can see the Completion Rate is low and the Avg. Time to Complete is high, so we definitely need to make it shorter. We can find out what questions to get rid of in the Detailed Metrics tab.
Scrolling down deeper into Project Analytics summary, we'll find two sections:
1. Outcome distribution
2. Response summary

Outcome distribution is for projects with Multiple Outcomes. It's perfect for quizzes where you can see the most and least common result, but it's helpful for any project that uses multiple outcomes.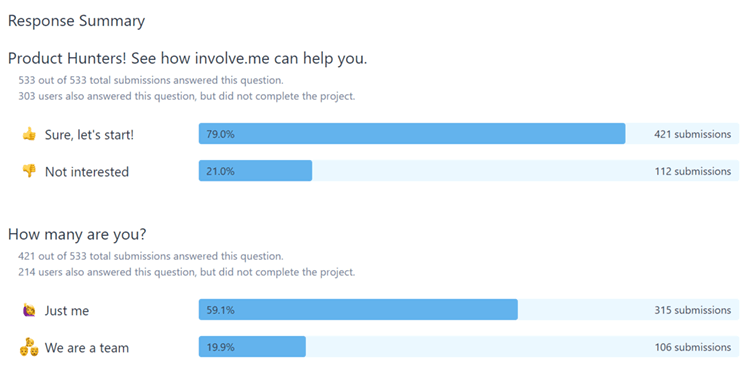 Response Summary right underneath shows you the most common answers to each question, giving you a solid idea about your visitor's overall preference. This is especially useful for segmenting your contacts based on what they like, attributing net promoter scores or qualifying leads.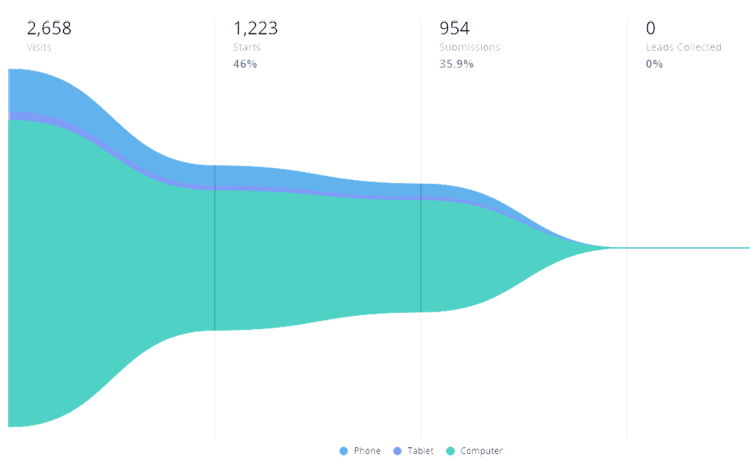 The Detailed Metrics tab is where you can visualize your funnel, meaning your conversion rates from Visits to Starts to Submissions to Leads Collected. For example, your submission rate, meaning how many people made it through your funnel, which in this case is 35.9%.
Different colors represent devices that your content is viewed on. Content made with involve.me adjusts automatically to any screen size, but you can take this data and intentionally design your funnel mobile-first if you see you're getting a lot of mobile visitors and vice versa.
For a more detailed look at what devices is your project viewed on, scroll down to Breakdown by Device Type. You can see the same metrics as in your funnel, but this time it's organized by device type.
You can sort the countries by submissions or conversion rates to see where your project performs best.
If you're wondering what countries your audiences are based in, you can see that in Breakdown By Country just below. It shows where in the world your content has been viewed.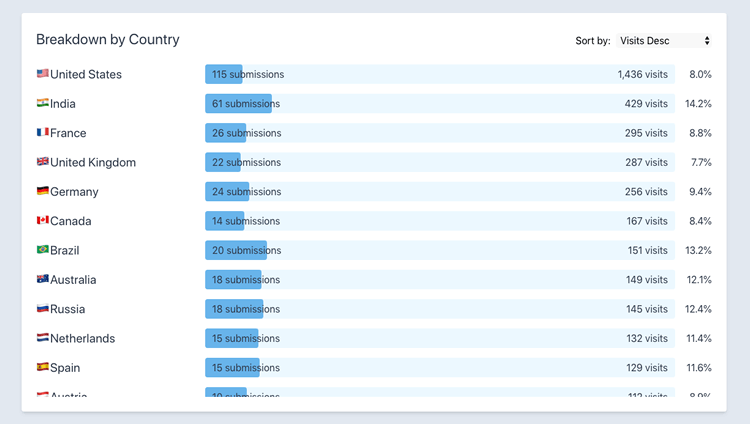 Most Visited Embeds shows you the source of your content's visits. If you've embedded your content into multiple locations like multiple blog posts or web pages, you can see which one is bringing you the most visitors. This also works for stand-alone page content as it shows UTMs and referral links.

When making changes to your project to help it get more submissions, look at your project's Question Funnel. It included both answers from visitors who have completed the project, as well as from unfinished submissions.
Unfinished submissions are the visitors who did not make it to the end of your project (but answered at least one question) and thus did not create a submission. Optimizing your project for more submissions based on the drop-off rates shown in your Question Funnel will keep you unfinished submissions low.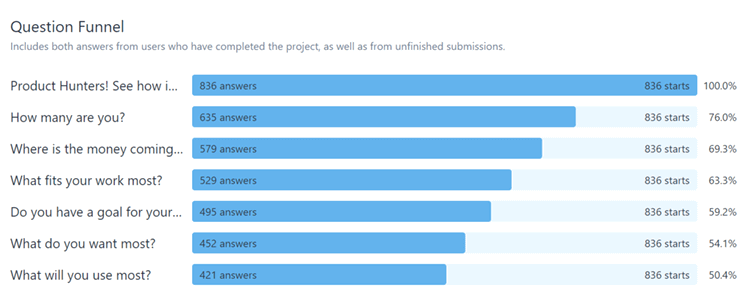 For example in this question funnel, we can see only 50% visitors make it to the end. More of them drop-off as more questions are asked. Including a Logic Jump to skip certain questions or reducing the number of questions asked would keep the submission rate higher.
Moving on to the Responses tab, this is where you can get really granular. You can see each individual response for each individual question. This is helpful if you don't have many submissions and want to take a detailed look at each one of them or if you're about to make a sales call and want to know what a specific client says.
If you ever need to delete submissions, like test ones from yourself or duplicate ones, you can do so here.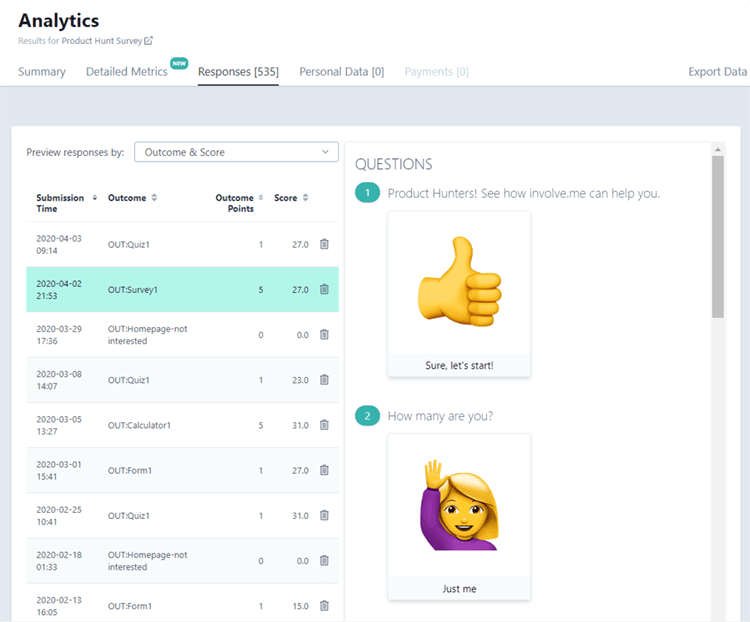 Remember, if you're using a native integration or Zapier with involve.me, this data is already in your CRM and you can have automated actions applied to these contacts.
If you just want to quickly get contact information, Personal Data is where you can view it. It has everything you have included in the Contact Details drag & drop element in your content. Clicking the eye icon will show you the detailed responses of the selected lead.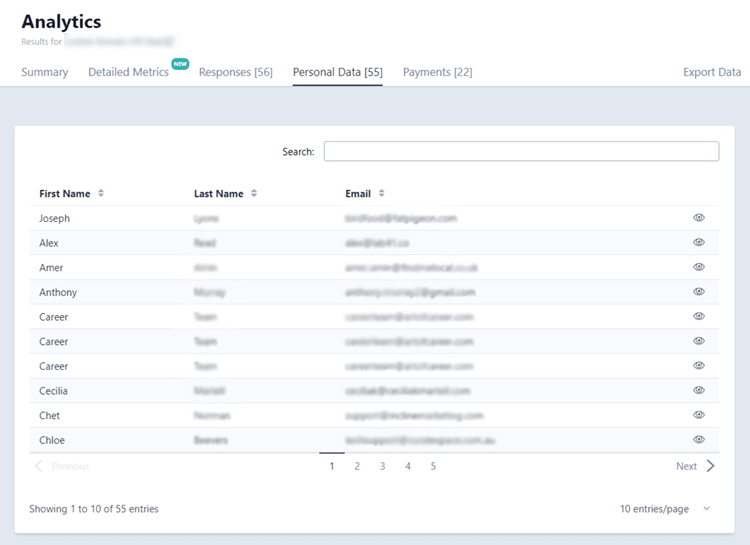 For a quick look at your payment details, you can go to Payments and see every complete and incomplete payment. Simple tick "Paid" or "Not paid" and choose a submission to display payment details.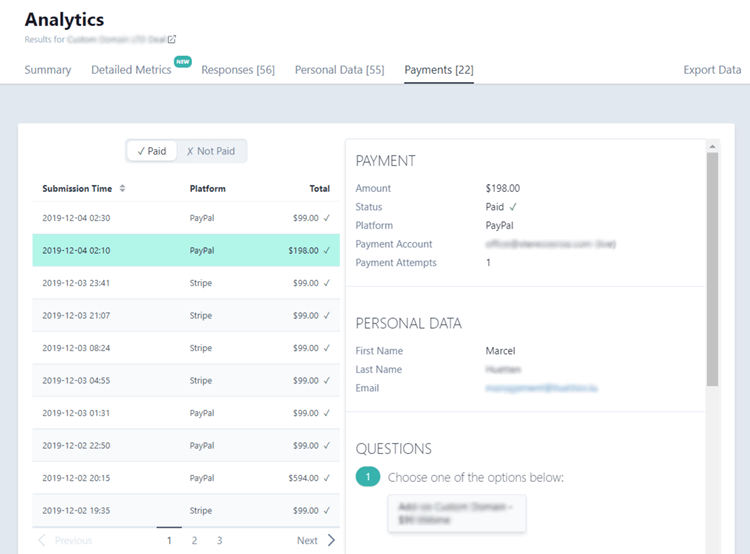 Keep your eye on the "Not paid" submissions, since these visitors did show enough purchase intent to engage with your payment page and might need a gentle push to convert.
Cross Project Level Analytics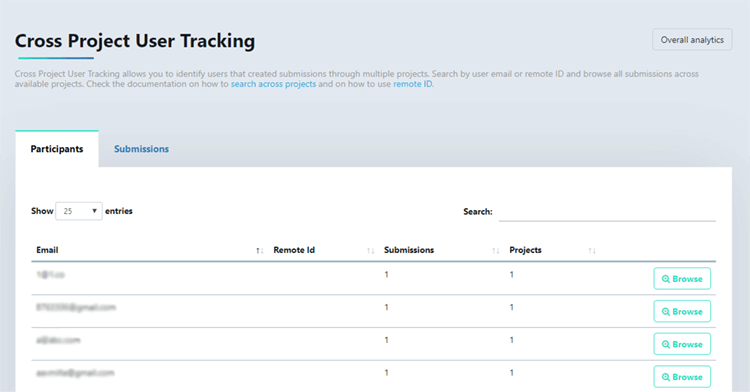 Cross Project User Tracking allows you to identify contacts that created submissions in multiple projects. Search by user email or remote ID and see all their submissions across projects they engaged with.
Have a look at how to use remote ID.
Cross Project Level Analytics are perfect for when you're getting ready for a sales call and want to see every time your lead engaged with your content creating a submission. Cross Project User Tracking is where you can see all they had to say.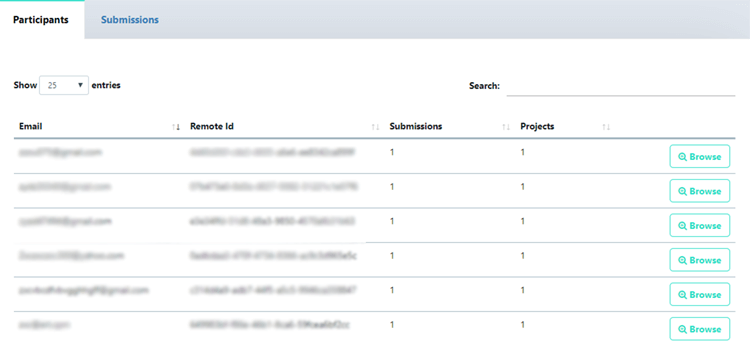 The Participants tab shows a list of all your project participants that created at least one submission. You can sort it by number of submissions to see everyone that has multiple submissions on top.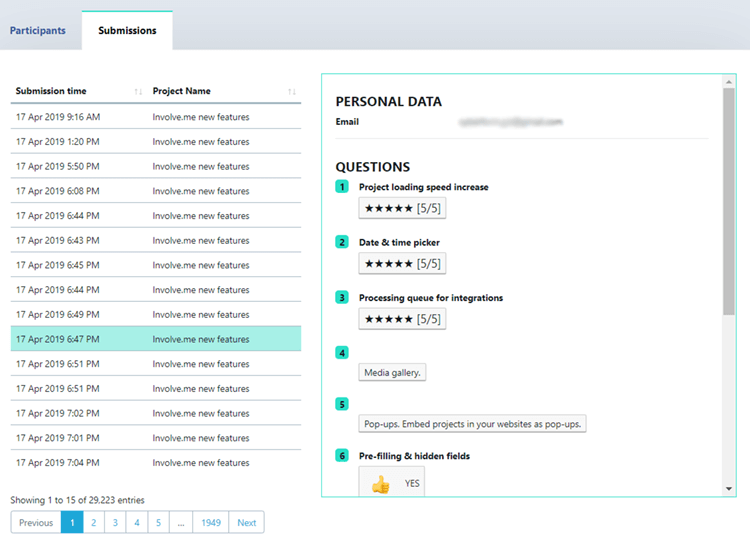 Cross Project Level Submissions show you submission details of your Cross Project Participants. You can see all their answers and contact details created in the submission.
Learn more about Cross Project Participants and Remote ID →
Conclusion
Data analysis does not have to be scary. Intuitive reporting with features like funnel visualization or automatic conversion rate calculation takes the math away and presents you with actionable information.