According to a recent study, over 53% of users expect a company's website to load within three seconds; otherwise, they leave. This highlights the importance of immediate and seamless responsiveness. One of the most efficient ways to streamline user interactions and maximize conversion rates is by implementing responsive online forms.
Whether you want to create an effective form for lead generation, newsletter signup, appointment scheduling or job application, we have prepared a list of free form templates.
In this article, you will learn how to embed a form into your website without code and create a responsive form that users will actually want to fill out.
What Are Online Responsive Forms?
Responsive forms are online forms that adapt to the device and screen size on which they are accessed. They offer a tailored, easy-to-navigate website experience for all users using a desktop, tablet, or smartphone. The primary goal of responsive forms is to minimize efforts and frustrations for users and ultimately drive higher engagement and conversions.
For example, look at the form below. That's how an online form can dynamically adapt to the size and resolution of your screen. When mobile users access it, the form's fields stack vertically and take up 100% of the screen's width, allowing for easier finger-tap navigation.
On a desktop, the form can display multiple fields side by side or enable additional design features to attract user attention, optimize load times, and promote better user interaction.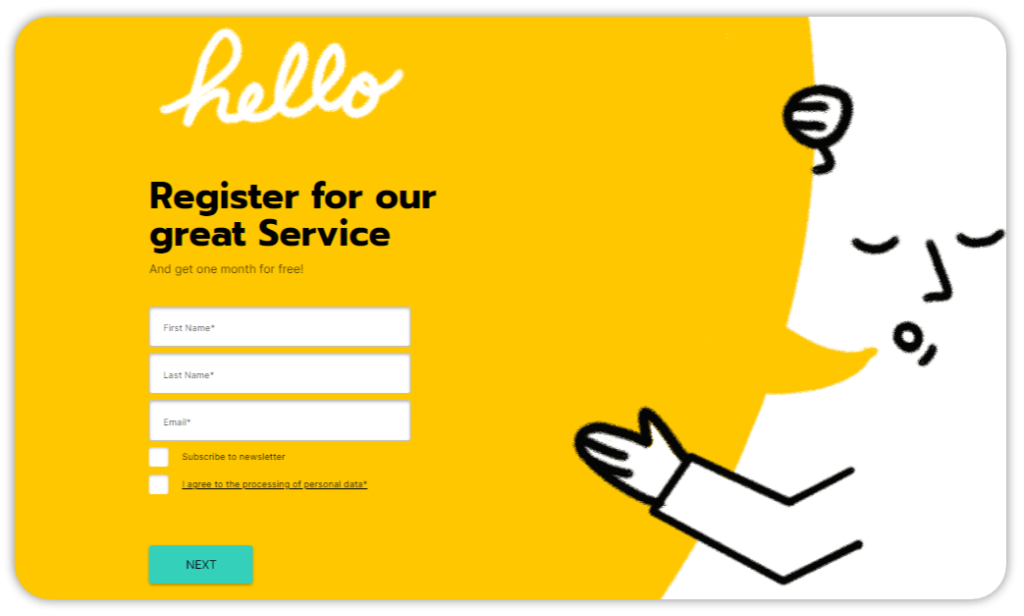 Types Of Forms [+Free Templates]
No-code form builders are a great option for businesses that want to quickly create online forms without having to write code. These tools provide visitors with a user-friendly interface and drag-and-drop functionality that makes it easy to design and customize forms to match their brand's look and feel. One such platform is involve.me, which offers free templates and a number of features to create engaging and visually appealing forms.
Let's discuss various types of responsive forms that you can use on your website:
Job Application Forms
A job application form is an essential tool for employers seeking to collect structured and precise information from potential candidates. Grab this free template to create a job application form for candidates: involve.me Job Application Form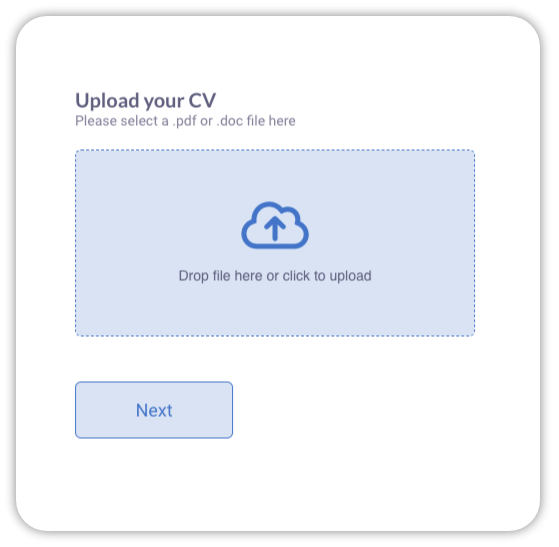 With involve.me's location tracking, you can see where each application was completed, giving you valuable insight into the geographic distribution of potential candidates. 
Contact Us Forms
A contact us form is an indispensable asset for any website, allowing your visitors to easily get in touch with you or your team. Use this free template to create your own contact form: involve.me Contact Us Form.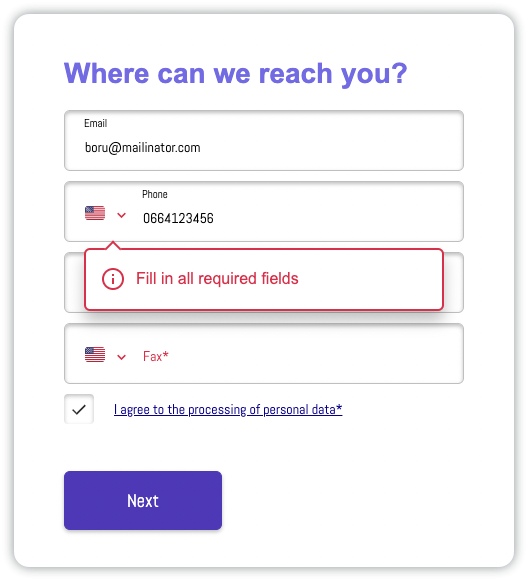 Lead Generation Forms
Lead Generation Forms are used to capture information from potential customers. They typically ask for contact information, such as name and email address. To motivate visitors to give your their contact information, you can create a lead magnet such as a free guide like in the example below: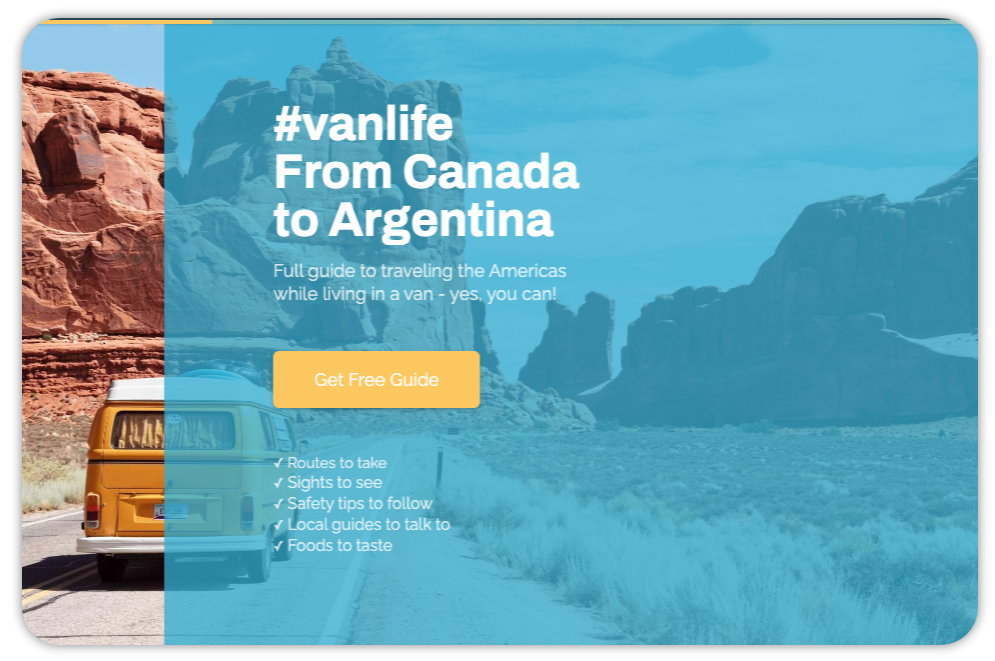 Create a similar lead generation form with this template.
Order & Payment Forms
Whether you're selling physical products or digital services, having a well-designed and secure order and online payment form is essential for successful transactions.
If you want to create a form where your visitors can order and pay on the spot, check this free template.
involve.me's templates support various payment gateways, currencies, and automatic calculations, ensuring a smooth checkout process for your customers, and reducing cart abandonment rates.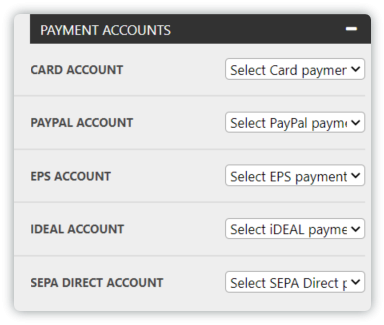 Newsletter Signups & Subscriptions
With newsletter subscriptions, you get valuable subscriber information to segment your customer base and tailor your messaging more effectively.
involve.me offers eye catching templates that not only capture email addresses but also prevent the entry of disposable/temporary email address, personal address and duplicate email address.
Embed this form into your website or create a popup with this newsletter signup template.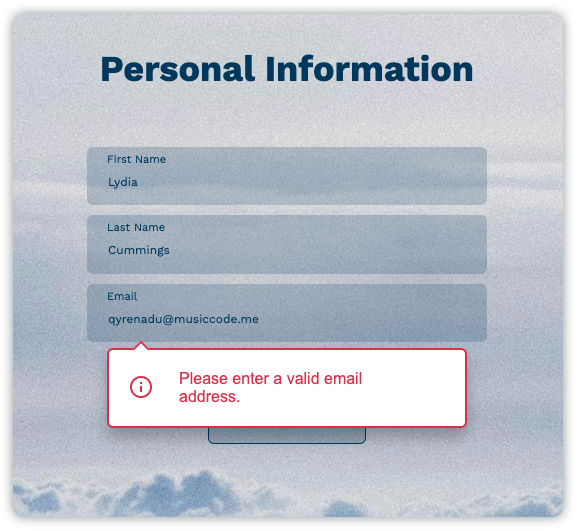 Appointment Forms
Appointment forms are online forms used to schedule appointments or meetings with clients, customers, or other individuals. 
Don't let a clunky scheduling process deter users from booking appointments or consultations. Create your own appointment form with involve.me using this template.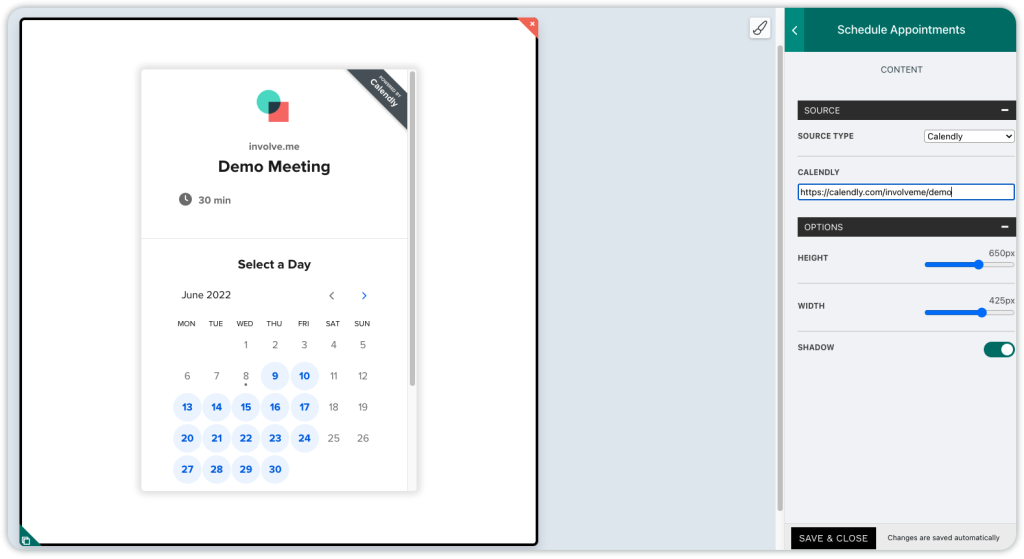 involve.me's appointment forms streamline the process with different time slots, calendar integration, for both users and service providers.
Consultation Forms
If you are a consultant, you will find it useful to have a consultation form that can either be shared on social media, embedded in the website, or emailed. It's pretty similar to the appointment forms but it also focuses on gathering in-depth data to facilitate productive consultations.
Here is the form template that you can use for your consulting business.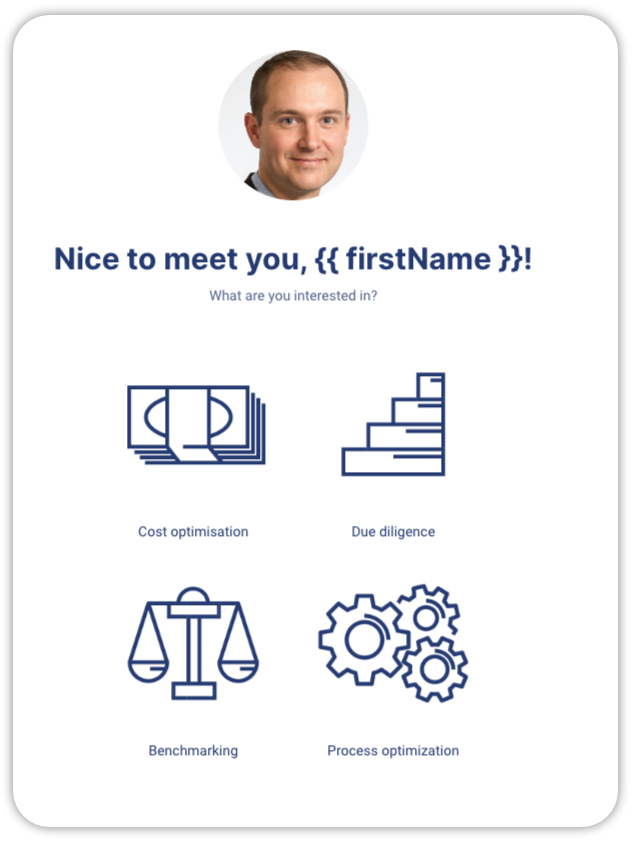 With involve.me's templates, you can gather critical data, assess user needs, and receive email notifications once the visitor completes the form.

It even offers answer piping feature that help in providing a personalized, pre-consultation experience based on user inputs.
Best Practices for Creating Responsive Forms
Creating responsive and interactive forms is essential for businesses to capture user data, gather feedback, and improve user engagement. The following best practices will help you design responsive forms that drive better results.
Make It Visually Appealing
With a visually appealing form, you have a better chance of getting the form will be completed. Therefore, it is crucial to maintain brand consistency and incorporate design elements that align with your brand's color palette. Ensure your form is mobile-responsive, as more people access content on mobile devices than desktop computers.
For example, Airbnb uses a clean and minimalistic design for its sign-up form, making it aesthetically pleasing and easy to fill out: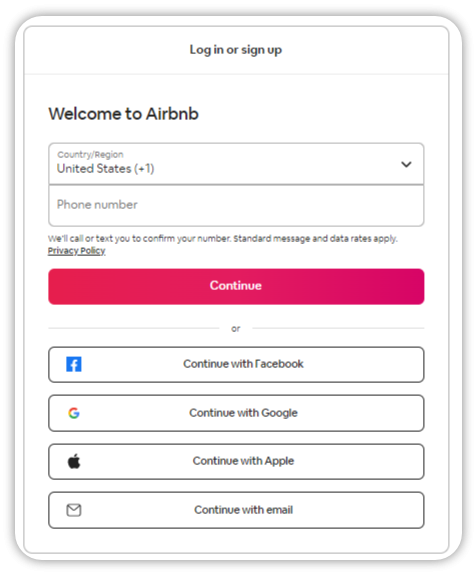 Include Relevant Fields
Keep your form concise and straightforward by including only the necessary fields to achieve your goal. Extraneous fields may disinterest users and prompt them to abandon the form.
For example, Dropbox's registration form is simple yet effective, including only essential fields such as email, password, and name. By eliminating unnecessary fields, users are more likely to complete the form without feeling burdened with excessive questions.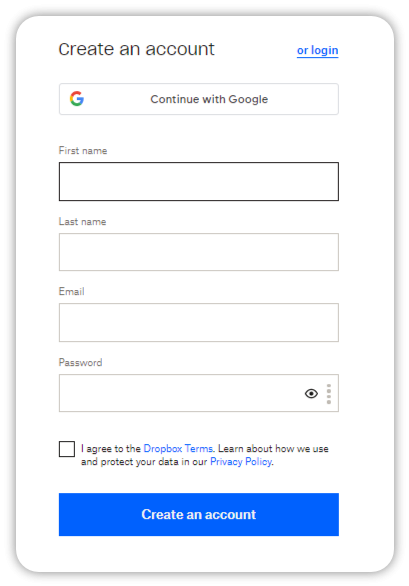 Limit the Number of Questions
Make it easy for your users to complete the form by keeping it short. Users are more likely to complete a form with fewer fields that can be answered quickly.
LinkedIn, for instance, streamlined its registration form to a minimal two-field design, effectively improving customer experience and form completion rates.
Ask Open-Ended Questions
Open-ended questions can help you gain valuable insights into your user's needs, preferences, and potential pain points.
For example, Semrush, a digital marketing platform, includes open-ended questions in their job application form to gain insights into candidates' skills, and interests. This helps them make more informed hiring decisions.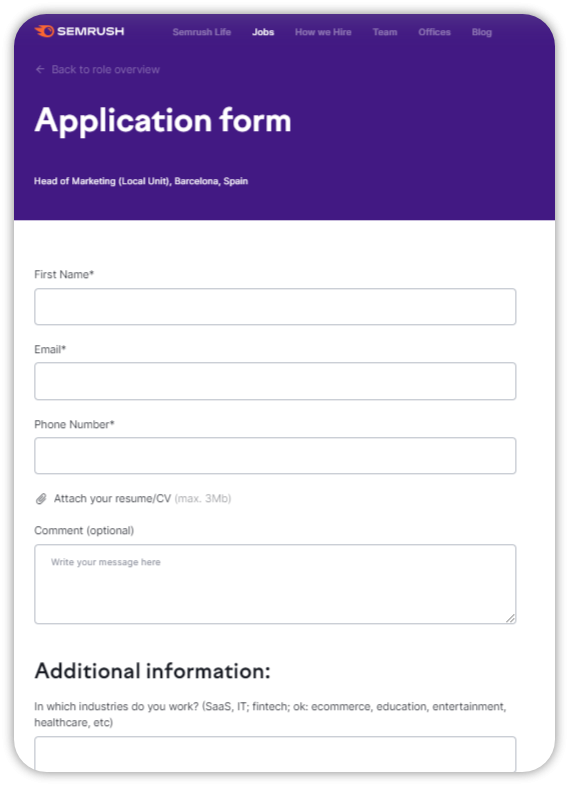 Offer Incentives for Completion
An incentive, such as a discount, giveaway, or exclusive content, may encourage users to complete the form because they will benefit directly from participating.
Salesforce offers a 30-day free trial of their CRM software to incentivize users to complete their sign-up form. This incentive is a great way to encourage potential customers to experience the benefits of their product without committing to a purchase.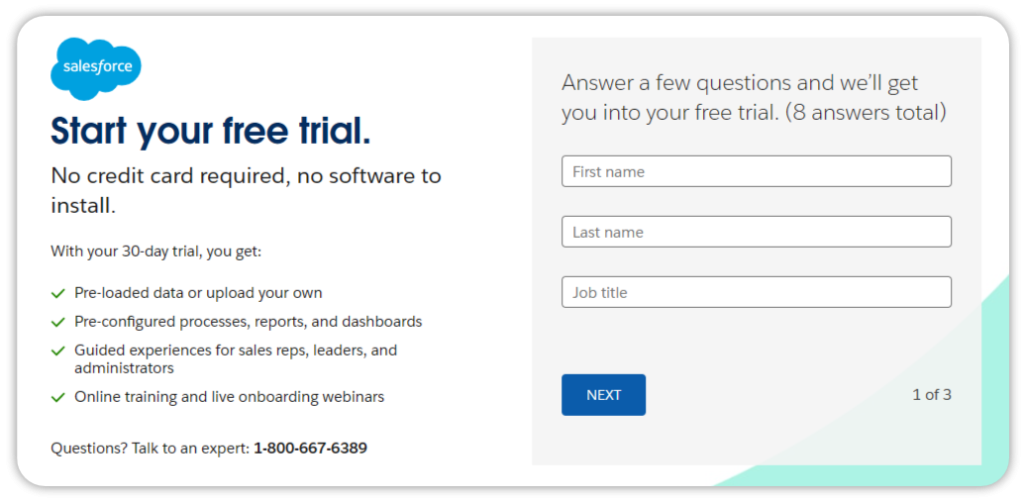 Test, Monitor, and Optimize
The success of your form relies on continuous testing, monitoring, and optimization. Test with different form layouts, colors, and content, and monitor key metrics such as form completion rates to determine which changes yield the best results. Analyze this data over time to optimize the form and improve user engagement continually.
Facebook is an excellent example of how continuous testing and optimization can improve the user experience of a sign-up form. Here is an image of an older version of Facebook Sign Up form.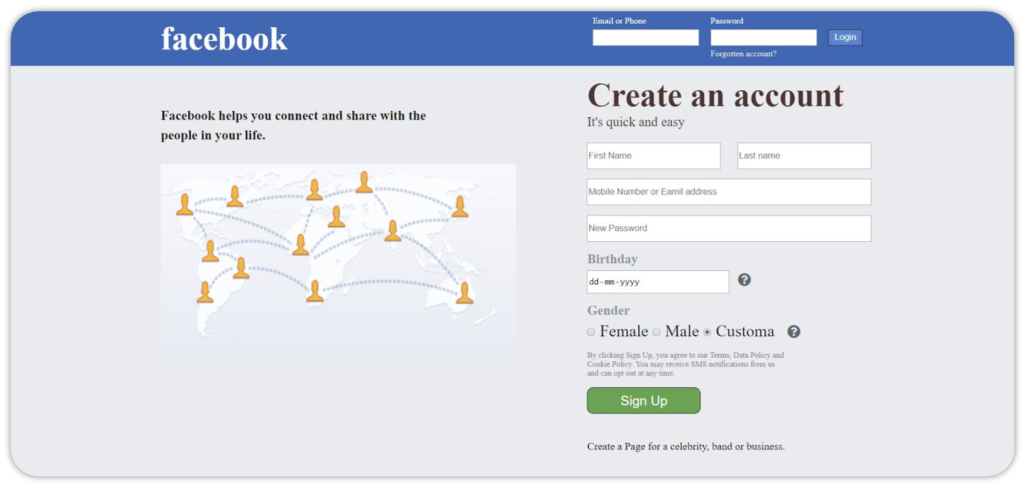 Over time, Facebook has simplified its sign-up form and introduced new features, such as selecting your preferred pronouns.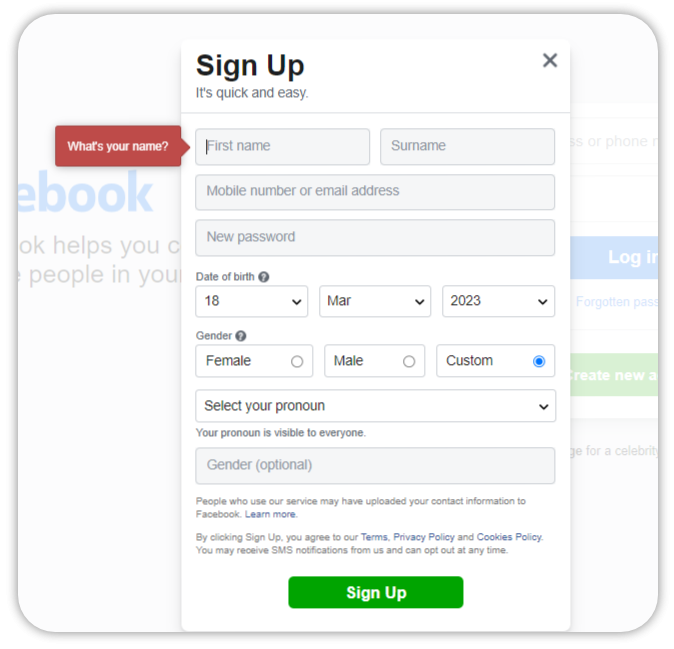 This shows how Facebook is continually evolving and adapting its form to meet the changing needs and expectations of users.
Steps To Create Online Forms That Converts
With involve.me templates, you can create a stunning online form in just 10 minutes! Let's dive into the step-by-step process of how to create an online form using involve.me templates:
Step 1: Sign Up and Choose a Template
To get started, sign up for a free account.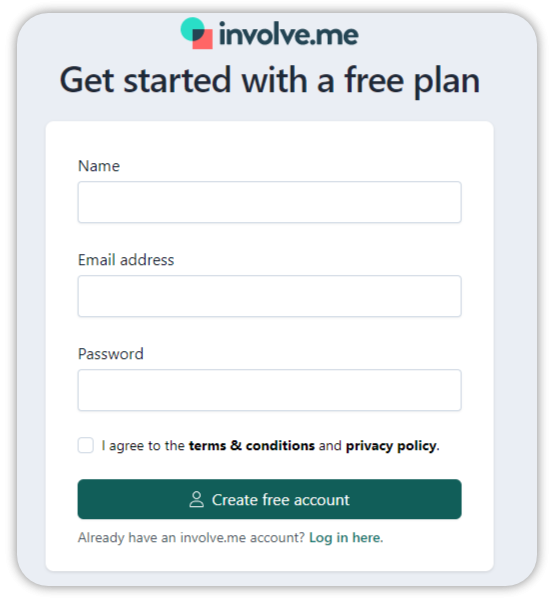 After logging in, you can browse through a wide range of pre-designed templates tailored to different industries and use cases. These templates include appointment booking forms, surveys, quizzes, and feedback forms. The involve.me template gallery provides a starting point, making the form building process quick and straightforward.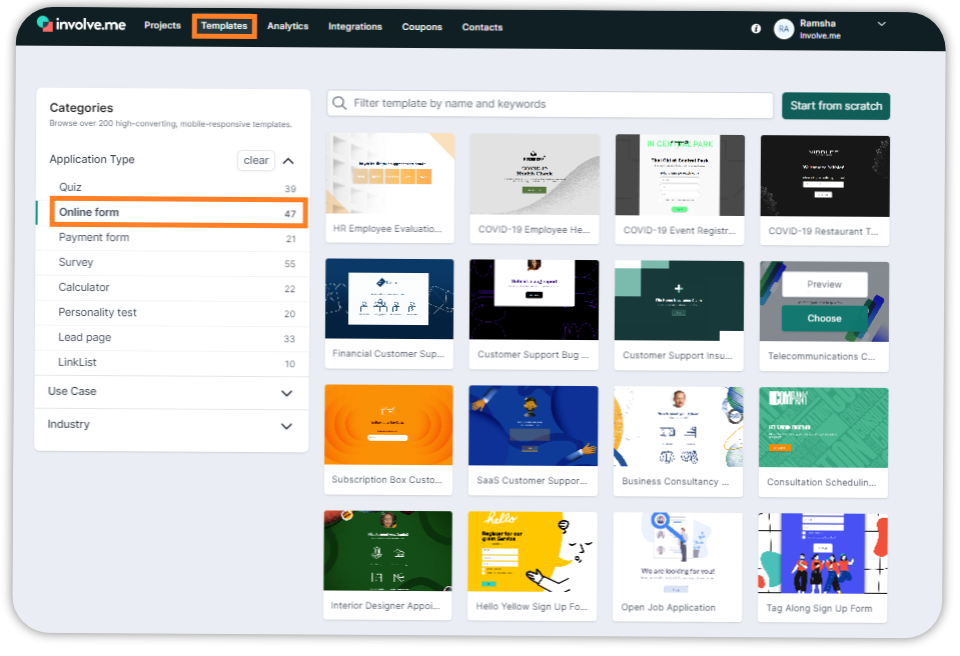 Step 2: Customize Your Form
After selecting a template, customize it using content elements on your right. With involve. me's drag-and-drop editor, you can edit text, add images and videos, and adjust the styling to match your brand. Create personalized questions with multiple options, dropdowns, or sliders.
Pro tip: involve.me seamlessly works with popular tools and platforms like MailChimp, Google Analytics, and Zapier, among others. Integrating your form with these services can simplify data collection, automate processes, and enhance your marketing strategies.
Step 3: Add Unique Content Elements
involve.me offers various content elements to help you create responsive forms that deliver an optimal user experience without compromising their focus. Some of these include:
Date & Time Picker: Let your visitors choose the date and time they want to schedule the meeting with you. 

Button: A customizable button that can take users to the previous page, next page, jump to a specific page, or link to an external URL or email.

Contact Form: Collect user data such as their first and last name, email, and other personal information.

Free Text Input: Use this content element to ask open-ended questions.

Opt-In Checkbox: Collect opt-ins, such as agreeing to terms and conditions or subscribing to a newsletter.

Payment Collection: An element for collecting one-time or recurring payments from participants or users.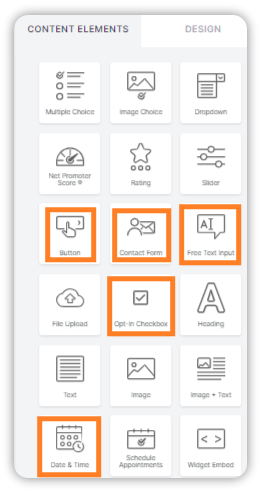 Step 4: Publish and Share Your Form
After creating the form that caters to your audience's needs, publish it and share it across various online platforms or embed it on your website. The responsive design ensures your form looks and works flawlessly on all devices, delivering the best possible customer experience.
Tips to Analyze and Interpret Form Data
involve.me offers a comprehensive analytics dashboard for all your form projects, providing you with valuable insights into user preferences and engagement.
The "Responses" section shows key metrics such as visits, submissions, completion rates, and more, along with a response summary to give you an overview of participants' answers and outcomes.
You can also view a detailed metrics section that shows the funnel of your users and where they dropped out, browse participant data sets, and export detailed reports.
In the "Personal Data" tab, you can sort, search, and browse all personal data collected from the "Contact Form" element. The "Payments" tab lists all submissions along with their payment status. The export data feature lets you download reports as Excel or CSV files. The Excel file contains detailed data about every participant, and the CSV file contains basic participant data and key metrics.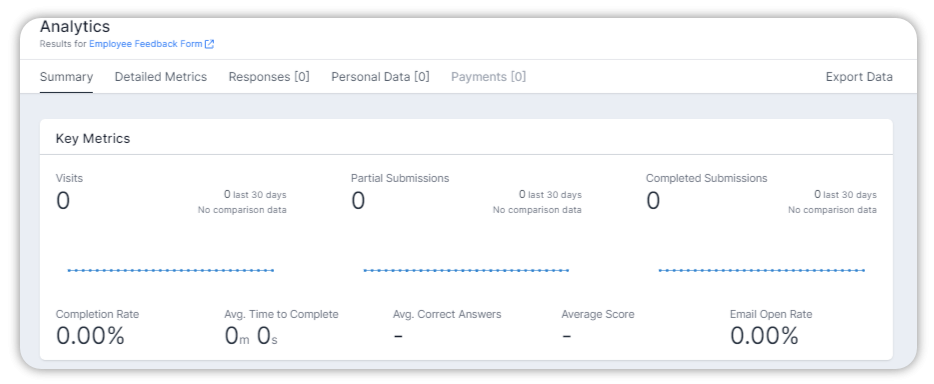 So, whether you're running a quiz, survey, or lead generation form, the detailed metrics and personal data available at your fingertips will help you make the most out of your form projects.
How Responsive Forms Can Benefit Your Business?
Responsive forms can add tremendous value to your website, no matter what industry you are in. Let's take a closer look at some of the key benefits and real business cases:
Improved User Experience
By automatically adjusting to the user's device and screen size, responsive forms eliminate the need for zooming, panning, and scrolling, making it easy for users to complete forms and access information. This enhanced experience helps engage potential customers and encourages them to spend more time on your website.
For example, a real estate company can use responsive forms to allow potential homebuyers to submit their contact details, email addresses, budget, and preferred location, making it easier for the company to follow up with them and provide relevant listings.
Increased Conversion Rates
Responsive forms are crucial in converting website visitors into leads, customers, or subscribers. A study by Google revealed that 61% of users are unlikely to return to a mobile site if they had trouble accessing it, and 40% would visit a competitor's site instead.
Imagine you run a fashion e-commerce store and want to take customer engagement to the next level and boost conversion rates. With responsive forms, you can make it easy for customers to sign up for your newsletter, stay in the loop about sales and promotions, and share their thoughts on your products.
Accessible on Multiple Devices
Users can access responsive forms on multiple devices, making it easy to complete forms no matter where they are. This can help companies to reach a wider audience and make it easier for people to interact with their brand. For example, Airbnb uses responsive forms for travellers to book their accommodations on any device no matter where they are.
Enhanced Data Collection and Analysis
Responsive forms can give businesses more accurate and complete data using validation rules, error messages, and conditional logic. This helps to analyze the collected data and gain valuable insights into user behaviour and preferences.
A financial institution can embed responsive forms into its website that visitors can use to apply for loans, credit cards, and other financial products online, collecting data on customer demographics, income, and credit history.
Wrap Up
In conclusion, creating online responsive forms is a crucial aspect of engaging users and enhancing business performance.
Responsive forms can benefit your business in numerous ways, from gathering customer data to generating leads and increasing conversions. For optimal results, adhere to the best practices when designing responsive and interactive forms, such as using a clean and uncomplicated design, optimizing for mobile compatibility, and offering unambiguous instructions.
 Use the comprehensive guide provided above, including an overview of different types of forms and involve.me free templates, to get started on optimizing your user engagement with responsive forms.
Start now: Create Your Own Form
With our 300+ Templates