Trivia games and online quizzes have been popular for decades, and their popularity shows no signs of waning. People relish the interactive experience of testing their knowledge and competing against others.
If you're looking to create interactive quizzes but don't have the time or expertise, Chat GPT, an AI powered quiz engine, can help you craft a fun trivia quiz in just 30 minutes.
This article will guide you through the process of using Chat GPT for content marketing and audience engagement, offering tips for designing an intriguing, challenging, and accurate quiz.
Creating The Trivia Quiz Using Chatgpt (Prompts+Examples)
Chat GPT, an AI-powered tool developed by OpenAI, excels at generating human-like text responses. When it comes to creating different types of quizzes, including trivia or a character quiz, Chat GPT can be a real lifesaver. It rapidly generates quiz questions and potential answers, personalizes quizzes, and ensures each one is engaging and unique. Follow this step-by-step process to create your quiz in minutes using Chat GPT.
Step1: Decide on the Quiz's Theme & Topic
During the content preparation stage, it's essential to determine the quiz theme and topic. Interactive quizzes can cover a wide range of question categories, from general knowledge to more specific subjects like movies or geography. As a content creator, you'll need to craft an engaging quiz title, interesting questions and provide their answer options. Here is how I started with ChatGPT:
Prompt: I want to create an interesting Trivia Quiz. Please suggest an entertaining list of categories.
ChatGPT Response:
Prompt: I like the pop culture category title. Please give me 3 interesting quiz title ideas.
ChatGPT Response:
Step2: Write Quiz Description
Now that I have different choices let's start with the topic of celebrity.
Prompt: I like the topic "Celebrity Scoop: The Ultimate Star-Studded Trivia." Write a few words describing how this quiz is useful for my audience and why they should take it.
ChatGPT Response:
Step3: Create Quiz Questions 
Prompt: Thanks for the description. Please create 5 multiple-choice questions and a list of answers for this quiz. Keep the quiz questions challenging but not too difficult. I want my users to feel like they're learning something but not to get discouraged by questions that are too hard.
Chat GPT response:
Prompt: Provide correct answers to the five multiple-choice quiz questions for the "Celebrity Scoop: The Ultimate Star-Studded Trivia" quiz.
ChatGPT Response:
Step 4: Create Result Pages
Prompt: I want to create this quiz with "score-based outcomes." Develop three result pages for high-scoring, average-scoring, and low-scoring participants, providing personalized feedback and encouragement for improvement.
Step 5: Design and Publish Your Quiz
With all the materials prepared, I will use a no-code digital tool to design and customize the trivia quiz. These platforms simplify creating interactive and professional quizzes without coding expertise. Follow these steps:
Choose a platform: Select a no-code builder that fits your needs and preferences. Here I am using involve.me, as it is very user-friendly, and provides an array of input fields and customization options.
Sign up and create your quiz: Register on involve.me and choose a pre-built template that complements your "Celebrity Scoop Quiz" theme. Select score-based outcomes as your project type. I will also add the quiz description generated by ChatGPT.
Customize the design: Opt for a color scheme, fonts, and images that embody your quiz's theme.
Ensure a visually engaging and user-friendly design, incorporating humor and visual aids like images or videos to make the quiz experience enjoyable for participants. How about using a popcorn+movie reel image on on every page?
This image also looks very cool and goes with the theme, let's use it as a background!
Add questions: Remember I created quiz questions using chatgpt? Now, I will insert all the relevant content and create a page to collect the email address of quiz takers for future marketing promotions.
Set up scoring and outcomes: Configure the quiz to assign points for correct answers and generate results based on participants' scores. Here I will use clear and motivating outcome descriptions provided by ChatGPT for high, average, and low scores.
Test the quiz: Before sharing the quiz with your audience, make sure to test it yourself and ask friends and colleagues for feedback. This will help you identify any issues or areas that need improvement.
Here is the final look of the quiz I created in 30 minutes.
Step 6: Share Your Quiz and Monitor the Results
Once your quiz is ready, share it with your audience using the involve. me's sharing options. You can embed a link to quiz on your website, share it on social media, or send it via email. To maximize your reach and streamline your marketing efforts, consider using involve.me integration tools like Zapier, Mailchimp, or HubSpot.
Zapier will help you create custom workflows that trigger specific actions based on quiz results, such as adding new leads to your CRM, sending personalized follow-up emails, or even segmenting users based on their quiz performance.
Email marketing tools like Mailchimp or HubSpot allow you to effortlessly sync quiz participants' contact information and their responses with your mailing lists. This enables you to craft targeted email campaigns, nurture leads, and track their progress through your sales funnel, resulting in higher conversion rates and a more engaged audience.
Monitor results and engagement: Keep an eye on the involve.me built-in quiz analytics to understand how participants interact with the quiz. This data can help you refine the quiz or plan future online quizzes based on user engagement and preferences.
Why Are Trivia Quizzes So Popular?
Interactive content, such as quizzes, covers a range of topics and encourages social interaction, enabling people to connect and share their interests. Trivia quizzes, specifically, have gained significant popularity for numerous reasons, including:
Building connections: When you incorporate trivia quizzes into digital marketing strategies, this allows businesses to engage with potential customers in a fun and casual way. A major benefit of quizzes includes impressive lead capture rates compared to standard email opt-ins, making them an amazing tool for marketing purposes.

Capturing user email addresses: Despite the rise of content sharing social networks, email marketing remains relevant. Most users check their inboxes daily and engage with welcome emails and promotional content. Trivia quizzes offer a simple yet effective recipe for generating leads: design a beautiful quiz, embed it on websites and social media platforms, and collect the email addresses of quiz participants.

Target email campaigns: When you create trivia questions that align with business goals and deliver dynamic content to your customers, this taps into their inherent desire for competition, challenge, learning, and entertainment. This approach sparks curiosity and keeps users coming back for more. With trivia app quizzes, businesses can gather valuable customer information for segmentation, message personalization, and automatic email campaigns.
The "How Picky of an Eater Are You?" quiz is a prime example of BuzzFeed's successful interactive content, showcasing how quizzes can be fun, relatable, and shareable, ultimately driving user engagement and promoting the BuzzFeed brand.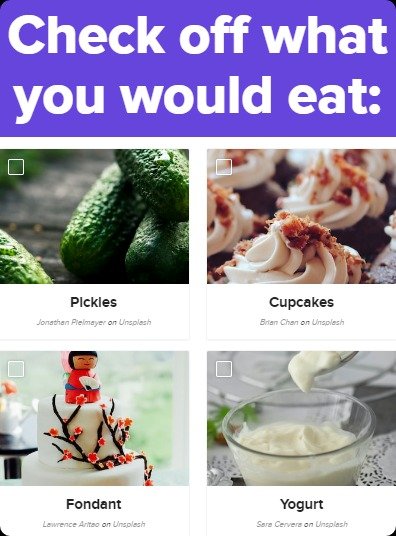 Wrapping Up
To sum up, creating trivia quizzes using Chatbot GPT is a fun and engaging way to keep your audience entertained and informed. With the help of ChatGPT, you can quickly come up with unique prompts and examples that will captivate your audience's attention. Additionally, tools like involve.me make it easy to create and design interactive quizzes that engage your audience and drive traffic to your website. By following the simple steps outlined in this blog, you can create a successful trivia quiz that will foster audience interaction and contribute to your brand's growth and success.
Create Your Own Trivia Quiz
Get Started with 300+ Templates