If you've been a digital marketer for some time now, you already know why it is critical to segment your email list. After all, how else will you know who to approach, and more importantly, how? But, grouping your prospects into diverse segments is tricky simply because leads are often unwilling to divulge personal information.
While it may be relatively easier to acquire lead data when interacting face-to-face, most marketing today is turning digital. When things approach the online domain, it becomes more challenging to collect prospect information.
Since they cannot see or hear you and vice versa, it becomes harder for them to share details about their likes and dislikes. And, if you don't know these parameters, you cannot figure out which product to pitch them and how.
But, don't fret yet, for there is a way around this fix! It comes in the face of a quiz funnel.
What is a Quiz Funnel?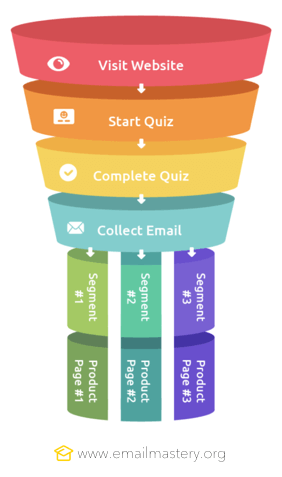 In a nutshell, it is a way to generate and segment leads with a quiz. In return for letting them take a quiz, you collect valuable information like their email addresses or phone numbers. But, that's not all – you can also float a multiple-choice quiz to learn about a prospect's likes and dislikes.
If designed right, a quiz funnel is a great lead generation magnet – one that distracts them from the notion that giving away personal information will only lead to its misuse.
You design a quiz and ping multiple inboxes. And, unlike gated content which offers a downloadable resource in exchange for email addresses, you calculate results and reveal them in a lead's inbox, thus collecting their active contact information.
By the way, allowing your prospects to take a quiz likely works better than sharing other knowledgeable resources in return for their personal information. How do we know this? A recent study by the Content Marketing Institute (CMI) revealed that 81% of marketers interviewed agreed that interactive content like quizzes works better in generating leads as opposed to static content.
The Three-Pronged Advantage of a Quiz Funnel
The sheer simplicity of the quiz funnel approach to generate leads is brilliant. Through this mechanism, you can:
1. Segment Your Email List
Depending on how you design your quiz, you begin receiving custom responses from prospects. For starters, you know the individuals who took your quiz are somewhat interested, which is a start to generating leads.
Once you have enough lead information that came in through the quiz, segment it into pre-decided data categories. These categories may include headers like "full name," "email address," "age group," and other unique parameters. Doing this will allow you to send personalized email communication and relevant content to entice prospects.
2. Get to Know Your Prospects Better
This one is obvious! Through an interactive quiz funnel, you consistently find out more and more information about your leads. So, you know what to send them, and also where. Because your prospects genuinely want to see the results of their quiz, they often provide you the most-in-use email address.
Later, you can nurture these prospects by sending them tailormade pitches, thus bringing them closer towards conversion.
3. Introduce Leads to Your Offering
You can start a quiz by asking prospects slightly generic questions and then move on to the specifics. At this point, you can introduce your offering, but not like a pitch. You show them your product and ask them a set of questions, like "which color would you pick?", "how much would you pay for something like this?".
For example, look at this quiz question by a rather popular apparel brand TopShop. Through this quiz, they have shown their wares and learned a new thing about their leads. All this, without being the least bit 'salesy'!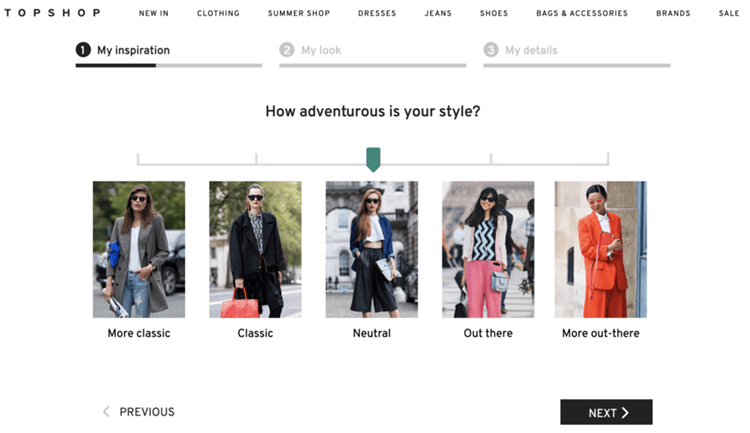 Want to Build Your Own Quiz Funnel for Better Email Segmentation? Here's How You Start
While it's great you want to engage with your prospects using quizzes, don't forget the primary goal of this method is to encourage them to join your email list. This is the very first step towards segmenting it.
Here are three ways in which you can build a quiz funnel for effective lead generation and subsequent email list segmentation.
1. Draft an Immersive Quiz
Allow us to give you the specifics! Begin by asking the following questions when designing the blueprint of your quiz funnel:
Is My Quiz Simple Enough?
Don't ask too many questions and keep things simple by asking them their age, occupation, etc. Once they begin moving through the quiz, place-specific questions around your brand.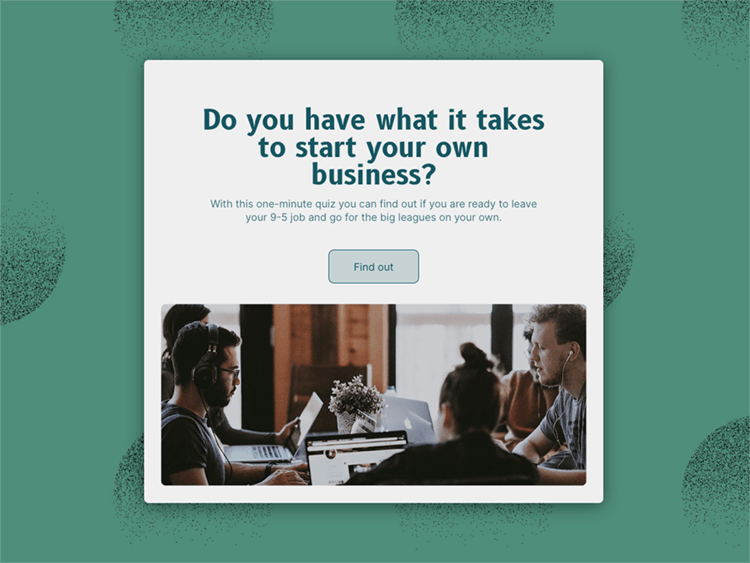 Can the Prospects Answer Questions with a Simple Yes or No?
People are busy, so respect their time and eliminate subjectivity from your quiz. If possible, provide them radio buttons for different choices where a simple yes or no won't suffice. And, at other places, give them a yes or no choice.
Have I Used More Images Than Text?
Use more images and animated GIFs in your quizzes because content with relevant imagery gets 94% more view than without it.
Is My Result Page Personalized, and is It Offering Actual Value to Quiz Takers?
Make your quiz worth taking! The example below of a travel portal that extends a quiz to mostly cold leads but comes back triumphant with more information.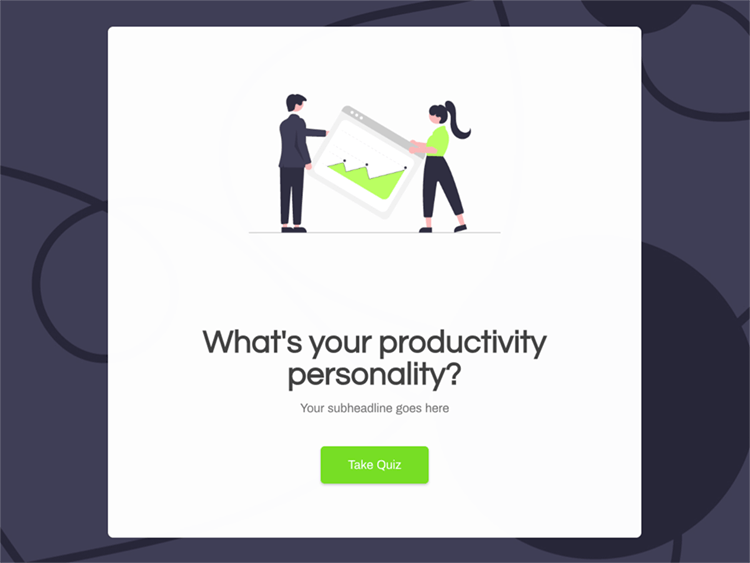 Wouldn't the personalized answer encourage a lead to explore more by clicking on the CTA provided?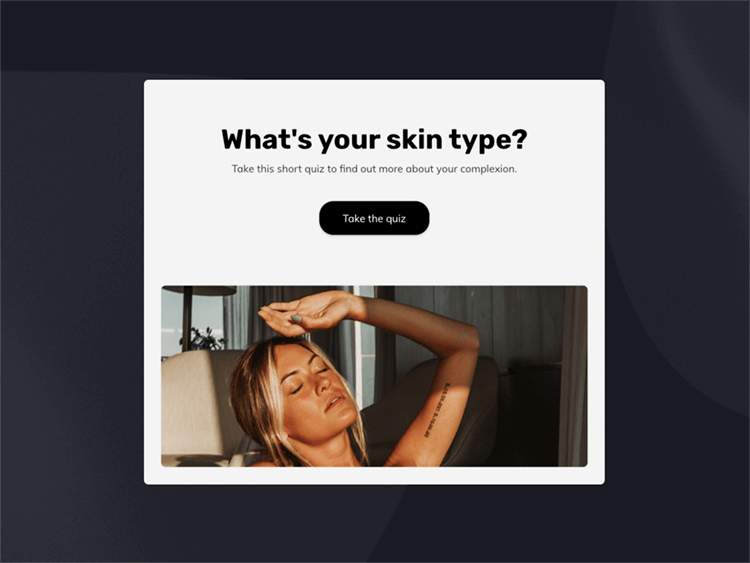 2. Brainstorm Quizzes Leads Will Take
At this point, you know little about your leads, but you have done some market research to vaguely identify ideal customer personas. And, that's all you need to brainstorm a quiz that would be irresistible to your target market.
For example, if you are a weight loss app, your quiz can help prospects identify the superfoods they should eat based on their current weight, height, and location.
3. Ask Questions That Help You Directly Segment Email List
If your quiz has ten prospect-centric questions, place two that provide direct information on your pre-decided parameters for email list segmentation. For example, if you want to set a subscription price for your e-magazine, directly ask leads how much they would be willing to spend on it each month.
Below the question, either give them a slider which they can move to set a price or multiple options which they can tick. Such questions bring you closer to segmenting your customers' email id into different buckets at the time of email marketing.
The Bottom Line
Remember, through quiz funnels; you can flesh out in-depth customer profiles and place email ids within them. This segmentation helps you decide which product you want to pitch to your leads, at what price, and how.
Ultimately, segmented email communication means more open rates, click-through rates, and conversions. And, you can achieve all this with the help of a well-thought-out quiz funnel.
If you're looking to build a complete funnel from scratch, check out this article on how to do it.
Interactive Templates
300+ Editable Drag & Drop Templates
Author
Rochelle Williams is a Senior Marketing Manager at Span Global Services. She comes with a strong marketing and advertising industry exposure of over 8+ years and has a deep understanding of SEO, SEM, SMO, branding, and allied marketing strategies.