So you have set your quiz up and running and want it to help you achieve your goals. You can use interactive quizzes to achieve various objectives — to grow your lead list, collect feedback, or help clients make a buying decision faster.
So how can you ensure the time and effort you spent on preparing a quiz is not going to waste? In this article, we are sharing some tips to help you reach more people with your quiz and get them to complete your quiz from A to Z.
Goals That Quizzes Help Achieve
The way you distribute quizzes and the success metrics you define for them differ depending on the goal you are pursuing with quizzes.
Let's quickly see what purposes quizzes can have and how you can adjust your quiz distribution strategy to achieve the maximum result.
1. Generating Leads
Instead of offering another boring eBook for download in exchange for an email address, you can get users to take an interactive and fun quiz to collect email signups.
Users are usually asked to provide an email address with a double opt-in once they finish the quiz and want to see the results. As they have already invested effort in going through the quiz questions, they are more incentivized to make the final step — submitting their email.
Once you have their email, you can later nurture your leads to convert them into sales using email marketing platforms.
If you choose the right topic for your quiz, you can attract the right target audience that can eventually use your services.
2. Collecting Feedback from Users
Quizzes are a great tool to collect feedback from app users, your employees, or clients about the quality of the services you provide. Analyzing their responses helps you understand what areas you should still improve to boost their satisfaction.
To collect feedback, you don't always need thousands of quiz submissions. It's often sufficient to get around 10-20 responses to identify the key problems you need to fix.
3. Driving Traffic
You can also use quizzes to drive more traffic to your website and then work on converting it into leads and sales. When pursuing this goal with a quiz, you don't need to ask a user for an email address to share the results. The tactic is different here.
You have to display the results right away in the completion window and ask users to share them on their social media. This way, you can achieve virality and attract more people to take your quiz and visit your website.
As people land on your website to take a quiz, you can later retarget them with paid ads.
4. Help Make Buyer Decision
You can use quizzes across all stages of your sales funnel, including the decision stage to help users choose the right product you offer.
By asking questions that help identify your customer profile and their challenges, you can later direct them to the right offer. For this, you can create different landing pages that would describe each possible scenario together with listed products and encourage a customer to buy them.
5. Evaluate Knowledge
If you are working in an education sector or conduct workshops among employees, quizzes can easily substitute boring and time-consuming tests. Instead of printing a test, you can make it available online through a special link that only your students can access.
From a teacher's perspective, educational quizzes are more convenient as you save time on marking them. From a student's perspective, taking an online quiz offers a blended learning experience and can be much more fun than a standardized in-class test. You can find many templates to help you evaluate knowledge of students, employees or general audience.
Strategies for Increasing Quiz Responses
Depending on what quiz goal you have chosen, you have to pick the right strategy to achieve it. Let's explore some possible ways to increase the popularity of your quiz in your core audience.
1. Choose the Right Distribution Channels
If your quiz page already ranks high in Google, there are slim chances that users will stumble upon your quiz online. To get more quiz submissions, you have to actively promote your quiz.
There are various channels and mediums that you can consider using.
Paid social ads — you can use detailed targeting on Facebook or LinkedIn to reach the right audience with your quiz. That's exactly what Socialbakers are doing with their test on Facebook advertising skills.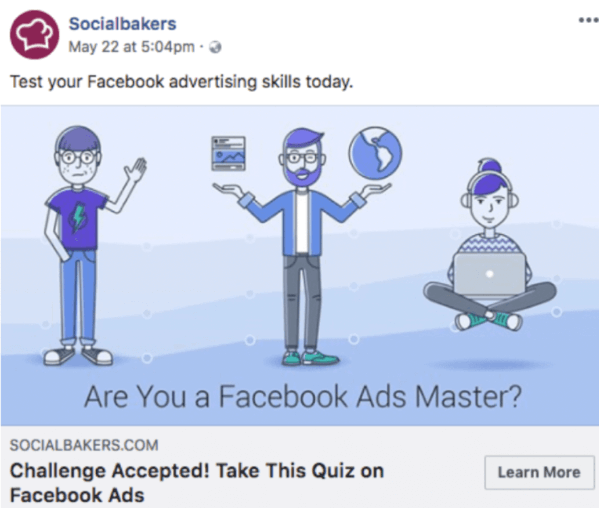 Sharing buttons — to achieve virality, integrate sharing buttons in the completion window to make it easy for users to share your quiz with their circles.

Send an email newsletter — if you have been growing your email list prior to launching a quiz, you can promote it among the subscriber segments you want to nurture into hot leads and sales.

Use popups — trigger website popups to display when your users visit specific pages to ensure the right audience takes your quiz. Provide an incentive for users to start a quiz.

Utilize chatbots — there are a few types of chatbots that can be used to suggest users to take a survey and direct them to the right landing page. Just think of the potential of a customer support chatbot or a marketing chatbot.

Add quiz CTA as a banner — your blog can also help you with promoting your quiz. You can link to a quiz in your article or create banners that would direct users to a quiz page.
There are an abundance of ways to promote your quiz online and it's up to you which one you pick to develop your quiz distribution strategy.
You can use both a mix or choose just one channel — it all depends on the number of quiz submissions you are aiming to collect. For bigger quiz campaigns, it's worth using various channels to get traction with submissions faster.
At some point planning and executing your strategy can get complicated. To put your plan in action faster, consider using work management software.
2. Include an Incentive for Users
People are busy — who cares about your quiz if there is another great Hollywood movie shown in the cinema? When asked to take a quiz, you are competing with other companies doing the same, thousands of ads your users are exposed to every day, and other online and offline distractions.
That's why you should give a good reason for users to prioritize your quiz among other daily activities.
You can get users to take even long quizzes by providing an incentive. As far as they realize the value they can get in the end, they will find it worthwhile.
Check out this example of a skin quiz where an incentive for completing it is personalized DIY beauty tips — something people actively dealing with skin problems would appreciate.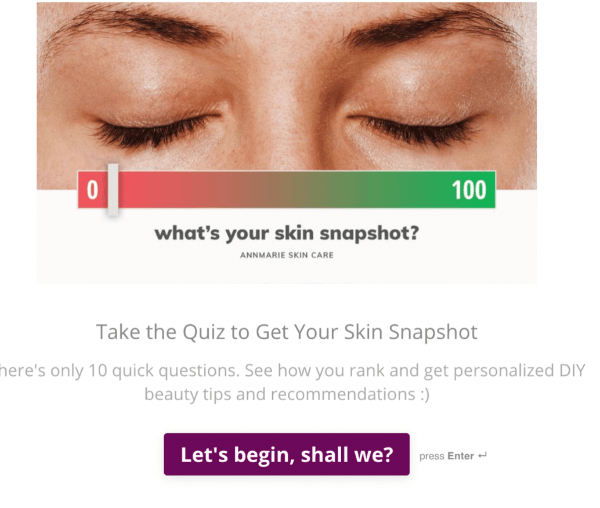 3. Tweak Your Quiz Title
No matter how active you are with quiz promotion and distribution, you won't get many submissions, if your quiz title doesn't communicate the value for a user. A good quiz title is the one that clearly shows the end goal or calls for emotions — it should be funny, surprising, or intriguing.
So how do you know if your title is good enough? Rely on data. Check how many users land on your quiz welcome screen and how many of them take it. If only a small percentage of users start a quiz, you should consider modifying your quiz title.
There are many ways you can make your title more attractive. You can offer some incentives for users such as gaining knowledge about something in the end or even by asking a question like in the example below.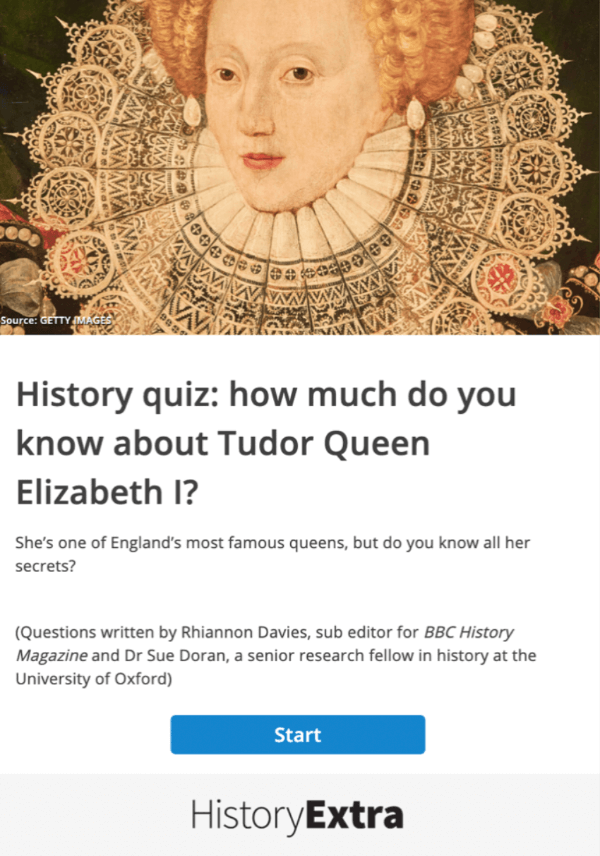 You can even use a sentence rewriter tool to generate better and more catchy titles.
4. Modify Questions
Apart from the title, the way you formulate quiz questions will determine if users will complete your quiz or churn at some point.
To learn if you have to tweak your questions, check your quiz statistics a few days or a week after you start promoting your quiz.
Start with checking the questions where most users leave your quiz page and then work on improving them to make the quiz more engaging.
When modifying questions, make them short and easy to understand. These days, users have a low attention span and can easily quit when asked intricate questions. You can also use visual materials such as GIFs, videos, or images.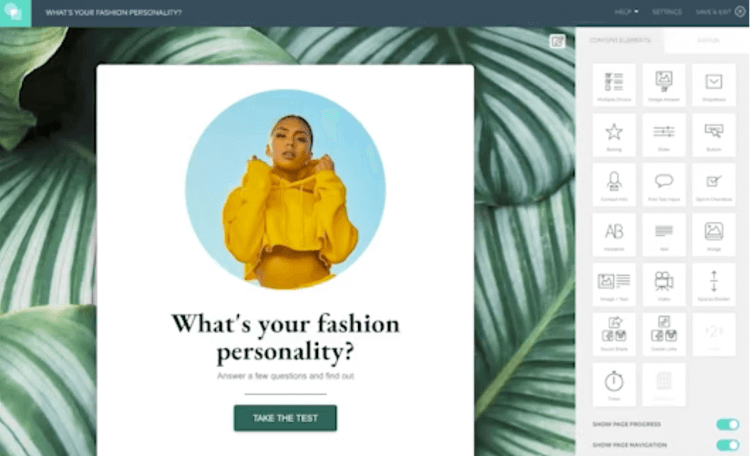 5. Make Quizzes Fun
What quiz would appeal to you more — a corporate one, full of industry jargon, or a funny light quiz that makes you laugh out loud?
Many companies are using humor in their quizzes to make them more engaging for users. Remember — your quiz shouldn't look like a final school exam. Even serious subjects can be fun if you know how to use humor the right way.
When integrating jokes in your quiz, make sure you sound natural, to the point, and relate to a quiz question directly. Sometimes, instead of writing a joke, you can illustrate it with a funny GIF.
6. Use Responsive Design
People can take quizzes on the go using different devices, including mobile and tablets. If you have a design that looks great on desktop but is not responsive on mobile or tablet, you can end up losing a big number of quiz submissions.
To make your quiz page look great on every device, you have to work on quiz responsiveness with a graphic design or use quiz tools that offer responsive design. For example, involve.me templates are optimized for all types of devices.
Wrapping Up
Having a good idea for a quiz and implementing it is only one step to success with your quiz strategy. To get more quiz responses, you have to invest time and effort in promoting it online through various channels.
Hopefully, by following the advice we have shared in this article, you will be able to achieve the number of submissions that you have aimed for when creating a quiz.
Author
Margo Ovsiienko is a SaaS conversion expert. She helps SaaS companies improve lead acquisition metrics, retention, and reduce churn. Read her posts on her SaaS marketing blog.