When you are in the process of designing or building an app, user feedback is critical to find answers to key issues that may make or break your product. Surveys are a great way to gain valuable insights to how users will react to your app.
Get Started with Online Surveys
With One Of Our 200+ Templates
It allows you to learn how your user base thinks and behaves. In addition, conducting a survey is an excellent way to get unbiased and anonymous feedback without being intrusive or placing your users in an uncomfortable position.
This article will explain why surveys are a crucial component to launching the best app you can make!
Choose Your Survey Type
There are a few common types of survey methods including: in-person interviews, mail-in surveys, telephone surveys, and online surveys.
Online surveys for the most part are a low cost way to get widespread user feedback in real time. They are especially useful for products like web or mobile apps. With the help of technology, modern apps may not be limited to a certain geography.
Posting surveys on social media platforms like Facebook and Snapchat are excellent ways of reaching an audience that fits your customer profile across a wide geography. For example, Facebook surveys allow you to target specific demographics in addition to geographies.
You can target audiences based on income level, education, age group, and others. Figuring out how to reach your target audience with other methods can be more difficult and expensive.
What Type of Questions to Include?
Asking the right type of questions is arguably the most important part of your survey. A survey's effectiveness will hinge on not just the quality of questions you ask, but how it's asked to ensure that your responders will be able to provide you with helpful information.
Focus on questions that target the main problems and issues with the market that your app serves. The goal of most apps is to solve a pain point or make a process easier and more accessible. For example, if the app you're looking to create is for food delivery, then focus on what the potential problems are. This can be finding solutions to receiving a delivery of cold food, lost orders, or an efficient way to change your order once it has already been placed.
Simple "Yes" or "No" questions often work the best. For the food delivery app we mentioned, questions could be "Would you pay a premium to have your food arrive warmer?" or "Would you pay extra for a feature to change your food delivery order after you place it?" could work well.
Multiple choice questions could also work well. For example, with the rise of remote work, more and more people spend time on their laptop while working from home. A multiple choice question for a food delivery app could be having survey takers choose between what device they typically order their food on (mobile phone, laptop, or ipad).
When creating multiple choice questions, there is also a fine balance between extracting the right feedback and not accidentally leading your users into selecting certain responses. Providing simple and concise questions is the best way to receive organic feedback that can truly help your app succeed when it is rolled out for widespread use.
Design Your Survey
Designing a good survey will maximize your response rate. Think back to online surveys you have been a part of and try to remember which ones you finished easily.
You are likely imagining a short survey that gets right to the point and provides simple questions with proper choices for answers. Survey takers also like to see visuals like graphs, charts, and images of your app, which can definitely help them to provide the most usable feedback.
Open-ended text questions are generally more difficult to extract actionable data from. Not only is typing out long form responses tedious, but every user has a different level of language efficiency.
This means that your respondent might have difficulties conveying their best responses if english is not their first language. Others have trouble with formulating their thoughts into words, so you will likely just receive a brief response that isn't useful.
Think about universal methods of surveying users and making it easy for them to provide that feedback to you no matter what their language efficiency is. You'll also be able to hold the attention of responders longer if they aren't filling out boxes of text.
If you are posting your survey on a platform like Facebook or Instagram, provide a survey with an interesting title that will grab people's attention. An interesting graphic or picture can also get people's attention long enough that they will be willing to click on and complete your survey.
Use Survey Responses to Refine Your App
Surveys are important for app development because market research is usually the first step of building a minimum viable product (MVP).
You'll see from the 6 steps process below that if market research is not conducted properly, the rest of the 5 steps will not matter as you could be building a product that users will not want. This is why it is crucial to use the feedback you get from your survey to refine your app.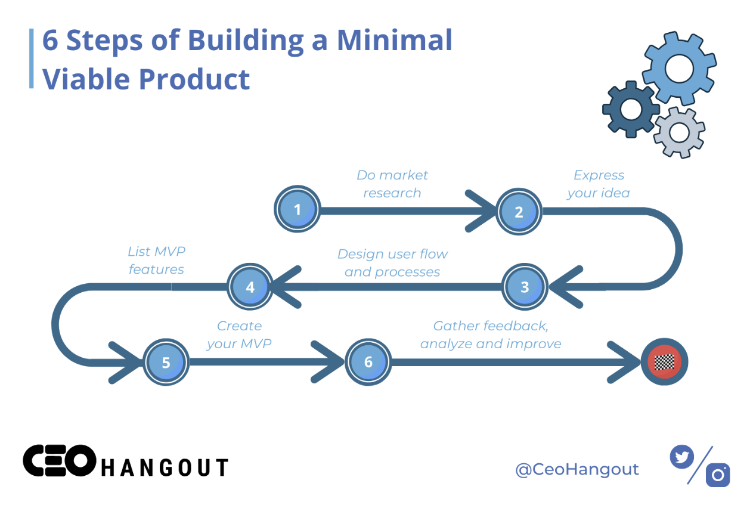 If you have managed to choose great questions and designed the survey to provide constructive feedback, then the responses will be extremely helpful in achieving your finished product. When executed correctly, the survey can truly act as a roadmap and blueprint for the successful release of your app.
User responses can provide you with valuable feedback on features that you may, or may not, include in the final version of your app. What you think is critical to the app might not be to its users, and vice versa.
Back to the food delivery app for example, you may have thought that providing the feature to change orders after placing them was important. However, your survey may indicate that users are not willing to pay a premium for this feature. Instead, you may find out that many users will pay extra for food arriving hot.
This is the stage of your project where it will become clear what needs to stay and what needs to be removed. Remember, if you're designing your MVP, you truly want to keep it minimum. Including unnecessary or useless features is a big waste of money and time, and can even lead to less users adopting the app when it gets launched.
What Feedback Is Really Important?
Creating an app that appeals to everyone is nearly impossible, but through surveys we can learn to shape it to maximize its usefulness to our target customer. When choosing the method of conducting a survey, online surveys can be an effective and low cost way to reach your target users.
Design clear and simple questions such as "Yes" or "No" questions in an intuitive and user-friendly format. From there, you can take the information you gather from the responses and use them to begin designing your app. Remember, an app will only be successful if the user is placed first. And what better way than using a survey to find out what your users want!