As a marketer, you're likely tired of hearing how email marketing has the highest ROI, at $44 for every $1 spent. But did you know that creating an automated email sequence generates even more value — not just in terms of the time saved — but also in terms of 320% more revenue than non-automated emails.
In essence, an email sequence (aka drip campaign) is a series of emails automatically sent to a prospect or customer by using marketing automation software, based on preset criteria such as a time delay or an action being met.
A follow-up email sequence, as the name suggests, loops back and touches base with your prospect with emails that try and nurture them into conversion after initial contact.
In other words, you create a set of emails beforehand and schedule them to go out at just the right times. This way, you can follow up with prospects passively and at scale, without having to manually click "Send" again and again.
For example, let's say you host a holiday giveaway contest. Using involve.me, you create a landing page for the promotional giveaway.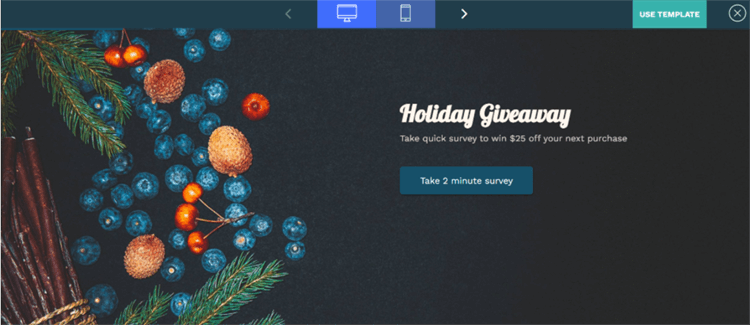 Once the giveaway is over and the winner(s) are rewarded, the real work begins: turning participants into customers. After all, the purpose of your giveaway was not just to build more brand awareness but a tangible list of qualified leads that are primed to be sold to.
Sure, an easy way to go about it is to shoot a follow-up email to all entrants with an offer/discount that serves as an incentive to convert — right after the giveaway ends — as BHU Foods does below.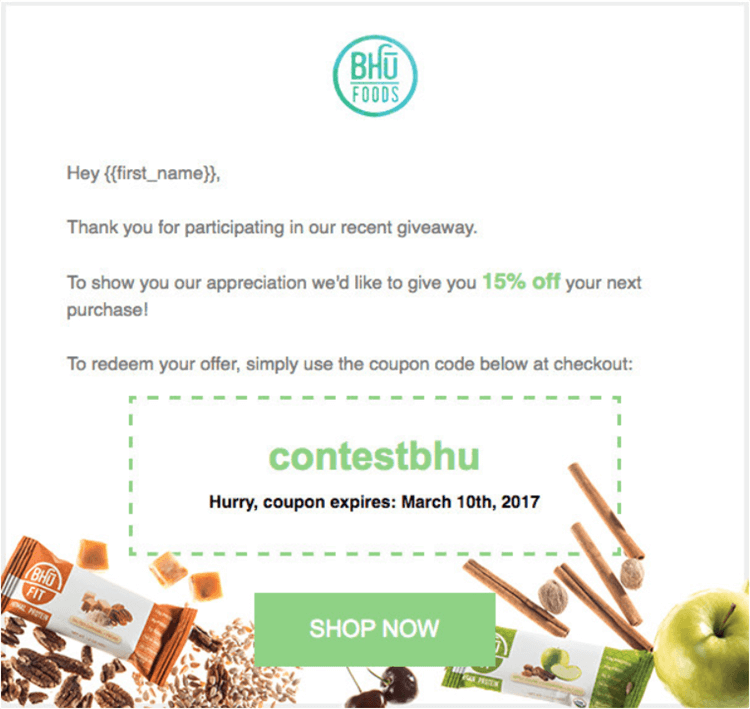 This may work, but you can step it up by creating a follow-up sequence that nurtures prospects toward a final sale with personalized offers and valuable content.
Such a follow-up drip campaign could consist of the following steps:
The prospect receives a "thank you for participating" conciliatory email with a mention that your business is currently running a discount related to the prize they entered to win.

If they click-through but don't convert, a day later they receive a follow-up email with another prompt focusing on the discount's limited-time availability.

If they still don't convert, 3-5 days pass and they receive another follow-up with a blog post sharing helpful tips related to the products they're interested in.

If they click-through on this email, a day later they receive a follow-up with a discount code for the product covered in the blog post.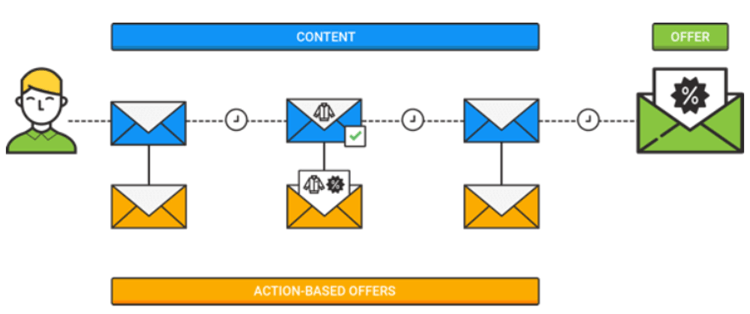 This approach may seem a bit pushy in turning participants into customers, but it really isn't much more than you'd do manually. It's selling done right: with personalized content and timely offers tailored to your prospect's wants and wishes.
And this is just one example of using follow-up email sequences for your landing page offers. Another could be a follow-up sequence meant to convert a conversation into a demo. In this case, success would mean the prospect booking a meeting through your scheduling software.
So how do you make your follow-up sequences super effective? Before we look into some quick techniques, let's address a FAQ...
How Long Should a Follow-up Email Sequence Be?
While there's no straightforward answer to this, Woodpecker's research suggests the optimal number of follow-up emails to send is two to three.
Furthermore, a Backlinko study found that sending just one additional follow-up can boost replies by 65.8%, and that emailing the same contact multiple times can lead to 2x more responses.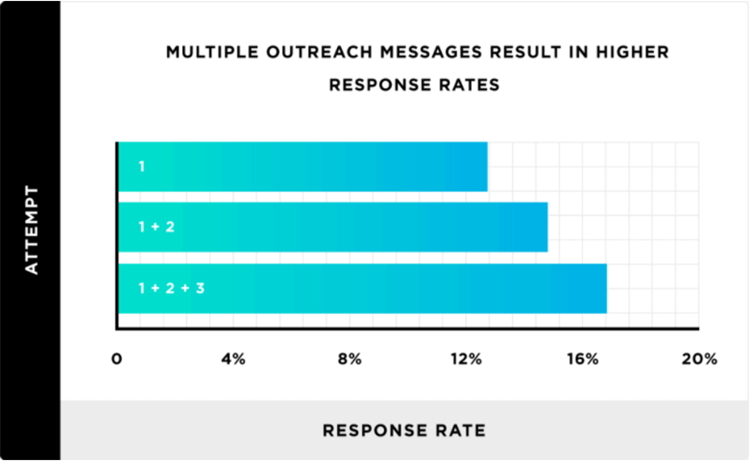 So, all in all, you can consider a follow-up email sequence of three to five emails as a good bet. But keep in mind that flooding your prospects' inboxes with low-quality follow-ups would do more harm than good. It's easy to overdo follow-ups and get your brand labeled as a spammer.
And so, here are some top...
Tips to Create an Effective Follow-up Sequence
Now that you know what an email follow-up sequence looks like and how long it can be, let's look into some quick yet powerful tactics to build an effective follow-up sequence.
1. Add Personalization Tokens to Your Template
For any kind of marketing email, not just follow-ups, personalization can put more money in your pocket.
Personal follow-up sequences look like emails manually sent by a real person — not automated emails sent from a marketing tool (even if they are) — which means your recipients are more likely to open them and take action.
At the very least, all your follow-up emails should have a personalized salutation (such as "Hey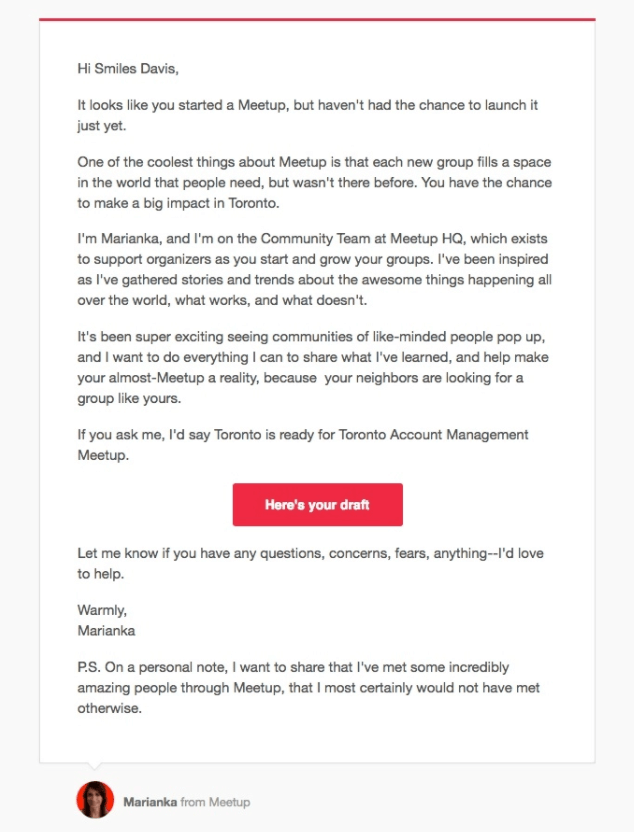 The copy and call to action (CTA) feels genuinely personal and one-to-one.
Creating a personalized follow-up email sequence involves segmenting your audience based on their location, interests, stage of the funnel, etc. Using campaign-specific "hidden fields" on your landing pages can go a long way in this regard.
Meanwhile, by using email marketing software like vcita, which comes pre-integrated into their business management suite's CRM and appointment booking engine, you can easily segment your prospects and customize your email template to add personal touches throughout your automated follow-up sequence.
So, for example, if your landing page offers visitors to book a free consultation appointment so that people who convert schedule a video conference with you, then you can easily set up sequences of messages leading up to the appointment, building anticipation and minimizing the chances of a no-show.
You can also set up sequences of messages to follow the free advice session, leveraging a sense of reciprocity so that your leads want to give back to you by ordering your paid services.
2. Showcase Success Stories and Testimonials
Living in an age of internet scams, it's natural for your recipient to doubt the authenticity of your offer. How can they be sure that what you're offering works as promised?
So, in your second or third follow-up, it's a good idea to showcase some concrete social proof. Here are a few ways to do that:
Case studies: Show exactly how your customers solved specific problems successfully and achieved their desired results using your product or service. Neil Patel, the co-founder of KISSmetrics and Crazy Egg, uses case studies in his emails to increase his deal closing rate by 70%.
Success stories: Summarize the successful experiences of past customers with your brand by sharing their success stories.
Testimonials: Further handle objections and overcome buyer skepticism by letting your satisfied customers endorse how your product or service benefitted them. You can also share any awards and/or media mentions your product or service has earned.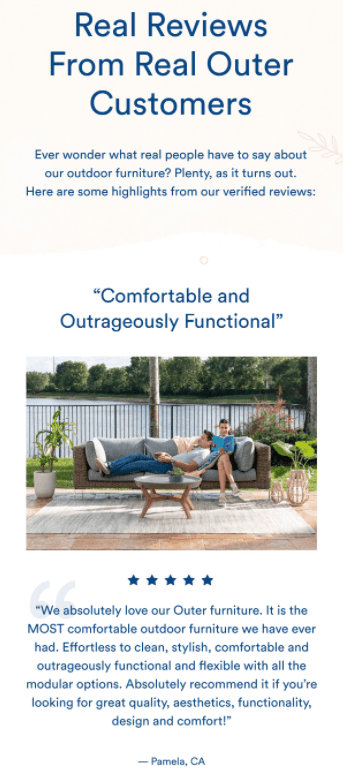 3. Provide Value with Relevant Content and Resources
Continuing along the same lines of building trust, why not take a step back and switch from coupon codes to content?
In doing so, you're adding value to your prospects' lives instead of mere hard selling. It shows you took the time to understand the prospect's pain points and created a helpful resource for them, without talking about your product in the process.
"You have a product or service too complicated to describe? Send additional information in the next email, together with the benefits for your prospect," recommends Hunter's Irina Maltseva. "Not sure if your offer was crystal clear? Show it from a different angle to spark some interest. Follow-ups create a unique opportunity to catch prospects' attention once again and provide them more information on your offer."
For example, you can share quick bulleted tips in the email itself and link back to in-depth how-to guides on your blog, or point them to tutorials on your YouTube channel.

No matter the format, relevant content (in the second or third follow-up) can go a long way in showcasing value and credibility.
4. Write a Compelling Breakup Email
Anything in excess is poison, including follow-ups. It's best to stop after five or six emails and focus on more receptive recipients, with the final email being a breakup email.
But guess what? A compelling breakup email can actually drive responses and even conversions. It can be a simple one-liner like:
"What could have changed your mind?"
It shows that you were genuinely interested in helping your recipient with your offer. It makes them rethink your offer and why they chose to ignore it. While typing their reasons out, they might just realize that their reasons aren't as strong as they thought.
So, use this statement in your subject line and ask in the email body about a couple of things that might have changed their decision. In doing so, you also walk away with helpful feedback to improve your offer for future recipients.
5. Improve Your Email Sequence by Measuring Its Performance
Last but not least, be sure to monitor your follow-up email metrics to learn what's working and build upon that.
Key metrics for your follow-up email sequence could include open rate, click-through rate, unsubscribe rate, spam rate, conversion rate, and more. Most email automation tools include these analytics metrics.
So in terms of these key metrics, figure out your best-performing emails and split test various elements (such as subject line, message length, CTAs, number of follow-ups, frequency, etc.) to further improve your ROI.
Wrapping Up
Long story short, an effective follow-up sequence is one that adds value, addresses concerns, and resonates with your audience, rather than merely spamming a discount code.
Put the tips outlined above into practice to start building effective email follow-up sequences that turn prospects into customers.