With its incredible power, Instagram has certain limits, and for good reason.
Instagram only allows one link in bio and has no plans to change this policy as it's done to protect users from tons of scams and spam.
To get around this limitation and add multiple links in Instagram bio, you can create a branded micropage. In this article, I'll explain how to create a micropage using a no-code builder and make the most of it in 2023:
What is a Branded Micropage for Instagram?
A branded micropage is a landing page within the Instagram app.
This page can include information such as contact details, product listings, and links to external websites.
Micropages can be accessed by tapping a link in a user's Instagram bio (or in a story ) without leaving the Instagram app. For example, here's the link in my Instagram bio that leads to a micropage with more links (such a creative custom URL, I know:D):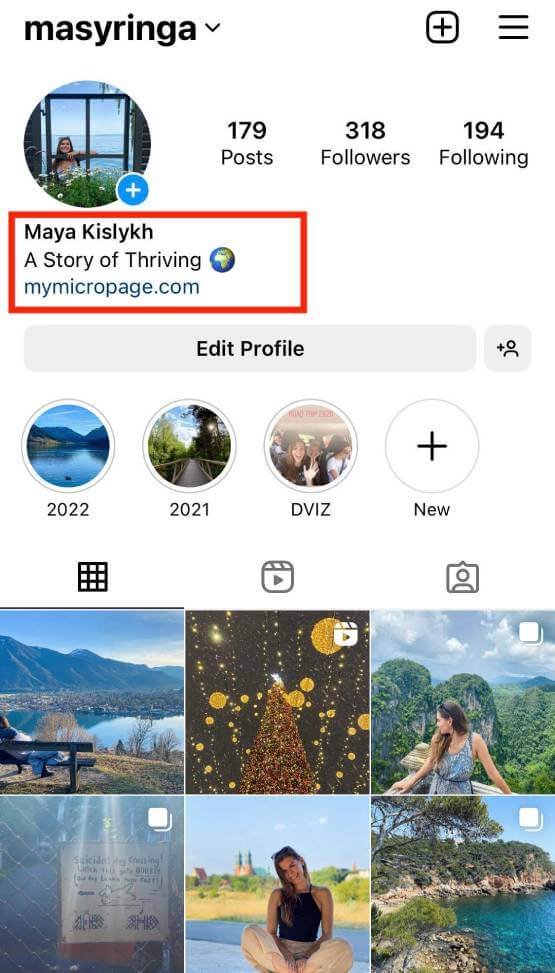 Instead of a thousand words, here's what a micropage looks like on Instagram: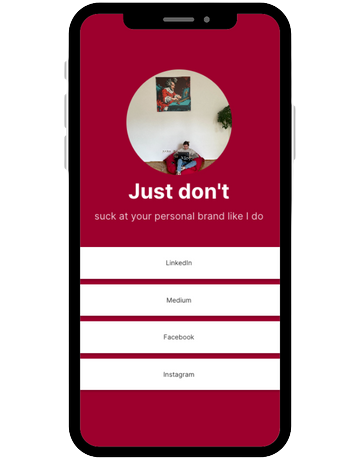 This way, you can add as many links as you want while not breaking Instagram's policy.
Multiple links are useful for those who build personal and company's brand, educate or sell online. If, for example, you have a Youtube channel, run a blog, and have affiliate store, you can create a branded micropage to promote all your links on Instagram and boost your social media marketing efforts.
How to Create a Micropage for Instagram?
It is not possible to create a micropage using Instagram app.
For this purpose, you can choose a third-party tool. Below I will show you how to create a micropage for Instagram using a no-code builder involve.me. You can also create a free account to test the tool for building micro and landing pages, surveys, quizzes, and forms.
Let's get started!
1. Create a Free Account With involve.me
As a freemium, involve.me allows you to use many advanced features for free. To create your very first micropage, you can either start your project from scratch or use one of the available templates:
Grab a template and add your links
Add your logo, fonts, colours and background
It's a pretty straightforward process with the template. With just a few clicks you can add your brand color, fonts and logo to any template.You can customise every single thing to make sure it fits your brand. That's what the involve.me interface looks like:
I'd like to show you the process behind micropage creation in case you want to play around with it and build something that will be truly yours.
2. Choose the Right Project Type
To get started, use the option "start from scratch" inside of involve.me platform:

The project type you are looking for is "Answer-based Outcomes" (as your followers will be directed to different pages based on what they choose to click):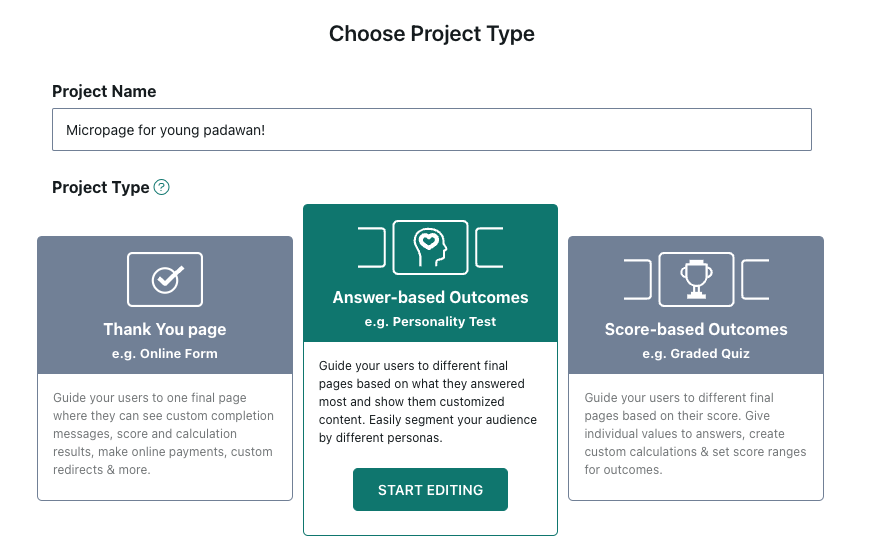 3. Test Available Content Elements
You will find a list of exciting drag and drop tools on your right. You can use pretty much all of them on your micropage. My own page will be quite minimalistic.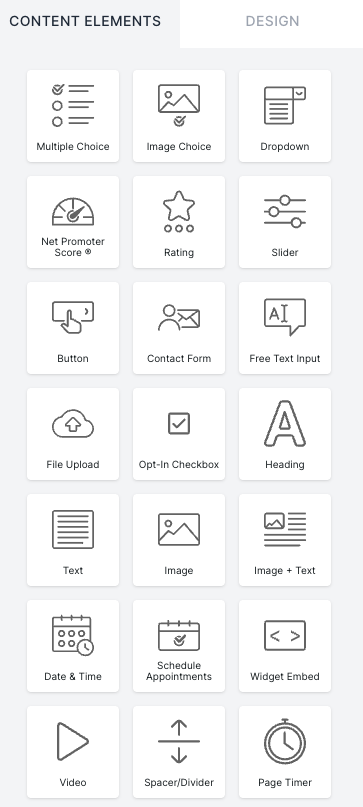 First I chose one of the elements ("Image") and add it to the blank canvas. Then I add my photo and change the background color.To do that, click on the brush icon in the right corner.
I decided to match my background to the color of the beanbag I am sitting on.
Pro Tip: If you also want to match some colors on your micropage, use the Eye Dropper extension to get a color code of any color on any page.
Here's what my micropage looks like now: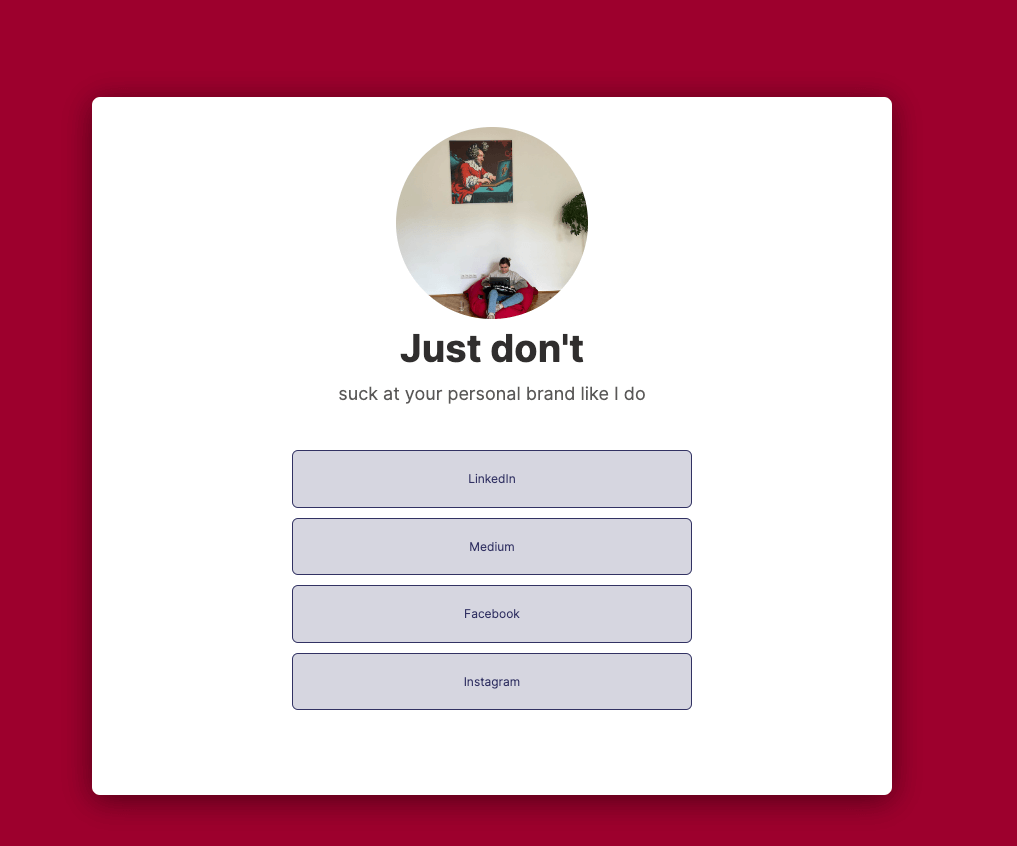 I also add some text and a list of my social media profiles using these content elements: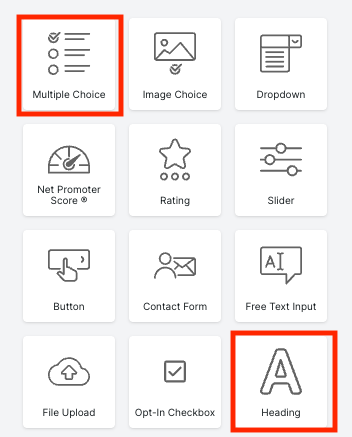 4. Add Actual Links
Pro Tip: Your links can be added in two ways: as text in custom style clickable fields or as clickable images.
As I chose "Multiple Answers" content element, I need to create Outcomes. Meaning, if someone clicks "LinkedIn", they will be redirected to my LinkedIn profile.
Outcomes are the pages created here:

I name my first Outcome page "LinkedIn", then click on the pencil in the left corner of the page called "LinkedIn" and add custom URL redirect: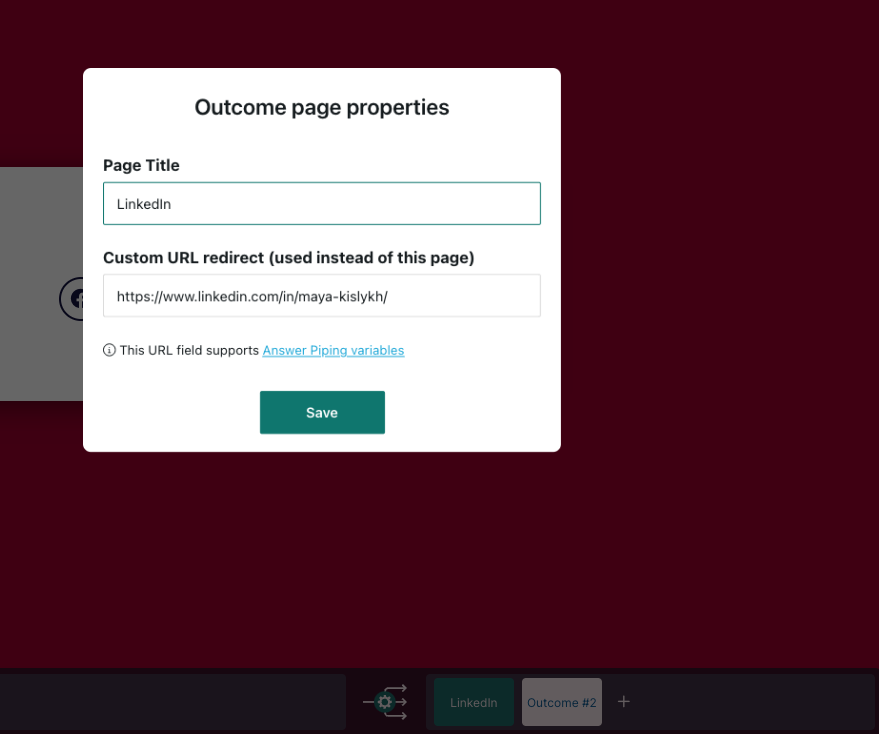 After creating Outcomes for every social media channel in my list, I change click behaviour to logic jumps and match the outcomes with the pages: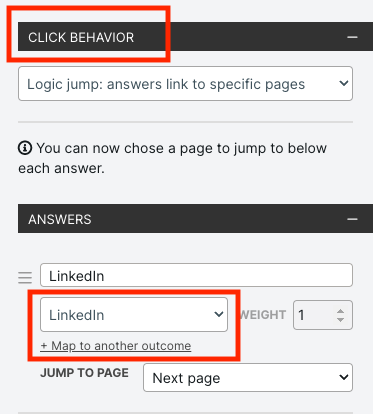 Now my followers can easily find multiple links on my micropage. If you have a logo and your brand colors, you should definitely play around with the tool and customise it even more.
Your micropage should not necessarily consist of a list of links, as in my example. Consider using clickable images or downloadable content to make your micropage unique.
Pro Tip: It's also possible to create a custom URL inside of the involve.me tool.
How to Get the Most Out of Your Links on Instagram?
Being able to promote unlimited links is great, but you can do much more with your micropage, especially if you run an online business. Check out what advanced features you can use at involve.me:
Accept Payments
You don't need to have a website to sell products and convert your Instagram followers into customers. A single bio link and micropage are enough to start selling on one of the most popular social media platforms.
With involve.me, you can either add affiliate links or connect one of your payment accounts (e.g., Paypal, Mollie, and Stripe). Both one-time payments and automatically recurring subscription payments can be collected directly on your micropage.
Learn more about available payment methods and the process here.
Analyze Every Link Click
Micropage link tracking is one of the advanced analytics available at involve.me.
For example, if you have the links to your blog posts on your micropage, you can see in the analytics which topic performs best and then move it up your list. You can also run A/B tests to see which type of links resonates best with your audience - clickable images or plain text.
Add the Same Link to Your TikTok
There is no need to create multiple branded links for each platform you use. Once you have a clickable link and a micropage created with involve.me, you can reuse it in your TikTok bio.
Email Your Followers
Follow up on payments received through your Instagram micropage without using third-party tools.
For example, with involve.me you can send an automated "thank you" email to people who have purchased your product or subscribed to your newsletter.
All emails you send to your target audience can be customised within involve.me. This means you can send highly personalized emails to recipients from your email list.
Automate Your Work
Your micropage can be connected to Google Sheets, HubSpot, Zapier, Google Analytics, and so many more! This way you can avoid manual imports and exports and get some actual work done.
There are a lot of time-saving hacks you can get. For instance, you can connect a micropage created with involve.me to your Slack and get a notification when someone makes the payment. Check the list of available integrations here.
Final Thoughts
A bio link is the only clickable link you can include in your Instagram profile, so make sure to use it wisely.
Consider using your bio link to direct your audience to a landing page (aka branded micropage) where they can access all the links you want to share with them.
Adding multiple links in your Instagram bio can be a powerful way to drive more traffic to your website and achieve your marketing goals. With no-code builders such as involve.me, you can get build a dedicated landing page, create custom links and use advanced features to boost your Instagram presence.
Grab a template and add your links
Add your logo, fonts, colours and background