Every e-commerce store has its ups and downs - even the most successful ones. And if your online store is going through a bad patch, you want to put it behind you as soon as possible. But where to start?
That's one of the easiest and most difficult questions at the same time. You can start this journey in many ways. First of all, you should check the performance of your sales funnel to see where you fall off the most. Here is how you can do it with website analytics:
What is a Sales Funnel?
A sales funnel (also known as a "conversion funnel") is a flowchart that describes the entire process of a desired outcome. This action can be anything from subscribing to your newsletter, to completing an order - whatever matters to you.
Let's also recall funnel stages:
Awareness is when visitors get to know your company, product, or service on any platform. It is the biggest spread of your customers in the whole process, the dropout starts from here.

Interest is when you grab your visitors' attention (with content, design, etc.) and get them to take a closer look at what you have to offer.

Desire is the stage when you nearly acquire a customer. That's the phase when you can build trust.

Action stage is where you convince your customer to take the action you want them to take. In this phase, it is crucial to keep the momentum going with useful advice or special offers to make them feel unique and close the deal.

Loyalty is a post stage of the sales funnel where you focus on customer retention. The main goal is to get your hard-earned buyers to buy again and again using various techniques such as promotions or personalized offers.
To see what kind of content B2C and B2B companies prepare for each funnel stage, check this article.
The main idea of a conversion funnel is to put yourself in your customer's shoes. Each step should lead your visitor to the end point. But even the most well thought out funnels can underperform.
Over time, customers' needs change, and the old tricks may no longer work. That's why you need to identify the sales funnel bottleneck before you start losing money.
Source of the Problem
Finding the cause of the problem is not as easy as it may seem. There could be many reasons why your funnel is leaking - from an incorrect content strategy to poorly optimized web pages, the list of problems could seem endless.
Here are a few common sales funnel mistakes that can cause leakage:
Having a weak offer

Missing or weak calls to action

Unattractive design and copy

Too many steps in your funnel

Not getting enough leads into your funnel

Not following up your leads

Ignoring or misreading analytics data
As an online store owner, you should keep an eye on your website performance and know the needs of your target customers. To better understand how users interact with your content and detect the breaking points in your funnel, you should start using website analytics.
What Is Website Analytics?
Website analytics is the process of gathering, analyzing, and reporting data from your website based on pre-, and non-defined parameters. Under the magnifying glass, you can analyze your data in two different ways:
Quantitative - that is countable, measurable data, everything that consists of numbers. From number of visitors to conversion rate, you can define any KPI that matters to you. A sales funnel, for example, is a great representation of quantitative data with meaningful reflections on your desired goals.

Qualitative - this is the answer to the hard-to-reach aspects of analysis. If you want to find out how users interact on your website and what feelings they have while navigating through your pages, that's exactly what qualitative analysis answers. Numbers might just be letters in this case, but qualitative analysis takes you to the next level. There are several useful qualitative analysis tools like heatmaps and session replays, but we'll talk about those later.
Each of them is useful on its own, and you can also combine them to get a better effect. If you notice big dips between certain steps in your funnel, it's a sign that you should turn to website analytics. To get the most out of your conversion funnels, check our suggestions on web analytics tools you can start using:
Heatmaps
Heatmap is a visual representation tool that turns your web pages into a blue-to-red color scale temperature map. Based on the coloring, you can see which parts of your website are used more and which less. The warmer the color, the most frequently used, and the colder the color, the less this part of your website is used.
There are different types of heat maps:
Click heat maps show the hotspots where visitors click on your website, indicating the most interacted parts of your site

Scroll heatmaps display how far users scroll on your web pages, revealing user engagement

Segment heatmaps help understand how visitors from different platforms use your site
It sounds cool and everything, but why is it good for me? - you might ask.
Heatmaps are simple but effective tools to turn the tide for your site. "A picture worth a thousand words", as the famous saying goes, and it's most definitely true on heatmaps.
When you experience a huge dropoff at a certain stage, it could be beneficial to create a heatmap of that page.
With click heatmaps, you can reveal how users interact on your web pages, thus being able to identify many issues, like rage clicks and broken links. These are critical points not only because of your visitors but also from an SEO point of view because they can have a negative impact on Google search results.
If you are setting up a funnel for your content and want to know if the bottom line of your message is reaching your audience, a scroll heatmap could be the right solution. The familiar temperature scale is placed on your entire page (from top to bottom) and shows customer engagement as a percentage.
Always keep in mind that when visitors open your page, they face the above-the-fold part of your site so make sure to add important information there.
Last but not least, using segment heatmaps can reveal hidden aspects. With segment heatmaps, you can see how your website visitors interact on different platforms.
Session Replay
Session replay is a website interaction recording tool. You can track visitors' actions from the moment they arrive at your website until they leave it. You can track the visitor's entire journey, jump between checkpoints, see how much time they spent in certain places and what they did during their visit. It's like you are standing right next to your customer as they use your website. Cool, isn't it?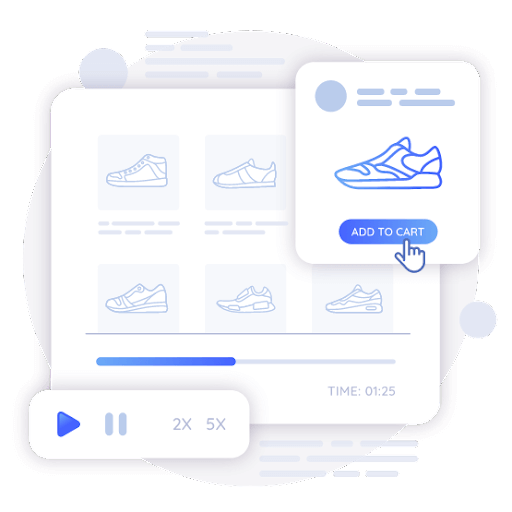 Session replay could be the most powerful tool when it comes to sales funnel analysis. It can give you the most direct answers to almost any customer-related questions.
When you see visitors spending a lot of time on your site without converting, or a large volume of users leaving their session at a certain page, it might be worth taking a closer look with session replay.
By tracking mouse movements and navigation on a web page, you can uncover user frustration and understand if users are finding your site confusing or if there is any distraction factor.
Another opportunity where session replay can be an ace up your sleeve is product- and payment-related processes. If you see customers abandoning their purchase in the middle, it may indicate that your payment process is taking too long or that you are asking for too much data.
Pages with high bounce rates that occur in the early stages of the funnel are also worth checking with session replay. Replaying mouse interactions on product pages can provide a clearer picture of user behavior. If it appears that customers are desperately searching for something they can not find, it may mean that important information is missing or that you have not been able to build enough trust. Provide important information about your product and highlight trust seals and badges in the checkout process for better results.
Level Up Your Game
A well-structured sales funnel with a flow is essential for a successful e-commerce business. Every website has its troughs, but the most important thing is how they respond. With website analytics and various analytics tools, you can go straight to the source of the problem and fix any issue quickly.
We have listed some of the benefits of heatmaps and session replay, but there are many other useful applications of these fantastic tools. The stage is set! We pass the mic to you and it's your turn to take the next step!
Author
Bence Barany is a content marketing manager of Capturly - a full-scale analytics tool that helps you optimize your website's conversion rate. He is currently studying SEO and website analytics, and also tries to expand his knowledge in the areas of e-commerce, user experience and conversion rate optimization.
Get Started: Make Your Online Quiz
Using One Of Our 200+ Templates