Collecting customer feedback is essential to the success of any company. Feedback drives innovation and marketing decisions. Customer feedback tools like customer surveys also make customers feel valued, building customer loyalty and driving repeat sales.
Marketers have been using email to conduct customer surveys for years. Despite emerging marketing trends like social media and live chat, it remains the most effective channel to reach customers.
Crafting compelling survey email subject lines is the first step to getting valuable feedback via email. According to Invesp, 69% of email recipients mark emails as spam based on subject lines alone. So, a well-formulated subject line is crucial to getting your emails noticed and opened. Once opened, chances increase that you'll actually get this valuable feedback you are after.
Let's have a look at 3 fundamental guidelines for correctly selecting effective survey email subject lines that can boost the open rates. Afterward, we will explore several practical writing tactics that will make your subject lines stand out from the rest, including some examples.
3 Guidelines for Effective Survey Email Subject Lines
1. Set Clear Expectations Based on Actual Survey Design
Before you start writing your subject lines, you need to develop a survey design, ensuring the survey flow and structure are on point. Survey design is the process of creating surveys that provide maximum insight. In other words, it's about asking the right questions to the right people at the right time.
Developing the right survey design ensures the answers to your questions are relevant and accurate. Your subject lines can help or hinder the feedback collection. Understanding your survey design will help you create subject lines that set clear expectations and don't mislead customers.
For example, when you know how long the survey takes, you can honestly put 'A minute (or however long) of your time?' in the subject line.
2. Choose the Right Keywords and Tone of Voice
Knowing your audience helps you create subject lines they are likely to respond to. For instance, millennials use visuals like GIFs and emojis to communicate, so incorporating emojis in subject lines could be an advantage for that demographic.
The timing is another factor of survey design you can use to write subject lines. Let's say data security is a trending topic in your industry. Including data privacy keywords is a timely and great way to get people to click on your email surveys.
3. Be Precise About Your Survey's Purpose
Successful surveys are clear about what they're asking customers. To use emails effectively for feedback collection, you need to define your survey's goals, which will inform the wording of your subject lines.
Are you collecting feedback about an event or purchase? Are you measuring customer experience or customer loyalty? Are you looking for innovative ways to stay competitive? Your customers should be able to know what the survey is about from the subject line.
Clarity on survey objectives makes it easier to construct relevant email subject lines.
The subject line ''So… how about our new live chat feature?' specifies that the survey is about a particular product feature.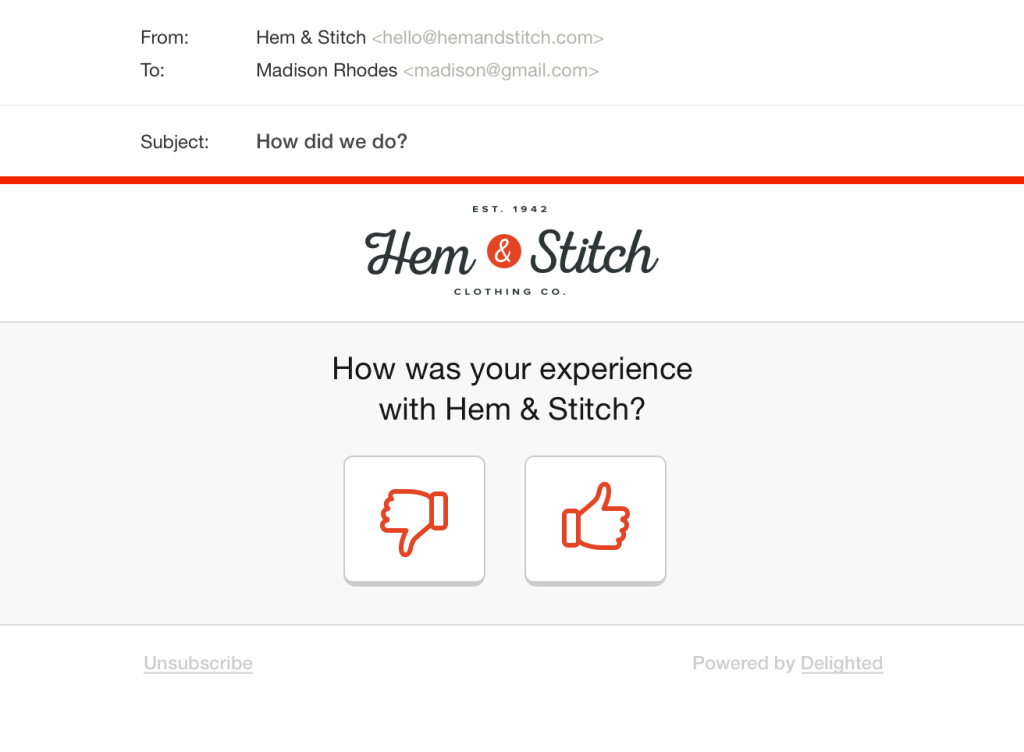 From the subject line in the image above - "How did we do?", the email recipient immediately knows that the email is asking for feedback on a recent experience.
How to Create Catchy Subject Bylines
Writing great survey email subject lines can be tricky, even for the creatives among us. Fortunately, the best practices used in other email marketing communication apply to survey emails.
Here are a few tactics to make your email survey subject lines stand out.
1. Personalization
Out of all the emails customers get, the ones most likely to grab their attention have an element of personalization in the subject line. But email personalization isn't just inserting subscribers' names in subject lines.
Tap into your customers' history to create relevant subject lines and refer to their last purchase or browsing session. Subject lines about products or services customers haven't bought or used are a marketing red flag. It shows you don't know or care about your customers.
You can also include locations. For example, the subject line 'Dallas votes Tikki Pies Best in Town. Agree?' is sure to attract customers from that city. Be sure to customize for other regions.
2. Ask a Question
Asking questions is a great way to grab subscribers' attention. Something like 'Got a minute?' can be more engaging than merely referencing their website activity.
To improve your open rates, ask questions about their pain points. For example, 'Are you handling employee retention correctly?' is sure to pique interest. If they weren't wondering before, they are now.
3. Use Incentives
Offering incentives is an effective way for your marketing team to get customers to complete in-person and online surveys. Incentives boost survey response rates and let participants know you value their time.
For example, you may mention in the subject line that participants will receive a particular reward upon completing the survey.
While rewards are likely to increase long survey completion rates, you must be strategic with the wording of your subject lines. There are words you should never use if you want to avoid spam filters. These include 'money back,' 'cash'', 'gift included,' 'limited time,' dollar signs, and all caps. The list goes on.
4. Use Emojis
You may be concerned with how emojis align with your brand message, but according to a study by Return Path, brands that used emojis in the subject lines enjoy higher read rates than ones using text only.
For example, using the bunny emoji for Easter promotions yielded a 24% read rate compared to a 19% read rate for regular Easter promotion emails. Emojis help your email surveys stand out in crowded inboxes and fit mobile phone formats.
5. Keep It Short
How short should your survey email subject lines be? The screen orientation of mobile phones is vertical compared to the horizontal layout of desktops. That leaves limited character space in the subject line box.
Consider that the preferred business communication channel for 46% of smartphone users is email. If you want mobile users to open your survey emails, your subject lines should be able to fit mobile device formats correctly. Aim for a limit of 50 characters.
When it comes to email survey subject lines, short and personalized is the best way to go. As with other email campaigns, analyze subject lines to see what works for your customers. If you can track the engagement rate of a digital business card, you can track subject line performance.
Effective Survey Subject Lines with Examples
Using the tactics outlined in the previous section, here are some examples of email survey subject lines to inspire you.
1. Personalized Subject Lines
Hey [Name], About your Farberware Knife Set…

How can we make you happier, [Name]? 🤔

Be honest, [Name]. Tell us what you think.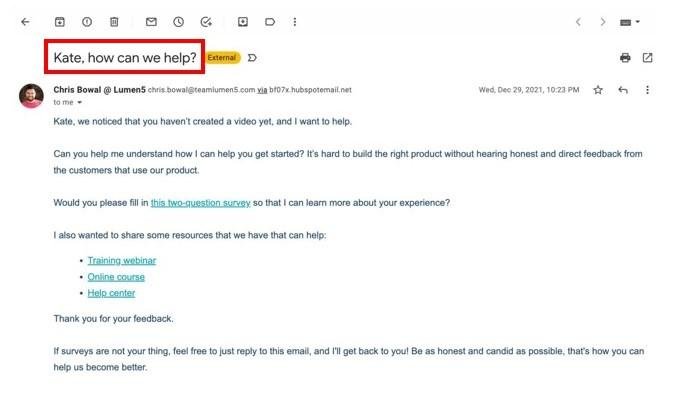 The example above addresses the recipient by their first name and asks how the business can help them. Framing email surveys in customer service terms shows customers that you care and value them.
2. Question Form Subject Lines
Does your team love the [brand] CRM?

Hi [Name], Got a minute?

Which do you prefer – chocolate or candy?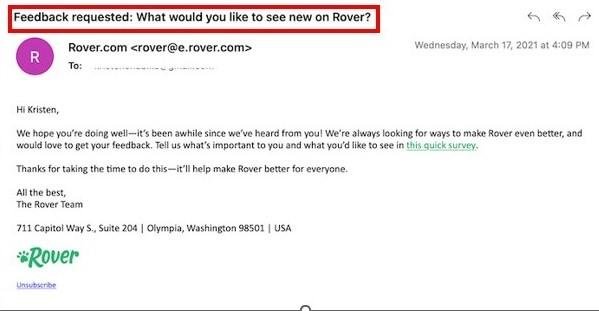 The email survey above gets straight to the point and asks the recipient what new things they want to see from the company.
3. Incentivised Subject Lines
Give us 3 minutes, and get 30 reward points

A fair exchange: our baseball caps for your opinion

Take our survey and enjoy 1-week unlimited coffee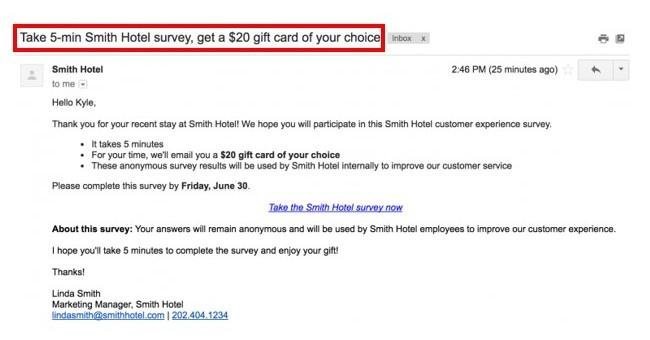 In addition to incentivizing the email recipient, the email survey above stipulates how long the survey will take.
That said, be careful while adding incentivizes to your email subject lines. As mentioned earlier, avoid any words and signs that could trigger spam filters.
4. Emoji Subject Lines
We ❤️your feedback

All we want for 🎄is your honest feedback

Take our survey, get a 🎁
The Uber example above utilizes both personalization and emojis. The use of emojis is sparing, and the emoji (party popper) is relevant to the theme of the email.
As you may have noticed, most of these subject line examples are short and clear on the purpose of the email, i.e., to collect customer feedback.
In Conclusion
Like all email marketing, you hope your target audience opens and engages with your email content. Moreso with email surveys because response rates help drive business decisions, and you need customer participation for the feedback campaign to be successful. A catchy subject line helps ensure your email surveys are opened and avoid spam folders.
Writing compelling subject lines can take time and effort. The standard corporate subject lines don't cut it anymore; you need to be creative to grab people's divided attention. That's why we shared three tips as well as writing tactics and examples to help your survey emails that'll stand out in customers' crowded inboxes.
Before writing survey subject lines, you must spend time on survey design and objectives. These define the scope of your feedback collection and ensure you ask the right questions.
The information in this article is by no means exhaustive, but it is enough to get you started. Don't forget to test your subject lines to see which ones hit home and which are duds.
Author
Michal Leszczyński is immersed in developing, implementing, and coordinating all manner of content marketing projects as the Head of Content & Partnerships at GetResponse. He has 10-plus years of expertise in online marketing with a Master of Science Degree in Strategic Marketing and Consulting from the University of Birmingham (UK). Michal is the author of more than 100 articles, ebooks, and courses for both GetResponse and renowned websites like Crazy Egg and Social Media Today.
Get Started with Online Surveys
With One Of Our 200+ Templates