Customer feedback is an essential pillar for the growth of any business on the market. While there are multiple ways to collect feedback, surveys are often the most preferred and used ones. However, a lot of people struggle with getting started with it.
Get Started with Online Surveys
With One Of Our 200+ Templates
This is where customer feedback survey templates come in. They make the process easier and more efficient, and they help you gather the correct information while maintaining a clean look. In this article, we will talk about the importance of a customer feedback survey, how to create it, and some of the best customer feedback survey templates in the market.
Why Are Customer Feedback Surveys Important?
A customer feedback survey is a questionnaire used to collect feedback from customers. Usually about their experience with a product or service. Brands use the feedback to improve their product and improve customer satisfaction. There are different types of customer feedback surveys available on the internet. However, most surveys ask customers about their:
Satisfaction with the product or service

Their experience with the product

Their likelihood of recommending the product or service to others.

Ask about specific aspects of the product or service, such as price, quality, ease of use, etc.
How to Create a Customer Feedback Survey?
You can easily create a customer feedback survey with involve.me. It's a free customer feedback tool easy to use for anyone. To create this survey, you need to:
1. Pick an editable template from their range of 200+ templates. Choose the one which fits your requirements the best.
2. Set the design of the template according to your brand's design identity.
3. Ask the right questions and link them to the conclusion pages of your choice.
4. Publish and share it with your audience on email, social media, etc.
11 Customer Feedback Survey Templates - The Best Ones
There's no question that a good template can make your life easier. After all, you don't have to start from scratch every time you want to create a survey. Instead, you can use a tried-and-true framework that will save you time and help you get the job done right.
But with so many different templates out there, it can be tough to know which ones are worth your time. So we've put together this list of the ten best templates you'll like. Trust us, and these survey templates will make your life easier and help you get great results fast.
1. Feedback Survey Template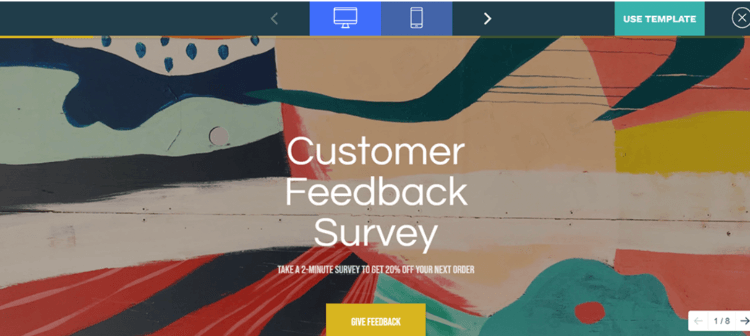 This survey template is one of the best to get your customer's feedback, and to keep it engaging and short. It is sure to grab attention with its sleek and colorful look. The satisfaction scale section comes with image answers. They have emojis from happy to sad, which makes it more engaging for your customers. It has eight pages in total, and you can add any questions with your logo and customize it according to your brand needs. Get this template ->
2. Promoter Feedback Survey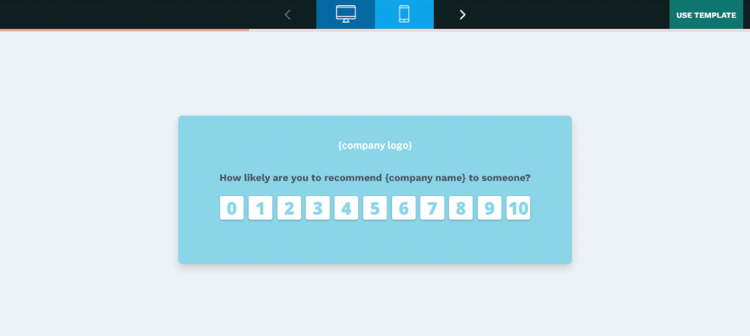 The promoter survey template comes with a clean and neat look, and is short and straightforward. It again comes with image answers. The number shows the satisfaction rating, ranging from 0 to 10 . Here, zero indicates that the client is not happy and ten suggests they were delighted. It has two more sections where you can ask the customer to provide more information. The last page ends with thanking the customers for taking the survey. Get this template ->
3. Customer Satisfaction Survey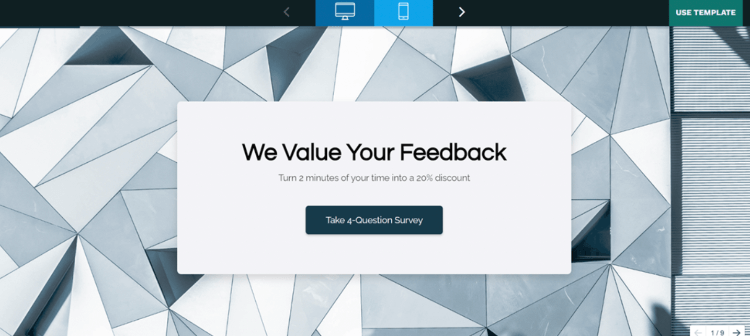 This customer satisfaction survey template allows you to ask various actionable questions, examine basic metrics like response rates, and track consumer sentiment over time. With nine pages, this template will get you very detailed feedback from your customers. Customers are also prompted to provide as much information about their experience, and it can be both detailed and thorough. Get this template ->
4. Yoga Class Feedback Survey
The call-to-action (CTA) in the Yoga template inviting recipients to take the survey is eye-catching. After they click through, they're sent a simple survey with questions. This Yoga class feedback survey is designed to be easy-to-use. It provides dissatisfied customers with a simple, friction-free method to provide feedback. You can find out what worked in their most recent interactions. It is interesting and engaging for customers, helping to get better responses. Get this template ->
5. Coffeehouse Rating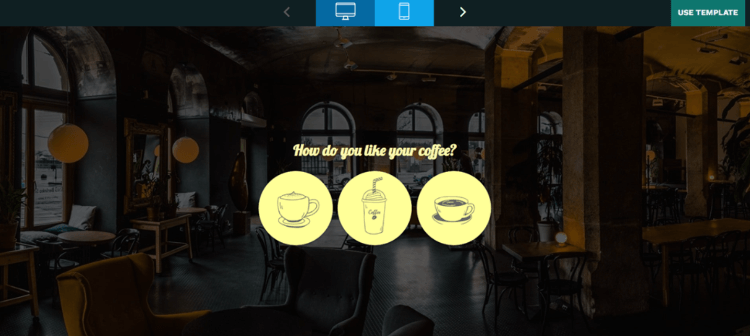 This easy 4-question customer satisfaction survey template is ideal for company owners looking to boost their client loyalty. It also keeps the attention on the product by only asking about "coffee" and "service."
The template is easy to understand and does not ask complicated questions. It is best for businesses who want to know whether their service is up to the mark with the target audience. The icons and the background add more authenticity, making it easy for the customers to respond.
6. Workshop Feedback Form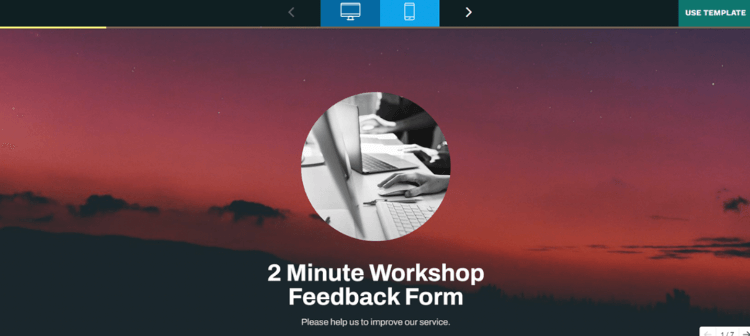 Get to know your customers with this 7-page customer feedback survey template. You need to ask specific engagement questions if you're selling a course. Try asking specific course engagement questions to get actionable answers. This includes satisfaction ratings and objective-type questions for customers. The open text box questions will ask them to elaborate on their experience that will help them understand your clients. Get this template ->
7. Customer Satisfaction Survey Colorful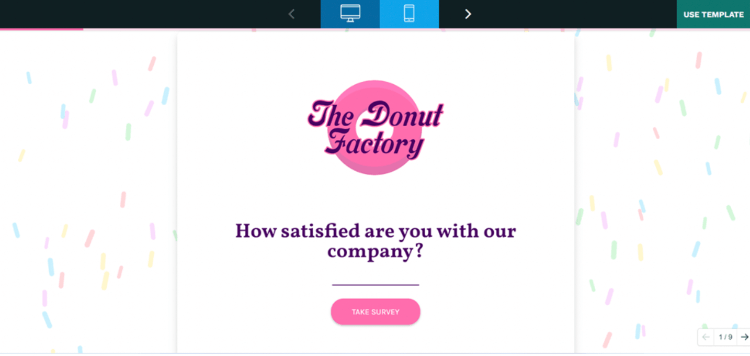 The use of color can help achieve this goal, making the survey more appealing and interactive. This template has nine pages with colorful themes, and it also has objective answers. It also includes comment sections for customers to leave their thoughts and experiences.
This template is a well-designed feedback survey that will help identify problem areas. It gives management the information they need to make necessary changes. And also gets you answers to prepare how customers can be satisfied in the future. Get this template ->
8. Workshop Feedback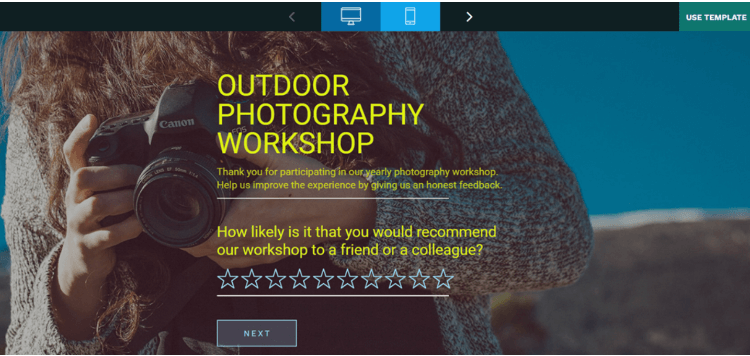 This template has four pages, asking about customer experience and an email form. The first page is for the respondent's likeliness to rate the workshop. Page 2 asks about their workshop experience. Pages 3 and 4 are for questions about the email form. The feedback received from this template will help you improve your workshop offerings. It's common for users to only contact you when they're unhappy. So, sending out such a survey lets you determine if the customer is once happier. Get this template ->
9. Event Feedback Survey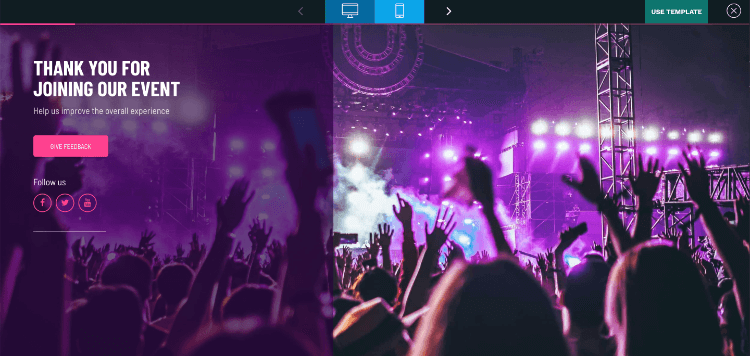 This event feedback survey template uses eye-catching colors which makes it more engaging. It asks nine essential questions about your event. It's an excellent way to get feedback from attendees. This way, you can make improvements for future events.
You can include questions about the venue, organization, speakers, and satisfaction. There are a few open-ended questions for attendees to give more detailed feedback, and it has multiple answers selectable options. Get this template ->
10. Customer Feedback Survey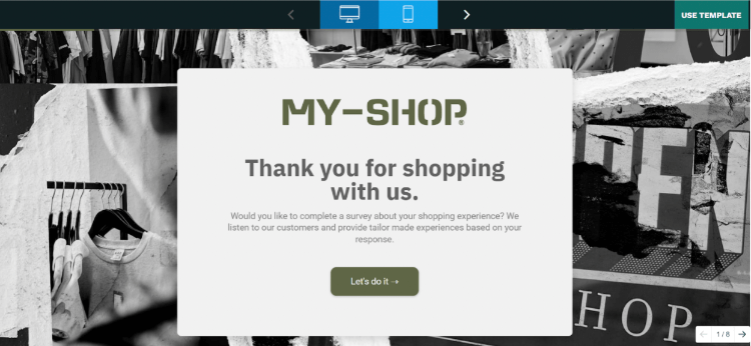 This template helps you better understand the shopping experience of your e-commerce store. The theme of this survey is mostly black and white, making it uniform & easy for customers to provide feedback on their shopping experience. This survey consists of 8 pages with elaborate and easy questions.
It also includes space for customers to rate their experience. List what they liked and didn't like, and make suggestions. This survey will help you collect feedback to make improvements to your store. Get this template ->
11. Customer Satisfaction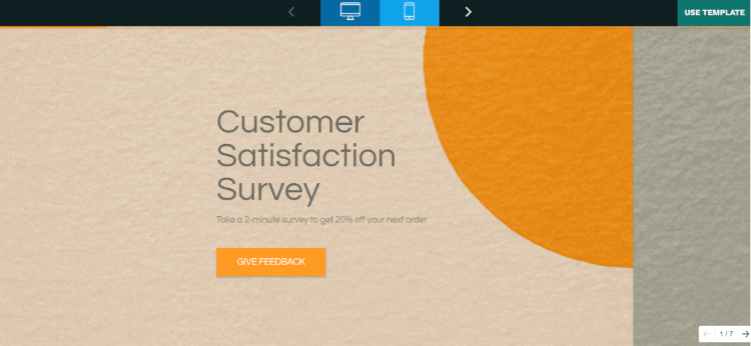 If you're looking for a customer satisfaction survey template, this 7-page one is great. The bright colors and attractive fonts and buttons make it appealing. The questions geared towards understanding customer satisfaction levels make it a success.
According to a recent study, including colors is a critical factor in getting responses from customers. Plus, it's easy to customize to your specific needs. Add your company logo, contact information, and questions, and you're ready to go. Get this template ->
Get Started with Online Surveys
With One Of Our 200+ Templates
What Template is the Best for You?
And there you have it! Our top 11 customer feedback survey templates to help get you started. Remember that the best surveys are short and easy to understand. It should also be relevant to your customers. Make sure to customize them for your business and customers. A/B tests different variations to see which one performs the best. We hope that your next survey provides insights into what customers love about your product with these templates. If you need any help getting started, our team will support you.