Surveys are a great tool for businesses to gather reliable data in a short period. They provide great insight into purchasing behavior, customers' preference on packaging, taste, messaging, and more. Aside from being cost-effective, surveys are quite easy to set up and launch. The challenge, however, often lies in having enough responses to a survey.
Get Started with Online Surveys
With One Of Our 200+ Templates
For a survey to be statistically valid, there must be enough respondents willing to answer it. Otherwise, the adequate sample size will not be fulfilled, rendering the survey inconclusive. This article will discuss some tips for ensuring great survey response rates each time.
What Is Survey Response Rate?
Simply put, survey response rate refers to the number of people who have successfully completed a survey, divided by the sample size (the number of people you sent it to).
Survey response rates range from 0% to 100%, with the average differing roughly between 13% - 57%, depending on the survey method. For email surveys, the average response rate is 30%.
Common survey methods are:
In-person Surveys

Mail Surveys

Email Surveys

Online Surveys

Phone Surveys

In-app Surveys
According to Survey Anyplace, in-person surveys are still the most effective survey method with a 57% response rate. Mail surveys come in a close second at 50%, followed by email surveys at 30%.
Survey response rates very rarely reach 100%, if at all. In fact, a response rate of 50% or higher is already considered excellent. Typically, high survey response rates are driven by consumer loyalty, incentives to take the survey, or a deep interest in the survey topic.
A survey response rate can be calculated using the following formula.

The resulting number is your response rate in percent.
Response Rate Vs. Completion Rate
Another related term worth knowing is the survey completion rate. It's quite similar to survey response rate. However, you cannot use them interchangeably. What's the difference?
Response Rate: The percentage of the sample that completed the survey
Completion Rate: The percentage of people who completed the survey upon starting it
In other words, the response rate is the number of completions in relation to the sample size, while the completion rate looks at the number of completed surveys in relation to the number of surveys that were started. Completion rates provide an insight into how easy it is to answer your survey and whether or not there were any roadblocks associated with answering it.
Here's the formula for completion rate:

The main contributing factor to a low survey completion rate is poor survey experience. This means that there is something about your survey that respondents find uninteresting or difficult. It could be the topic of the survey, the questions, length, or mode of answering. Much like low response rates, low completion rates also result in incomplete data which makes it difficult to build a reliable data pipeline.
How Can Surveys Help You Grow Your Business?
Surveys help businesses gather important insights about their consumers and products by collecting opinions, responses, and suggestions. It is important to note that business analytics is not about crunching numbers, but instead, taking a qualitative approach to understanding how data can help you improve various products and processes.
Businesses can then apply these insights to improve different aspects of their customer service, product, manufacturing, packaging, marketing, and more.
Feedback from surveys can drive business strategies and help executives and owners make informed decisions, as the data gathered is considered unbiased.
How to Increase Your Survey Response Rates
For an organization to benefit from a survey, it should ensure good response rates first. Below are some tips to increase survey response rates.
1. Incentivize Your Respondents
Encourage high response and completion rates by offering your respondents incentives to answer your survey. You can't just expect website visitors to submit online forms out of the goodness of their hearts. Truth be told, people are busy. By asking them to answer your survey, you're asking them for a chunk of their time so that you can improve your business.
Make it worth their time by offering incentives that they will enjoy and find useful. Incentives can take many forms, such as discounts, gift cards, and branded merchandise. Branded merchandise, such a printed merch by Printful, can serve as multipurpose giveaways because they also help accomplish the following:
Increases Brand Awareness

Leads to long-term Marketing
Offering bonus points is also a good idea if you have a loyalty program. Take a look at the example from Sephora below: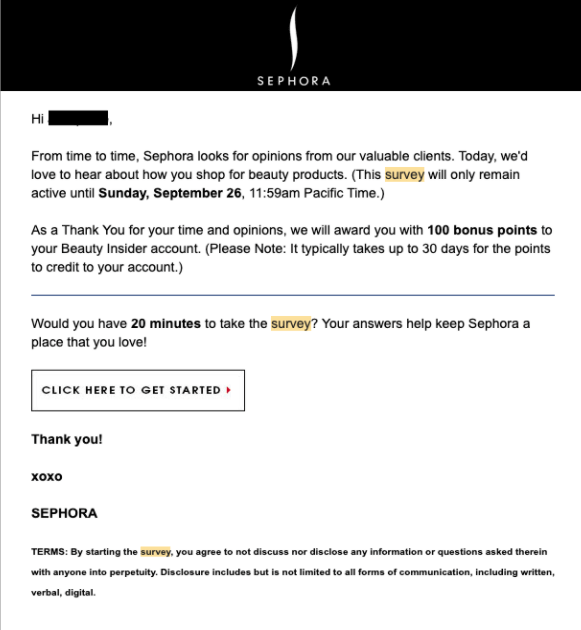 In the email survey, Sephora offers 100 bonus reward points to Beauty Insider account holders who volunteer to complete their 20-minute survey. Note that it also says 'Earn 100 Beauty Insider reward points for your time,' to show the customer that the brand respects and appreciates their time and feedback.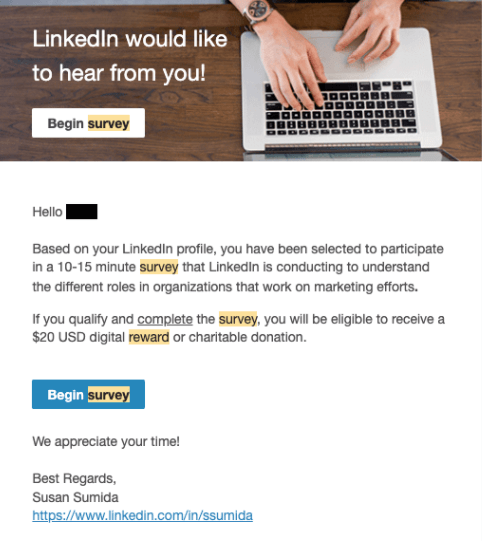 Another example, like the one above, offers survey takers a '$20 digital reward or charitable donation' in exchange for a completed 10-15 minute survey.
2. Make It Personal
According to LinkedIn, personalizing emails significantly increases email open rates, customer engagement, and even sales. Take a look at these statistics:
72% of consumers respond to messages aimed directly at them

50% of consumers are willing to share feedback or information when offered a discount

80% of eCommerce customers prefer companies that personalize their user experience

74% of customers agree that it's frustrating to receive generic, non-personalized emails

50% of companies saw an increase in customer engagement because of email personalization
When it comes to sending customer surveys, personalization does help. So does using language that conveys the value you place on the customer's feedback or opinions. Use messages like 'We value your feedback,' or 'We want to know what you think so we can improve our services.'
Take a look at Amazon's invitation to participate in a survey below. It includes a simple call-to-action after providing the customer with a list of personalized book recommendations based on Kindle and Goodreads activities. The messaging goes:
'Help us improve'

'We would love your feedback'

'Tell us what you think so that we can make your next email even better'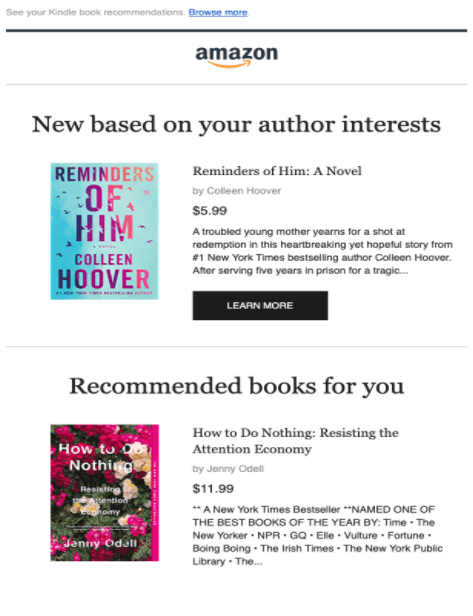 Also, convey that you respect their time by indicating how long answering the survey will take, on average. For example, say something like, 'This survey will only take 5 minutes to complete.' If possible, keep surveys short, as the majority of survey takers are willing to spend not more than five minutes completing a survey. Very few are willing to spend ten minutes or more answering a survey.
If it's absolutely necessary to send out a longer survey, make sure to offer a substantial reward, such as useful merchandise or reward points that can be counted as cash on eCommerce sites. You can also use contact management software to develop long-term relationships with prospective customers and let them know that their feedback is appreciated.
3. Have a Survey Research Panel
A survey research panel comprises a group of pre-selected respondents who volunteer to answer surveys. Businesses and marketers that rely on surveys can build and manage their own research panel to increase the survey response rates because there's no need to look for respondents each time there's a survey to answer.
There are service providers who can provide you with sample populations depending on what you need for your research. They can also help you build a market research panel for your in-house surveys.
4. Appeal to Their Interests and Values
Creating a cover letter and questionnaire that appeals to your customer's emotions, interests, and values, can be very helpful in persuading them to participate. It's important to highlight how:
Participating in such a survey will help causes they support while improving products and services they benefit from

Supporting the brand through valuable insights and feedback can enable you to continue the work you do in terms of the charities and advocacies they support
For example, Humane Society International regularly sends out email surveys that highlight the newsletter subscriber's values, as well as the work that the organization does: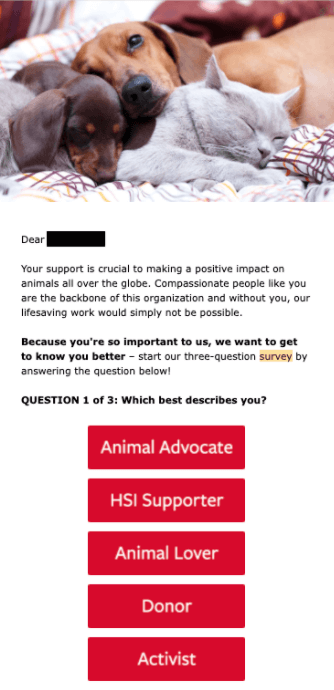 5. Create a Sense of Urgency
Any research has a timeline to adhere to, so it's always beneficial to let the customer know the deadline for a specific survey. To see examples of how brands indicate deadlines in their survey requests, check out item 1 (Sephora survey request).
Apparently, this also works out well in terms of increasing response rates since feedback given soon after a product or service has been delivered tends to be more accurate. This is supported by statistics showing that 72% of consumers are willing to give feedback to a company that asks them to do so, be it via a quick survey or review.
Get Started with Online Surveys
With One Of Our 200+ Templates
Conclusion
Surveys are a valuable source of consumer insight for businesses. They can be leveraged to gather valuable data to drive company decisions about various business aspects.
To address the common problem of low survey response rates, businesses and brand marketers should ensure that customers are rewarded for their time and feedback and that their opinions are valued. Personalized communication also increases consumer engagement and promotes better customer loyalty.
Ensure your surveys have high response rates by applying these helpful tips.