Surveys are an important source of information that can prove invaluable for marketing purposes. Getting specific information from your audience can help you make informed decisions and develop more defined marketing goals.
Get Started with Online Surveys
With One Of Our 200+ Templates
However, the question is how to get people to actually fill out the surveys you plan so carefully. For most people, surveys are annoying and something to ignore.
That's where incentives come in. With good incentives, you can persuade your audience to complete any survey and get customer feedback. However, it's not as simple as simply promising people stuff if they answer your questions. You must plan it according to your audience and use the right incentives to get a positive response.
As long as they're thoughtful and have value to your audience, any incentive can work. This article will share 10 possible incentive suggestions.
When Should You Use an Incentive? (and when You Shouldn't!)
Survey incentives are awesome, but only if they work the way they should. Sometimes, your chosen incentives can backfire a bit, and you can end up with the wrong people filling out your surveys and giving you useless information.
That's why it's important that you make sure you're asking the right questions and pushing your surveys in front of the right eyes. It's good to limit your survey's marketing to specific platforms. You'll have to know your audience really well for your surveys to be effective.
So, when should you use survey incentives? Typically, incentives become a good idea when you find that your surveys are getting a poor response or low completion rate. Incentives also come in handy when you lack data that your audience can provide you with.
10 Survey Incentives to Try
We've listed 10 kinds of survey incentives, and these are the best ones to consider.
Of course, there might be something specific to your company that might make more sense. In that case, go for it! As long as you know your audience well enough, you should be able to tell which incentives will work.
Let's get to it..
1. Money
As you can probably guess, this kind of incentive is currency-based and can actually work really well to lure in your audience. You will reward your survey responders with money once they've filled in all the questions. It's pretty simple.
However, you'll need to be careful to avoid invalid surveys filled with gibberish that won't do you any good. You should be able to determine which surveys are filled out honestly and correctly with an online survey tool.
You can determine how much money to offer as an incentive by taking a good look at your audience and your budget. Payments can be safely made through payment services like PayPal. Checks and money orders are also an option, but if you have a global audience, PayPal is a better way to go.
2. Coupons
Coupons are similar to gift cards but a bit more personalized and tailored to your company. They can be offered to survey responders in return for their honest answers.
The thing with coupons is that they will only matter to your audience and won't appeal to anyone else. Of course, that's a good thing, so you can be assured that your answers come from the people you want to target.
Coupons should give receivers discounts on your popular services/products or discounts they'll appreciate. You don't have to go overboard, so about 25% off is a good number.

3. Gift Cards
Gift cards won't cost you anything but are a great way to reel in your audience with the promise of something free or special. You can offer gift cards to your own business (the best option), but you can also consider gift cards to popular retailers.
You'll need a good understanding of your audience to know which retailers they want gift cards for. Assuming your survey is between 10 and 15 minutes long, you can offer gift cards to the value of $5 to $20.
4. Charitable Donations
Donations to charity are also a fantastic reward, as long as it's something that appeals to your audience. In general, though, most people like the idea of the brands they support giving to charity, so it's a solid option regardless.
You will have to pick a charity that relates to your industry or niche and is known to your audience. The amount of money you choose to donate depends on you. It can be as small as just a few dollars, or you can opt to donate a percentage of your monthly profits.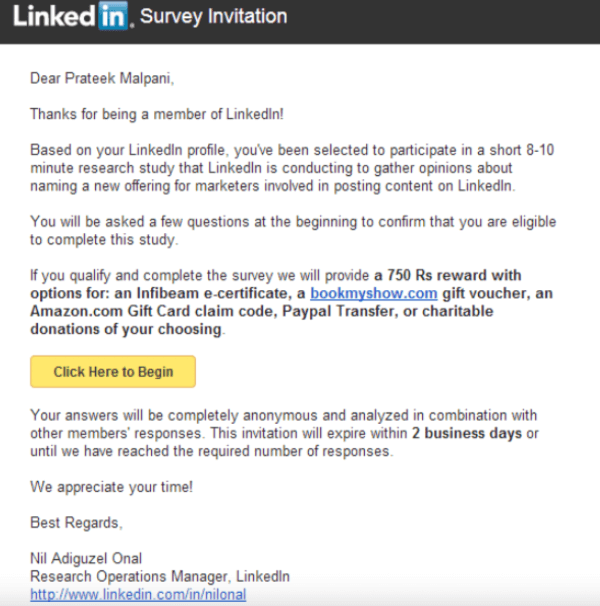 Here you can see that the survey respondent is offered the option to donate to charity after they've filled out the form. It's a good idea to give people the chance to choose their reward.
5. Product Samples
Giving away samples of your best-selling and most popular products is another great idea. This way, you'll save on money and resources when running your survey campaign.
The samples should correlate with the value of the surveys you ask people to complete. If you take 15-20 minutes of their time, your audience will likely expect a nice sample or more than one. Plan this carefully, and it can be a nice way to not only gain data but remind your audience why they love your products as well.
6. Access to a Club or Loyalty Program
Not all your incentives have to be physical or monetary-based. You can attract your audience with access to your loyalty program or club if you have one. This gives your typical buyers a taste of being one of your top customers when they earn extra loyalty points or exclusive access.
It doesn't matter whether your loyalty program or club is about freebies, perks, or both; as long as there's something special about it, your audience will be interested.
7. A Free Trial
Does your company have extra content like magazines or video content that can only be accessed through a subscription? This could be a wonderful incentive to get your audience to fill in your survey.
Offer a free trial of your subscription(s) and give your audience a look at what they're missing out on at the same time. Don't make the free trial too long, though. Anything between three to seven days should be just about enough.
8. Free Content
You can also offer free content as a form of incentive. If you have content like podcasts, ebooks, company-specific literature, and so on, you can give your survey responders a little taste of it.
You can even go as far as giving away knowledge. For example, if you're in the self-help industry, share exclusive and clever ideas for an online business with your audience in return for their completion of your survey. As long as you offer something that your audience wants, you can reward them with any content.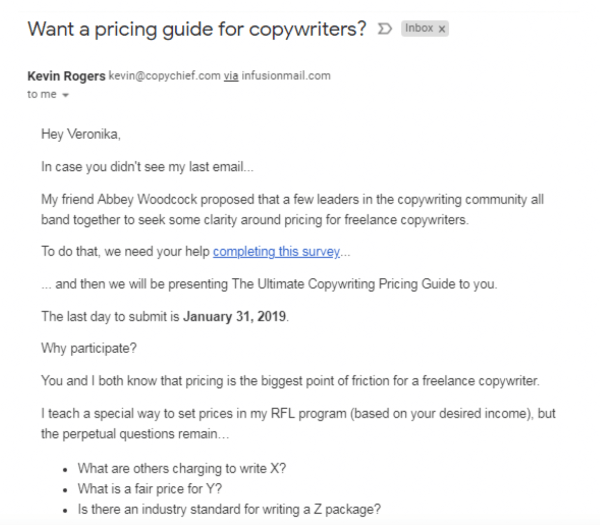 9. Giveaways
If you want to attract your audience with something more exciting than a discount, you can always go for giveaways. You can give away monetary or non-monetary freebies and assure every respondent that they will get something special.
It's not necessary to give everyone the same reward, either. One responder can win a free sample, and another can win a free trial of your exclusive content. It's all up to you how you want to do the giveaway.
You can even use the giveaway to promote your business by giving away branded gifts with your unique logo.
10. Gifts
Special gifts are also a brilliant idea and will get many people interested in your survey. If the gifts are unique to your brand, you'll minimize the appeal to that of your audience, which is what you want.
As long as you make sure the gifts are related to your business, you can give your survey responders just about anything. Whether you decide on custom clothing or branded stationery is up to you. Put your branding on interesting items and give them away — your audience will probably love it all!
Incentive Timing: in Advance or After?
It makes sense to give people rewards after the completion of a task, so you should give your incentives only once your survey responders have completely filled out your survey.
It might seem like you're not trusting your audience, but it's common practice to give incentives only afterward. No one will blame you for doing so, and you likely won't lose anyone's interest.
Keep in mind that you must have your customer service team ready for anyone who experiences difficulties claiming their reward. Complications can happen at any time, and you should always be prepared for something to go wrong. A video-inclusive chat app is perfect for this purpose. Additionally, get a social media management tool to stay on top of responses from customers on social media.
How to Select the Right Incentive for You
There are many factors to keep in mind when choosing the appropriate incentive for you and your audience.
You must consider your own budget, what your target audience looks like, what their preferences are, and how you will give people the incentives upon completion of your surveys. If you want to set up your customers for success, you need to set yourself up for success.
Also, keep in mind that your survey must not be too long when looking at the reward, and it mustn't be too short either. If people think the reward is too good to be true, they might think twice about how legit the survey is.
Use Survey Incentives Cleverly and Get What You Want
Incentives are great ways to reward someone for doing something for you — like completing your survey. But the right incentives are more than just a way to say "thank you." They will also serve as a nice way to promote your brand.
Plan your incentives carefully, and this will be a win-win situation for everyone involved.
Consider keeping in touch with your audience once they've completed your survey to get feedback on what they thought of it. That way, you'll know how good your incentive ideas were and what to do next time.
Now. Get out there and go for it!
Get Started with Online Surveys
With One Of Our 200+ Templates