Your price matters.
Since it is one of the most important factors influencing consumers' buying decisions, you need to learn how to use price quotation to your advantage. 
One of the solutions is a custom price quote calculator. 
Dynamic pricing not only helps you close sales faster and satisfy your customers, but it also increases lead generation.
In this article, we'll show you how to easily build a price quote calculator for your website without a single line of code. See how it works even with the most complicated pricing schemes:
What is a Price Quote Calculator?
A price quote calculator is a tool that allows businesses to quickly generate accurate and customized pricing estimates for their products or services.
The price can be calculated automatically based on various parameters such as quantity, product features, and shipping options. The calculator can be embedded on the website or sent to potential customers via email. 
With a clear understanding of a product, sales and marketing teams can create price quote calculators on their own.
As it is a simple widget, it doesn't require coding skills to create one ( find a step-by-step guide below).
What Are the Benefits of Price Quote Calculators?
Custom calculator tools help with quick and accurate cost estimates, saving both time and resources for your business. There are many ways teams can use an instant price calculator. Here are some hidden benefits your can get when giving your visitors an actual price:
Enhanced Sales Conversion
There is no need to be "mysterious" to your potential customers. You are not on the first date ;)  
Your customers are more likely to make a purchase when they know the exact price of your product.
Improve the sales conversion rate by showing your customers the actual price of a product based on their specific needs and preferences.
Solve Pricing Challenges
Dynamic pricing on the website can solve the challenge of variable, complex pricing. 
With an instant price calculator, your customers can generate a quote in real-time. This, in turn, can create the sense of urgency and encourage customers to make a purchase faster.
With reducing price-related uncertainty, you can streamline your sales process. 
Increased Lead Generation
When providing a personalised quote, you can ask your potential customers for contact details such as their email address or a phone number. This way you can continue the conversation, segment and target a specific audience. 
Sending even automated follow-up emails with the quote and some additional information about your product can help you nurture your leads and increase the conversation rate overall. 
Check this example of a B2B SaaS that uses calculator in their sales funnel strategy.
With the help of an instant price calculator you can also track users' behaviour on the website to gain insights into your customers' purchasing preferences and create targeted marketing campaigns. 
Solid Customer Engagement 
Price quote calculators can provide an interactive and personalised experience for your customers, keeping them longer on the website and helping them explore different options your business has to offer.
Reduced Workload
It might be counterintuitive, but to reach even more users, you need to reduce your workload.
To do that, you can automate your pricing and quotation process. This way, customer support and sales staff can save time and resources that would otherwise be spent on manual calculations and follow-ups.
What Businesses Can Take Advantage of Embedded Calculators?
Businesses that sell customizable products or services or have a complex pricing structure can benefit from embedding a price quote calculator into their website. Here are a few business use cases: 
Furniture Manufacturers 
Not everyone fancies Ikea. Many homeowners are looking for custom-made pieces that will serve them for years. To make it easier for potential customers, furniture manufactures can set up a calculator that allows customers to choose the type of wood, size, style and other options for their piece and get an instant quote.
Click through the calculator to see what parameters are included:
Event Planners
An event planning company can use a price quote calculator to provide customers with an estimate for a party or event based on the number of guests, type of event, and services required (e.g. catering, entertainment, decorations, etc.).
Here is how customers can calculate the event planner price:
IT Companies
IT companies can use a price quote calculator to provide customers with an estimate for a specific project or service based on the type of work, number of hours, and number of employees required.
Tech freelancers can also use a calculator to present a price for their services without the back-and-forth communication with clients. Check out this example of a calculator that can be used by a freelance web developer:
Logistics Companies
What would DHL or FedEx do without calculators that provide their customers with a shipping estimate?
Thanks to the widget on their websites, customers can determine the price based on the weight and size of their package, destination and shipping method without the help of customer support.
Online Shops
The instant price quote calculators are especially useful for the shops that sell customisable products such as clothing, jewellery, or home decor. It allows customers to select various options (e.g., size, color, material) and receive a product recommendation as well as an estimate of the final cost.
Volume discounts, vouchers and promo codes can also be included, helping customers get the personalised offer.
Subscription-Based Services 
Subscription-based services (like Netflix, Spotify, Hulu) can use a price quote calculator to show their customers different plans and the costs associated with different options.
For instance, if you are a cloud storage provider, you can create a calculator that includes options such as the amount of storage needed, the number of users, and additional features like data backup and recovery. As the customer makes this selection, the calculator would update the total cost of the subscription in real time.
You can also use the calculator to upsell by highlighting the benefits and costs of upgrading to a higher-value subscription.
How Do You Calculate Cost Per Quote?
To create your own price quote calculator, it's important to have a clear understanding of your product or service pricing structure. This includes understanding the costs of production, delivery, as well as any fixed or variable costs associated with it.
Depending on the type of your business, you might also want to include discounts for your regular customers, so make sure to have data on your offers right in front of you. Once you gather all the information, you can start working on a website calculator.
The good news is that to build an actual calculator and embed it on your website, you don't have to use JavaScript or Python. It would be enough to use a no code builder for interactive content. 
A no-code builder such as involve.me is a drag and drop tool that allows users to build a price quote calculator from scratch or use a template to make things easier for the start.
Get Started With Price Quote Calculator Templates
200+ Mobile Friendly Templates
All calculators you see in this article were created with involve.me. You can create a free account to play around with it and build your very first instant price quote calculator. 
Check our step-by-step guide below to learn how to use it and create a calculator in less than an hour (if you have all pricing data available of course:)):
Make a Price Calculator in 5 Steps
Let's take a look at the very specific use case - a calculator for a solar roofing company. Here is what the embedded price quote calculator looks like on the website:
It does have very industry-specific questions and pricing system. And you need exactly 5 steps to create the similar price quotation for your business.
Step 1: Choose the Project Type
After you create a free account at involve.me and click on "New Project" (in the right corner) and select the "Start from scratch" option, you will see three project types. Specifically for the calculator, select the " Thank you page" option and click on "Start editing".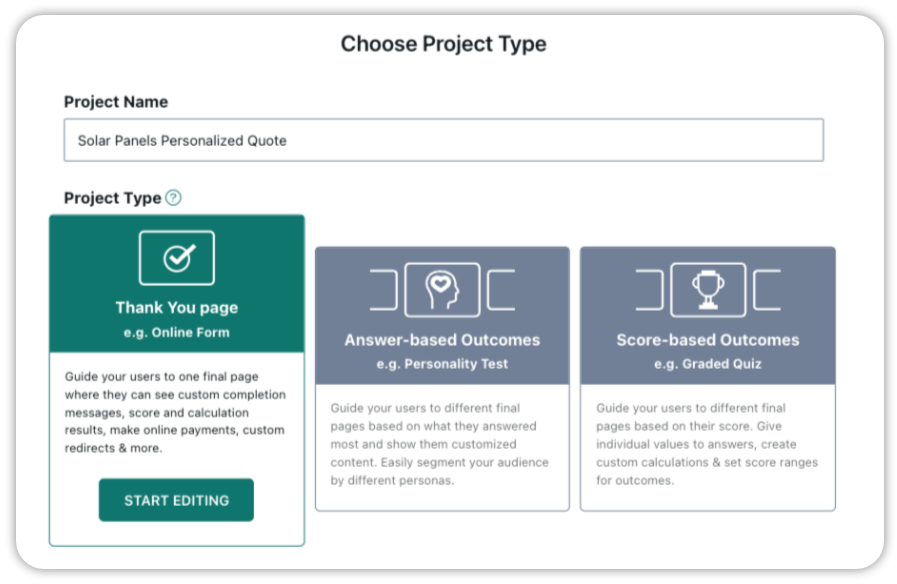 With this project type, you can direct your users to one final page where they can see custom completion messages, score and calculation results, make online payments, and more.
You can also browse through the templates available in the tool to look for inspiration.
Step 2: Choose the Design
On the right side of the Editor you will find a number of content elements. Drag and drop the element you want to use. For example, "Image Choice".
Before you start adding questions, choose your layout. To change the color of your background, click the brush icon (in the right corner).
Upload an image that matches your branding and change the colors of text, elements and highlights.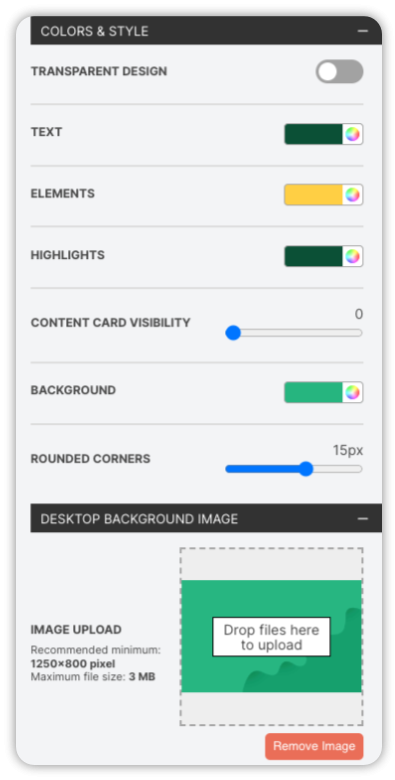 In the case of the "Image Choice" content element, you must create and upload your own images.
Step 3: Create Pages with Questions 
Drag and drop content elements needed for your calculator. For the very first page, I chose: "Heading" and "Image Choice" elements. 
Inside of each element I add a short copy and the images. That's what I have now: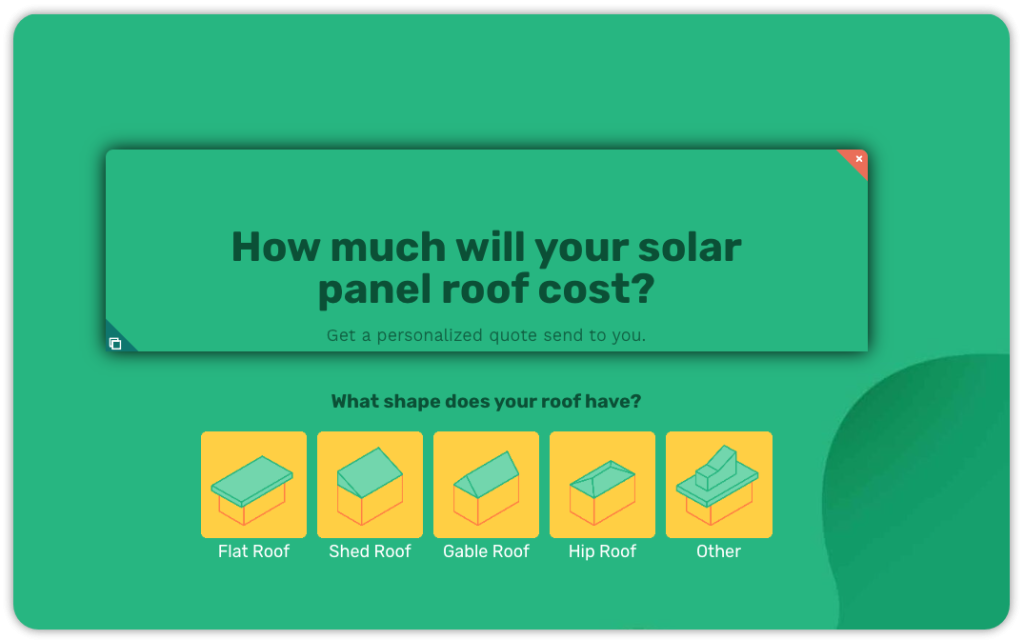 Pro Tip: Instead of adding the "Next page" button, you can choose the specific click behaviour for image question: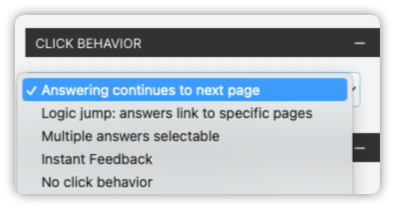 I choose the option "Answering continues to next page". If someone clicks on one of the pictures of roof shapes, they will be redirected to the next page of my calculator.
For other calculator pages I choose available elements such as "Multiple Choice", and "Free Text" and then I customise them. Check all content elements to find what works best for your audience.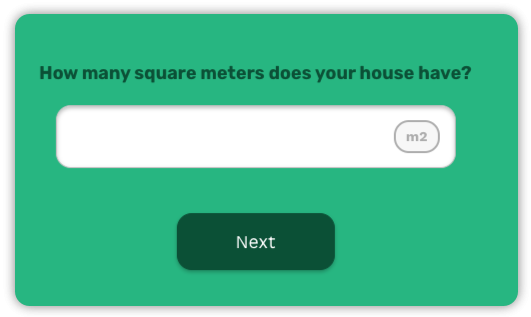 Pro Tip: In case of the questions like the one presented above, make sure to tick the box "only accept numbers"
You can also ask a question with a "Slider" content element: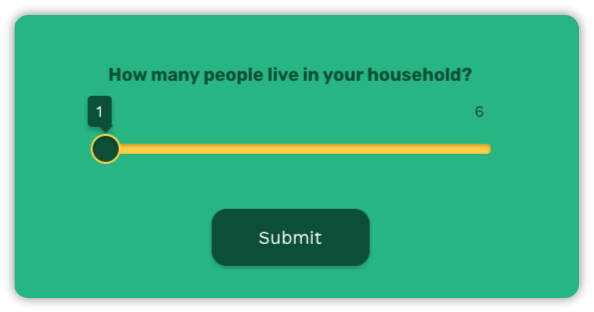 Step 4: Calculate the Final Result 
For each question, you can add numbers to the answers so you can use them to calculate a final result for your customers. To do this, click on your question and scroll down where you can see the answers. Under each answer you will find the value option.
To be able to add a value to each answer, scroll back to the "individual score and calculation" option and tick the box.

Voilà! Now you can add the value. 
You can also choose the option "Answer required". Otherwise, if your customers skip the question, they won't get the right estimation.
To calculate the final result , go to the Outcome pages (which is your final Thank you Page), then drag and drop "Calculator" content element onto your page and click on "Open Formula Builder".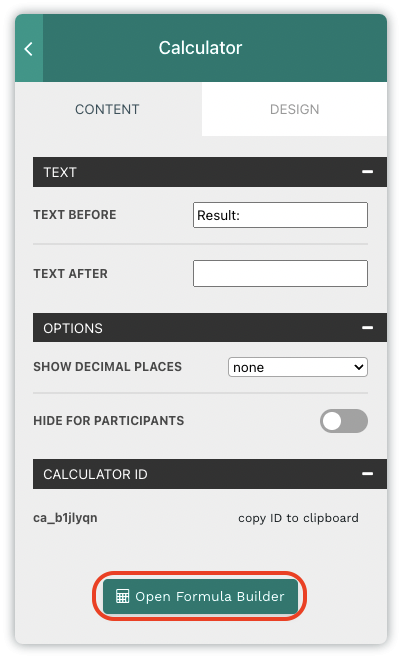 You can then choose operators, conditional logic and functions to build your formula.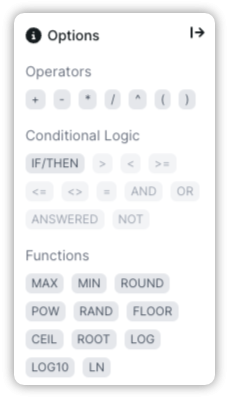 Drag and drop your questions from the left into the formula field and build a formula: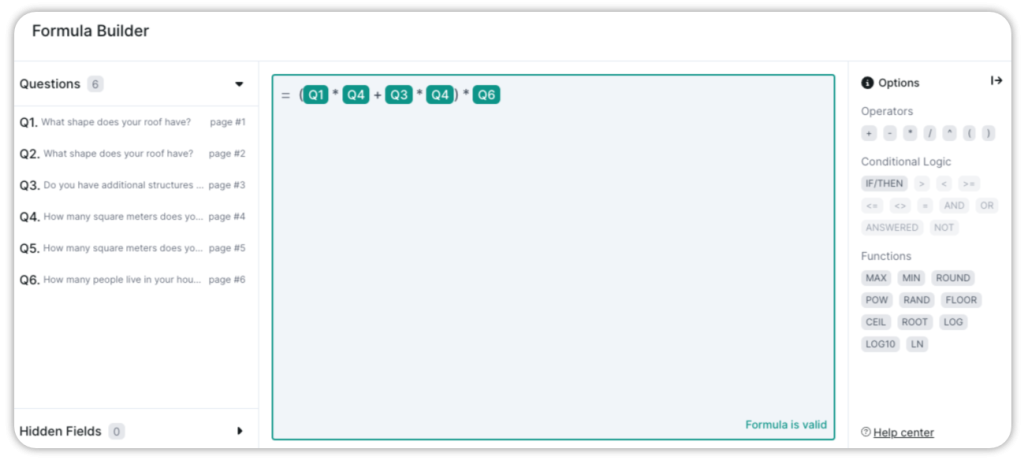 Step 5: Share the Results
You can either show your potential customers the result immediately on the last page, or send it to them via email.
It might be very useful to email-gate the results to be able to get in touch with your customers after they receive the custom the price quote.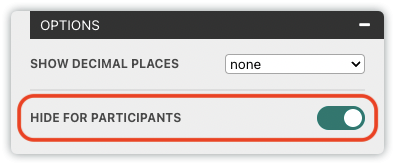 In some cases you can show the price right away in order to save everyone's time. Whether to hide the answer from your customers or not, it depends on the type of your business and the pricing schemes. 
You can preview the calculator inside of the involve.me Editor. After you test your formula, you can then click "Publish" (you will find in the right corner). 
You will then be redirected to the page where you will find:
General settings

Email Notifications

Access

Personal Data

Social Media Sharing 

Tracking
On this page, you can customise your project URL, remove the involve.me watermark, and create a custom email (that will automatically be sent to participants).
How to Embed the Custom Price Quote Calculator?
Once you publish the project with involve.me you will get a link to the calculator that you can share with your audience via email. 
The unique QR code is also available, so consider using it to share the calculator with your customers.
And the most exciting part - embed options.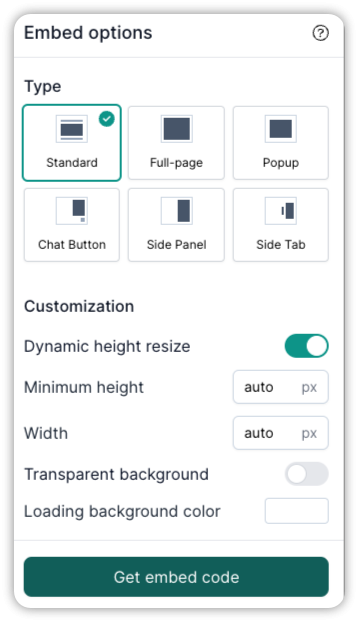 Choose the type, width, height, background that fits your website and get embed code. You can also preview your calculator (mobile, tablet and desktop options are available) before you add the embed code to your website.
Just as promised, you can create a price quote calculator like this without a single line of code.
What Else Can You Do With involve.me Calculator?
Depending on your business needs, you can create any kind of formula for complex pricing calculations with involve.me.
Before you get started, check the templates and the list of available features.
A few things experienced marketers love about involve.me calculators:  
- consideration of coupon codes and discounts
-setting up custom redirects and call-to-actions. 
With adjustable layout, you can easily grab elements you like and place them where you want. Plus, you can add images, gifs, logos, videos, icons, and even your own fonts.
Attaching price tags, building your own formula and embedding the calculator is very intuitive with involve.me.
How to Get Started?
With involve.me you can make both photographer service price calculation and enterprise B2B service estimations.
However, our tool is not only a price quote generator. It can also be used for creating surveys, quizzes, forms, and more.
Create a free account to see how all-in-one tool can bring your lead generation to a new level. Grab one of the templates to get started:
Get Started With Price Quote Calculator Templates
200+ Mobile Friendly Templates