Most of us know that customer opinions, and their feedback is crucial for business growth. You might do your best to please the customers, satisfy their needs, and eventually keep them loyal to your brand. But how will you know if the customers are happy with what you offer? A customer feedback survey will assist you in this.
Get Started with Online Surveys
With One Of Our 300+ Templates
Listening to what your valuable client has to say about your brand will help you learn more about their pain points and interests. Using their valuable feedback, you can easily improvise the product, making it useful and relevant to the client's needs. In short, the feedback survey enhances the customer experience and impacts the sustainability of the organization throughout its lifecycle.
Importance of Customer Experience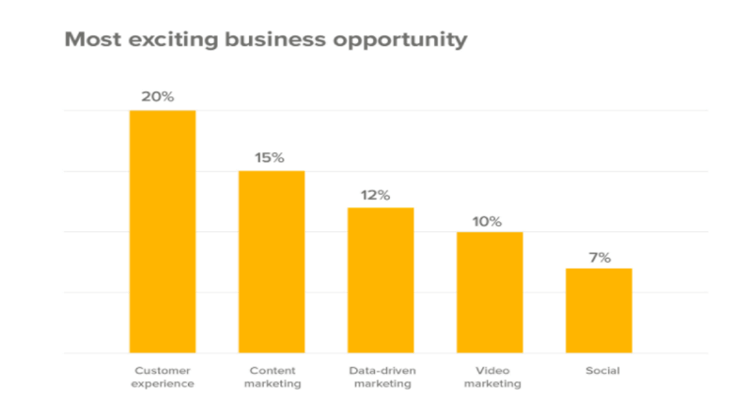 Customer experience plays a vital part in today's marketing world. If you fail to keep your customer happy, no doubt they will move to your competitor. In fact, switching to a competitor has resulted in the lost revenue of $756 billion in the United States alone, according to the Accenture report. Having a solid customer feedback system in place can be a savior in this scenario.
Although we realize the importance of this survey, we often fail to design it in a way that is easy for the buyers to fill in and also for a team member to process the data. Most of the businesses struggle to develop a robust feedback system that helps them gather feedback that is truly useful for future endeavors.
In this article, we will include some of the well-tested tips and samples of feedback surveys that aid you in improving the customer experience.
How to Make the Most out of Feedback Surveys
1. Build a Relationship with Your Customers
Communication is essential to maintain a strong relationship with your customers. The simplest way to communicate effectively is by – sending customer feedback surveys regularly and listening to their response carefully. It could be a short follow-up survey after a person buys from you or resolves any product issue with the help of a customer service representative.
In a few cases, one cannot immediately ask for feedback after delivering a product. For instance, if you sell HR Payroll Management Software, it might require at least a month or two to entirely utilize its functionality and make the best use of it. In such situations, you should not be sending a follow-up feedback request the day after you end the deal.
Instead, you can ask for feedback at the 60-day mark. By this point, the user has enough experience to provide relevant and useful feedback. Therefore, it is essential to understand your product and its target customer to enrich the relationship with them.
2. Figure out What Needs to Be Asked
According to the Microsoft research report, 77% of the audience like the brand if they proactively ask and receive the feedback. But, to make yourself favorable for customers, it is essential to crafting the questions that they are interested in answering. So, what are these questions?
Questions like "How do you feel" or "What do you think?" is too broad and does not provide you with the specific details. Here are some tactics to help you out:
Identify the primary reason behind the feedback survey. What's your purpose? What are your plans with it?

Identify the right audience to ask questions. Sending the sruevy to a wrong person won't help your business.

Be thoughtful about your customer's busy schedules. Don't just send away 20 to 40 questions.
Airbnb politely asks for customer's feedback after their stay. Their feedback survey is simple, with only four questions that are more relevant to the traveler's interest.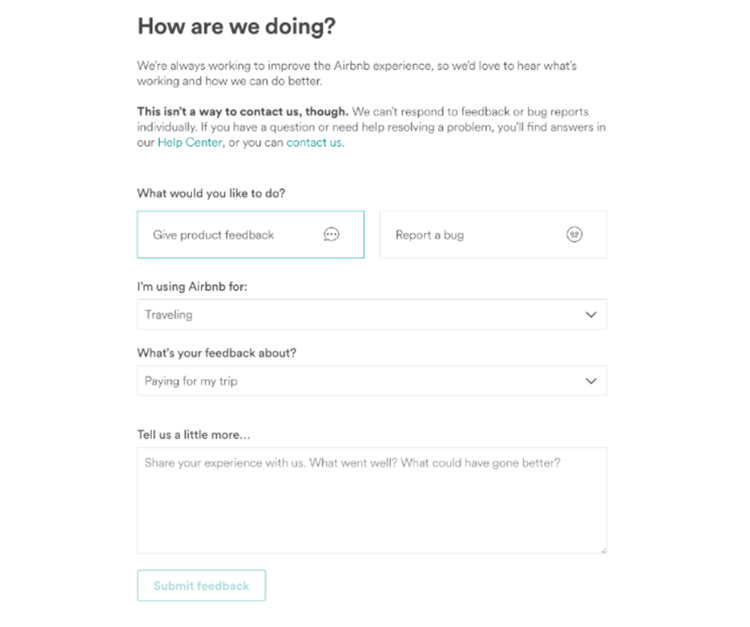 3. Identify the Right Time to Request Feedback
Now we know what needs to be asked, but it is also essential to identify the right timing to send across the feedback request. By submitting a survey at the right time, you will more likely get a large number of responses. Let's look at the three different options here:
Periodic customer feedback: It involves monthly, quarterly, or annual surveys.

Real-time customer feedback: This is an automated feedback system which asks the customers to fill in the survey as soon as they buy from you, or after a particular time interval.

Passive customer feedback: The simple surveys that are displayed in the email footer and web forms.
To speak about the best timing to send the feedback survey, there are two critical periods during the day, according to a recent study it is:
- From 9 am to 11 am in the morning
- From 1 pm to 3 pm in the afternoon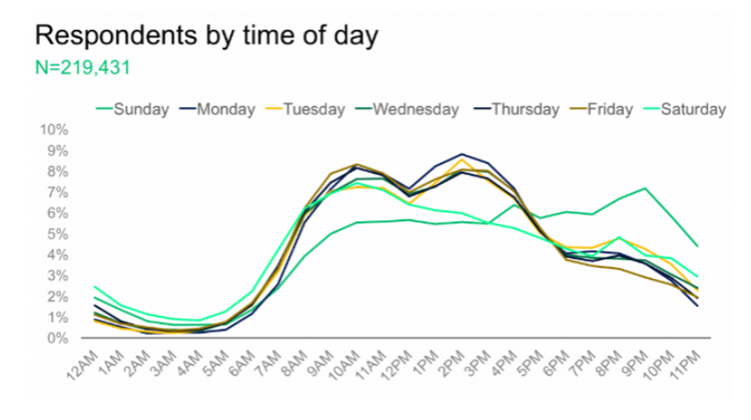 Sending your feedback survey during this time will result in the highest open rates.
4. Follow the Design Principles
Businesses have to follow certain design principles to make your survey look agreeable and easy to fill in.
Include white spaces so that your survey does not look cluttered.

Describe the question fields accurately to avoid the number of invalid information.

Provide only optional fields if you do not want to see customers abandoning the survey in between.

Your feedback system must always be responsive. That is, it resizes depending on the screen it's being viewed on.

Create consistent rating scales. Use either the levels from 1 to 5 (1 being the worst and 5 being the best) or 1 to 10.
The generic page rating shown below is the best design example. With plenty of whitespaces, and stickers to choose the opinion, customers won't find it hard to fill it during their busy schedule.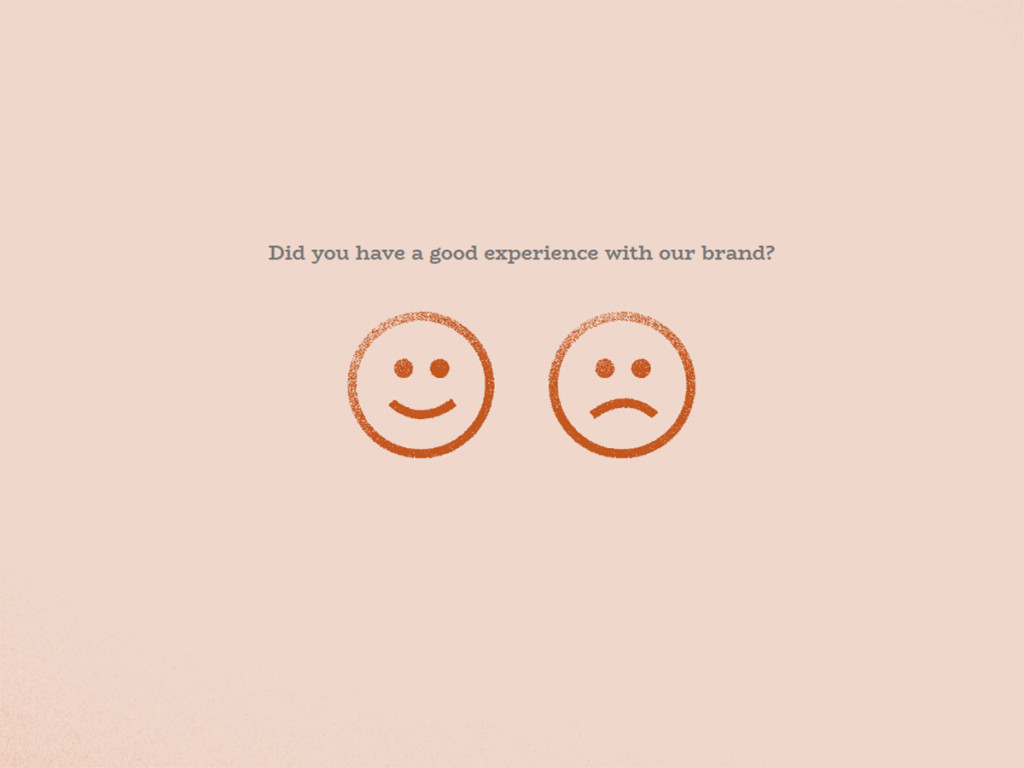 5. Improvise Your Product and Services
Feedback surveys help you understand your customers better and their viewpoints on your brand. Collecting their insight aids you in making your product more durable and build new features that could support the user's requirement. Some of the best examples of utilizing customer feedback includes:
Making certain price changes

Building a new feature or an entirely new product

Redesigning a website or your mobile application

Extending to a new target group or vertical

Entering a brand new market
You can also notify the customers as you make the changes. They will be more than happy to use the features requested by them and spread some good words about your brand.
52% of customers have stated that organizations do not take their feedback into consideration, as per Microsoft report. If you do not want to be one among such companies, start implementing the changes requested by the customers. The product or service improvements can be the greatest asset to your business.
To Sum Up
In short, customer feedback helps your product, engineering, and support team to understand the customers better and enhance their brand awareness. When you receive their feedback, be it positive or negative, utilize it appropriately. It will unfailingly set your business apart from others. Go ahead and unlock the power of interactive surveys.
Get Started with Online Surveys
With One Of Our 300+ Templates
Author
Emily Johnson is a marketing consultant with 10 years of experience in the execution of marketing strategies. Currently, she heads the marketing department at Blue Mail Media, a renowned B2B data solution company based out of Austin, Texas offering database services.