Did you know that you've got only 8 seconds to grab your potential customers' attention and prompt them to buy?
Attention span on social networks is even shorter – 2 seconds. Even with so little time left for you to attract and convert, you can drive sales from social media by luring your potential customers with limited-time offers and incentives on Facebook, Instagram, etc.
A time-bound offer is one of the best sales funnels to bring sales to business on autopilot, whether implemented on social channels or in your online shop. It may be any deal suggested to your audience, but with a set limit on duration.
Before learning how to improve your online sales with a limited-time offer, discover why this is one of the top marketing techniques, how it works, and why you need to be creative about it.
How Do Limited-Time Offers Work and Why?
There's some psychological background of how limited-time offers work. Here are 3 ways how they influence the customer's behavior:
1. They Provide an Opportunity to Avert the Risk of Losing
"Take it now" is translated by shoppers as "Take it now or leave and risk never getting a better offer."
It's the so-called FOMO or ״fear of missing out״ which is a psychological reason behind successful cross-selling and upselling. Even the smallest risk of missing/losing a possibility impacts decision-making and consumer behavior and makes people accept rather than reject offers that are limited in time.
A good example of the loss aversion phenomenon is when you feel more distressed losing $20 than you would feel pleased winning $20.
2. They Lower the Cognitive Load
Simply put, limited-time promos and deals don't require a lot of thinking from your customers. Based on the study, they make the whole purchasing process faster and easier because of unconscious and emotional triggers so that buyers don't need to exert mental effort anymore.
3. They Push Customers to Take Action Urgently
For example, countdown timers create psychological pressure on customers, pushing them to speed up the decision-making process. Since urgent decisions aren't well-thought and reasoned enough, such gimmicks enable online businesses to sell more. Research shows, using a countdown timer on your offers increases purchase rate by 8.6%.
How can you take advantage of the benefits of time-limited offers to drive your sales up? Peer into some other tried-and-tested ways to use time-bound offers and encourage your customers to spend more.
10 Ways to Make Online Shoppers Buy More Using Limited-Time Offers (+ Creative Examples)
1. Send an Inventive Limited-time Offer Via Email
Being one of the leading marketing strategies in eCommerce, email marketing helps deliver a limited-time offer to your customers and place it right in front of their eyes.
First of all, use different email types in your sales strategy. For example, you may insert limited-time promotions into product update emails, welcome emails, event emails, thank you emails, etc. Don't underestimate the power of abandoned cart emails either.
Secondly, craft subject lines creatively so as not to let time-bound deals get buried in your customer's email graveyard.
Examples of out-of-the-ordinary subject lines with emotional hooks, when you send a limited-time offer via email:
Don't bury me. Don't let me down. Don't say it's over… 5% off for returning to your cart today!

Last chance! 35% off for everything in ___ category (Only 12 items left, shop now!)

Hurry or someone else may get the last __ in stock! The flash sale ends in 3 days!

Yay! You've qualified for free shipping. The offer is valid for 48 hours only!

Congrats! You've got a free delivery week as our 700th customer!

Hey, you lucky! Special offer for you – order from 6 p.m. till 10 p.m. and get a 12% discount coupon on everything!

Enjoy a 33% discount on your 33rd birthday! Valid till midnight!

You may use those in your time-bound SMS marketing campaign too.
2. Pop Up with Interactive Content + Give Time-limited Incentives for Participation
If you're popping up only to say "Hi, I want to collect your email address", it's time to optimize your website better for higher conversions.
Harness the power of interactive content in the form of a popup and add a time-bound incentive for taking part in:
You may also use other interactive forms to generate qualified leads.
The only thing left for you right now is to optimize your lead generation form with a special offer and add the following markers of duration and time limit for your incentives: Time is running out , Don't miss out, Never again, Expires in, One time only, etc.
3. Drive Sales with Short-time Freebies & Bonuses
People love freebies. That's a fact.
That's a fact that can actually increase the value of your offers and skyrocket your sales.
Try to make an emphasis on free. Instead of a 50% discount, for example, it would be better to use something like Buy two – get two for free! Only today! or 2 = 4 only today.
Freebies and bonuses are great.
For buyers.
But what about your business? How can you possibly benefit, if you give something for free?
This is where a profit-driven freebie campaign comes into play. Offer something for free on the condition that your customer makes a purchase.
88% of online shoppers would be more likely to buy something, if they are promised free shipping. Take a look at how it's offered at KateSpade.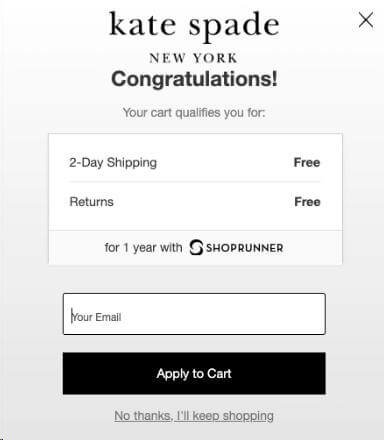 4. Work Out a "limited Availability" Strategy
When the quantity of products is limited, consumers feel they can miss the opportunity to get a deal, if the item runs out of stock. That's why a limited supply offer is definitely a lead magnet.
You may sell limited-edition products as well. Alternatively, add a stock counter near the product's description for people to see how many items are actually available.
Combining discounts with this type of offer will help you attract even more buyers online. Amazon uses this sales-driving trick all the time: Only __ left in stock – order soon. Plus, they add a discount.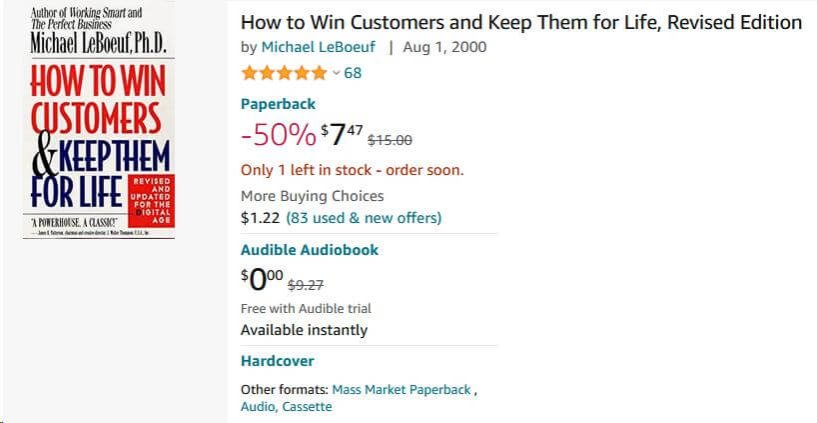 According to Nate Tsang, Founder & CEO of WallStreetZen , "You can also boost participation rates and ticket sales, if you limit the number of places for an event. At WallStreetZen, we typically restrict the number of attendees in fee-based webinars and online courses on stock market analytics.
To indicate limited availability, we use such phrases as: Only a few places left; Places are limited to ___, so hurry up!; The number of places is limited, so sign up now / do not delay; etc."
5. Win Your Customers over with Offers on Special Days and Occasions
You can sell considerably more with captivating holiday offers. Flash sales also increase conversions on any other special occasions (birthdays, anniversaries, national days, and so on).
"You can take advantage of holidays or special days to spur customers' buying appetites," recommends Brian Nagele, CEO at Restaurant Clicks.
"Restaurants are among the first ones to use this trick. For instance, McDonald's sells Shamrock Shake only during the weeks close to St. Patrick's Day. Another example is Starbucks offering Pumpkin Spice Latte as Halloween's traditional drink only in the fall," Brian notes.
Moreover, you can benefit with weather-responsive marketing tactics. Follow the example of Whirlwind Golf Club and try a weather-based campaign with a time limit.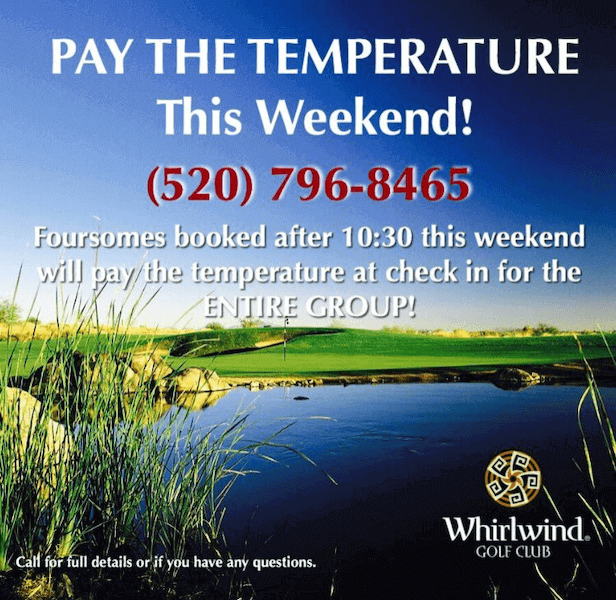 6. Share Teasers for Upcoming Deals
Here's how a teaser about an already scheduled offer may look like: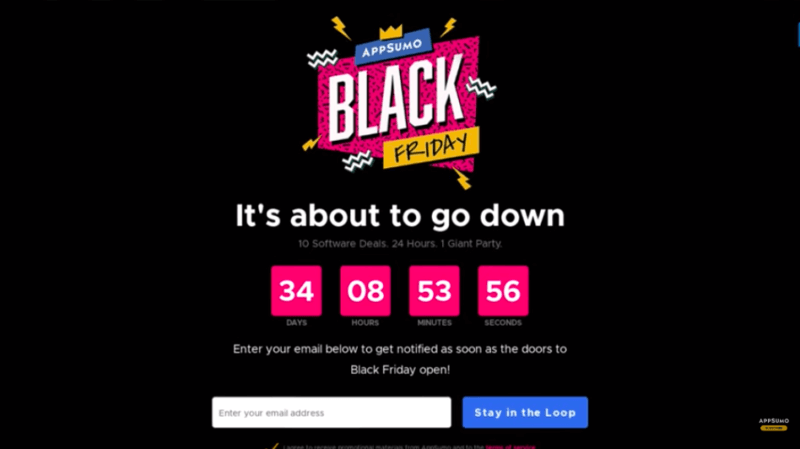 If you see no reaction to your popup, suggest your customers an after-popup teaser. For example, it can be an encouragement to set a reminder about the future event, so that they don't miss a particular offer.
7. Personalize, Personalize and … No, Don't "Personalize" But Be Original!
Personalized marketing is undeniably a powerful sales-booster.
Learn the tastes of your audience with the help of a personality quiz and use this knowledge to offer something very specific to each of your customers. Start with unique time-bound offers on their birthdays.
Try to be original, but don't go too far.
When you make a limited-time offer, stay away from the following: politically-colored language, racism, bullying, harassment and any other things that can offend people's feelings or humiliate them.
Check some personalization trends that are successfully applied by today's digital marketers.
8. Be Imaginative to Convert First-timers
When visiting a brand's website for the first time, 92% of consumers aren't there to buy. However, they can be easily persuaded to do that.
What can encourage customers to make a first-time purchase with a company that is completely new to them?
80% of shoppers confess that a custom coupon code or a discount may be a great motivator, in this case.
To learn from those who've already tried to sprinkle their discounts with creativity and personalization, get a glimpse of how KissMyKeto lures site newcomers to buy.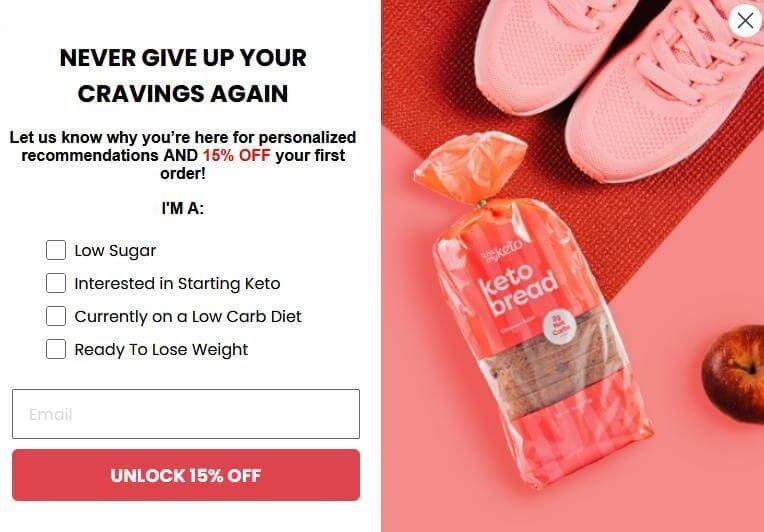 Meeting first-time customers with a limited-time coupon or discount on your e-doorstep, you persuade them to make a purchase and convert them immediately.
Why not try a coupon maker to craft something creative and target newcomers?
9. Set Time Limits for Discounts
Discounts and coupons work well along with other customer retention strategies used by eCommerce stores.
"When you create limited-time discounts, use the following psychological trick: explain why your discount has a short duration. Such an explanation makes the offer even more valuable and enhances your brand's trustworthiness," believes Kyle Zien, Director of Growth Marketing at Felix.
"For instance, we offered a one-week-valid 20% discount for an online visit with a licensed healthcare practitioner as a gift to our patients on World Health Day. The traffic jumped by roughly 370% during that week and the revenues grew considerably," he adds.
Also, when you set time limits for discounts, try targeting customers from a particular niche. For example, it can be a back-to-school offer aimed at students (see the screenshot below).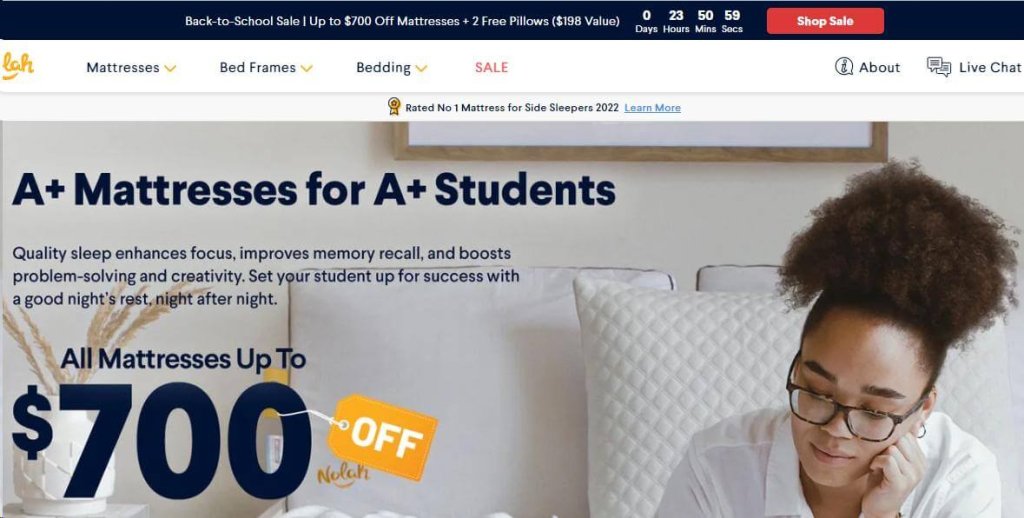 10. Hey, Your Customers Are Leaving, Stop Them!
If you're already implementing a cart abandonment strategy ,great!
You might still want to add some spiciness and prevent customers from abandoning their shopping carts and going away. Make them finish their order popping up with an offer. But don't forget to "pepper" it with one small clarification, setting the exact period for availability.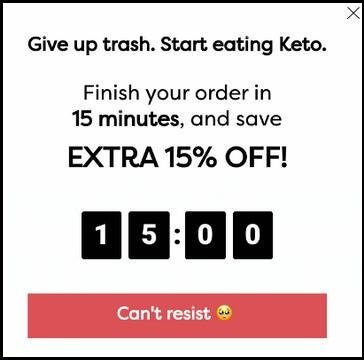 As it's one of the proven ways to increase eCommerce sales, it's widely used by businesses on the web.
Bonus tip: use words and colors that convert :)
When it comes to time-bound deals, appropriate call-to-action button text and color can help you optimize conversions.
Here's a list of powerful words that convert:
Extra

Free

Only

Hurry

Final

Now
Now to colors.
Imagine two buttons in front of you: green and a red one. Which one are you more likely to click on?
The red button outperforms the green one by 21%, based on the button color A/B test. Before creating a compelling limited-time offer, discover the best and worst call-to-action button colors .
Half a Minute is Left Before You Start Selling More with Time-Bound Offers
What are you waiting for?
Grab these creative examples and tips from the article to breathe life into your e-store, reduce bounce rate , convert more customers-to-be into buyers, re-activate unengaged customers ,and magnetize your "oldies" with something new to ignite their eagerness to shop. Otherwise, they may go away and turn to your competitor.
Besides the above methods, take advantage of future-proof marketing automation and see how easily you can coin new limited-time offers with involve.me – your no code builder for many creative funnels to start increasing sales today.
Get Started With Price Quote Calculator Templates
200+ Mobile Friendly Templates
Author
Rachel Melegrito left her career as a university instructor to become a full-fledged content writer. She is also a licensed occupational therapist and a budding SEO strategist.