Who doesn't love a good discount? The allure of saving money is universally appealing!
Discounts are not just a sales tactic; they're an important strategy for increasing customer loyalty that can give you a competitive edge.
Providing timely promotional offers through an interactive popup can determine whether a visitor leaves your site or becomes a customer.
Recognizing this importance, our article focuses on guiding you through the process of creating compelling discount code pop-ups without coding.
Step 1: Choose a No-code Builder
The first step in creating a coupon pop-up is selecting a platform that best fits your needs; involve.me is a highly recommended choice for its user-friendly features. Designed for individuals without technical knowledge, it offers a range of customization options according to your target audience and discount strategy.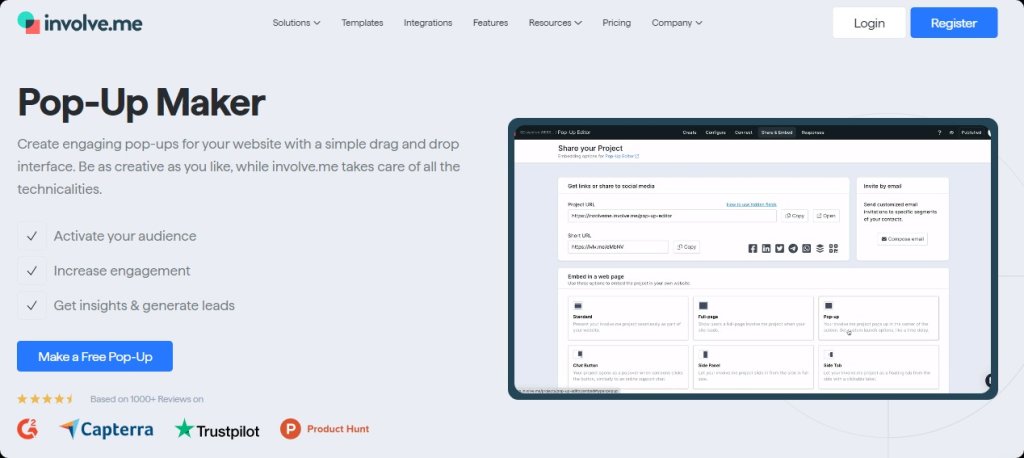 Thus, to move forward with the next steps, you'll need an active involve.me account. If you don't already have one, head over to the involve.me website to create your free account.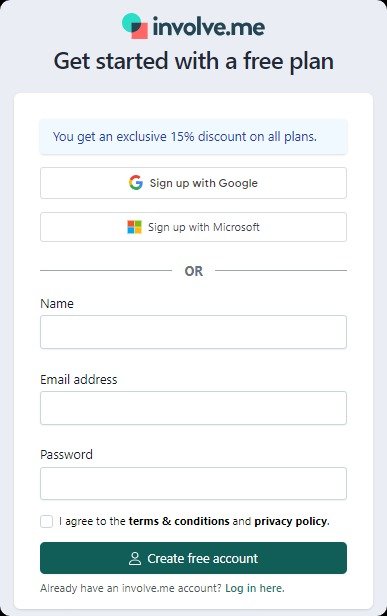 Step 2: Choose a Template
Once you're logged into your involve.me account, go to the template library to browse through a variety of popup templates that align with your brand and goals.
The ideal project type for a discount pop-up is the "Thank You Page," which is designed to seamlessly redirect users to a link where they can access their promised discount code.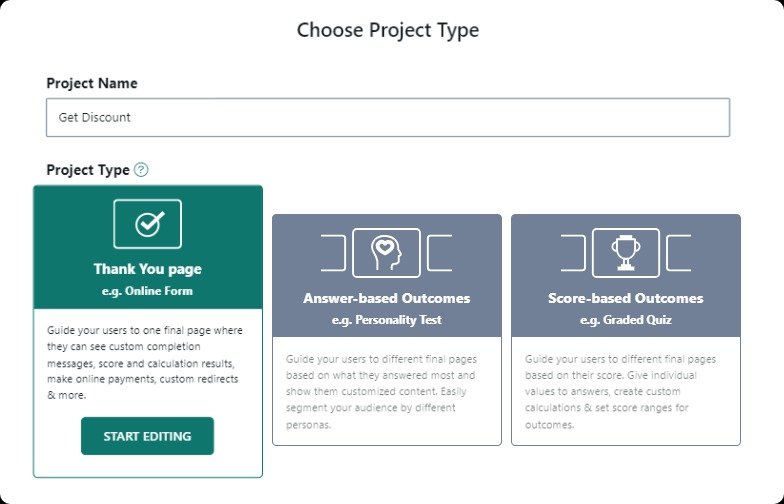 Step 3: Add a Contact Form
In this step, drag and drop a contact form from the content elements, providing an immediate incentive—a 10% discount—for users to subscribe to the newsletter email list.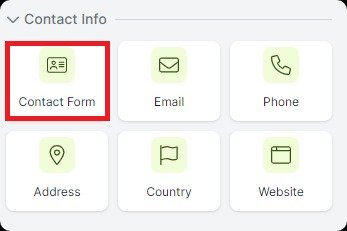 Also, configure its fields to capture the contact information, such as name and email address and adjust the form settings to align with your data collection and privacy requirements. This will turn your newsletter popup into a lead-generation tool while offering immediate value through a discount.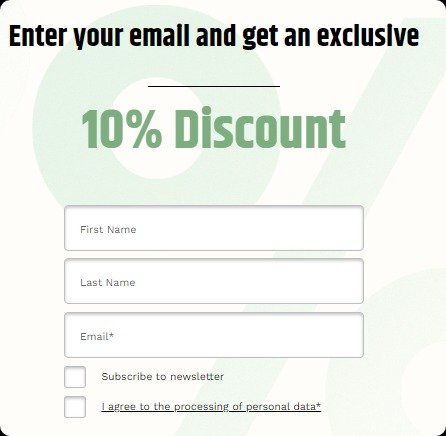 Step 4: Add a Coupon Code
Now, add a "Coupon Code" element onto your "Thank You" page.
Also add a button, labeling it as "Use Code Now" and set its action to redirect users to the shopping cart where they can use the discount code. This action will greatly reduce cart abandonment.
You can create both custom code (unique for every user) or single code (same for everyone) as per your preferences.
Note: Not sure how to generate coupon codes? Here is a detailed article that will guide you through the process.
Bonus Tip: Feel free to add text, images, or other media around the coupon code to make the page more engaging and visually appealing.
Step 5: Preview and Publish
Preview your project on both PC and mobile to ensure it looks and functions as intended. Make any final adjustments, and then hit the "Publish" button to make your project live.

Step 6: Customize and Share the Pop-up
After publishing your form, customize the coupon popup design and embed it on your website.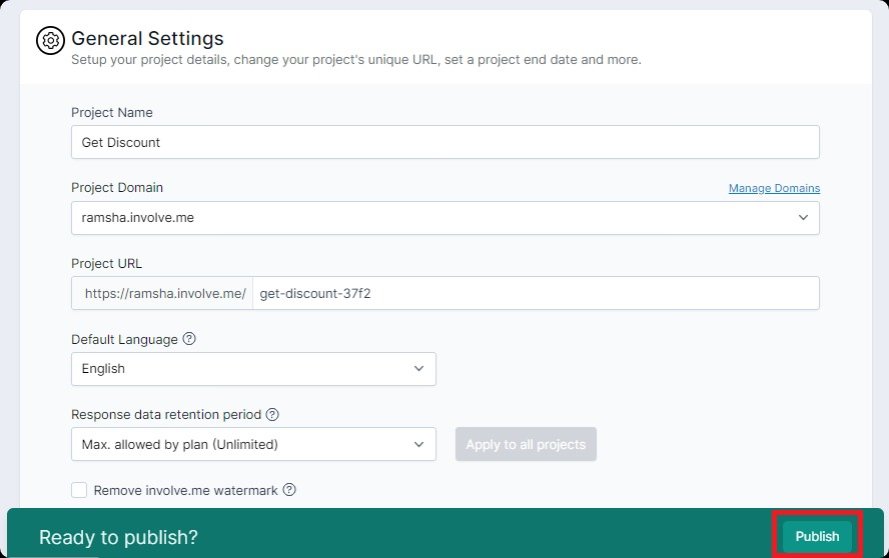 Go to the "Share and Embed" section in your involve.me dashboard. Here, you can choose to embed your form as a pop-up and fine-tune its look and feel by customizing its color, size, and other visual attributes.

Also, there is an option to set display triggers, enabling behaviors such as "Close pop-up on completion," "Hide after viewed," or "Stop showing once completed." These settings allow you to control how and when the pop-up is displayed, ensuring it aligns with your overall user engagement and sales conversion goals.
Bonus tip: You can promote enticing discounts and special offers with email campaigns. Use the email subscribers you've gained from your pop-up to send out limited-time sale notifications. This strategy helps in converting first-time buyers into permanent customers.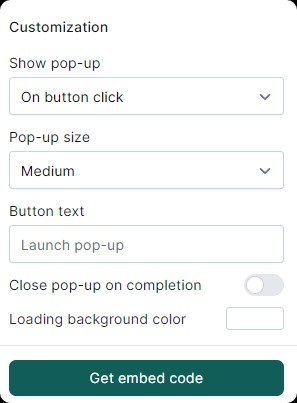 That's it! You are done creating and publishing an effective discount popup.
Why Go for Discount Pop-ups?
Discount pop-ups trigger specific emotional responses of potential customers that drive action. Here are some key psychological principles that make these pop-ups so attractive:
Urgency
Phrases like "Limited Time Offer" or "Hurry, Only 2 Items Left!" create a sense of urgency that encourages users to act quickly, reducing the time they have to reconsider or exit the site.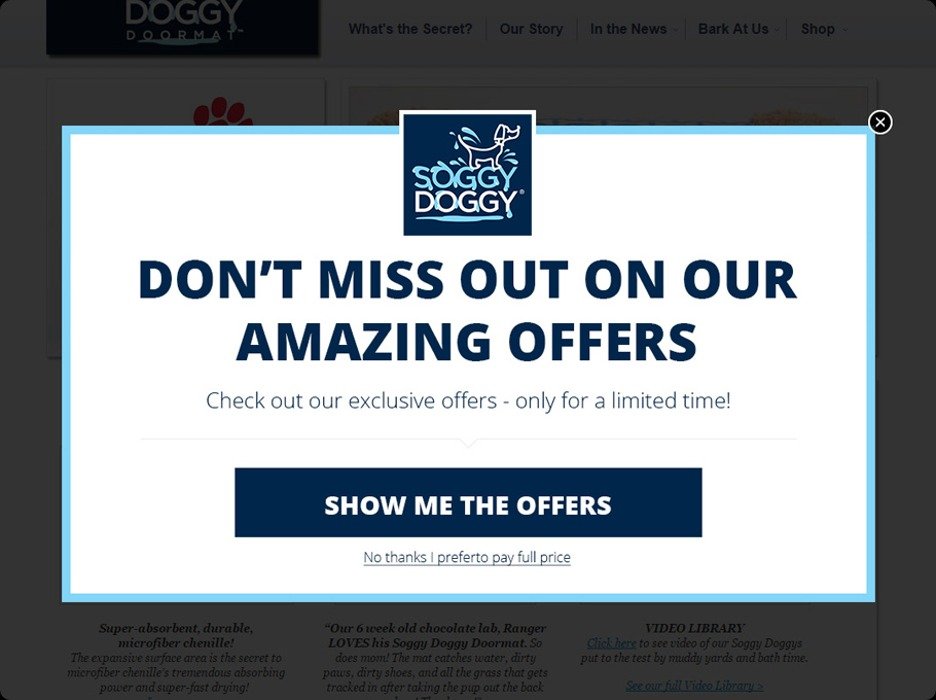 Fear of Missing Out (FOMO)
People have an innate fear of missing out on good opportunities, and discount popups with countdown timers can tap into this. Displaying a ticking clock or stating that the discount is available to "the first 100 customers" can activate this psychological trigger.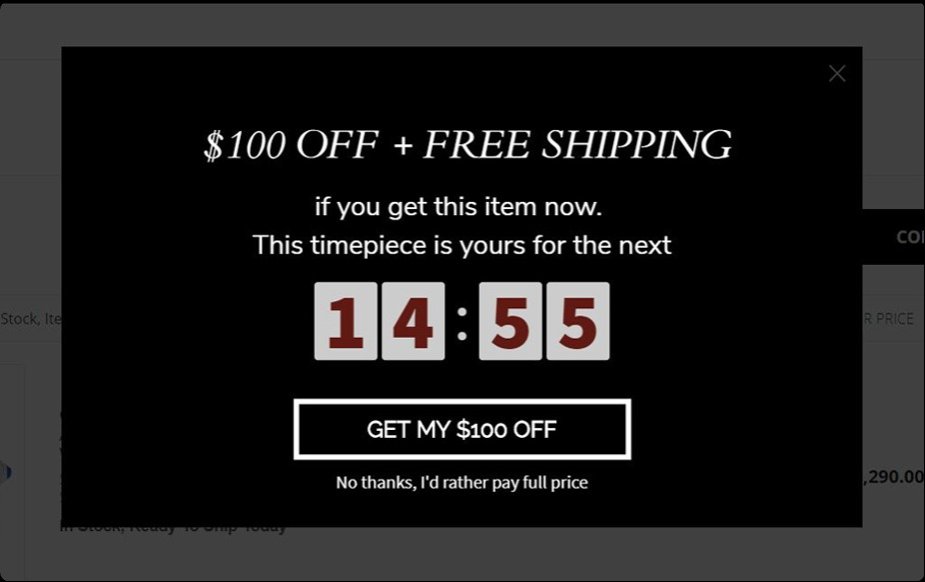 Tips for Optimizing Your Pop-up
To make the most out of your pop-up, several optimization strategies can come in handy.
Consider running A/B tests to compare different versions of your pop-up. This can help you identify which elements (be it the headline, color scheme, or call-to-action) resonate the most with your target audience.

The involve.me platform offers built-in analytics tools. Use these to track key performance indicators like completion and conversion rates. This data can give you valuable AI insights into how your pop-up is performing.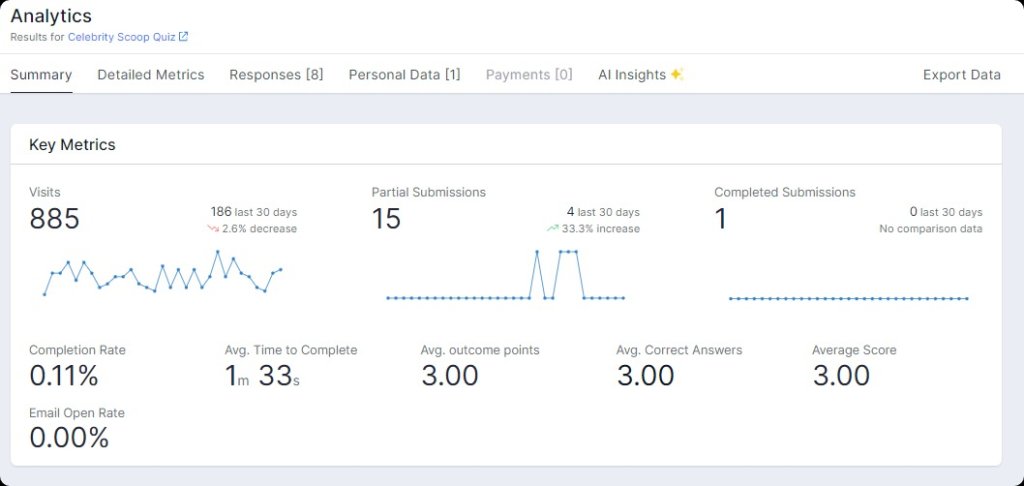 Always ensure that your pop-up complies with legal frameworks like the GDPR, especially if you're collecting personal data. This often involves adding a consent checkbox and providing easy access to your privacy policy.

Lastly, make it a routine to update your pop-up based on analytics and user feedback. Small tweaks can often lead to significant boost in sales.
Final Words
Discount pop-ups undeniably increase customer engagement and drive revenue growth. involve.me provides an easy and efficient way to create these impactful marketing tools without coding experience. With its intuitive interface and flexible customization options, you can quickly launch an attractive discount popup. Take advantage of this opportunity and start building your promotional popups with involve.me today!
Try involve.me for Free
Get Started: Create A Discount Pop-up
With our 200+Templates