96% of consumers worldwide say customer service plays a pivotal role in shaping their loyalty to brands.
Thus, understanding customer opinions is not just beneficial—it's vital for business survival and growth. Customer feedback serves as the cornerstone for improving product quality, enhancing user experience, and building long-term customer relationships.
Feedback tools have emerged as powerful assets for any business aiming to gain in-depth insights into customer satisfaction and behavior. These tools streamline the complex process of gathering, analyzing, and ultimately utilizing feedback to make informed decisions and drive business success. Let's check out some of the best customer feedback tools in 2023.
1. involve.me
involve.me is all-in-one no-code builder designed to create engaging customer surveys that yield high response rates and valuable customer insights. With its user-friendly interface and extensive customization options, this user feedback tool has emerged as a top choice for brands looking to delve deep into understanding their audience. Whether you're a novice or an expert in survey creation, involve.me provides an effortless way to collect feedback.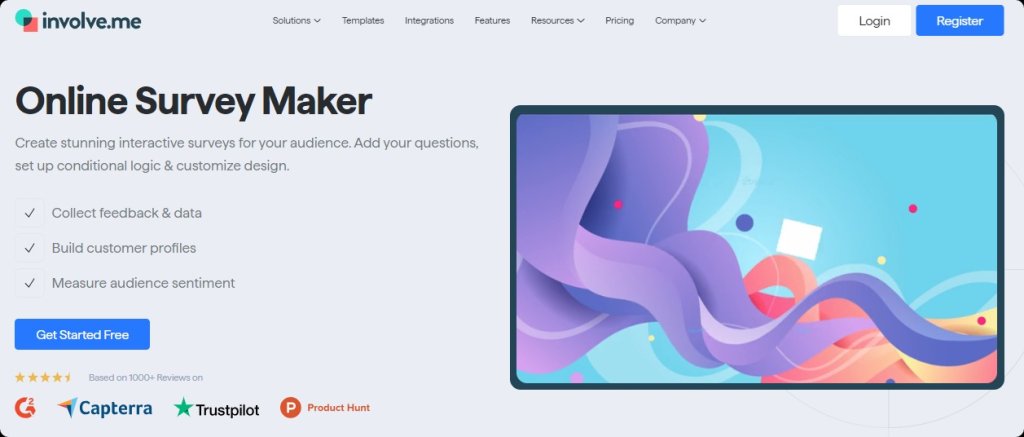 Key Features
Drag-and-Drop Builder: The platform's intuitive drag-and-drop user interface makes creating surveys an easy process.

Third-Party Integrations: Streamline your workflow by connecting with popular platforms like Google Analytics, Mailchimp, and Slack.

Conditional & Skip Logic: Offers advanced logic functionalities, allowing for a personalized survey experience, thus improving user engagement and completion rates.

AI generated reports: Gather useful insights from your audience responses without the need to analyze endless amounts of data.

Extensive Template Range: Comes with a library of interactive templates with vast customization capabilities, and also allows you to create surveys from scratch.

Device Responsiveness: Surveys are mobile-optimized, ensuring a smooth display across varying devices and screen sizes.

Actionable Metrics: Track the performance of your surveys through metrics like completion rates, average time spent, and drop-off points.

Payment Gateway Integration: Allows integration with PayPal and Stripe for one-time or recurring payments, subscriptions, or donations within your forms and surveys.

High Customizability: Customize the interface with your brand's fonts, colors, themes, and images or you can choose from pre-built templates.
Create Your Own Customer Feedback Forms
Get Started with 200+ Templates
Pricing
Free Plan ($0/mo): Up to 100 submissions/month, three live projects, and access to over 200 design templates for testing paid features.

Starter Plan ($19/mo): 1,000 submissions/month, 3,000 email invites, unlimited projects, and additional features like calculators and payment forms.

Professional Plan ($49/mo): 5,000 submissions/month and 15,000 email invitations, allows watermark removal, and supports Marketo and Salesforce integration.

Business Plan ($149/mo): Highest tier offering 15,000 submissions/month, 45,000 email invites, and all advanced form features, supporting up to 3 users with additional customization options.
Try involve.me for Free
Customer Ratings
G2 Rating: 4.7/5 based on over 80+ reviews
2. AskNicely
AskNicely is a cutting-edge customer survey tool, tailored to help businesses measure customer satisfaction levels and loyalty. Predominantly designed around the Net Promoter Score (NPS) framework, this customer feedback survey tool allows organizations to create customizable surveys to understand customer sentiments. Businesses can potentially improve customer retention, foster growth, and boost referrals using this tool.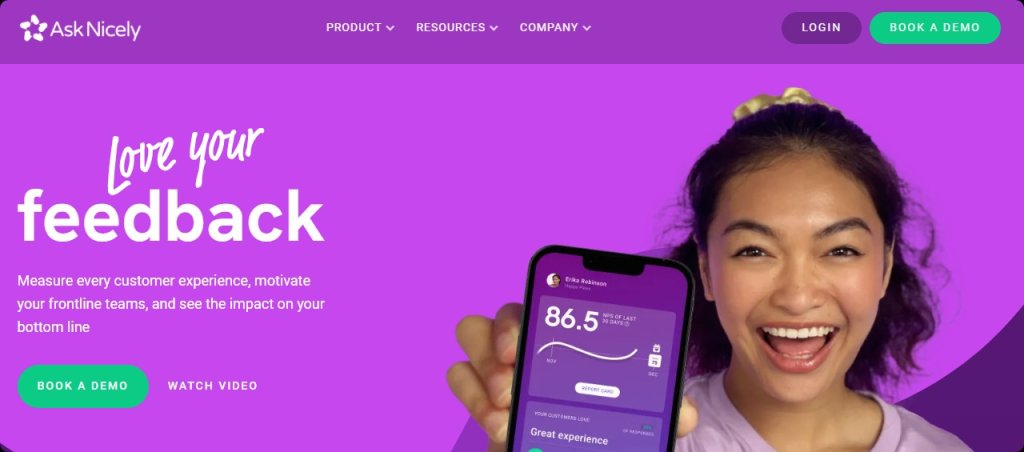 Key Features
Feedback Metrics: AskNicely provides key performance indicators such as Net Promoter Score (NPS), Customer Satisfaction Score (CSAT), and Customer Effort Score (CES).

Versatile Surveys: Users can design concise or extensive conversational surveys, delivering them through multiple channels like SMS, web, and email.

Interactive Dashboard: Equipped with an intuitive dashboard, businesses can monitor the efficacy of their survey campaigns, analyze NPS trends, and gain valuable insights from individual responses.

Engagement Tools: The platform features a conversational survey card for follow-up questions, enhancing the personalization of the feedback process.

Team Collaboration: Businesses can tag team members, utilize internal notes, and even commend their teams through in-app recognitions.

Advanced Analytics: AskNicely supports text analytics, allowing for a deeper understanding of feedback responses.

Integration Capabilities: Seamless integration with popular platforms such as Salesforce, HubSpot, and Qualtrics, to name a few.

Pricing
AskNicely's pricing details are proprietary, requiring potential users to contact their sales team for specific information.
Customer Ratings
G2 Review: 4.7/5
3. Hotjar
Hotjar offers a 360-degree view of how users interact with your website, helping to identify both strengths and areas of improvement. Its rich feature set, from heatmaps to real-time recordings and surveys, makes it a go-to solution for businesses aiming to better understand their user base and improve website functionality. With a focus on user behavior and the ability to gather direct feedback, Hotjar provides deeper insights for any growth-oriented business.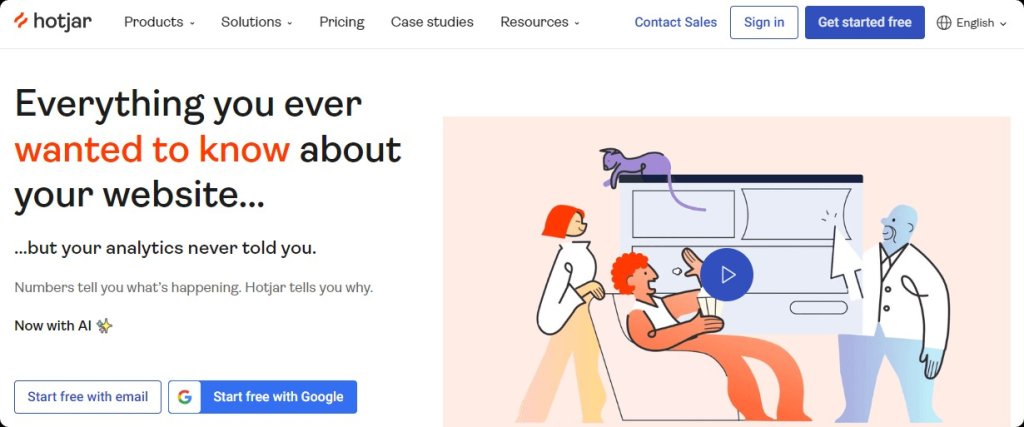 Key Features
Heatmaps & Recordings: Gain visual insights into where users are clicking, scrolling, and how they navigate through your website.

User Surveys: Quickly create surveys using built-in templates to gauge customer satisfaction and collect qualitative data.

Live Playback: Watch real-time recordings of user sessions for a more nuanced understanding of customer interactions.

Identify API: This feature allows for more advanced tracking and analytics.

Data Security: Compliant with GDPR and PCI regulations, ensuring data is managed securely.

Integrations: Seamlessly integrate Hotjar with other platforms like Omniconvert, Optimizely, Slack, Segment, and Zapier.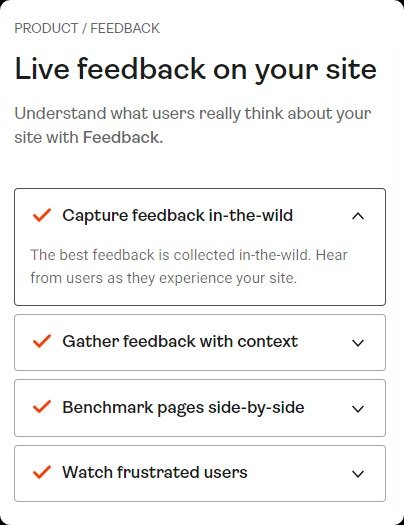 Pricing
Free Plan: Limited to creating and storing three surveys and incoming feedback widgets.

Plus Plan: Starts at $48 per month, offering more comprehensive features.
Customer Ratings
G2 Rating: 4.3/5
4. Get Feedback
GetFeedback is a powerful customer feedback management platform designed to collate and analyze customer responses across multiple touchpoints. It focuses on rendering brands more customer-centric by enhancing the quality of digital experiences. Tailored for businesses of all sizes, GetFeedback features capabilities for monitoring complaints, managing negative feedback, and segmenting customers. Although not as integration-rich as some of its competitors, it makes up for it with its detailed analysis and customizable survey options.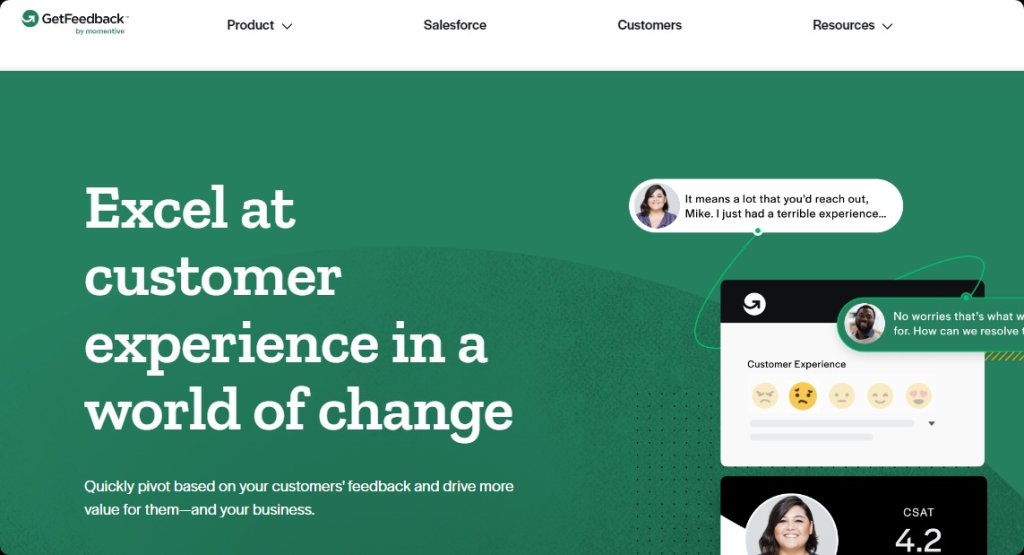 Key Features
Automated Feedback Collection: Simplifies the feedback collection process by automating surveys and responses.

360-Degree Dashboard: Provides comprehensive insights into customer behavior through its out-of-the-box dashboard.

Pre-Made Templates: Offers a selection of ready-to-use survey templates, although choices are limited.

Customizable Surveys: Surveys can be tailored to meet specific needs, with the option for branching logic to target relevant audiences.

Predictive Analysis: Advanced data-driven decision-making is made possible through predictive analytics features.

Multi-Channel Communication: Supports mobile surveys and communication across different platforms.

Integration: Compatible with popular applications like Salesforce, Google Analytics, Slack, Jira, and Zendesk.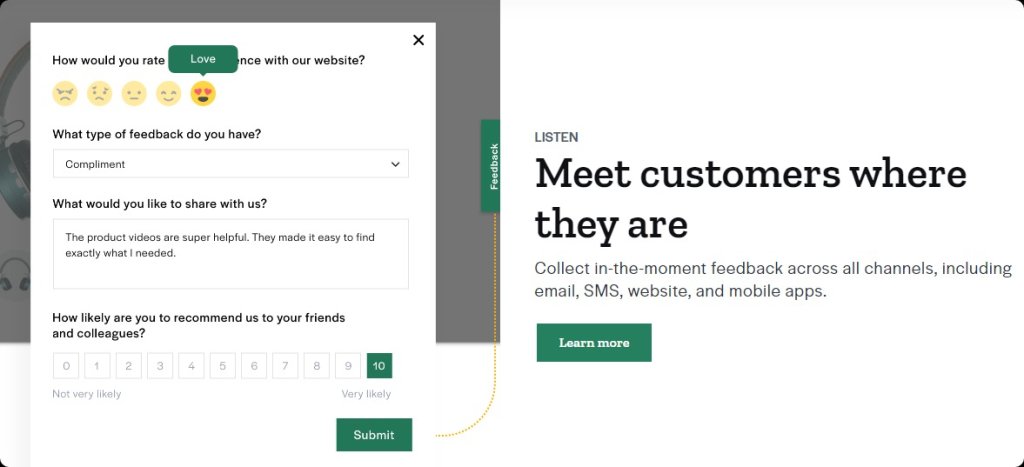 Pricing
Starting Price: Pricing details are available on request.

Salesforce Integration: Note that integrating with Salesforce may come at a higher cost.
Customer Ratings
G2 Rating: 4.5/5
5. UseResponse
UseResponse is a holistic customer feedback platform that amalgamates various functionalities such as feedback collection, live chat, a ticketing system, and a knowledge base. Aimed at providing CRM solutions either via cloud-based or self-hosted platforms, it is a fitting choice for businesses of all sizes. However, its extensive feature set might be overwhelming for novices in customer support systems.

Key Features
Feedback Mechanisms: Offers public and private feedback boards as well as widgets to collect customer valuable insights in real-time.

Idea and Issue Tracking: Allows users to post new ideas, upvote existing ones, and add comments, thereby creating a crowdsourced platform for feature development.

Internal Communication: Enables adding internal notes to each feedback item for seamless team collaboration.

Real-Time Dashboard: Monitors trending ideas, most-requested features, and upvotes directly from a centralized dashboard.

Ticket System: Addresses customer complaints and issues effectively with an inbuilt ticketing system and help desk widget.

Centralized Inbox: Streamlines customer communication by pulling in messages from social media, email, and widgets into one unified inbox.

Agent Monitoring: Provides real-time feedback on agents' performance, ticket resolution times, and Customer Satisfaction (CSAT) scores.

Knowledge Base: Allows the inclusion of FAQs and help articles for self-service options for customers.

Live Chat & Multichannel Integration: Supports a standalone live-chat widget and integrates with Messenger, WeChat, WhatsApp, and Line for multi-channel communication.

Automation & Security: Features Single Sign-On (SSO) login for enhanced security and smart content moderation tools, and can trigger automations for routine feedback processing.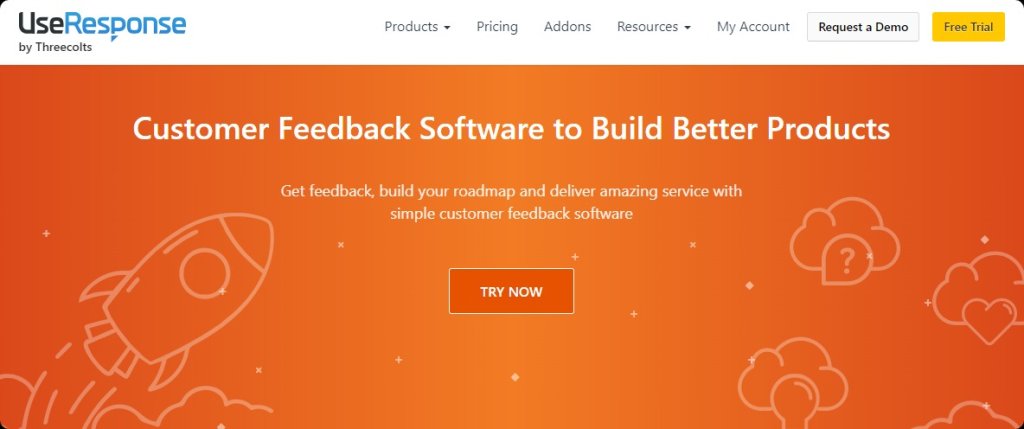 Pricing
Starting Price: The pricing starts at $166 per year for 2 agents.
Ratings
G2 Rating: Scores a robust 4.5/5.
6. InMoment
InMoment is a leading customer feedback analytics tool tailored for medium to large businesses. With its cloud-native XI Platform, it offers three distinct clouds—Customer Experience Cloud, Employee Experience Cloud, and Market Experience Cloud—to provide a comprehensive customer experience (CX) management solution. Designed to capture and analyze granular data, it empowers companies to make informed decisions that enhance customer satisfaction and retention.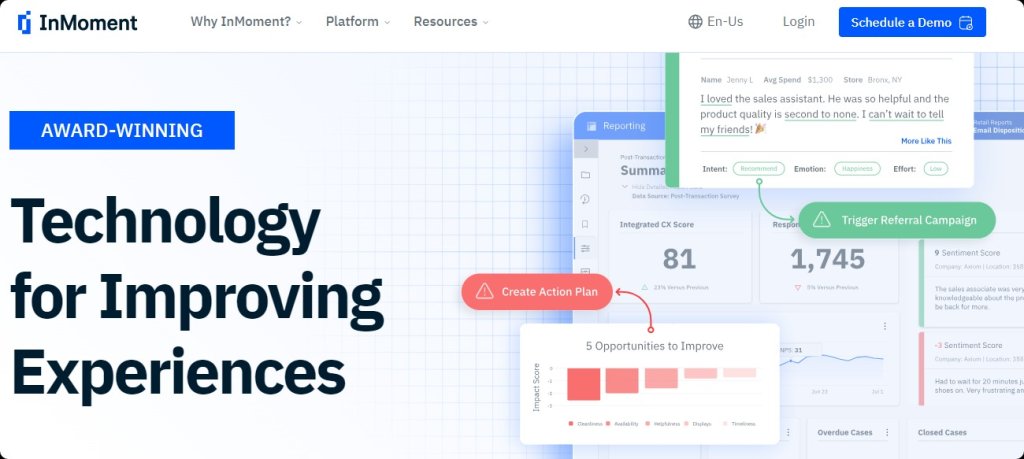 Key Features
Dashboard Management: Provides a centralized dashboard that allows CX professionals and business leaders to handle big data effectively.

Customer Journey Maps: Utilizes journey mapping to help businesses understand and improve customer retention.

Multi-Faceted Feedback Collection: Offers case management and action planning tools to capture individual and collective customer feedback.

Text and Sentiment Analytics: Comes with capabilities to analyze customer sentiments through text analytics.

Comprehensive Reporting: Features an all-in-onereporting platform that includes NPS, CSAT, and CES metrics, alongside other analytics.

Active Listening and Voice of the Customer (VoC): Engages customers via various channels, including video and voice, to collect valuable feedback.

Feedback Analysis: Includes NPS/CSAT scoring, sentiment analysis, and thematic analysis for a deep dive into customer feedback.

Multiple Feedback Sources: Collects reviews and feedback from customers via diverse platforms including social media, and customer service channels.

Custom Built Solutions: As it's tailored for larger companies, the solutions can be custom-built to fit specific business needs.

Pricing
Pricing details are available on request and are customized according to the specific needs of the business.
Ratings
G2 Rating: Holds a strong 4.7/5 rating, attesting to its effectiveness and user satisfaction.
7. Typeform
Typeform is a popular customer feedback tool that specializes in creating visually appealing and interactive customer feedback forms. Known for its unique one-question-at-a-time approach, the platform offers an engaging experience for both survey creators and respondents. Typeform simplifies the entire survey process with its intuitive interface and diverse set of features, making it a top choice for those looking to combine aesthetics and functionality in their surveys.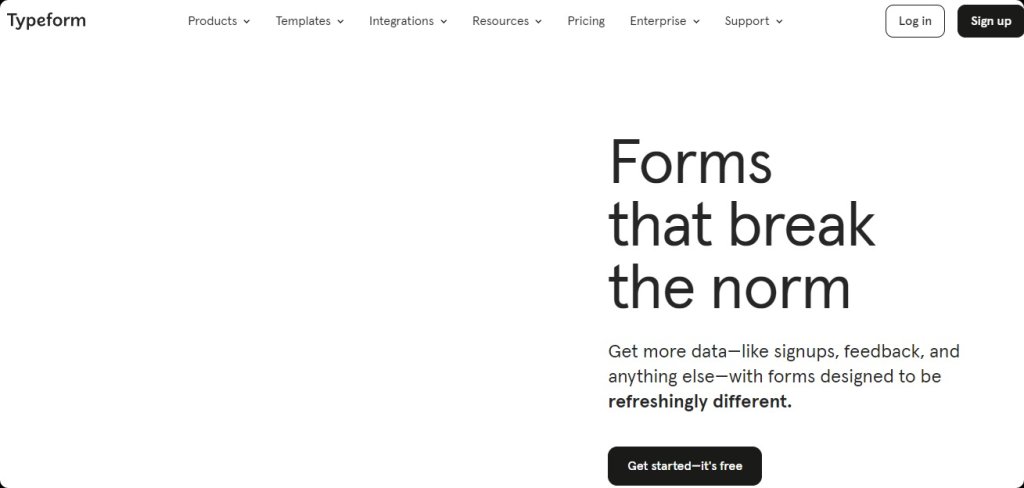 Key Features
Interactive Dialogue: Convert conventional surveys into engaging dialogues with an interactive and conversational design.

Customizable Templates: Choose from a wide range of templates that can be tailored to match your brand and style.

Branching Surveys: Use conditional logic to ask personalized questions, thereby improving engagement levels.

APIs and Development Tools: Craft your survey from scratch using APIs and a variety of development tools if desired.

Advanced Options: Benefit from diverse question types such as multi-choice, rating scales, and image choices.

Third-Party Integrations: Seamlessly link Typeform with popular platforms like Google Sheets, Slack, and Mailchimp.

Responsive Design: A consistent experience across all devices, thanks to its mobile-responsive design.

Real-Time Analytics: Turn survey results into actionable insights with immediate analytics and reporting features.

Logic Jumps: Improve user experience by allowing respondents to skip to questions that are relevant to them.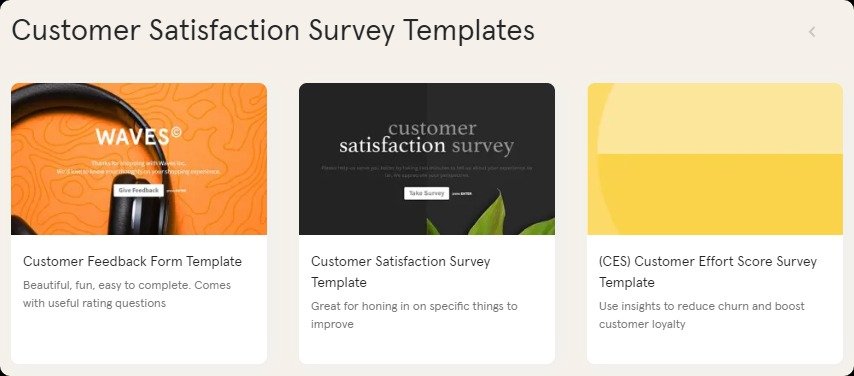 Pricing
Free Plan: At no cost, receive up to 10 responses per month.

Basic Plan: Priced at $25 per month, this plan allows for up to 100 responses per month.

Plus Plan: For $50 per month, enjoy up to 1,000 responses and the absence of Typeform branding.

Business Plan: At $83 per user per month, receive up to 10,000 responses and gain access to detailed analytics.
Customer Ratings
G2 Rating: 4.5/5 based on more than 650 customer reviews
8. SurveyMonkey
SurveyMonkey is a powerhouse in the online survey domain, serving over 40 million registered users and facilitating the completion of more than 20 million questions every day. Built for individuals, teams, and enterprises, the platform offers a array of advanced features, allowing users to create anything from simple polls to complex surveys with advanced branching features. With options to collect data both online and offline, SurveyMonkey is a versatile survey tool for gaining actionable insights.

Key Features
Intuitive Design: The user-friendly interface, complemented by customizable templates and a drag-and-drop editor, makes creating professional surveys a breeze.

Multi-Channel Distribution: Send your surveys through various channels including email, social media, and website embedding. Real-time tracking of response rates is also available.

Advanced Reporting: Get real-time reports featuring charts, graphs, and segmenting capabilities. Multiple data export options and text analysis tools are also included.

Seamless Integrations: Compatible with various CRM systems, email marketing platforms, and data analysis tools, boosting the tool's overall functionality.

Mobile Data Collection: Features for collecting data both online and offline using mobile devices.

Pricing
Free Plan: Limited features with up to 10 questions and 10 responses per survey. Allows three different sharing methods.

Standard Monthly: Costs $35/month and includes unlimited questions, up to 1,000 responses per month, and access to 180 templates.

Advantage Annual: Priced at $34/month, offering unlimited surveys and questions with up to 15,000 responses per year and priority email support.

Premier Annual Plan: At $99/month, this plan offers unlimited everything—surveys, questions, collectors—and allows for up to 40,000 responses per year.

Team Plans: Various tiers available, featuring controlled survey sharing, custom graphics, industry benchmarks, and multilingual surveys.

Enterprise Plan: Comes with additional security measures, compliance features, and admin management options.
Customer Ratings
G2 Rating: 4.4/5, based on over 18,500 customer reviews.
Closing Thoughts
The importance of customer feedback in shaping a business's future cannot be overstated. As technology advances, so do the capabilities of feedback tools, with features becoming more sophisticated and user-friendly. Among the myriad of options, involve.me distinguishes itself as the premier customer feedback tool that meets the evolving needs of both businesses and consumers. Get started with involve.me today to craft the perfect customer feedback tool for your business.
Try involve.me for Free
Create Your Own Customer Feedback Tool
With our 200+ Free Templates