Collecting actionable feedback is a challenge for many businesses. Ironically, a company needs precise and actionable feedback to refine its services. As compared to general feedback, detailed and specific feedback are more useful and measurable for any business.
If you're wondering what exactly actionable feedback means and how to collect it, you're at the right place! In this article we will be talking about different aspects of actionable customer feedback, why it is important and how you can collect it.
What is Actionable Customer Feedback?
Actionable customer feedback is ideally more measurable and leads to insights you can use to improve your business as a whole. It basically tells you:
Actions you need to take to improve customer service or user experience
How a company should look at a particular problem
Businesses leverage actionable customer feedback to execute data-informed decisions. 74% of organizations today say that they aim to be data-driven, as per a study by Forrester. But, only 29% are successful in using their analytics to take actionable steps.
It's evident what the missing connection here is. The lack of quantifiable feedback is why surveys are vital.
Things To Keep In Mind When Collecting Quality Actionable Customer Feedback
Let's take a look at some lessons to learn from companies that successfully collect actionable customer feedback. These will help you improve your product as well as the service you offer.
Asking well-structured questions is key: Customers have short attention spans and are impatient. With that in mind, ask questions in a quick, fun and varied way. Use gifs, images or sliders so keep it fresh. Asking one question at a time has also proven to get better answers as it allows survey takers to focus on one thing at a time.
Incentivizing customers to leave feedback: Giving actionable feedback takes time. Reward that time. This is possible with the right incentive, be it an extra discount, a cashback, or a coupon code.
Timely feedback collection:
Asking customers for feedback right after purchase. It gives brands the chance to solve problems right away. Especially, before the customer leaves a negative review. It also helps to ask for feedback when you introduce a new feature or product. Time-bound feedback collection can help you figure out the steps to take next.
Difference Between In-actionable and Actionable Customer Feedback
One way to understand in-actionable feedback is knowing what actionable feedback is not.
While actionable feedback points towards the problem, in-actionable customer feedback doesn't.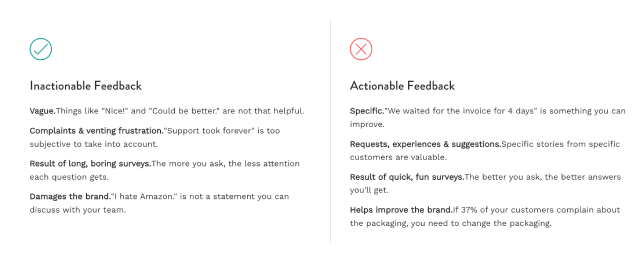 Have you ever read customer feedback reviews and have had nothing to take away from it? All you can see is that a customer doesn't like the services. But what went wrong? Why do they feel disappointed? What could the company do to improve this?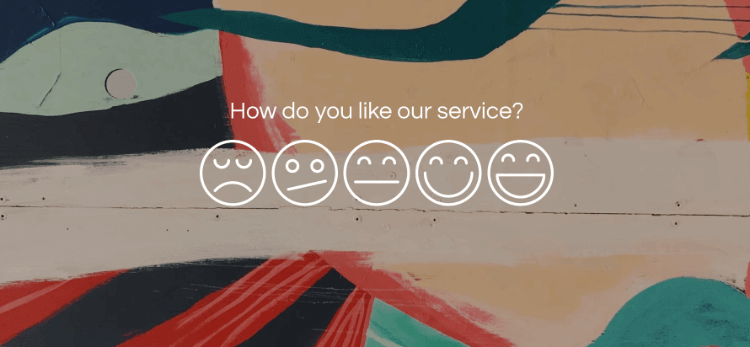 Stars and emojis though look fun, can be very uninformative if not positioned correctly.
Inconclusive and unclear customer feedback is often the result of mediocre surveys. Imagine the frustration when there are thousands of responses you can't use.
In-actionable feedback is vague. If you've received a review from a customer that only says there's a problem but has no context, it's useless. Unless a customer describes the specifics of such a grievance, there's nothing you can use to improve.
Businesses get frustrated when they don't know why customers are leaving. In-actionable customer feedback is inconvenient for brands. It doesn't provide enough information to meet expectations and solve user experience issues.
In-actionable feedback can also damage your brand reputation. Sometimes, this kind of feedback can look like a biased review as well.
In-actionable customer feedback is subjective in nature, too. The customers who provide the brand their feedback come with their own biases. If you rely on biased feedback, you'll end up making the wrong changes This is why you need to vet the customer feedback you're receiving.
Biased customer feedback can steer an organization off course. This is another reason why it is in-actionable customer feedback. It may lead you to take action, but not the action you should be taking.
Actionable customer feedback gives you honest and accurate information you can use to improve your business as a whole. It also covers why and how an aspect of your product isn't meeting customer expectations. This particularity prevents a business from misinterpreting the feedback. It offers a clear direction for problem-solving.
Additionally, actionable customer feedback is objective in nature. If the feedback you receive is only sourced from a single customer, it's biased. A business needs to use a group to assess whether the consensus experiences the same problem. This group can comprise clients, colleagues, or users.
If the majority point towards the same problem, the customer feedback is actionable. If not, the feedback is in-actionable. Such subjective customer feedback gets discarded.
How to Collect Actionable Customer Feedback?
All businesses agree upon meeting the expectations of customers as a key for success. Without a happy customer base, the best of products and services can go out of business.
If you want to create happy customers who keep buying from you, actionable feedback is vital.
But how do you collect actionable feedback? Nobody wants to fill out long feedback forms. In fact, they have the opposite effect and repel them from giving you honest feedback.
The easiest way to collect feedback is with a survey. But a simple survey doesn't guarantee that the feedback you'll get will be actionable.
1. Pick a Survey Template
Get Started with Online Surveys
With One Of Our 300+ Templates
involve.me comes with 300+ editable templates. A survey can have one or many kinds of questions. For instance, you can include a number-based scoring for ratings. But, for an in-depth look into the aspects customers loved or hated, you can use a multiple choice option or an open text box format. These will keep the surveys short and precise, wasting little time.
2. Customize the Survey Design
To make this survey match the brand's identity, add your logo, background and fonts. You can even adjust the button roundness.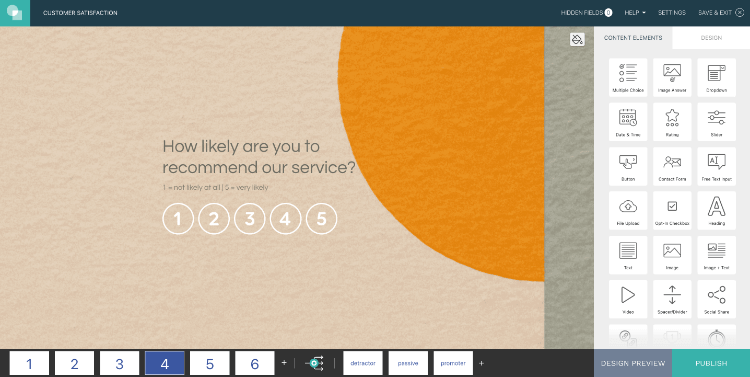 3. Ask Actionable Questions
Categorize your questions and keep them focused. Concise, crisp and clear are the three C's to adhere to. Make sure your questions are not vague. When unsure which survey works better, make two of these and A/B test them.
Here are a few examples of questions you can ask to collect actionable feedback:
What exactly did you dislike about our product/service?
How do you think we should improve our service/product?
Out of these 'X' options, which feature do you think we should add next?
4. Make a Thank You Page with a Coupon Code
Acknowledging your customers for their effort is more than etiquette. These incentives and acts of gratitude will cement the bond further between you and a happy customer. Or, if you have an unhappy customer, a coupon will help with some damage control until you solve the problem.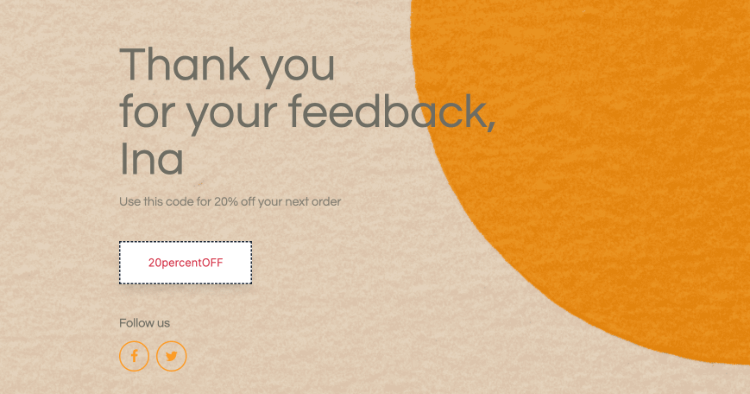 5. Set Up an Automated Confirmation Email
Once you send out your survey and it gets answered, make sure that you follow up! These are the little things that help a customer know that you have received used their feedback.
Automation is one of the best things to happen in the world of customer feedback surveys. Sending a quick follow up email with a thank you note and a coupon code at the end of each survey helps the customer know that you have heard them, loud and clear.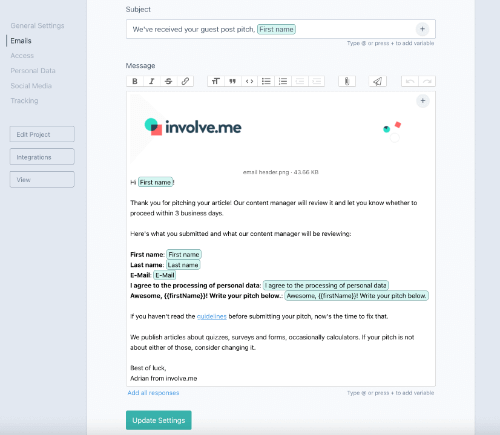 Publish & Share Your Survey
After you have completed making the survey with the involve.me editor, you can easily publish it. You can then share it with your customers on social media, email and website.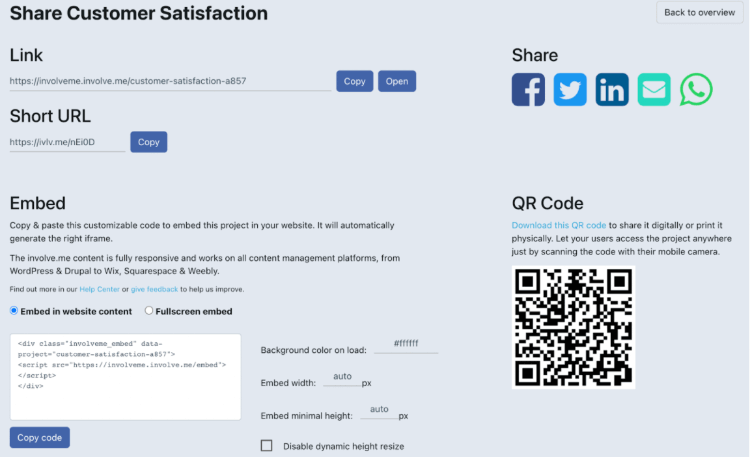 Final Word
Actionable feedback has a gold mine of insight available for the taking. However, sometimes not asking the right questions might lead to generic feedback. Or just asking those questions at the wrong time can also be one of the reasons. To overcome this, make sure you send these right after the customer purchases your product for a detailed and accurate review. Collect actionable feedback, improve your customer satisfaction levels and grow your business.
Get Started with Online Surveys
With One Of Our 300+ Templates