The most straightforward, practical, and fast way to decipher what customers think about your business is to collect feedback without getting in their way, directly from the source.
Ideally, you're trying to dig deeper than just 'yes' or 'no' answers to your questions, namely because customer feedback exists to:
Strengthen your brand

Increase your bottom line

Discover how customers feel about your products

Learn about how consumers perceive your brand

Help you manage your reputation (good and bad)

Compare yourself against your competitors
At this point, you may be scratching your head and wondering how to meet all those goals.
The answer is simple: through an automated software that will:
Analyze your customer data

Act upon it

Convert new customers into sales
Let's look at this in more detail...
Facts You Can't Ignore
First off—customer feedback is good for business. Period.
Why?
Because customers are taking the time to think about your brand. You can then use this feedback to hone in on whatever consumers love most about your business. Conversely, you can also iron out any creases customers have brought to your attention.
Here are a few sobering stats to mull over:
One negative review can lose a company as many as 22% of its customers.

82% of US adults "always" or "sometimes" read online reviews before buying something... and if your target audience is aged 18-26, that "always" or "sometimes" rockets to 96%

54% of women and 44% of men leave bad reviews to help others make better buying decisions.

67% of Americans leave glowing reviews to share their experience, and 66% want to reward the company for providing good service.
Interesting, right?
With this kind of info in hand, you're better positioned to make data-fueled decisions that move your company in the right direction. Not to mention, you'll get a deeper understanding of what customers actually want, so that you can improve accordingly.
With that being said, and these figures at the forefront of our minds, let's explore some of the ways you can obtain valuable customer feedback to help boost your sales and your brand awareness.
Ways to Obtain Customer Feedback
1. Create and Execute a Customer Feedback Strategy
Before jumping in and doing anything operational, first, you need to create a customer feedback strategy with the help of your CRM system. Using the data from your CRM you will be able to outline how you'll gather your customer feedback, how you'll act upon it, and when.
Your strategy should also specify the kinds of data you'll collect, for instance:
Qualitative data - like social media comments, focus groups, open-ended survey questions, etc.

Quantitative data - for example, the number of ad clicks, site visitors, sales, and close-ended survey questions.
On top of that, you should specify how you'll analyze all that data. In that way, you can hit the ground running once you start gathering your customer feedback.
A great example of how you can collect customer feedback is Airbnb, which promptly sends personalized feedback emails to its users.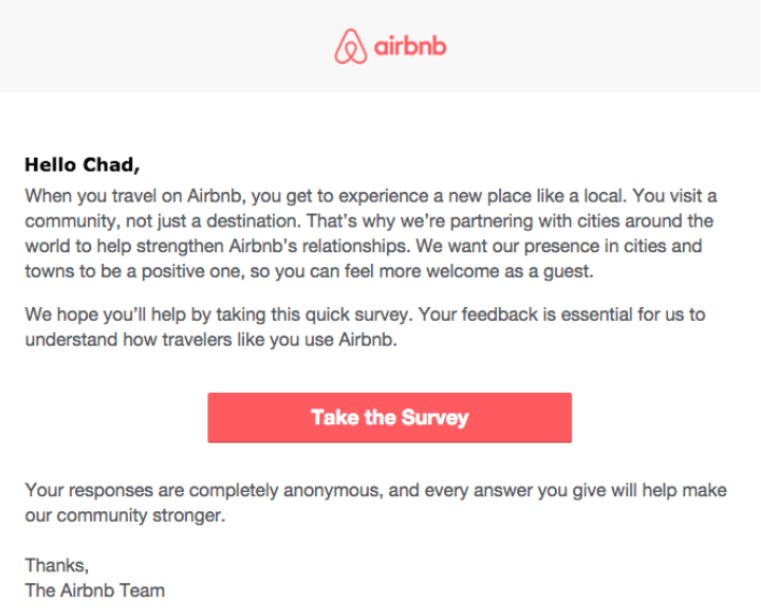 By simply addressing the person by their name and making an effort to deliver value in your email from the start, you can capture their attention and inspire them to click the CTA below. They will then gladly help you improve your products and services, and empower you to deliver better experiences with their invaluable feedback.
Pro Tip: Remember that any survey you send out, with incentives or otherwise, needs to reassure customers their data and responses are secure and anonymous. So, be sure to factor this into your customer feedback strategy.
2. Cart Abandonment
Cart abandonment is one area where customer feedback is an absolute must. It's imperative you understand why customers leave your site without completing their purchase. Here are a few more interesting stats for you to digest before we go any further:
Around 75% of shoppers abandon their carts.

On Black Friday 2019, almost 74% of shoppers abandoned their carts, yet this figure dropped to nearly 69% on Cyber Monday.

Spain has the highest rate of cart abandonment (86%) whereas the lowest is in the Netherlands (65.5%), with the US at 71.8%

Interestingly, mobile shoppers abandon their carts for more (80.79%) than tablet users (77.5%) and desktop users (73.9%).
If these cart abandonment statistics resonate with you, here's what you need to do:
Either email your customers or install email popups on your website asking shoppers why they didn't complete their transaction. While their answers are important to you, don't forget to send out email incentivizing them to come back.
Without a doubt, Casper has one of the best cart abandonment email strategies out there. The popular mattress brand uses a concise yet witty format to win back customers, while making the process simple and straightforward.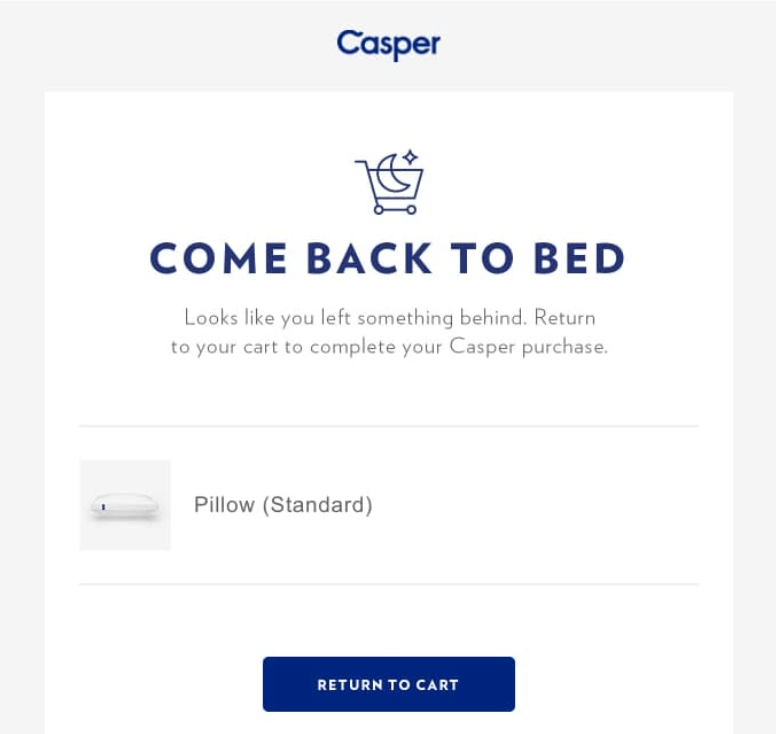 What's also great about Casper is that they include a review at the bottom of the email to further incentivize a potential customer to come back and finish their purchase.
Pro Tip: Make it as easy as possible for customers to respond. Consumers are often busy people, so respect their time by providing multiple-choice-style responses for them to provide feedback.
If you're wondering, why bother collecting feedback on cart abandoners? Here are two reasons why:
Cart abandonment email open rates are high - boasting an average of 43.21% in 2019, and at the time of writing, 40.76% in 2020.
Cart abandonment email conversion rates are pretty good, too - with an average of 8.29% in 2019 and 8.24% in 2020 (again, at the time of writing).
The moral of the story: As people are more likely to engage with abandoned cart emails, it's the perfect time to gather feedback about what you can do to improve. This kind of info (should you act upon it) is sure to pay dividends in the long haul.
3. Your Order Confirmation Page or Follow-up Email
When a customer makes a purchase, it's natural to redirect them to a thank you/ confirmation page. However, you can easily add another layer to this by asking about their customer experience. Perhaps you could include a link to a quick customer survey and offer an incentive to complete it?
If you don't want to clutter your order confirmation email, you can send out a follow-up email like Venum does, and even integrate a Trustpilot rating to make it easy for the customer to rate their experience with your brand.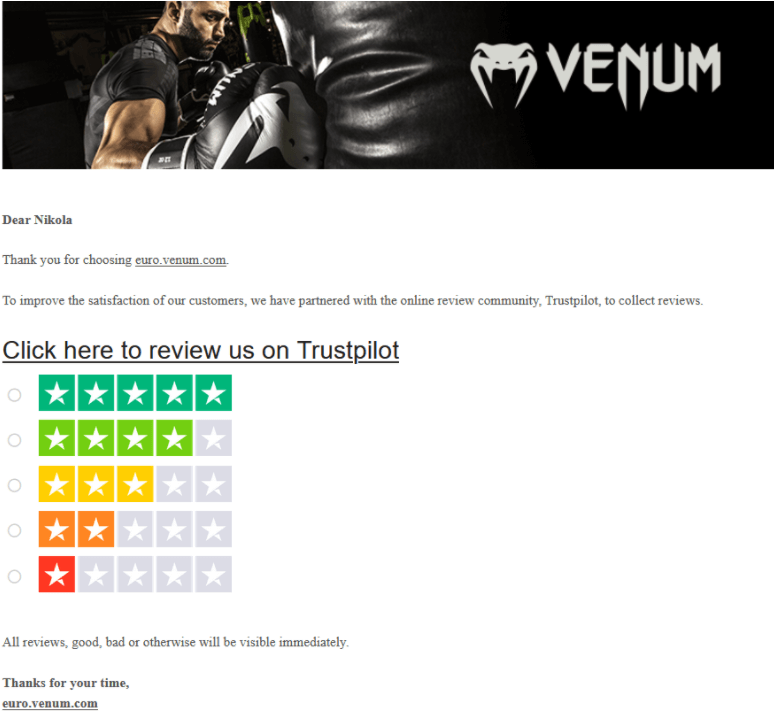 Venum is also a good example of how important it is to think beyond your website and try to get ratings and feedback on other touchpoints. Aim to generate CSAT on WhatsApp or Facebook with a dedicated review tool that will automatically prompt the customer to share their experience with your brand.
Here are three examples of questions you could ask:
Did they enjoy browsing your online store?

How easy was it for them to find items and purchase them?

What could you do to improve?
These are just a few of the many questions you could ask - but you get the idea.
4. Structure
Introducing a structured and automated approach of gathering customer feedback is the best thing you can do for garnering valuable info. Not only because it'll save you tons of time, but, you'll also make it simpler for customers to reach out to you about the "small stuff" they find irritating and/or pleasing about your brand.
For example, you can use your GMB (Google My Business) page to keep your customers updated but also incentivize them to provide some valuable feedback.
This is also a great way to build trust with customers, which is exactly how Mr. Rooter Plumbing uses its GMB page.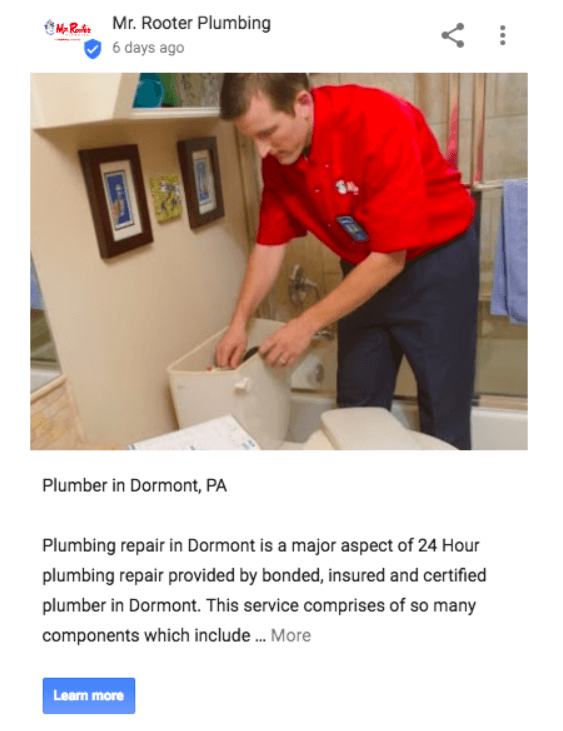 The popular plumbing franchise will appear regularly in relevant search results by updating their GMB posts, which you should also do on your GMB profile. But, you want to take things a step further and use your posts to gather feedback as well.
You can schedule Google My Business posts and automate parts of the process, and these posts can include calls to action and incentives for ratings, reviews, and testimonials.
It's also a good idea to use a centralized platform for automation in order to automate and optimize your brand for customer-centricity. Most notably, this will make it easy to implement a structured customer feedback procedure. For example, you can run different customer surveys (one click, scroll, cart abandonment, exit, etc.) to acquire actionable customer data about your consumer experience.
5. Incentives
We briefly referred to incentives above, but they play a massive role in customer data collection, so here, we'll discuss them in more detail.
Needless to say, one of the simplest ways of incentivizing customers to provide feedback is to create a rewards system. You can combine a reward system with popup customer testimonials on your WordPress site to make leaving feedback quick, seamless, and rewarding for the customer.
Starbucks is one of the best in the game when it comes to rewards and loyalty programs, for example, giving people a much-needed incentive to become a part of the brand.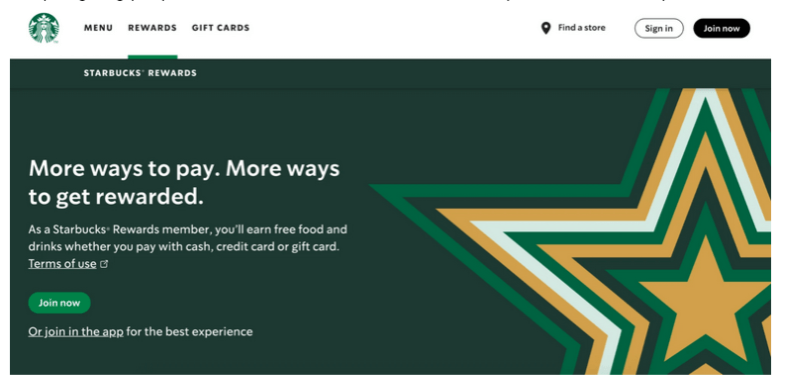 Whether it's a free giveaway, though, or entering them into a competition - rewarding customers is often the nudge they need for providing those much-needed consumer insights.
The only downside is that you may receive skewed responses if participants are only in it for the freebie. Sometimes customers will rush through the survey to get their goodies.
That said, you could offer any of the following incentives:
Monetary: Perhaps in the form of a gift card to spend on your online store?

Discount: Maybe on their next purchase?

Samples: For instance, if you sell beauty products (or you're operating in a niche where giving away a small freebie is viable), samples are always popular
6. Social Media
One of the best social media strategies is to monitor all your channels (Twitter, Instagram, Facebook, and so on) in order to gain a better understanding of how customers perceive your brand. On top of that, you can also post links to customer surveys on your socials.
Plus, you can use these platforms to actively engage with customers. For instance, sending DMs, responding to comments, tracking consumer trends, etc. Not only is social media great for seeing what individual customers have to say, but it also comes in useful for getting a broader picture of what customers respond to.
You can use a chatbot to automatically engage with customers in the DMs and incentivize them to leave a few quick responses - and get a nice little perk as a reward.
7. Create a Community
When customers feel like a part of a community, they're far more likely to provide honest feedback. You can start building a loyal community by using a multichannel or an omnichannel strategy, making sure to engage with customers across all touchpoints.
We also like to feel part of something bigger than ourselves, so why not give customers the same feeling when it comes to your brand? Not only will this produce a lot of valuable customer information, but you'll also give consumers better value for money - it's a win-win!
If you're unsure where to begin, here are a few things you can start doing to create a community with your brand at the center:
Run a blog where customers can leave comments

Ask shoppers to send photos of them wearing/using your products that you can then post on your website/social media profiles.

Encourage customers to send in their ideas for your company

Profile your team members, so customers know who they're talking to

Engage customers using CRO techniques.

Work on becoming a better influencer to drive loyalty and engagement.
There are plenty of examples of innovative companies that have succeeded in creating a community, and Forever 21 is one of the best examples of how customer feedback fits naturally into a product page.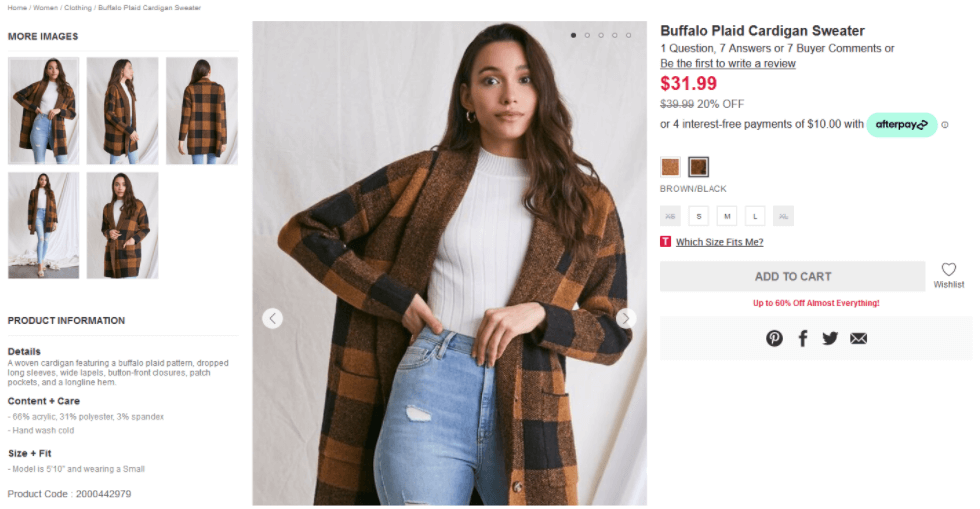 8. Email New Customers
Suppose your customer actually buys something from you. In that case, it's natural to send an automated but personalized email, thanking them for their purchase and providing any relevant shipping/delivery/tracking info.
But whether they bought something or have just signed up for your newsletter, it's always a good idea to send out a little email greeting with an informative and heartfelt message. Virgin America does it best with their minimalist design and some key information to spark the customer's interest.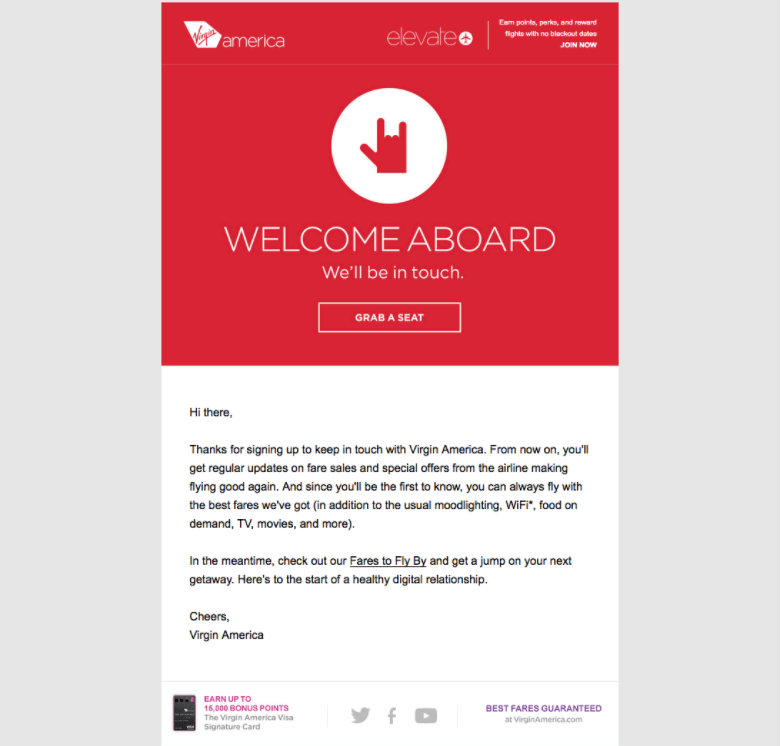 You can also ask users for feedback from your email signature in order to incentivize them to share their thoughts and their experience with your brand.
A few days after they've placed their order, why not welcome them with a 'hello' email? Again, this is another valuable opportunity for finding out more about your new customers. Make it clear that you're interested in them and what they have to say...and not selling them yet another product.
For example, you could ask customers:
How they found out about you (Google, a referral, social media, online reviews, etc.)

Ask for their thoughts about the product they bought (quality, price, availability, etc.)

What influenced their purchase choice? (price, product, shipping costs, return policy, reviews, etc.)

What was their overall user experience? (including delivery times, communication with your team, ease of site navigation, etc.)
9. Check Out Your Competition
You're likely in an already crowded marketplace. To stand out from the rest and win those much-coveted 5-star reviews, you've got to check out the competition and see what their approach is to collecting customer feedback. Perhaps they're using quizzes more than standard surveys?
To makes things easier, we're going to tell you a few stories:
Uber: This global ride and delivery company collects customer feedback in real-time. Their website tells customers that:
"Real-time feedback about drivers means Uber can correct for issues big and small – while ensuring that only the best drivers stay on the road. We take this feedback seriously – depending on the circumstances, rider feedback may lead to deactivating a partner from the system or serve as validation that the driver is providing great service."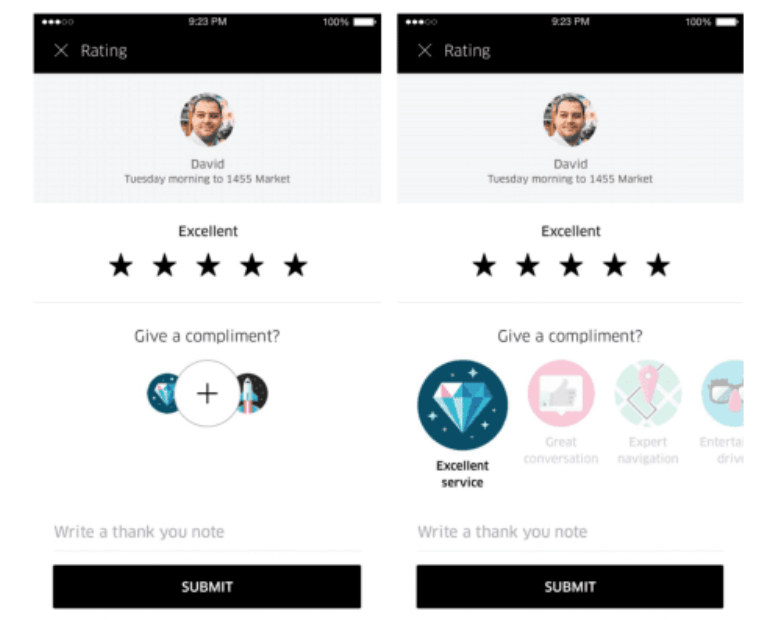 Starbucks: Uses technology to engage its customers. Most notably, asking them for their ideas, to vote on others' ideas, etc., by setting up a web-based ideas platform asking customers to:
"Submit your idea...what's your Starbucks idea? Revolutionary or simple, we want to hear it."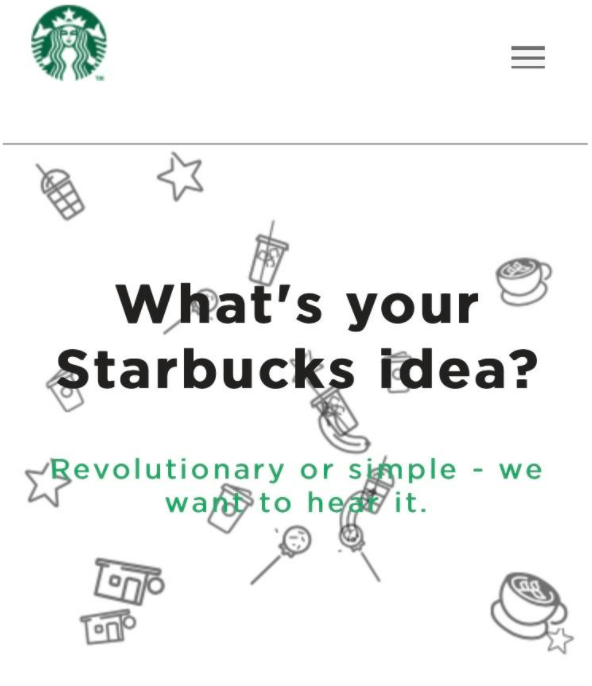 Deezer: The popular music streaming giant asks its 16 million active monthly worldwide users what they think of the service, asking:
"Got an idea? We're always open to new ideas, so if you've got one, let us know."
Are You Ready to Start Collecting Customer Feedback?
Hopefully, we've provided some food for thought, and you're coming away with a better understanding of the importance of customer feedback and how you can obtain it for your own brand.
Customer data (should) undoubtedly influence your decision making. Measuring customer satisfaction levels empowers you to identify where your brand is excelling, and more importantly, where there's room for improvement. With this info to hand, you're better positioned to take action to provide customers with the best possible experience and service.
Don't be one of those companies that don't know why its customers aren't buying from them/abandoning their carts, or why they're getting negative online reviews. Instead, invest in time-saving automated CX software to keep your customers at the heart of everything you do.
Get Started with Online Surveys
With One Of Our 200+ Templates