Offline matters more than ever before!' You'd agree if you're a part of a brand trying to engage with customers in a fast-moving connected world.
More than 80% of shoppers prefer to go to a store to buy when they need to buy something or want immediately. 61% of shoppers would instead shop with brands that have a physical location than ones that are online only.
The reach of digital marketing is undeniable. And, since its inception, it has not only helped marketers to garner a rich knowledge of customers but also to reach them at scale, economically.
Although digital offers a world of opportunity for marketers, in hindsight, brands are well aware of the value of connecting and engaging with customers in-person in an increasingly digital world.
Ask yourself: you've got favorites too - brands you love to connect with. Customers love to go back to places they're familiar and comfortable with. They prefer to interact with products and services in person.
As much as they love to know, interact, and experience your brand on digital platforms; equally, they crave the same offline— added the physical touch and feel factor.
It's no surprise that, why even in the age of digital Darwinism, brands are going above and beyond to create memorable experiences to engage their customers offline.
Measuring the value of offline marketing and advertising efforts has been a pain point for marketers. The rise of new digital tools and technology has helped marketers address this challenge. Offline marketing today is measurable and interactive.
Brands have massively capitalized on technologies and digital innovations to enhance and improve attribution from all their offline marketing efforts. Today these innovations have not only made traditional offline channels more effective but interactive as well.
With all these new innovations on the block, marketers can integrate both the worlds - offline and online – to deliver a seamless experience at all touchpoints for today's hyperconnected and empowered customers.
How To Engage Offline Customers
Below are 7 ways you can enhance customer engagement offline - in-store or branch. You can follow these simple ways to make your customers interested in engaging with your brand again and again.
First Impression Matters
Create a lively, inviting place that makes customers feel comfortable. Capture your brand's essence through posters, banners, stand-alone, and digital displays to create a memorable experience for your customers.
Emphasis on the brand identity - design and messaging - to capture your audience's attention. Go wild with your imagination to develop new concepts and ideas and ensure it's all about the brand.
McDonald's is no slacker when it comes to delivering customer experience. The king of burgers has deployed digital menu boards and self-ordering kiosks and is expanding outdoors with drive-thru digital menu boards.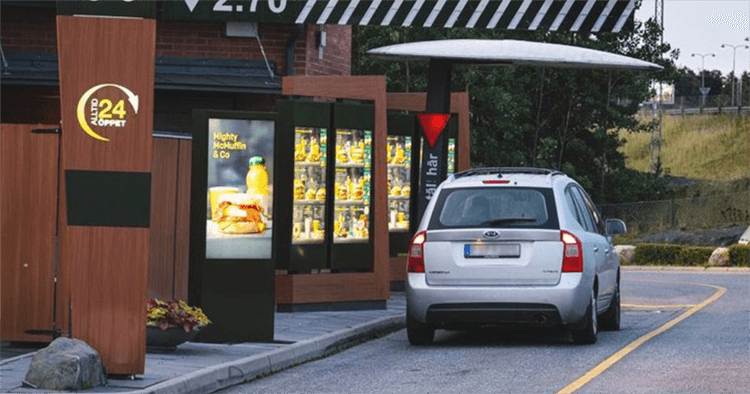 Offer Free Wifi to Customers
Give your customers instant wifi access so that they can interact with your media using their own device. Offer them free wifi in-store to allow customers to connect and engage with your content.
This will not only help you enhance customer engagement but will empower you to deliver custom messages and digital experiences whenever customers log on to your free wifi service.
To spark up in-store customer experience, the UK-based retail chain Marks & Spencer introduced a virtual rail consisting of 46-degree touch screens. Customers could browse and check the prices of clothes. The store gave customers access to their wifi so that they place orders from their mobile or touchpads.
Offer Self-service
Customers today love to be independent while making a purchase decision. With self-service kiosks, terminals, and touchscreens, will allow your customers to customize their own experiences in-store instantly.
Allow them to sign in, set up appointments, make a purchase, and manage their account. Self-checkout is another in-store service that most customers demand to avoid long queues. Use QR codes to make checkouts easier and hassle-free.
For example, IKEA makes checkouts for large furniture easier with QR based mobile checkout option. For a store like IKEA that sells furniture of different sizes, it is a huge challenge to take the products to the checkout counter and scan them. IKEA came up with a simple QR code-based solution to this problem by introducing the scan and checkout feature.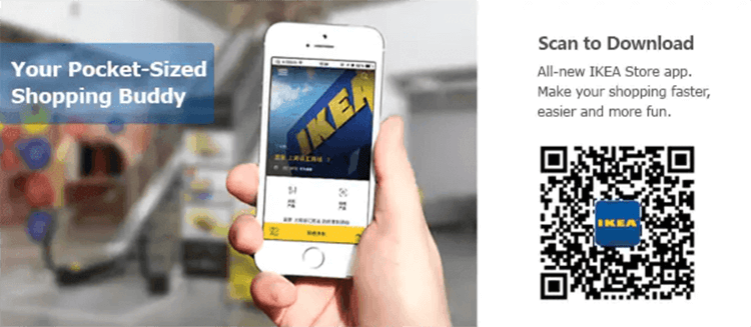 Educate Your Customers
Help your customers to navigate your store without being confused. You can use beacons not just to help customers find their way, but you can also send them custom messages on their mobile phones. It's a great way to provide your customers with useful information in multiple languages.
On the other hand, you can use NFC stickers and tags to help your customers collect product information. You can stick them on almost anything. Customers can be directed to any online page with just a tap on their phone. With just a tap on their phone
Check out how the Timberland's Manhattan flagship store in Herald Square provided its visitors with technological "Sherpas" in NFC-enabled tablets available at the kiosks.
Shoppers had to use the tablet to tap on a tagged product, and upon tapping, information about the product came up on the screen.
Shoppers could tap on those product images to view expanded product information and add those items to a personalized shopping list containing online and in-store products.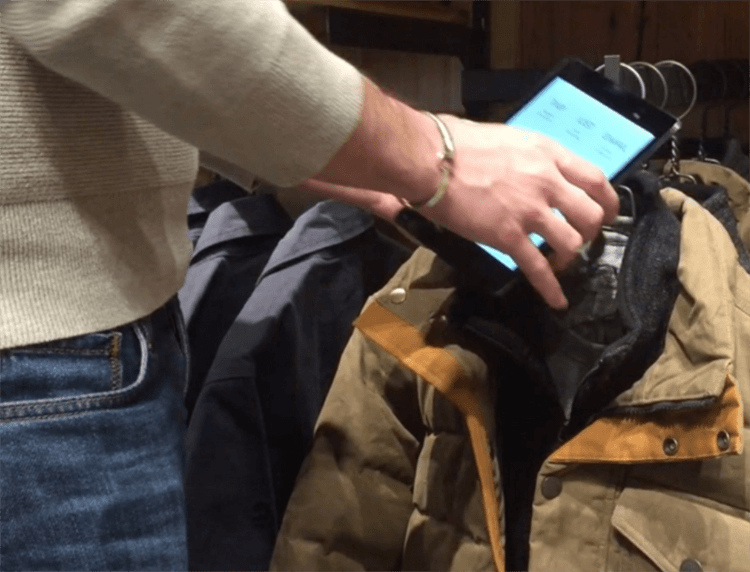 Collect Feedback from Customers
Customers love businesses that do not just listen, but that hears them. Asking customers for their suggestions is a great way to earn a customer for life.
From cork boards to touchscreens, you can leverage a host of interactive tools to encourage customers to participate in a survey to collect in-store feedback. You can take one step further by rewarding them for their participation.
See how Ciao Pizza, a North Carolina based Italian Restaurant, uses QR codes on their menu to collect customer feedback and reviews.
Bring Your Social Media Offline
Although social media is synonymous with the digital world. Displaying your social media content using offline media is a great way to engage with your customers in the real world. Bring the best of your social media content - reviews, announcements, community discussion - offline.
You can use digital signages to feature animated videos, live streams, pre-recorded webinars, and graphics to engage your customers in-store using technology.
You can also display your social media feeds on tickers on screens. Stream user-generated content such as tweets with your branded hashtag, Instagram photos that tag your business, or testimonials from your happy customers. Make in-store customers feel part of your brand's journey.
Dutch brand Hunkemoller seems to have mastered creating a social experience in-store with the social wall.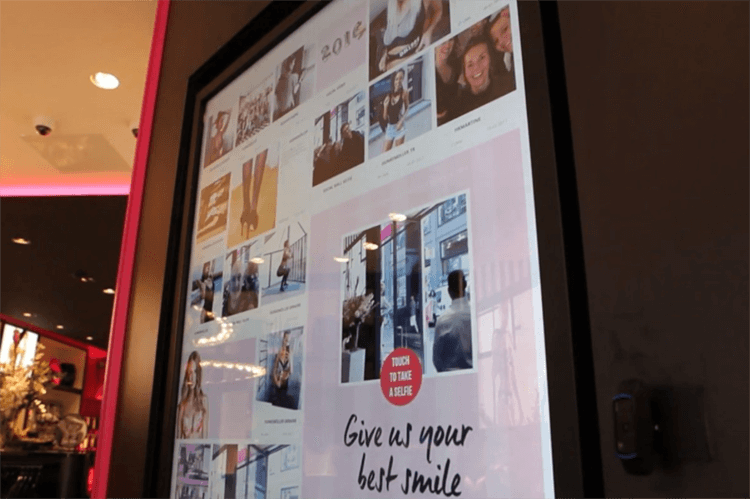 Roll out Referral Programs and Contests
Get your audience excited to promote your brand. Come up with exciting rewards that will encourage your audience to get more referrals. Customers are more likely to respond to a brand when referred by someone from their circle. Brands with referral programs witness a faster closing time on sales and higher conversion rates than those who don't.
Similarly, you can plan in-store games and contests not just to engage your in-store customers but also to acquire new customers. When done successfully, it's an excellent way to build brand awareness while growing your business. Use in-store interactive screens to encourage customers to participate.
In 2019, football club Manchester City introduced a touchscreen game to vamp in-store environment, bringing fans closer.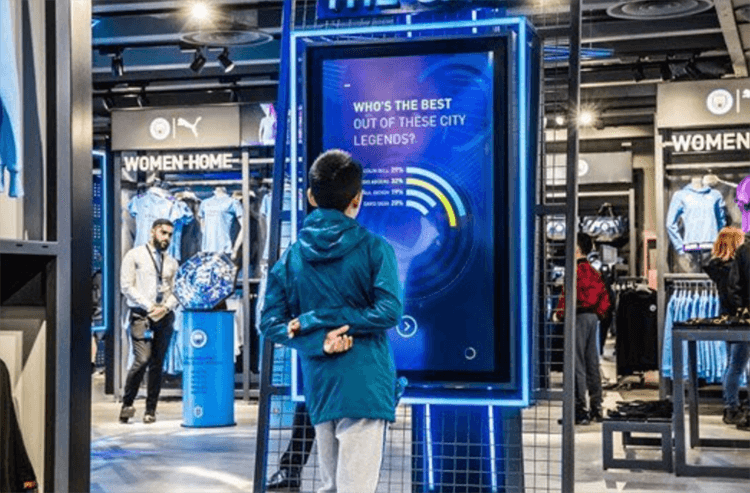 Don't Be a Bot! Be Human!
Customers who walk into your store or branch are already interested in your brand. It's up to you how you engage them on their arrival. How you welcome them, creating a memorable experience so that they stay connected with your brand and return again and again.
While technology will help you deliver a seamless offline experience, interactive content and conversations will help you connect with them humanly.
Remember, technology and digital solutions are just enablers that will help you create a human-centered integrated marketing strategy.
Author
Aritrya is a seasoned creative and a content strategist at Beaconstac, helping the world know proximity marketing tools better. He's an ardent football zealot and a Stanley Kubrick fan who does content in that order. Connect with him on LinkedIn.