The choices are unlimited when it comes to online shopping.
But imagine a compass that points you directly to what suits you best: that's what product finders do. These intuitive tools are designed to understand your preferences and lead you to that 'perfect' product. Product finders not only filter options; they redefine the shopping experience from 'just looking' to 'take my money' for a smooth customer journey through the sales funnel.
In this article, we'll learn some tricks from various standout product finder examples. So, if you want to create a finder that's both fun and functional, you're in the right place! Let's get started!
1. Alchimie Forever's "Skin Care Routine Finder"
This product finder is a masterclass in personalized product recommendations. The interface is welcoming, leading quiz takers with ease through series of questions, so they don't get lost or overwhelmed. An interesting feature of this quiz is its ability to gather contact details, which allows Alchimie Forever to send tailor-made skincare advice and also paves the way for future marketing campaigns and interactions with their audience.
It truly feels like the quiz is listening and understanding each user's unique needs. If you are looking for inspiration on how to engage, advise, and interact with your customers, take lessons from this quiz example. It's a mix of friendly engagement and smart business strategy.
2. Lolasik's "Find Your Dream Wig" Quiz
This quiz shows how to mix a great user experience with spot-on personalization. One of the best things about this quiz is how it changes the questions based on earlier answers. This means users feel like the quiz really "gets" them. Also, by adding images to their series of questions, the quiz becomes more fun and engaging. For anyone looking to make a quiz for their online store, this is a great one to learn from. It's short, sweet, and really connects with users.
3. Glamnetic's "Find The Perfect Lashes"
This quiz showcases the art of keeping online shoppers engaged throughout the quiz. The customer experience is spruced up with catchy animations and media transitions, making every click feel like a mini-revelation. As the quiz ends, users see a clear and simple set of personalized product recommendations, so they can make an appropriate choice.
But what truly boosts the credibility of the quiz is the clever use of social proof and testimonials. The quiz integrates real business reviews and recommendations, which instills trust and confidence in their potential customers. E-commerce brands can definitely pick up a tip or two on how to weave customer engagement, clarity, and trust seamlessly into one interactive journey.
4. Aisling Organic's "Find The Custom Makeup Bundle" Quiz
This product finder quiz is a splendid example.
Research suggests 81% of marketers say that quizzes peppered with GIFs and vibrant imagery are much more effective at capturing user's attentions than static content. It's a testament to the old adage – a picture is worth a thousand words. Thus, Aisling Organic uses power of visuals to create an engaging quiz.
Diving deeper, the quiz places significant emphasis on its initial question. Why? Because it's here that most drop-offs can occur. Aisling Organic ensures a smoother user journey by constantly refining this entry point, based on user behavior. They've also incorporated a touch of personalization right at the outset by asking for the user's name. It might seem simple, but this direct address makes the experience feel tailored and personal.
Furthermore, the quiz treads the fine line of being specific yet not overbearing. All the questions are created with a balance of precision and breadth. And once the quiz-taker reaches the end, they can see a visually stimulating result page, complete with captivating images, detailed descriptions, and unambiguous calls to action. The entire process exemplifies a thoughtful approach to personalized product recommendation.
5. Jewelry Gift Finder Quiz by Drench Design
Intuitive and engaging, the quiz guides shoppers in finding the ideal jewelry piece for yourself or significant people in your life.
Here's the sparkle behind its brilliance:
Firstly, its mobile-optimized design allows users to effortlessly navigate the quiz on any device.
Then, the integration of captivating visuals captivates potential customers, offering a visual treat that complements the quiz theme.
Most importantly, once the quiz leads you to that perfect product, a direct link to the checkout awaits, making the transition from discovery to purchase effortless. In essence, the quiz doesn't just help users find the right gift; it ensures a streamlined path to secure it. A polished and personalized experience from start to finish!
The Psychology Behind Product Finders
Today's consumers crave shopping experiences that feel personal.
Customization elevates the entire shopping process, turning it into a delightful discovery rather than a chore. This kind of attention to consumer preferences make them feel valued and also drives them to finalize their purchases, significantly boosting sales.
Yet, with the explosion of online options, consumers often find themselves flooded by the sheer volume of choices. This phenomenon, known as decision fatigue, affects even the most seasoned shoppers. When faced with an endless array of products, the brain gets bogged down, and the allure of shopping starts to wear thin. Instead of a pleasurable experience, it becomes a task riddled with doubt and second-guessing. And more often than not, this fatigue can deter potential buyers, resulting in increased abandonment rates.
But, when ecommerce businesses employ a custom product recommendation quiz or product finder effectively, they tap into this very psychology. Customers no longer feel like they're sifting through a haystack to find the needle. Instead, they're presented with a carefully selected set of personalized recommendations that match with their preferences. This approach sparks a sense of joy and validation, further solidifying their trust in the brand.
Take, for instance, the BigBlanket product finder quiz. The brand recognizes their consumer preferences and smartly employs a quiz that dives deep into individual desires and comfort choices.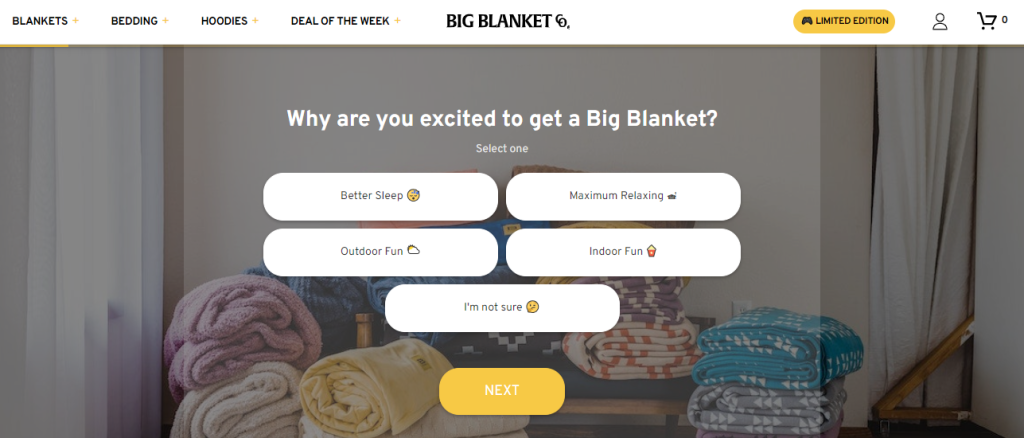 BigBlanket suggests a relevant product to each user's answers, truly representing a keen understanding of customer psychology and personalized shopping.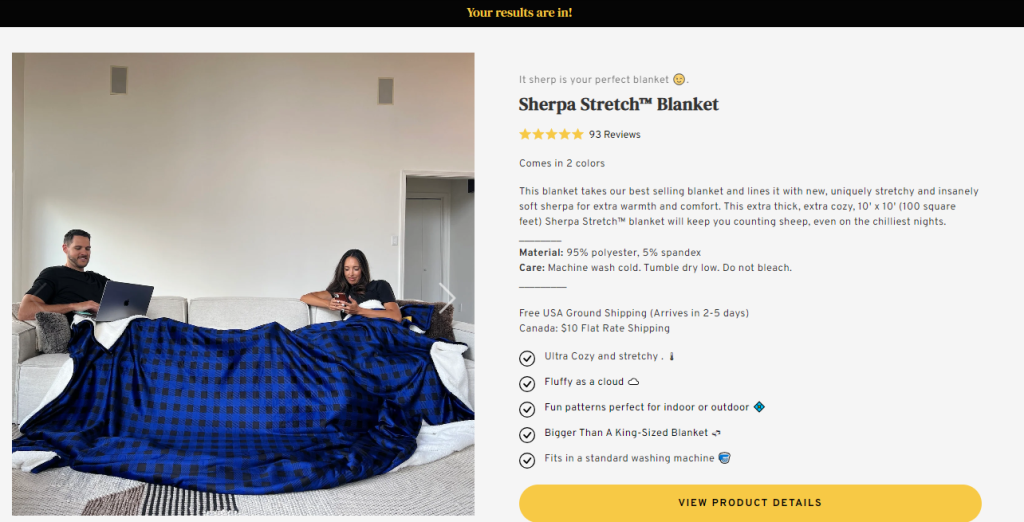 Wrapping Up
The world of online shopping is vast and, at times, overwhelming. Product finders have become the guiding light, simplifying choices and adding that sought-after touch of personalization. As highlighted by the examples in this article, a successful product finder is one that understands and caters to its audience, creating a seamless bridge between a customer's desire and the perfect product.
If you're inspired to integrate such a transformative tool into your e-commerce platform, consider creating a stellar product finder. Looking for a no-code platform? Head over to involve.me to create user-friendly, attractive product finders now for free!
Create Your Own Product Finder Quizzes
Start with 200+ Templates