E-commerce is on the rise. Online retail sales increased during the COVID-19 pandemic. One report even saw a 32.4% year-over-year increase in US sales in 2020. If you work for or own an eCommerce business, you're in the right industry.
While the market is growing, competition is also increasing. That presents opportunities and challenges for people looking to increase their market share.
This article collected seven powerful eCommerce growth strategies you can apply to increase your market share and profit margins. We'll discuss strategies ranging from AI and mobile-commerce to lead generation and quizzes. Let's dive into the guide.
10 Powerful E-commerce Growth Strategies
1. Focus on Your Present Customers
Anyone in eCommerce knows that driving traffic and growing your customer base is vital for growth. There are lots of reasons to focus on existing customers. To start, it is more cost-effective - it can cost five times more to acquire a new customer than to keep an existing one.
In addition to this, your existing customers spend more than new ones.
One study of online apparel retailers found that repeat customers spend 67% more in months 31-36 of their relationship with the retailer than in months zero to six. Existing customers spend more and, if they are happy with your products, will return to purchase again and recommend your store to their friends.
There are various approaches you can take to improve customer retention.
You need to:
Ensure you're delivering a great product

Providing great customer service and support

Maintain and develop your relationship with customers
The first two points are critical for customer retention. If your customers are dissatisfied with your product or service, they will be unlikely to make future purchases.
You can use surveys and other data gathering techniques to gain insights into what customers think of your company. Acting on these data-driven insights and resolving problems is critical to your customer retention efforts.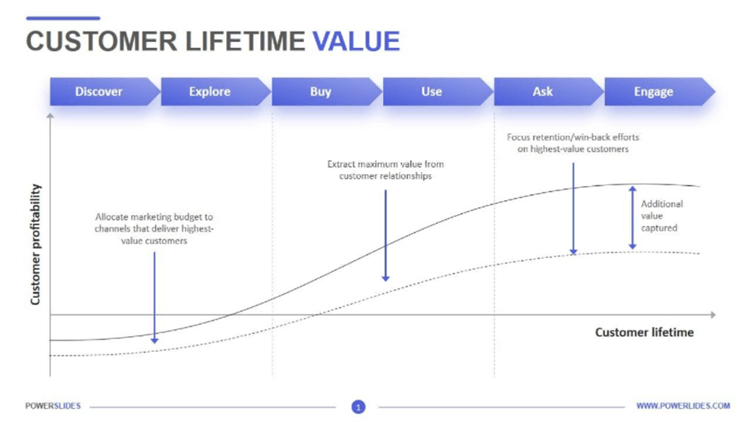 The last stage is to implement effective customer retention marketing strategies. Strategies like growing an online community around your brand, sending timely sales and marketing material, and running a loyalty program can all aid your customer retention efforts.
2. Improve Your On-Site Experience
The on-site experience is vital for establishing brand identity, improving customer satisfaction, and generating more sales. Optimizing your eCommerce website will involve careful research and the implementation of insightful changes.
There is a generally agreed set of best practices for implementing Conversion Rate Optimization (CRO) strategies. It is known as the CRO Loop.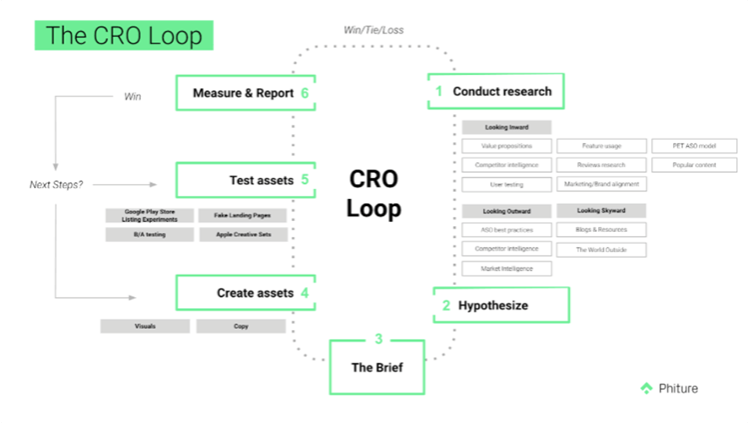 The first stage in the process involves gathering data on the action that site visitors take. You can collect this data through various online tools. You have two types of tools:
Web analytics tools - learn about on-site activity. For example, time on page and user flow across pages. Google Analytics is a web analytics tool.
Behavior tools - discover why people take certain on-site actions. Heatmaps, pop-up surveys, and video recording are all examples of behavior analytics tools.
Once you've gathered data about how people use your site, you then need to identify and prioritize your problems. For example, you might discover that you have a high cart abandonment rate or a high bounce rate on a certain page.
You can use a prioritization matrix to rank problems. For example, you rank the impact of a positive change on a scale of 0-5, then the effort it will take to make the change on the same scale.
You then add those figures up and prioritize the tasks based on the score.
Here's an example of a prioritization table.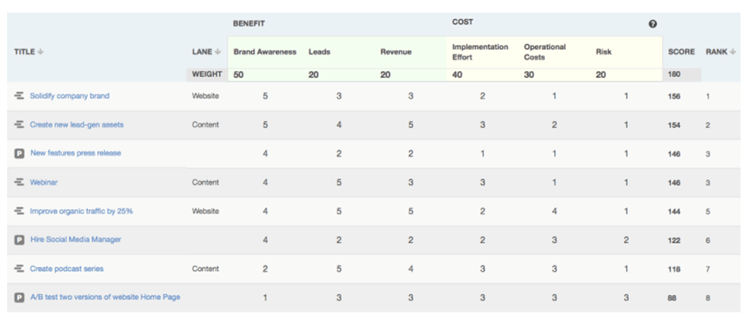 Once you've prioritized your tasks, you need to hypothesize the problem and develop a solution. Typically, the solution will require making aesthetic changes to the website, changing the user interface, or adapting the copy.
Sometimes it can be all of the above.
Finally, you need to run a test using relevant CRO tools and track the results.
Following the steps outlined above will help you improve the visitor experience on your site. If you're serious about implementing eCommerce growth strategies, you need to be utilizing this approach.
3. Analyze Data to Target Your Audience
Customer data is vital to any eCommerce growth strategy. Customer, sales, and marketing data can tell you which products and strategies are performing well and which aren't.
You can use customer data to gain insight into your ideal customer persona. Those insights will help you develop growth strategies based on them.
You can use these insights in various ways.
For example, knowing who to target with a marketing campaign will likely result in a higher return on investment. That is certainly true for PPC, where you need demographic information about who you are targeting alongside an understanding of the customer pain points.
There are innovative ways you can use these insights in your marketing campaigns too. For example, lead generation quizzes let you create customizable quizzes and forms that you can embed on your website and share on social media.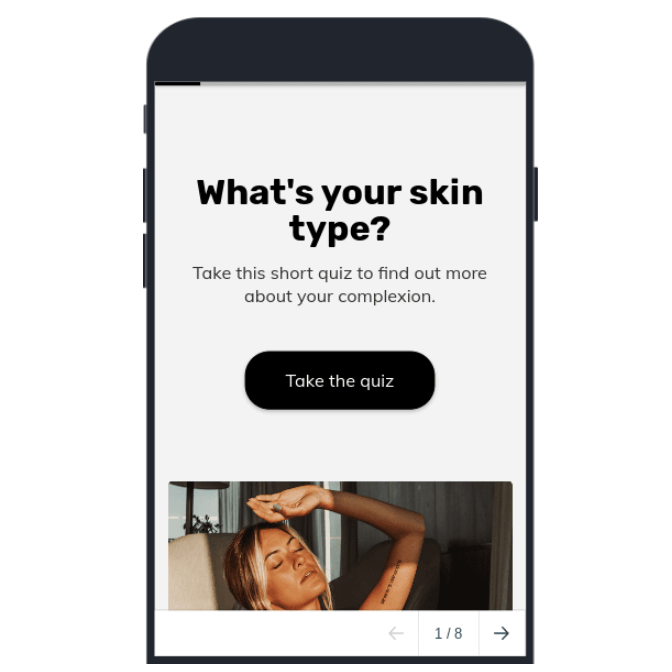 Creating a fun personality quiz for your customers and social media followers that suggests products with their results is a great way to increase customer acquisition. You need to identify relevant eCommerce growth strategies that will work for your business.
4. Invest in Disruptive Technologies
Disruptive technology is any technology that drastically changes how users, customers, and businesses interact with technology. Instagram and TikTok are examples of disruptive technologies in the last decade.
Investing in disruptive technologies as part of your eCommerce growth strategy involves identifying and utilizing the latest tech trends. Some disruptive technology trends in eCommerce to consider in 2021, for instance, are:
5. Products As a Service
From beauty products to recipe boxes, subscription boxes are a growing trend in eCommerce. Would your customers pay for a monthly box of your products?
If so, it could be time to launch a subscription service and invest in payment software to accept recurring payments.
6. Mobile Commerce
According to one report, 76% of customers purchase products on their mobile because it saves time. Ensuring your website and marketing strategy are optimized for mobile shoppers is important for any eCommerce business.
Having mobile-friendly landing pages is a good starting point. M-commerce offers plenty of opportunities for innovative sales and marketing campaigns, as well. For example, mobile apps and optimizing your website content for voice searches are all things to consider.
7. Chatbots, Virtual Assistants, and AI
Virtual assistants and AI are finding increasing uptake from eCommerce sites.
On the virtual assistant side, one research firm is suggesting that 70% of customer interactions will involve a chatbot or VA by 2022. That makes sense, given that chatbots can automate many elements of communication.
AI is also becoming important for businesses as well. A nice example of where you see AI being applied is copywriting. Tools like Jarvis, for example, allow companies to auto-generate sales copy for product listings and social media.
In time, it will almost certainly be able to auto-generate quality blog posts as well.
You don't have to invest in all these technologies at once, of course. Choose the ones you think suit your business needs.
8. Adopt Multiple Payment Methods
Every year, the ways we can pay for products online expand. Digital and mobile wallets now make up a huge portion of eCommerce transactions. New payment methods such as 'buy now pay later' services like Afterpay and Klarna are also growing in popularity.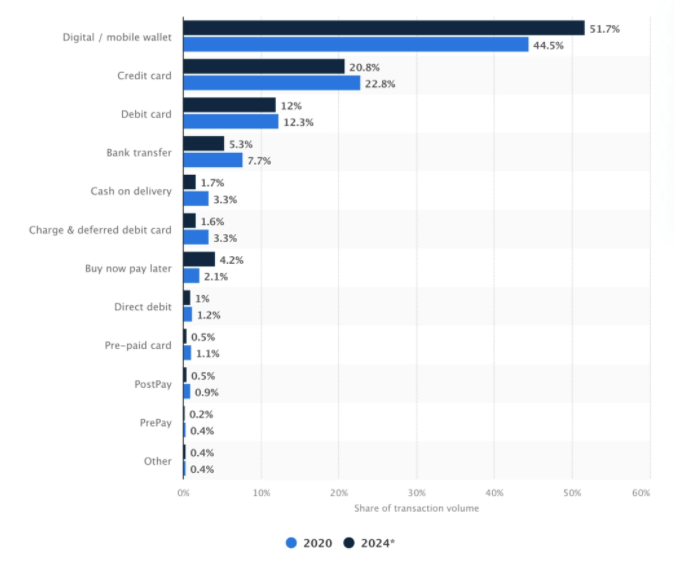 If you're committed to growing your eCommerce business, offer a range of payment methods for your customers. Forbes lists adding more payment methods as their number one tip for reducing cart abandonment.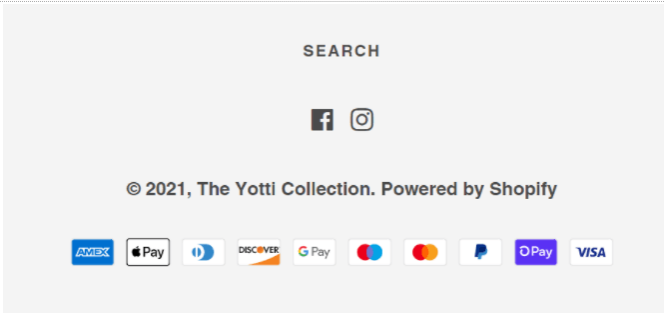 Just take a look at the many payment options Yotti, a UK-based fashion brand, offers. Every payment option is covered, which is convenient for potential customers.
9. Have Environmentally-Friendly Business Operations
Consumers are growing more and more environmentally conscious. Many online shoppers want to know that their products are sustainable, ethical, and have a low carbon footprint. One survey found that 66% of customers were willing to pay more for sustainable goods - a number that has been steadily rising in recent years.
A rule of thumb for online shoppers is if an eCommerce website doesn't have a transparent statement on the business's environmental and ethical policies, it usually means they don't have any.
Communicating with honesty your stance on environmental issues and being transparent about your practices is the first step to building your brand identity as a sustainably-minded one.
10. Leverage Augmented and Virtual Reality
One of the disadvantages of eCommerce for shoppers is the inability to see products in person before purchasing. Augmented reality (AR) and virtual reality (VR), however, give online shoppers an in-store experience from the comfort of their homes.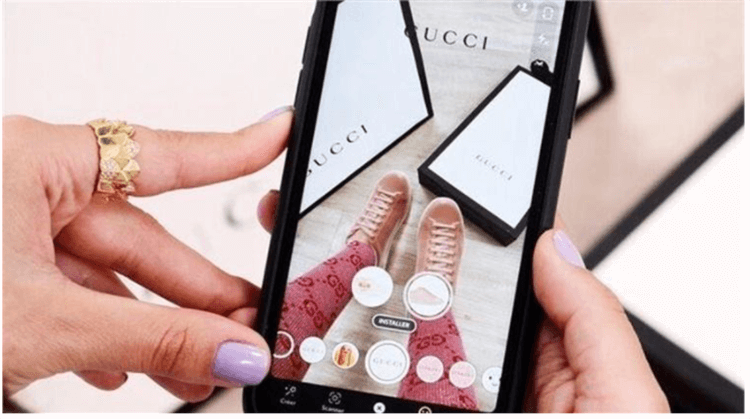 AR and VR have become popular digital tools for brands like IKEA and Gucci (see screenshot above). Both companies have apps that allow customers to see what a product would look like either in their home or on them before they make a purchase.
These emerging technologies are changing every year but could well be the next disruptive technology that transforms how we shop online.
Conclusion
2021 is an exciting year for eCommerce. With demand from a growing number of online shoppers and exciting technology changing the way we shop, there's a wealth of eCommerce growth strategies for you to consider for your business.
This article has offered eCommerce strategies for you to explore in 2021 and beyond. From using disruptive technologies to incorporating multiple payment options, all these tips are guaranteed to help you leverage the eCommerce market boom.
The result? Your business will be on its way to success.
Author
Allie is the Head of Content at Omniscient, a marketing agency that works with SaaS brands. Before working with Omniscient, she spent 5 years as a freelance writer and then joined the content team at HubSpot where she worked for nearly 3 years. She has contributed to more than 100 high-converting articles for HubSpot and collaborated with the folks at Entrepreneur, Hotjar, and Foundr. Her words are bookmarked by entrepreneurs, small business owners, and digital marketers worldwide.
Interactive Templates
200+ Editable Drag & Drop Templates