91% of consumers are more likely to shop with ecommerce brands that provide personalized offers and recommendations!
For retailers, product finders serve as invaluable tools for customer segmentation, data collection, and ultimately, sales conversion, while consumers benefit from a more tailored and successful shopping experience.
The purpose of this article is to spotlight five exceptional examples of product recommendation quizzes, offering insights you can borrow to enhance your own retail strategy.
Example 1: Tado°'s Custom Product Finder
Tado°  offers innovative thermostats and air conditioning controls. Their devices use a variety of data points, from weather forecasts to the homeowner's location.
To simplify the process of selecting the right product for consumers, Tado° has created a custom product finder using involve.me (an online quiz builder). A custom product finder tool assists prospective customers in  navigating their product range, ensuring they make informed choices for their home.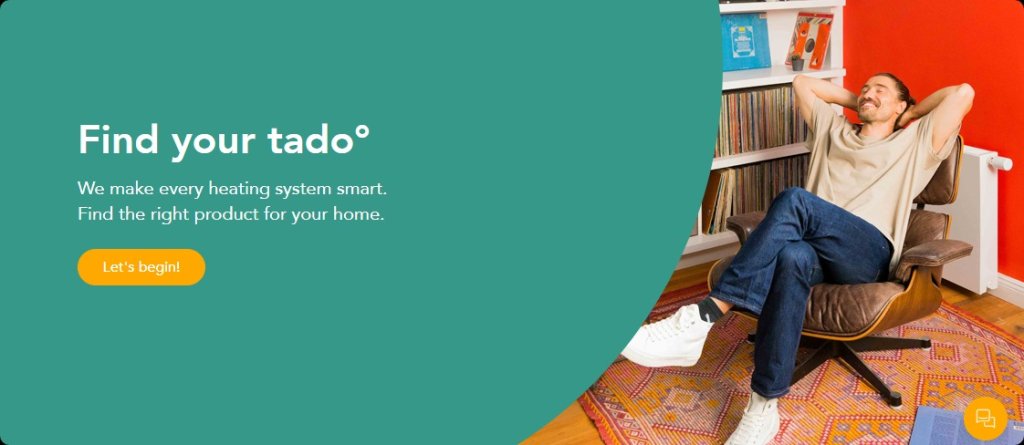 How It Works
When users enter the product finder, they are promptly presented with visually appealing, image-based options related to their current home heating control systems. Then, on the second page, there is a dropdown menu asking quiz takers to specify their boiler's manufacturer, helping the system understand the hardware compatibility.
Based on the quiz responses, the product finder then recommends the Tado° model best suited to the user's needs.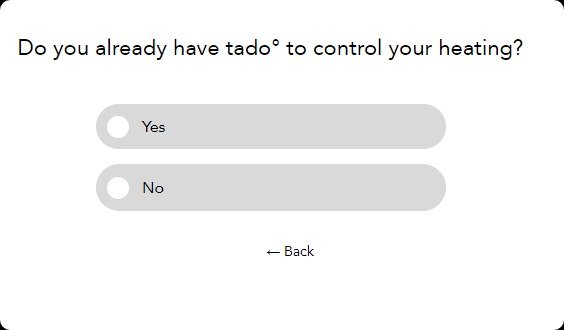 Why It's Effective
Tado°'s product finder tailors its suggestions based on individual home requirements, leading to high conversion rates.

The combination of involve.me's analytics and Google Analytics provides a detailed understanding of user engagement, most and least popular choices, and areas that may require further explanation or adjustment.

The use of custom-designed images ensures a cohesive brand experience.

The multilingual options and mobile-friendly quiz design make the finder accessible to a broader audience.
Takeaways for Your Business
If your product line is extensive or technical, a well-designed product finder can significantly simplify the decision-making process for your customers.

Make use of analytics tools to optimize your quiz for effectiveness continuously.

Don't overlook the power of localization. If your market is diverse, offering your shoppable quiz in multiple languages can dramatically increase its reach and effectiveness.

Include elements that help the user, such as hints or tooltips, to boost completion rates and make the process as user-friendly as possible.

Ensuring that your product finder is mobile-friendly can capture a larger segment of your audience, thus boosting potential conversions.
Try involve.me for Free
Create Your Own Product Recommendation Quiz
Get Started with 200+ Templates
Example 2: Sephora's Foundation Finder Quiz
Sephora is a leading global beauty retailer offering an extensive range of cosmetics, skincare, and beauty products. With a wide variety of foundation brands and types available, choosing the perfect product can be a daunting task for many consumers. Sephora's Foundation Finder Quiz aims to demystify this process, making it easier for customers to find the perfect match for their skin type, tone, and desired finish.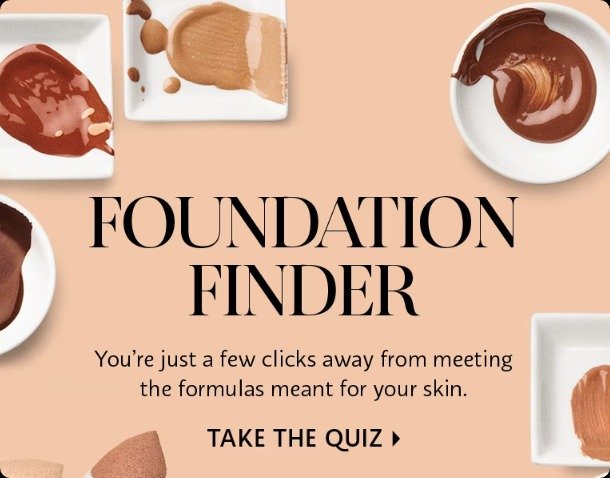 How It Works
The Foundation Shade Finder Quiz typically starts by asking users about their skin type, as different formulations work better for oily, dry, combination, or sensitive skin. Then it dives into the user's specific needs and preferences, such as the desired level of coverage (from sheer to full), finish (matte, natural, or radiant), and any additional features they might want like SPF or long-wearing properties. Finally, the quiz concludes with a lead capture form, asking for an email to send personalized recommendations to their customer.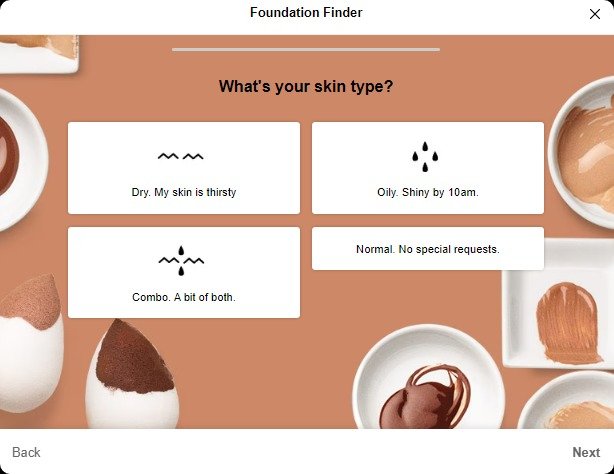 Why It's Effective
Online shoppers are more likely to make a purchase when they feel confident about the product matching their specific needs.
The product quiz also collects valuable customer data that can be used for future product development or targeted marketing campaigns. Plus, happier customers usually mean better reviews, and we all know how much those can sway a potential buyer.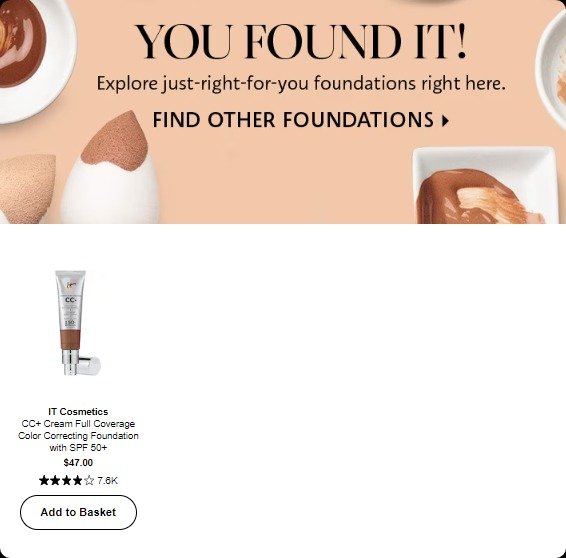 Takeaways for Your Business
Sephora's Foundation Finder Quiz offers excellent insights into how to create an effective product recommendation quiz, particularly for niche or specialized products. Here are some actionable tips:
To guide consumers effectively, you need to have a deep understanding of your product range, including how different options cater to different needs.

Tailor the quiz questions to elicit the most useful information that will guide the customer to the perfect product. Include a variety of questions that cover skin type, personal preferences, and functional needs.

Consider incorporating advanced features like virtual try-ons, especially if you're in the beauty or fashion industry, to enrich the customer experience.

Don't miss the opportunity to capture leads for future marketing.
Example 3: Chewy's Pet Food Finder Quiz
Chewy has become a go-to name for pet owners looking for everything from pet food to toys and grooming supplies. Their Pet Food Finder Quiz makes it simple to find the right products for a variety of pets.

How It Works
The quiz is straightforward but clever. Once you land on their quiz page, you have to answer questions about your pet's age, activity level, and any special dietary needs they may have.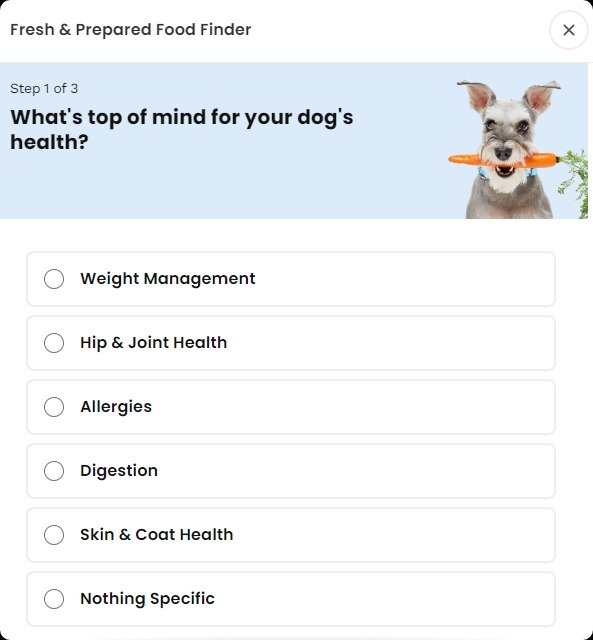 Why It's Effective
Let's talk numbers. Although I don't have the exact metrics, interactive quizzes like these usually lead to higher purchase rates because they offer personalized recommendations that consumers trust. Plus, they often improve customer satisfaction, as pet owners feel more confident they're making the right choices for their furry friends.
Takeaways for Your Business
So what can your business learn from Chewy's example? Well, if you're in the pet industry or any specialized product market, a product quiz can be a goldmine for customer data and targeted recommendations. It allows you to offer a personalized shopping experience, and also boost sales. All you need to do is figure out the key questions that will lead your customers to products they'll love and need.
Example 4: Warby Parker's "Find Your Fit" Glasses Quiz
Warby Parker is an American company specializing in prescription glasses and sunglasses. They revolutionized the eyewear industry by offering stylish, affordable glasses online, thus eliminating the middleman and saving costs for the consumer. One of the challenges of selling glasses online is ensuring a good fit, both in terms of the prescription lens and the frame style. Warby Parker's "Find Your Fit" quiz helps solve this problem by guiding customers to frames that best match their preferences.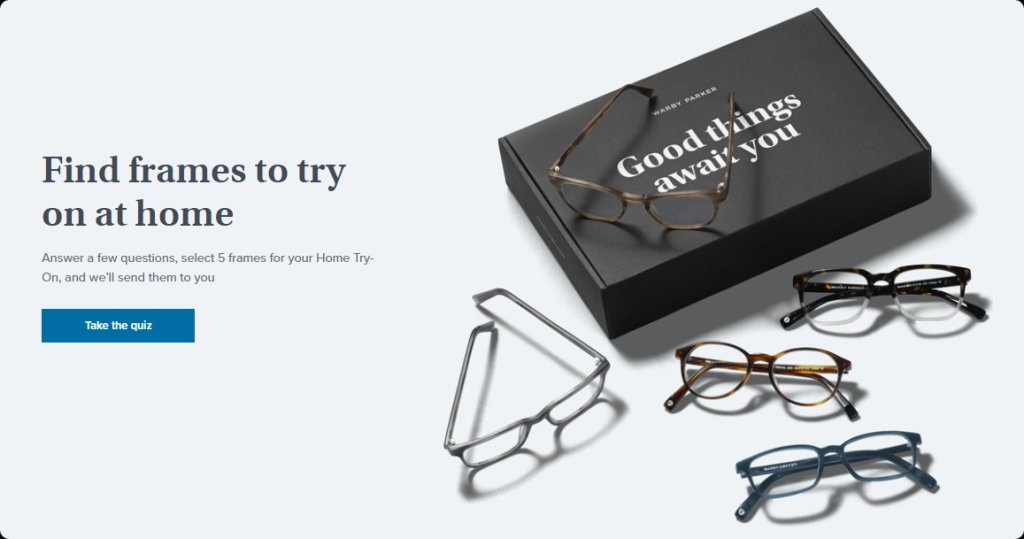 How It Works
The quiz starts by asking about your gender to tailor style recommendations. It then dives into questions about face shape, as different frames complement different face shapes. 
This product recommendation quiz ends by asking for your email address to send you personalized suggestions, thereby capturing leads for other marketing campaigns.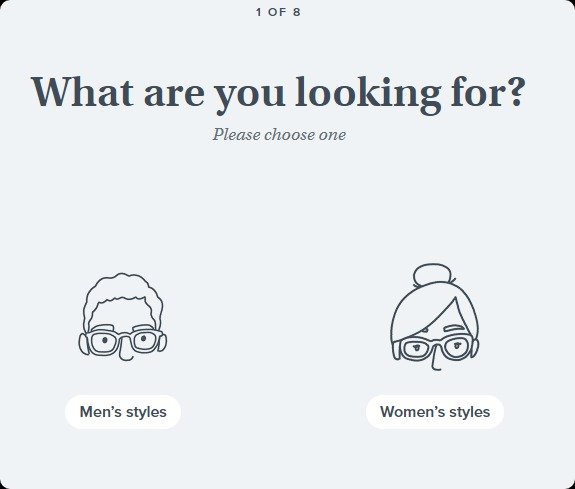 Why It's Effective
Customers who complete the quiz are more likely to make a purchase, as they feel more confident in their choice.

The quiz minimizes the likelihood of returns by guiding customers to frames that are more likely to fit and suit them.

Warby Parker builds its customer database for future marketing endeavors by asking for email addresses.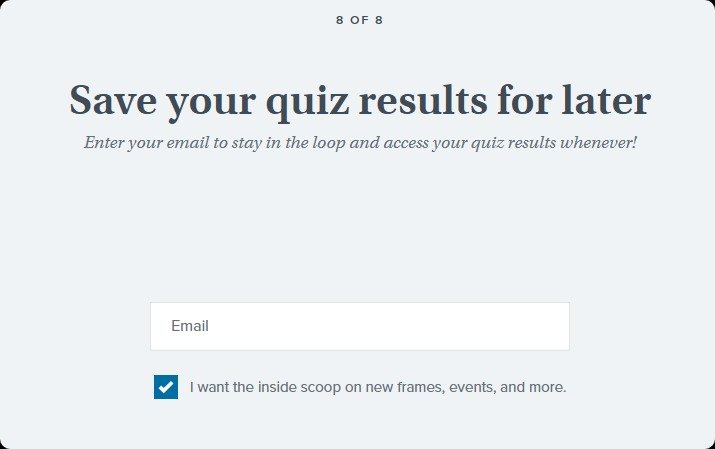 Takeaways for Your Business
Adapting a similar strategy to your own business can reap various benefits if you're selling a product with multiple features, sizes, or styles—be it glasses, shoes, or even electronics—a personalized quiz can break down the barriers between your customer and a purchase. 
Craft questions that will provide useful insights into potential customer preferences and needs.

Keep the quiz short and engaging to maximize completions.

Track the performance of the quiz to understand its impact on sales, returns, and customer engagement.

Use the captured email addresses for personalized follow-up campaigns to nurture leads and provide additional value.
Example 5: LUSH's Skincare Finder Quiz
LUSH is a globally recognized retailer specializing in handmade cosmetics and skincare products. Known for their ethical stance, fresh ingredients, and eco-friendly packaging, the company has won over consumers looking for quality skincare solutions. 
LUSH's Skincare Finder Quiz aims to provide personalized recommendations based on individual skincare needs.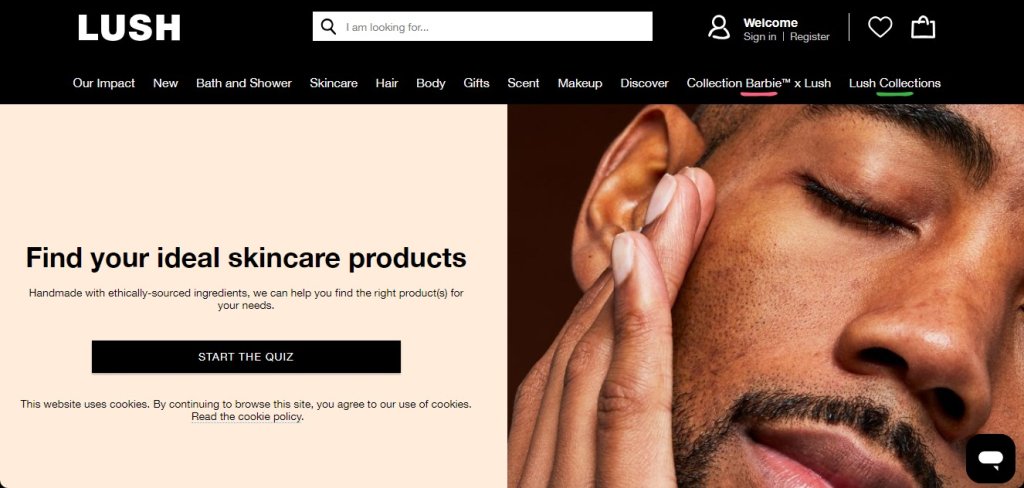 How It Works
So, what's this quiz all about? Once you jump in, you'll be asked a series of questions covering skin type, concerns, and even lifestyle factors that might affect your skin. Whether you have oily skin, are worried about aging, or just want an eco-friendly option, the quiz guides you through it all to find the perfect skincare routine for you.
Finally, the quiz might ask for an email address to send a customized skincare regimen, also serving as a lead generation tool.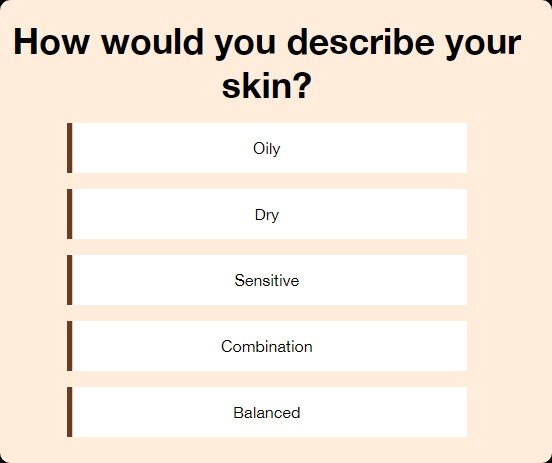 Why It's Effective
LUSH removes the guesswork from shopping and empower consumers to make choices they feel good about, ultimately leading to repeat purchases, reduced return rates, higher customer loyalty, satisfaction and glowing reviews.
The interactive nature of the quiz keeps potential customers engaged, making them more inclined to explore other offerings from the brand.
Takeaways for Your Business
Include questions that will help pinpoint customer pain and the exact needs they have. This helps in providing precise solutions.

Utilize the quiz as an opportunity to increase email list, but make sure to provide value in return.

Collect and analyze data from quiz interactions to better understand your customer demographics and preferences, which can guide future product development or marketing strategies.

Ensure that the quiz is user-friendly, visually appealing, and easily accessible from various devices to offer a consistent customer experience.
Final Words
In summary, product recommendation quizzes like those in this article offer a win-win solution for both consumers and retailers. They provide personalized experience while enabling businesses to gather insightful data for optimization.
If you're seeking to boost customer engagement and drive sales, it's high time to borrow and adapt these proven strategies to your own business needs. So why wait? Dive right in and craft your own quiz using involve.me customizable templates:
Try involve.me for Free
Create Your Own Product Recommendation Quiz
Get Started with 200+ Templates