A quiz maker, if used correctly, could be one of the most vital lead generation tools in your arsenal. The best thing about using quizzes for generating leads is they produce white-hot prospects that are willing to engage with your brand and convert into customers. I mean, the fact they took time to answer your quiz is a testament to that!
Get Started: Make A Lead Generation Quiz
Using One Of Our 300+ Templates
However, this is easier said than done. So if you want to create a quiz that will attract leads like bees are to honey, you need to learn the exact steps in building one.
Tap into Your Audience's Personality or Knowledge
Quizzes are designed to confirm or learn more about your audience. They are also created to help supply additional information to people in creative and engaging ways.
An example of a simple and yet great quiz is the one by Ovention - "One-Minute Oven Quiz"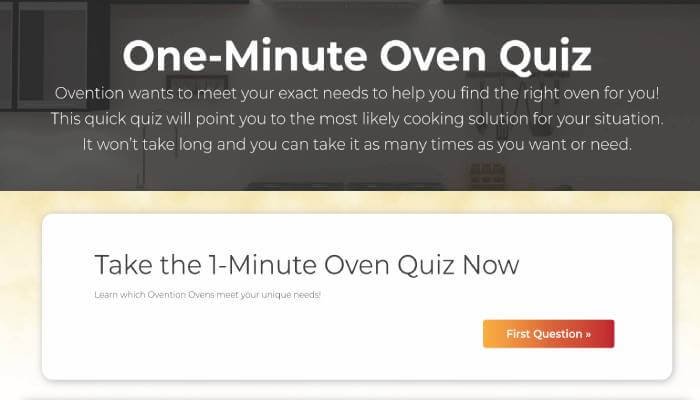 First, the landing page explains that by taking the quiz, you can quickly understand what your oven needs are. Using only 5 multiple choice questions, this company can already guide you to the perfect oven for you.
At the end of answering the quiz, you need to enter your name, email address and zip-code in order to get the results emailed to you. This exactly what all lead generation quizzes should have.
After entering your details, you will be redirected to the results of the quiz based on your answers.
What else Did This Company Do Right?
The quiz didn't include too many questions. Overloading prospects with questions may turn them off and cause them to abandon the quiz, which defeats the purpose of creating one. Better be concise and think of the time prospects will have to invest in order to complete the quiz. "One-minute" is more than enough, just like we see in Ovention quiz.
The quiz hooked prospects by offering them the results only after providing some basic perosnal information. This is a crucial part in a lead generation quiz. Without capturing some basic contact information, there is no real "lead generation". In most cases, the name and email address should suffice. In this quiz also zipcode was relevant, but this is not a must.
Ask the Right Questions
Quizzes are only interesting if they ask questions relevant to the taker. Also, the style of questions and the line of questioning you have in your quiz determines whether they'll complete the quiz or not.
For example, if you want to gather B2B leads, you must come up with professional questions that resonate with them. For B2C leads, you can be much more lenient and creative with your questions.
You should have a good idea of what most of those questions should be. But if you want to unearth more, you can ask them to fill out a survey. These should help you gather more insights regarding the fears and dreams of your audience.
A good example of a quiz with these types of questions is the "What Kind of Blogger Are You?" quiz by Helene in Between.
It doesn't just ask about the types of posts you publish or the comments you receive in them. The quiz also asks questions about why you blog in the first place.
After filling up your name and address, you will see the results of the quiz from the browser and an email with the same content.
What else Did This Quiz Do Right:
The results showed links to the blog's best resources. This allows quiz-takers to take action immediately and learn more on how to blog the right way based on the result they got.
Determine Type of Content to Use
When coming up with content for your quiz, you need to focus on what appeals to your users.
The quiz examples above use words to ask questions. However, some quizzes will require you to use design elements and graphics to make your content stand out.
More importantly, using visuals for your quizzes proves even more effective especially if they're in line with your brand.
A perfect example of this is the Style Quiz at Z Gallerie. It's a home decor store where people can buy furniture, outdoor, lighting, and others for their homes.
And for this type of brand, it's best to show the products to customers instead of talking about them.
That's precisely what the quiz did: asked questions by showing pictures of the right style for their home.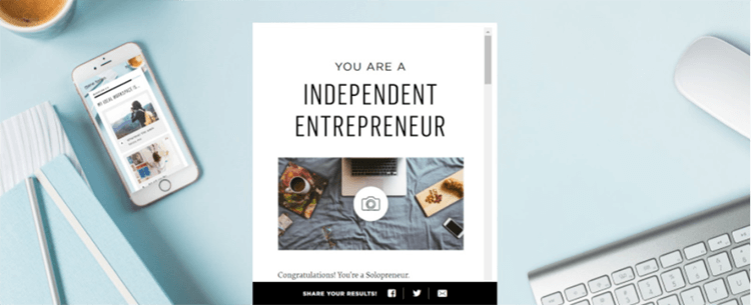 Using visual content, in this case, helps quiz-takers make the right decision. They no longer have to imagine what a particular style looks like!
What else Did This Quiz Do Right:
It lets the visuals do the talking! Despite the seemingly jarring lack of text, the quiz was able to communicate what it's trying to say without saying so much.
Create Segments
Using quizzes is a great opportunity for you to group your audiences according to the results they got.
For example, SEO Tools Finder has a quiz that helps people decide the best SEO tool for them: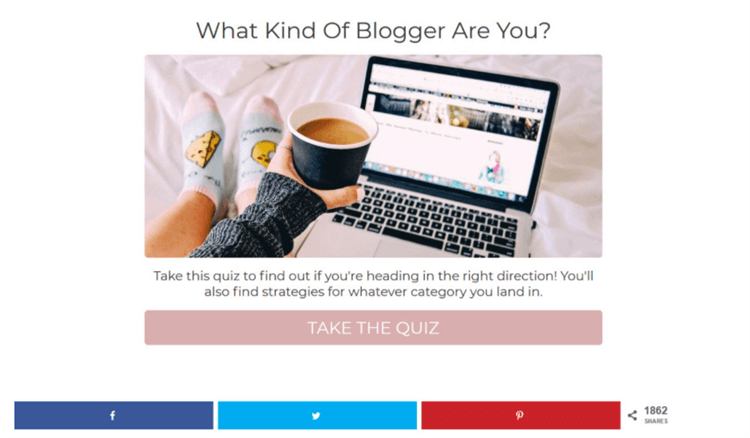 It's a pretty standard quiz that recommends takers which tool they need to use based on their answers.
However, what's important here is how it segments users in its email list for the result they got.
The quiz has four possible tools to recommend to people. The tools featured above are the top two out of four quiz-takers over a period.
Once the quiz-taker is recommended tool A, for example, s/he goes into the tool A segment in the email list.
Segmenting your quiz-takers automatically (or manually) is vital in mobilizing them into action, which we'll talk about in the next and final step.
What else Did This Quiz Do Right:
The quiz gets creative with the use of text and images. For example, in the question "How good are you at SEO," the choices show a smiling dog for being very proficient at SEO, a stoic dog for knowing about SEO, and a sad dog for not knowing anything about SEO. Playing around with these elements in your quiz (or interactive content in general like chatbots) could help increase your conversions and engagement.
Refine Your Quiz Funnel
Once you've collected leads from your quiz, the real fun begins!
At this point, you should have leads that are ripe for conversion. You should be able to sell or promote your products and services to them via email and they'll eat it up like sliced bread (unless you're not into sliced bread, then insert your favorite food here).
At the same time, you can't just hard-sell your products and expect subscribers to give their money to you.
In this case, you need to nurture them through a series of strategically written emails and slowly win them over. How you design your email funnel is a hallmark of great lead generation.
Most of the quizzes are simply meant to collect leads for later use. And unfortunately, none of the examples above have a current email drip sequence that takers will receive after completing them.
However, what we can do here is to develop funnel ideas from what we've seen above. Below are some things you should consider:
For Maria Forleo's quiz, takers should receive emails related to the type of entrepreneur they are, i.e. latest news and tips for independent entrepreneurs.
Helene in Between could send an email series of ways on how to become a better blogger according to the type that best resonates with them.
Z Gallerie should send discount coupons for products related to the style they got from the quiz. The same goes for SEO Tools Finder - send over exclusive offers of the SEO software they were recommended.
From the suggestions above, there's an ADDED INCENTIVE for subscribers to open their emails. Your goal here is to either educate users to achieve their goals and help them save money from their purchases.
The goal of your quiz funnel will depend on what you want to achieve as a brand as long as your endgame is to always provide value.
Conclusion
Launching a successful lead generation quiz requires you to apply the steps above into practice. It might require you multiple times of trying to get the quiz to attract leads eventually.
Still, take lead generation quizzes as a good opportunity to track your brand from the engagement you'll be getting.
At best, your quiz could go viral and generate hundreds - if not thousands - of leads in a short period.
Nonetheless, knowing the quality of volume of reactions you'll get from your quiz should help dictate your next move, whether it's to develop another quiz, tweak the current one, or pivot to a different strategy.
Get Started: Make A Lead Generation Quiz
Using One Of Our 300+ Templates