Finding the right questions for different types of quizzes is more challenging than getting answers. It's not only about what you ask, but also how. Picking the right question type will help you get more answers. Learn about multiple choice questions, checkboxes, scale questions, yes or no questions and matching question types and when to use them.
Okay, most marketers have (finally!) agreed on quizzes value: Included to content strategy, they are a powerful tool for lead generation. We all remember the case of Zenni Optical in 2015, when their one quiz converted $1 million revenue, don't we?
But there's the catch!
You can't just come up with a few questions and wait for the audience to respond.
The ugly truth of marketing life is that far from all quizzes work. Boring design and irrelevant or dull questions are among the top reasons why your quiz sucks.
So it seems we need to know what questions to choose for quizzes and how to write them to get a higher engagement rate. In this article, you'll learn five question types to use in content marketing quizzes for better results. Follow these writing tips — and get ready to welcome responses!
#1. Multiple-choice Questions
Multiple-choice questions are those providing users with several answer options to choose. In other words, they need to click one option they believe fits them most. In the ideal world, your quiz with multiple-choice questions needs to be evergreen, so users might take and share it time and time again. So, choose topics that still will be relevant in two or even three years.
When creating a quiz with multiple-choice questions, make sure to keep them short and simple. Given that the human attention span has never been shorter than it's now, we can't expect users to spend hours on long quizzes with ridiculously long questions.
Multiple-choice questions are engaging and responsive because they appeal to the social basic human instinct: It's about creativity and action, personal value, and accomplishments. So, asking to choose one option, you inspire action and motivate users to finish the quiz to find out they are fantastic. :)
Tip: For better engagement, use pictures rather than text for answers. (Remember the Buzzfeed style?)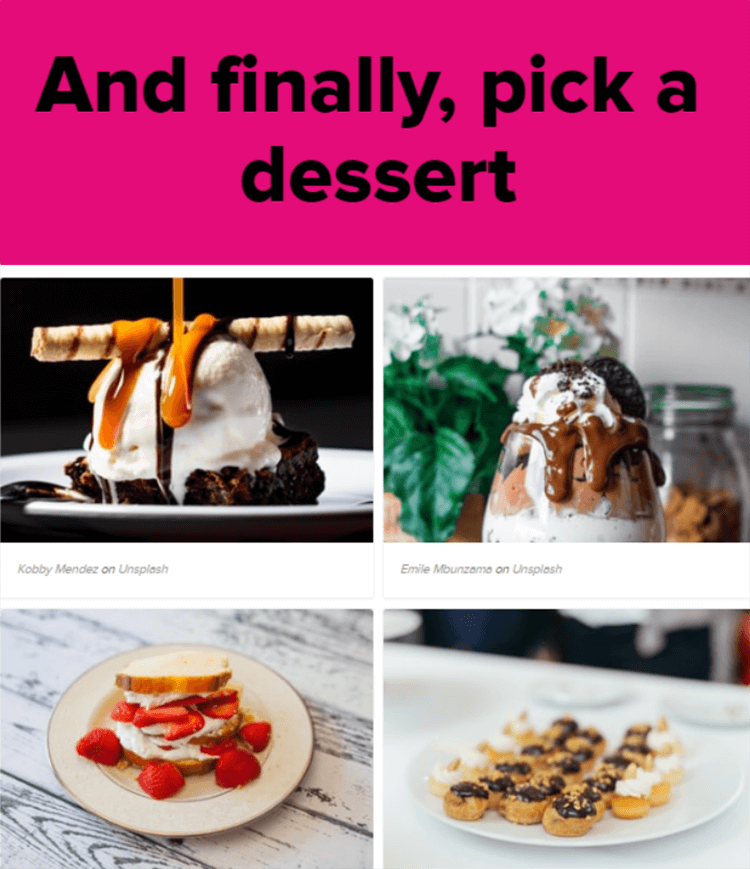 Pictures are better because:
• Most people are visual learners, which means they think by images, not words.
• Let's face it, users are lazy to read or write lengthy answers to choose the most appropriate statement among them. Images are faster to interpret.
• Pictures are your chance to bring humor to a quiz, making it enjoyable for users to respond.
#2. Checkbox Questions
No worries! This one will be be short:
Checkbox questions are the same with multiple-choice ones, but they provide users with an opportunity to choose more than one option. You give them a choice, they pick as many answers as they find relevant, and you then analyze responses with word clouds, spreadsheets, or graphs.
These questions are engaging and responsive because they don't require much time and effort to answer. Unlike with open-ended questions, where users need to write a sort of critical essay to share their opinion, here you are more likely to get a response.
Checkbox questions work well when you need to segment your audience: their interests, demographics, product choice, etc.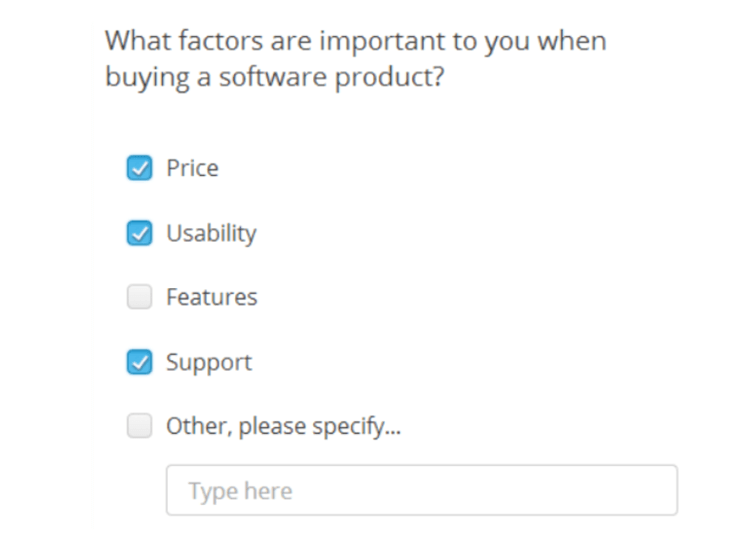 #3. Likert Scale Questions
Likert scale questions are those helping you understand if customers "strongly agree" or "completely disagree" with what you give them. In other words, these are questions to estimate a customer's experience and satisfaction with your service.
Come up with a 5-point scale ranging to measure quality, importance, likelihood, frequency, and other factors. Likert scale questions boost higher engagement because they provide users with a deeper level of detail in responses. And they are comfortable to analyze because they eliminate the possibility of a neutral answer.
Likert scale questions are easy to design into a quiz, and the direct and straightforward language you use here keeps respondents focused. So, to make the most out of them in your quiz, follow these tips:
• Be precise. Avoid general questions and focus on one topic.
• Avoid vague words, and structure your question as... well, a question rather than a statement.
• Customize it like a boss. Consider eye-pleasing design and pictures to involve users.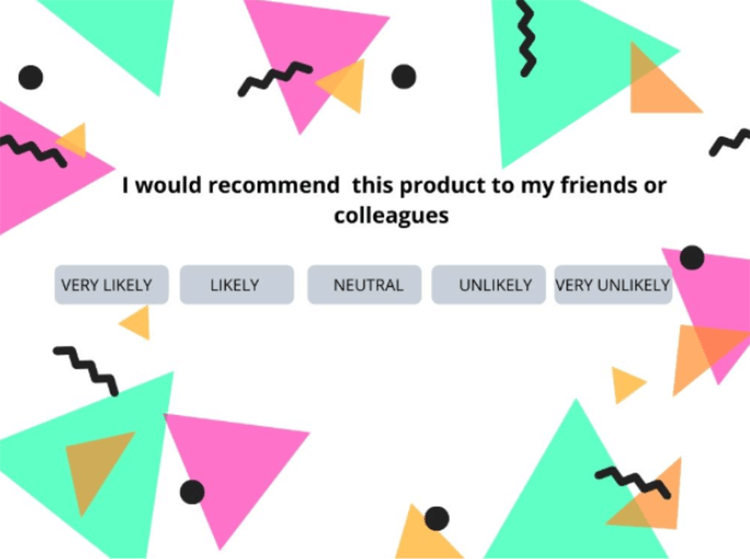 #4. Dichotomous Questions
Keep calm! These questions are not as complicated as their name is. Dichotomous is also known as a "yes/no" question, providing a respondent with only two options to choose.
This simple binary distinction is precisely what makes dichotomous questions so engaging: Quick and easy to answer, they don't take much effort but evoke curiosity. Users keep answering to find out the result. Example: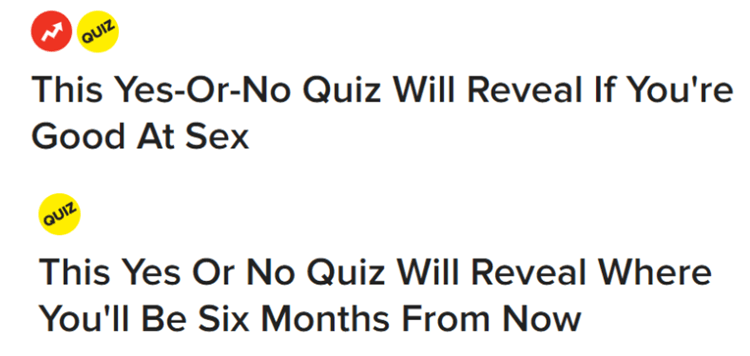 As a marketer, you probably know that curiosity is an external motivator of behavior and decision making. That's why such quizzes can be a powerful tool to succeed in your marketing endeavors.
In business, they allow you to segment the audience, learn if they like your product or find your content useful, or understand if your customer support team works well. Analyzing the responses and optimizing the marketing strategy accordingly, you can boost leads by far.
Also, quizzes with dichotomous questions are great to boost engagement on social media. Poll questions in Facebook ads, with funny yet relevant GIFs and only two options to choose, are your chance to hook users and influence CTR.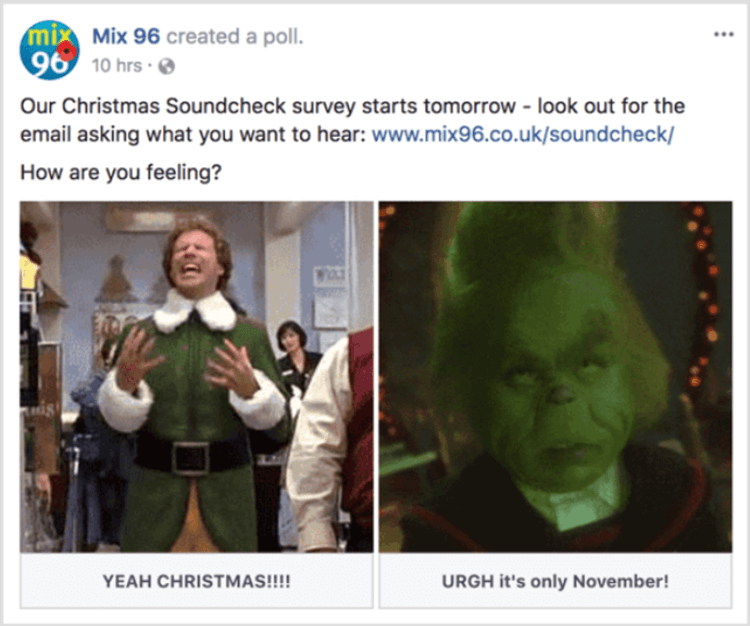 #5. Matching Questions
And now, back to a basic social instinct again. As far as it's all about creativity, it should come as no surprise why interactive content calls the shots today: It evolves us into action.
Quizzes are about action themselves, and that's why we love them so much. You can double their lead by matching questions, where users need to choose answers from given options to match two correct ones. Often used in education to test students, they are very responsive because of their involving nature.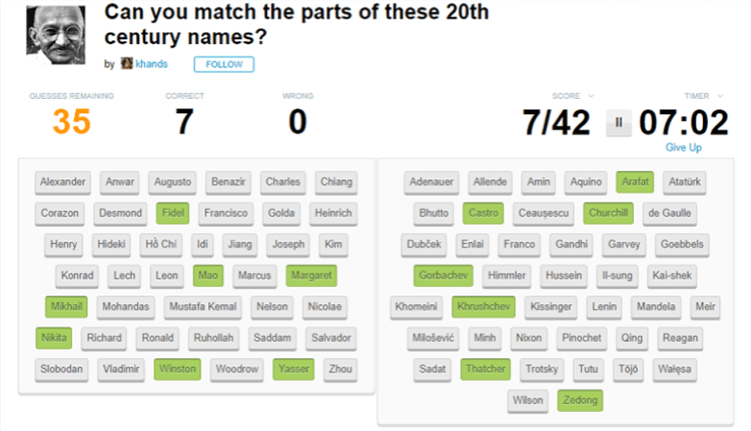 Quizzes with matching questions are highly shareable on social media: Having guessed all answers, users hurry up to satisfy their social instinct by demonstrating their success to others. (As far as all are concerned about their status and approval, any content that proves they are awesome will resonate with them.)
Get Started: Make Your Online Quiz
Using One Of Our 300+ Templates
Over to You
For your quiz to work, pay attention to questions you ask. First and foremost, they need to be relevant to your quiz topic. But if you want to engage users and increase the response rate, keep your quiz fun, know how your audience talks, and ask people about themselves to apply to their basic instincts.
Make questions short, give clear answer options, and think of using images instead of text. In sum, save your followers' time and make it easy for them to run your quiz. Effective quiz content is all about the right question types and involving design; so, use customizable templates to build quizzes that convert, and remember to track their performance so you'd know if you need to optimize something for even better results.
Author
Lesley Vos is a text author, blogging at Bid 4 Papers and specializing in content creation and self-criticism. In love with words, coffee, and foxes. In the hope of mastering the art of proofreading before she hits "send."