What makes a business succeed? Is it a mind-blowing product, or the promotional strategies that you undertake for the product? Or, is it determined by the people who visit your website and take a keen interest in learning more about your brand, and buy your products eventually?
Well, it is a little bit of all that and much more!
The most important requirement for a new business to become successful with their online marketing is LEADS. Yes! Once you generate them, you give a kick-start to your online business. More than 55% of marketers consider lead generation as the biggest challenge in B2B marketing.
Even if your product is of average quality (We hope not!). More are the quality leads you garner, more are the chances you will reap huge profits.
How to Generate Quality Leads?
You can either buy leads or generate them organically. Buying leads is easier and often is faster. Buying leads may gain some visibility over a short period, but you can not expect paid leads to hang around for long.
The second option requires time to get started and a lot of effort. However, organic growth is what I think is a good investment, and I'll show you how it helps your business get long-term benefits.
On the other hand, if you manage to generate leads organically, chances are, your business will be on a constant growth curve.
In this article, we are going to discuss 7 effective strategies to generate leads organically.
Optimize Your Website for Target Audience
The key rule of generating leads for any business is to give visitors what they want. Of course, it is your website, and you wish to design it the way you want.
But you should not forget that it is the interest of the target audience that will help you get it up and running.
Only 61% of organizations test the performance of their landing pages every month. You should do it at least 6-7 times to make sure it is working properly. You cannot imagine gaining profits if the bounce rate of your website is high, and your visitors leave the website without having even explored it thoroughly.
To generate leads, you should be able to take your visitors to leave their contact details. One way is to prominently show your contact page and get them to ask to be contacted. But others include using targeted lead generation software and funnels that are specifically designed to align with the steps a lead takes to get from visitors to customers. The foremost trick to help get this done is by arranging the pages of your website.
There are several frameworks that show the steps, I like the AARRR framework that not only looks at acquisition but also Acquisition and Retention and Revenue.
Not an expert? No problem at all! You can always take the help of professionals to optimize your site based on the sales funnel and increase your chances of generating more leads.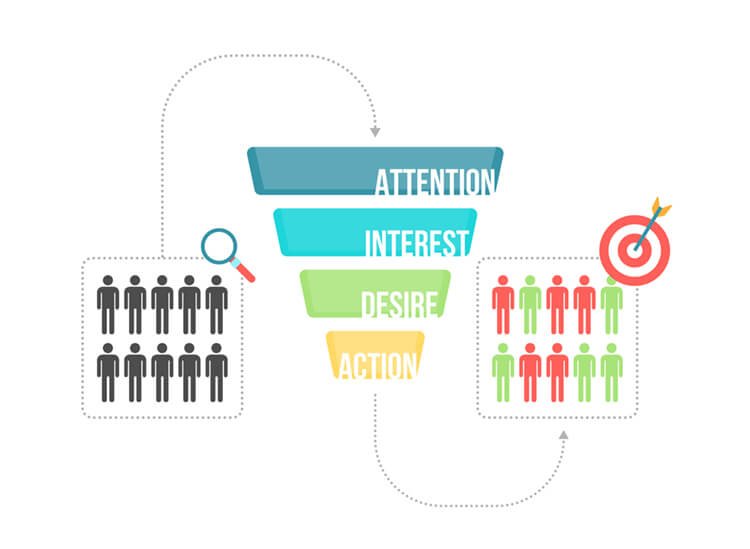 Insert Keywords and Phrases
The best way to insert keywords in the content of your website is to do it naturally. Your site may get penalized if you try to stuff too many keywords into your website's content.
Conduct research and take surveys of your products/services. Try and understand what form of content works best for them. Some like podcasts , others prefer regular blog posts, still, others learn with video or audio.

Next, make a list of those keywords and key phrases and use the most relevant ones in your content.

While optimizing web content with keywords and try to put them only where they match the context.
Once you hit the right keywords, searches on Google will lead to your website's content, thus making your brand more visible. The chances of generating more leads organically will increase - Provided your products/services match the requirements of the random visitors.
Launch an Email Marketing Campaign 
More than 81% of professionals interact with their peers through email, especially while talking about business. Further, about 60% of marketers consider email to be the most effective platform for generating revenue. Nowadays, if you are not exploiting the platform of email marketing altogether, you are definitely at a loss.
Grow your email list and give your email subscribers some extra perks for staying loyal to your brand. Email marketing is going to help you know more about your potential customers on a personal level. It enhances the trust factor and aids you to gain more prospects organically.
Share occasional advice, brand videos, newsletters, and interact with your followers. Ask them for their opinion on your new products/services and give them access to services that they may not have otherwise. There are numerous ways to grow your list of email subscribers.
A variety of opt-ins like pop-ups, sidebar widgets, floating footer bar, slide-ins and more, can be used on your website to acquire the email ids of casual visitors. However, you should make sure that you send regular emails to them to garner interest, without spamming their inboxes.
Pro tip- when drafting emails, add UTM parameters to your links, it will help you track your campaign's performance. Consult a Google Analytics expert to get pop-ups, sidebars, and other elements tracked to understand your subscribers and turn them into your leads.
Increasing brand loyalty through a successful email marketing campaign is another effective way to generate organic leads for your business.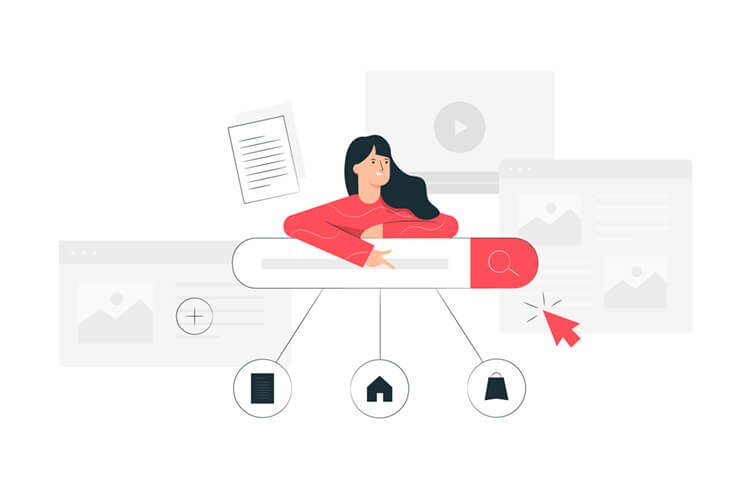 Develop Lead–sharing Relationships
No one is asking you to be on amicable terms with your competitors. That is difficult. However, you can always create a symbiotic relationship with similar businesses, which in turn attracts the same kind of clientele/customers. You can ask them to share their leads with you in exchange for some of yours.
This has been an effective way to generate organic leads in the past, and it can be used in today's world as well if you digitize leads and track them with the help of a CRM tool. A mutually beneficial relationship like this will work wonders for your business, especially if it is new.
Nonetheless, you should focus on the 'Big Picture' and try to extract more from this relationship, in the long term.
Add Interactive Content
The contemporary dynamic digital landscape has made it even tougher to keep your targeted audience engaged. Also, modern marketing wizards are struggling to compose and share content that can reach the right prospects by cutting through the clutter. The task is daunting but interactive content could be your lifesaver. Now, is that a rocket science?
Well, not at all as it's just an approach to leverage fresh ideas and create something that evokes active participation of your end-users. The trick lies in creating a two-way dialogue for providing quality prospects with a personalized experience which can be done by developing interactive form, quizzes, lead pages, surveys or polls, webinars, etc.
Besides, you can repurpose existing blogs and turn them into engaging infographics or conversational pieces. Also, you can build some interactive calculators or sliders and add them to one of your web pages that elicit users' curiosity and accelerates their journey.
Provide Attractive Deals
Interaction and engagement go hand in hand in terms of creating an exemplary experience for the followers of your brand. You give something to get something in return, right? Why not give your followers occasional discounts and lucrative deals to get their attention?
For example, a sale of up evoke to 50% off will trigger buying interest even in people who do not need your products/services at the moment. Moreover, the deals get exciting if you can provide discount coupons and other perks in the form of quizzes and polls on social media platforms.
According to Spiralytics.com, 64% of marketers generate organic leads on LinkedIn, while 36% do so via Twitter, and 49% through Facebook. Give a few lucky winners gifts and ask them to share their experiences in the form of reviews or video testimonials.
These tricks work well, and attract people towards your online business, especially when it is new and on the rise. You will also end up receiving word-of-mouth promotion, creating a wave of recognition and acknowledgment for your brand online.
Optimize Your Website
Search engine optimization is the tried and tested method of generating organic leads. Getting your website on the top pages of Google may take some time, but once it is there, most of your problems will be solved. You can either DIY your search engine optimization campaign, or you can hire a professional to do it for you.
However, if you wish to do it yourself, you have to learn all the nitty-gritty tricks of SEO and post relevant and informative articles, and blogs regularly to promote your business and create organic links. As mentioned before, these blogs and articles must consist of keywords that lead to random Google searches to your website.
You also have to track and monitor the entire campaign with the help of certain tools to see if it is working at all. Last but not least, you have to stay in touch with your target audience regularly, interact with them, answer their queries, and provide solutions to their issues.
This is a lot of work, trust us on that! Hence, it is advisable to get a team of SEO experts to take care of all that, while you concentrate on the other aspects of your business.
Bonus Tip: Optimize Your Website for the Search Engines 
According to a blog by Convince & Convert, almost 80% of internet users are keen to share their email ids to receive whitepapers and eBooks occasionally. Whitepapers and eBooks act as a valuable asset to your followers, especially when they are exclusive and packed with specific information. They are the most important marketing collateral types a brand can use.
These downloadable information resources can be shared among people, thus expanding your brand's reach. However, they should be able to impress your audience for all that to happen. Make sure you hire only professional copywriters to develop whitepapers and eBooks for your business niche.
Professional writers have much-required skills and experience to create content that appeals to readers, besides making them attractive enough to read, of course. These resources will perform better than a cold sales pitch or occasional newsletters with CTA buttons.
Does that mean that you should stop sending newsletters altogether and replace them with eBooks and whitepapers? No! That will be too many reading materials for people who are not ardent readers. You have to create a balance and maintain the same for your lead generation campaign to succeed.
Final Words 
There are several other ways to generate organic leads for your business, most of which do not require much effort on your behalf. Millennials love to interact with their favorite brands, and that is one of the easiest ways to generate prospective leads for your business.
Hold occasional webinars, ask them to give honest reviews, go live on social media, chat with them, and resolve their queries to make them feel involved. Think of more innovative ways to generate leads organically. There is no right way or wrong way of doing things, as every business is different from the other.
Author
Dhruv is an SEO Consultant and Content Marketer. He discovers strategies to write SEO optimized content. When not sleuthing for tips, he is chiseling his fitness-goals and traveling around the world.