If we're talking about quizzes, then a personality quiz has to be among the most popular ones, especially social media. Personality quizzes come in all shapes and sizes. The Myers-Briggs test is perhaps one of the most recognized personality tests worldwide. It is so popular that it is used by most fortune 100 companies.
Get Started: Make Your Own Personality Test
Using One Of Our 200+ Templates
More than 2.5 million people take this test annually. This is just one of the many models of a personality quiz. They are not limited to one or two kinds of evaluation, and they can be adopted to have a large variety of outcomes and styles. This article will walk you through harnessing personality tests to attract new customers.
What Is a Personality Quiz?
A personality quiz is an array of questions that seeks to assess human personality. They try to measure characteristic patterns of people's traits in different situations. We constantly assess our personality throughout the day.
When we talk about ourselves or others, we frequently mention the traits of personality that make a person more approachable or good. A personality quiz does the same but with a more systematic approach. Based on the answers provided by the user, the quiz assesses the traits and classifies their personality.
How Can B2B Marketers Use Personality Quizzes?
Business-to-business marketers can make use of personality quizzes to their advantage. They use it to do the following.
Lead collection: Customers are more likely to provide their information to see the personality quiz result. Marketers can use that information for lead generation.

Connect your users with the brand: Personality quizzes can be used to bridge the gap between your brand and users. Customers will post their personality test results that align your brand and products with their needs.

Increase traffic: Quizzes are highly shared by participants. Users that do a personality quiz will likely share their results with their friends and family. This drives up traffic to your business.
Best Practices to Create a Personality Quiz
To make sure your personality quiz has the maximum chances of getting the desired results, here are some of the best practices to follow:
1. Create a Catchy Title for Your Quiz
There are a lot of variations of personality quizzes out there. You need to make sure that yours stands out. You've made a good start if your title manages to catch people's attention. To make a good title, start with a tentative title. Now think of ways to make it fun and catchy. Make sure your title doesn't put people to sleep. Keep its language enjoyable and light. If you are still in a hard spot, brainstorm ideas with someone else.
2. Protect People's Personal Data
People pay a lot of attention to data security these days. While it's not wrong to collect audience data (after asking for permission), you must inform them of how their data will be used. You also want to ensure that your data is well protected and cannot be breached by a third party. That'd be a disaster of the highest level as customer trust will tank in your platform.
3. Ask Fun Questions
Even if you get the title right, you do not want to bore your audience with the questions. Customers will likely abandon the quiz if the questions aren't engaging enough. Use fun interjections in your quiz to liven it up and make your content more human-like. Also, make sure to keep your questions limited to 6-8. Any more than this will also result in abandonment as people will get bored.
4. Make a Quiz People Want to Share
At the end of the quiz, put some exciting outcomes. For example, you can use the answers to tell the user with which celebrity they align the most. This makes the user more excited about the results and shares them. You need to hav-e around 6-9 outcomes in your quiz to spread the answers among them. Make each outcome distinct, so there's a whole spectrum of possibilities.
5. Make Sure All Outcomes Are Possible
Scoring a quiz is no easy work, and weighting the answers against the outcomes can be confusing and take time. Regardless, you need to make sure that all the outcomes in your quiz are possible. Weight each option in the quiz so that you can distinctly connect the user with each outcome.
How to Make a Personality Quiz?
You can use several online services that provide quiz makers. Personality quizzes are simple and easy to make. Here's how you can make a personality quiz in simple steps:
1. Pick a Template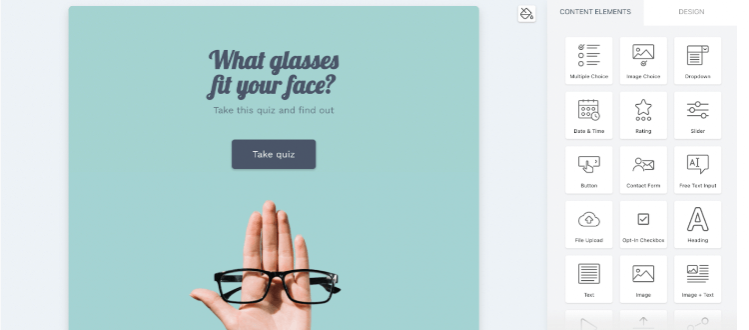 To begin with, pick a template for your quiz. Usually, the templates are divided by category, so select one from the quiz category. However, you can also select one from another category if you want. You also need to select the outcome type here. An outcome type is a system through which the results will be displayed, and the answer-based outcome is best suited here.
2. Enter Your Quiz Questions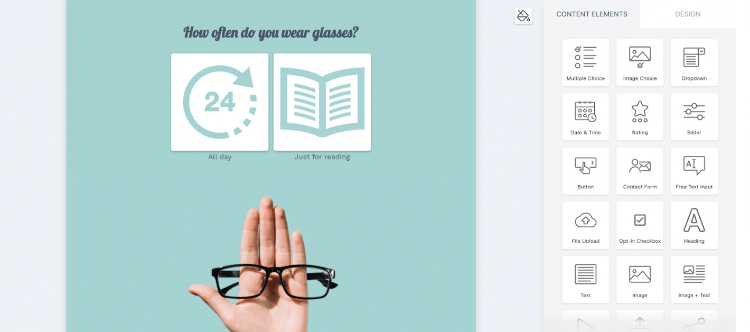 Make the content for your quiz. Enter your questions in the template along with the answers. You can select multiple ways to ask questions to your audience. You can use the MCQ format, the drop-down question format, image answer format, slider format, or open question format.
3. Quiz Results
The final page of the quiz is used to show the results. You can show your audience the result on the same page or redirect them to your site to increase traffic. You can also end the quiz with a thank you and send the results via email. You will also collect leads this way.
4. Connect the Answers with the Outcome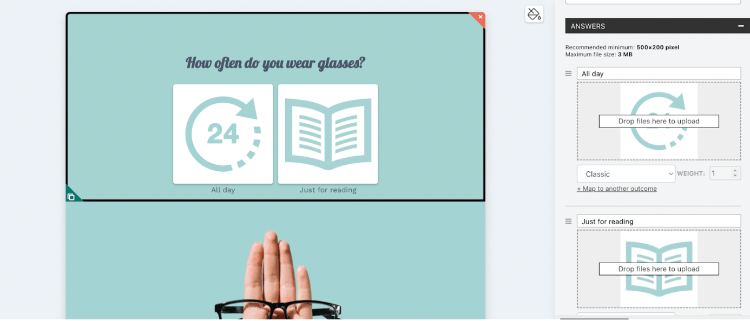 After inputting the questions and answers, connect them with the result. You can connect an answer with one, multiple, or no results. You can also give certain answers more weight than others, making your personality quiz better and more accurate.
5. Gate Your Quiz Before an Email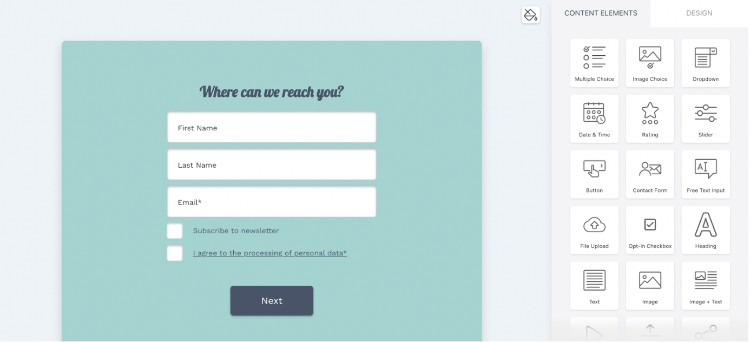 Once you set up your quiz, gate it before an email. Ask your audience for their email before displaying the results. You can also ask for other forms of contact information. Just be sure not to skip this step.
6. Set Up Different Emails for Each Result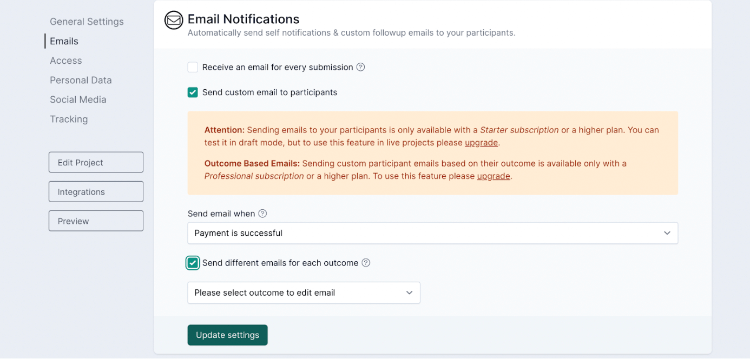 Once you are happy with your quiz, set up a different email for each outcome. Customize the email sent to the audience based on their outcome. Add different images, gifs, links, and attachments to make it personalized. A standard mail will likely bore the audience and drive down retakes.
7. Sharing Option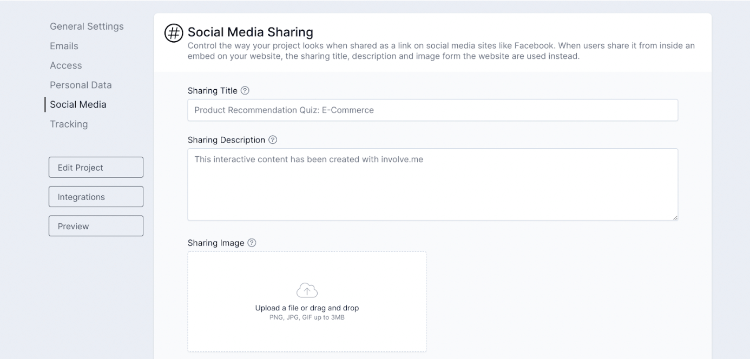 Provide your users with an option to share their quiz results. Be sure to provide your users with the option to customize their shared quiz. Allow them to add text, images, or gifs as they like.
8. Connect Your Quiz with Google Analytics and Other Software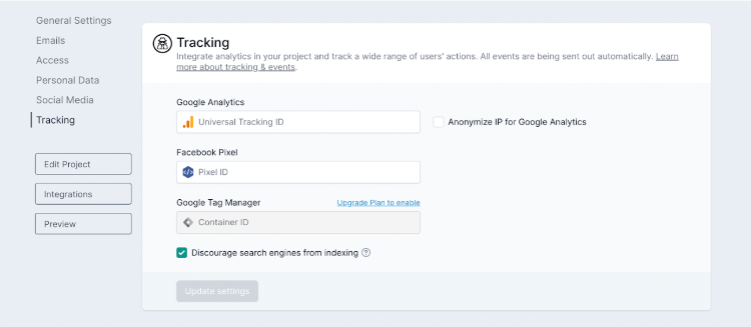 You also need to make sure you are keeping track of your quiz. Connect your quiz with services like google analytics or Facebook pixel to accurately track traffic and shares. You can use these insights to improve your quiz.
9. Publish Your Quiz
Finally, when your quiz is ready, hit the publish button. You will get different links and codes to connect with your quiz and connect them with your website to allow the users to take the quiz.
And That's All You Need to Know About Personality Quizzes
A personality quiz sounds like a fun way to attract new customers and clients, doesn't it? That's because it is. A personality quiz is a great way to connect with your users through personalized content. This, in turn, helps build trust between the audience and the business. It's an effective funnel strategy, one on which many people are sold. So go out there and set up a personality quiz for your own business.