Remember the last time you had a positive experience with a brand? It left you feeling satisfied. You started perceiving the brand differently and wanted to share your experience with others.
Interactive Templates
200+ Editable Drag & Drop Templates
That's the power of a positive customer experience.
Annette Franz, founder of CX Journey defines customer experience to be "the sum of all the interactions that a customer has with an organization over the life of the relationship with that company or with that brand."
So, right from using your mobile application and website to making a purchase and interacting with your customer support team, every little interaction contributes to a customer's experience.
The Role of Content in Customer Experience
It's interesting to note that 51% of enterprises with optimal customer experiences have highly successful content marketing.
The correlation between content and customer experience is interesting but not surprising.
Considering that customer journeys are anything but linear, people are turning to content more than ever. It's safe to say that a great content experience hugely impacts the customer experience.
But is creating generic content enough? Not quite.
A large aspect of using content to improve customer experience is about coming up with innovative ways to capture your audience's attention, keep them engaged, and drive the desired action.
This is where interactive content can be of help.
5 Ways to Improve Customer Experience with Interactive Content
Any form of content that involves the audience's active participation and engagement is referred to as interactive content.
This content type works because it focuses on offering a personalized experience while adding value and driving engagement — and all this contributes to a better customer experience.
Let's take a look at how you can use interactive content to improve customer experience and build brand loyalty.
1. Allow People to Explore Information at Their Own Pace
There can be instances where you might have a lot of information to share. Creating static content overloaded with information is likely to leave readers overwhelmed and confused.
In such cases, it's better to create an interactive infographic or video that lets people explore and digest information at their own pace. This improves readability and aids comprehension, thereby leading to a better customer experience.
Moreover, the same content might be perceived differently by different people. Creating interactive infographics and videos lets readers focus on the aspects that matter to them without having to read everything.
Some examples of interactive elements you can add include:
✓ Scrolling elements
✓ Hover effects
✓ Enter data to reveal information
✓ Highlight certain areas
✓ Add multiple pages
✓ Create decision paths
Here's an example of an interactive map by The Solutions Project. You can tap on individual states to see what renewable energy would look like there in 2050.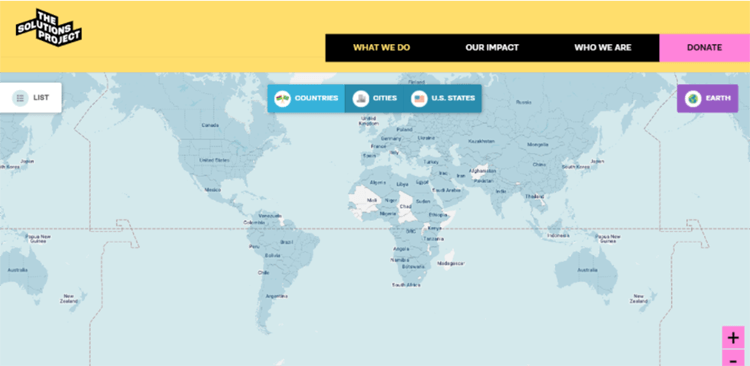 2. Capture Meaningful Insights
The first step to providing a positive customer experience is truly understanding your target audience and their needs.
"Getting to a level of understanding about what customers really want requires the ability to understand what motivates consumers, as well as how they shop and make decisions," states a McKinsey article.
Well, the best way to know is to just ask.
You can create interactive polls, surveys, and assessments to gather customer feedback and valuable insights which can be used to improve customer experience.
The best part about using interactive content to obtain customer information is that it's a win-win situation for both parties involved. Customers willingly share their information while being engaged in the content or deriving entertainment from it.
Here's an example of an interactive questionnaire by fashion portal, Lyst. It requires you to answer a series of quick questions to find out your "fashion DNA".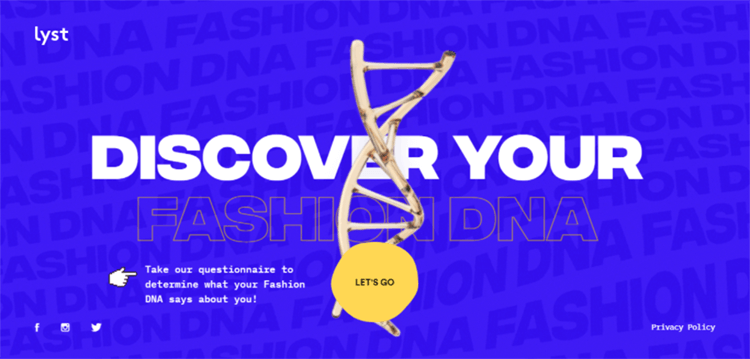 3. Provide Valuable Content
Most product pages one comes across on e-commerce websites are likely to be filled with descriptive text and a bunch of static images. People browse through the images. They sometimes scan the description and other times, they skip it.
An effective way to improve the user experience on your product pages is to include interactive elements. The idea is to use this space to offer valuable content that educates website visitors and persuades them to buy.
You can also add interactivity to your email templates to offer greater value, surprise subscribers, and engage them.
Remember: the more people know about your product, the more likely they are to trust it.
You can create interactive product pages and email newsletters to:
✓ Highlight product features and benefits
✓ Help people compare multiple products (or services)
✓ View the product from different angles
✓ Select customizations
✓ See the product in action
Take a look at this interactive product page by Bellroy, for instance. It lets you engage with the page and move the slider to compare a Bellroy wallet to any other wallet.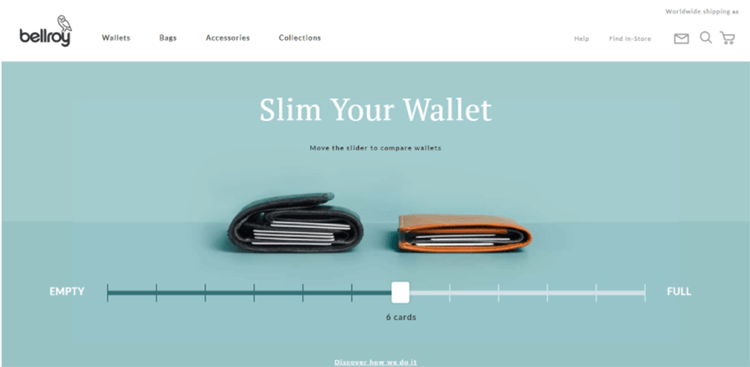 4. Offer Personalized Solutions
Everyone online is looking for solutions and answers to their questions. What if you could offer them solutions that are tailored to their needs?
An Epsilon report states that 80% of consumers are more likely to make a purchase when brands offer personalized experiences.
Interactive content such as quizzes and calculators can help you achieve that.
Interactive calculators offer instant and precise solutions on the basis of the data users enter. They are built around a specific pain point or challenge. This interactive tool can be used to drive engagement, generate qualified leads, and gather valuable audience insights.
Here's an example of an ROI estimate calculator by Luma Health. It aims to give an estimate on how they can maximize business results for your clinic or hospital.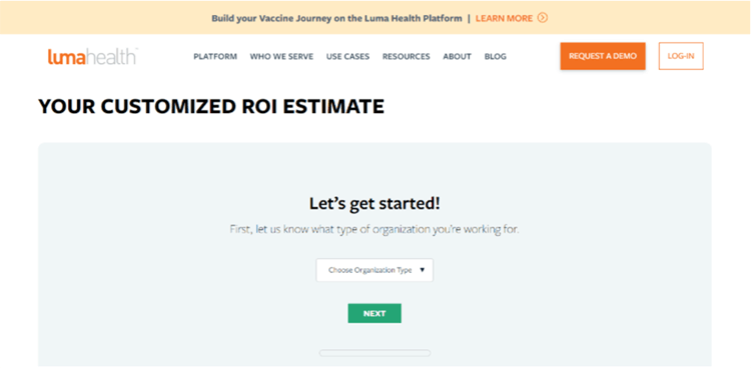 Interactive quizzes operate in a similar manner. In addition to being entertaining, they deliver personalized results that are relevant and useful to the respondent.
This quiz by Havenly helps you discover your interior design style by asking you a series of questions.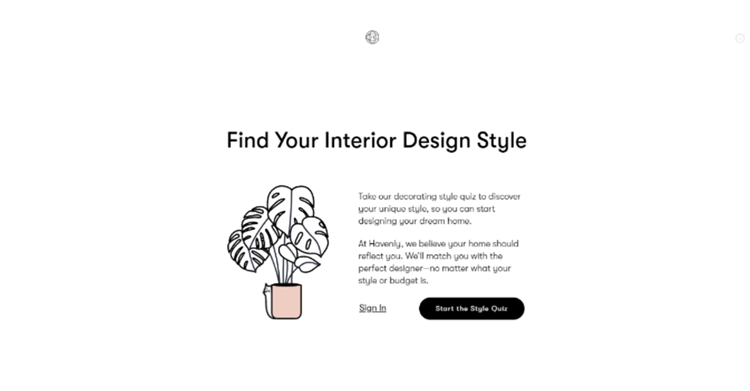 The Takeaway
Personalization is at the core of positive customer experiences — and that's exactly what forms the essence of interactive content too.
There's more to interactive content than deriving entertainment. Creating thoughtful interactive can help you improve customer experience, build brand loyalty, and drive repeat visits.
Interactive Templates
200+ Editable Drag & Drop Templates
Author
Simki Dutta is a content marketer at Venngage, a free infographic maker and design platform. She writes about all things marketing and communications. Find her on Twitter and LinkedIn.