One of the biggest challenges businesses face today is attracting leads. Without a steady stream of leads, your business will stagnate.
Get Started: Make A Lead Generation Quiz
Using One Of Our 200+ Templates
So how can you generate more quality leads? Most importantly, how can you do so in a cost-effective manner?
The answer is lead magnets.
Lead magnets can be a crucial aspect of your lead generation strategy. But you also need to use them the right way to drive measurable results.
In this post, look at what a lead magnet is and how you can design them to drive conversions.
What is a Lead Magnet?
A lead magnet is a free resource that you give away to visitors in exchange for their contact information. It helps build your email list and start relationships with your prospects.
Lead magnets are made up of the following:
Sign-up form: Most forms ask visitors to enter their information, such as their name, email address, and phone number.

Content: The content is what you're offering visitors in exchange for their contact information. Examples include ebooks, reports, checklists, and templates.

Call to action: A call to action or CTA is a prompt that encourages visitors to sign up and download your lead magnet.

Delivery email: This is the email that visitors receive after filling out a form. It also includes a link to the content itself.

Thank-you page: This is the page that visitors see after they fill out a form. While not always necessary, it's a great way to leave a positive impression on your visitors.
Lead magnets can take different forms, but eBooks are the most common. A visitor fills out their information and receives a guide in exchange for their email address. Businesses can then nurture prospects through their sales funnel.
In this article on customer experience from ActiveCampaign, visitors are prompted to enter their email address for a free guide on creating a welcome email series.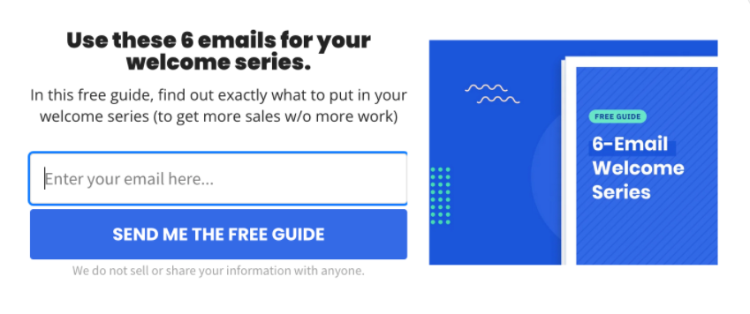 Of course, you're not limited to eBooks and reports for your lead magnets.
Offering a free trial is another effective way to get leads. For example, Preply offers a free seven-day trial of its online English learning service.
We all know it'd be impossible to learn a language in one week. Once the trial expires, the prospect will more than likely want to continue. If you offer a great product or service, a free sample or trial is a surefire way to give your customers that extra push to invest.
Quizzes or questionnaires are also highly effective lead magnets. For example, this form to help visitors launch their travel nursing career collects lead data and makes it easier to segment when remarketing.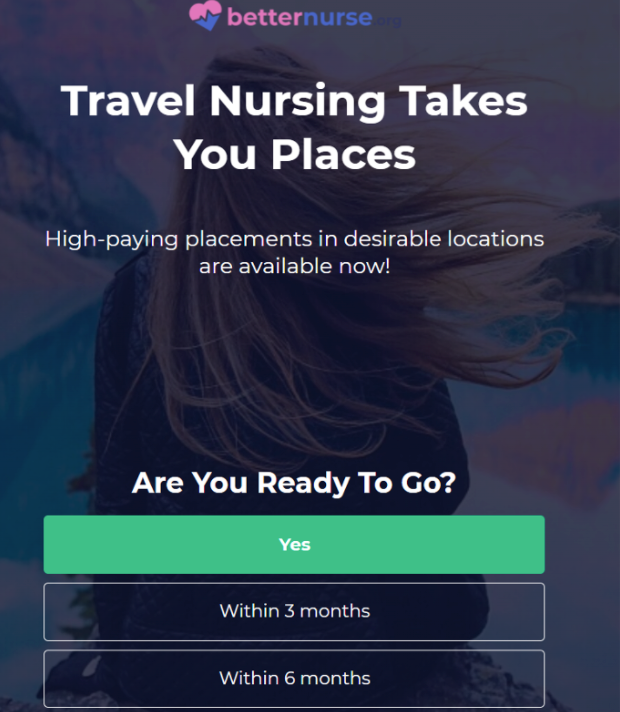 These are just a few examples of how you can use lead magnets to generate leads.
Why Business Needs a Lead Magnet?
47% of marketers indicated that generating traffic and leads was one of the biggest challenges in marketing.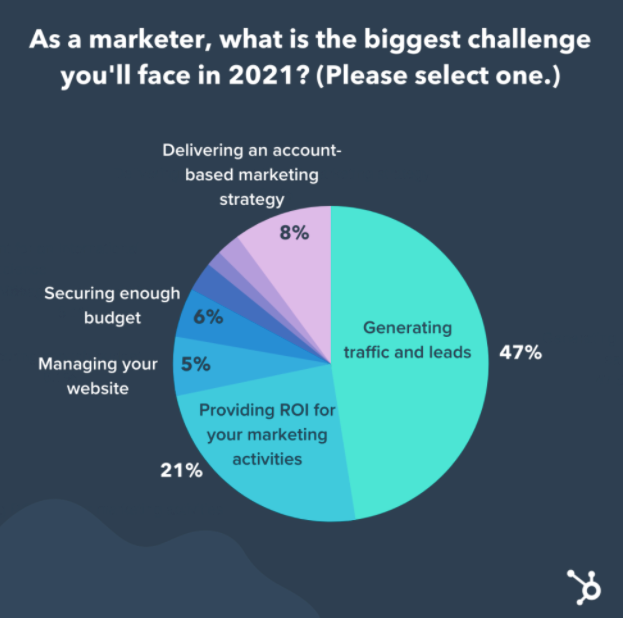 If you want to generate leads, then you need a lead magnet. This is true whether you're a startup, e-commerce website, membership site, or large enterprise.
Most people aren't going to give away their email address unless there's something in it for them. Giving away something of value can act as an incentive and encourage visitors to leave their information.
Lead magnets can also help shorten your sales cycle and improve lead scoring. For example, prospects who fill out your form have expressed interest in hearing from you.
As prospects continue to engage with your business, you can assign higher values to certain activities (e.g., downloading a trial, visiting certain pages, etc.). Instead of your sales team going through a database of contacts, they can reach out to those who are more likely to buy based on their activities.
Now let's look at how you can create lead magnets that drive results.
Creating a Lead Magnet That Converts
Just slapping up a form and asking your visitors to sign up won't work. Certain elements need to be in place for your lead magnets to drive results.
Follow these tips to create a lead magnet that helps you generate quality leads.
1. Write a Compelling Headline
Treat your lead magnet just like you would a lead page. If you want to grab attention and get visitors to fill out your form, it needs a compelling headline.
Here's an example of a lead magnet from OptinMonster with a great headline: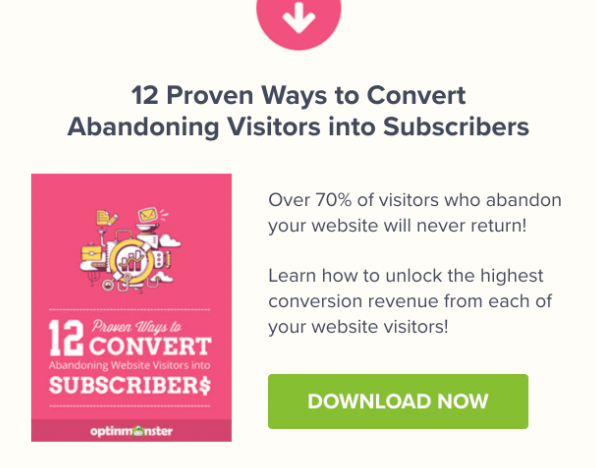 If OptinMonster used a headline like "Download our guide today," its lead magnet wouldn't get as many people interested.
The example above illustrates the importance of a strong headline. If you want your visitors to take action, then you need a title that makes them want to give their information.
Follow these tips to write a compelling headline for your lead magnet:
Highlight a benefit: Your visitors want to know what's in it for them. What benefit can they expect by downloading your lead magnet? Make that clear with your headline.

Take a direct approach: Sometimes, the best headlines are those that state exactly what your lead magnet contains. If you're offering a checklist, your headline can simply be something like "20-Point Checklist For Buying a Used Car."

Use numbers: Using numbers in your headline is a great way to draw attention as they stand out from other text. They also provide a sense of predictability. Visitors know what to expect when filling out a form.

Keep it short: Keep your headline short and get straight to the point. Ideally, you should keep your headline between 10 and 20 words.
2. Focus on a Pain Point
Most purchases come down to one thing — solving a problem.
For example, if projects are frequently delayed because of miscommunication, you might look for software that will keep your team on the same page. If a business process isn't as efficient as it can be, you might consider investing in automation software.
Pain points are specific problems that your target audience is experiencing. Understanding them is key to making your lead magnets more appealing.
In the lead magnet example below, The Sales Evangelist offers a free ebook that provides insights on generating more sales.
It touches on a pain point in the very first sentence (not growing revenue). Then it leads into how the report can help resolve it. If you're a business owner and nothing seems to work in terms of generating sales, this would likely catch your attention.
Common pain points include:
Financial pain points: Financial pain points occur when customers feel like they're spending too much money with an existing solution.

Process pain points: Process pain points are similar to productivity pain points. They can occur when your audience feels like they have inefficient processes.

Support pain points: Support pain points occur when your prospects feel like they're not getting adequate help at critical stages of the customer journey.
Research your audience to learn about the challenges they're facing. Consider interviewing your existing customers directly for more insights. Once you've identified your audience's pain points, work that messaging into the copy for your lead magnets.
3. Keep Your Forms Short
Forms are an important part of your lead magnet. But you also need to be careful here as requiring too many fields can turn your visitors away and lower your conversion rates.
Just have a look at this form from SalesForce: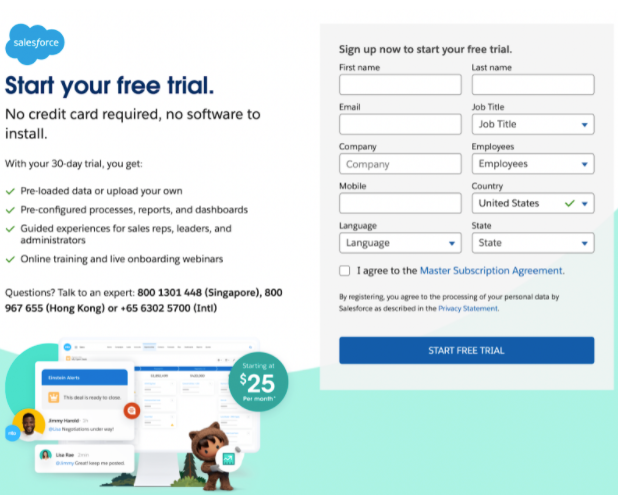 SalesForce asks for ten pieces of information just to sign up for its free trial. To avoid overwhelming your visitors, aim to keep the number of fields on your forms to a minimum. This will help you drive more conversions from your lead magnets.
As an example, this article about kids debit cards from the Young and the Invested includes a signup form for its newsletter with just one field.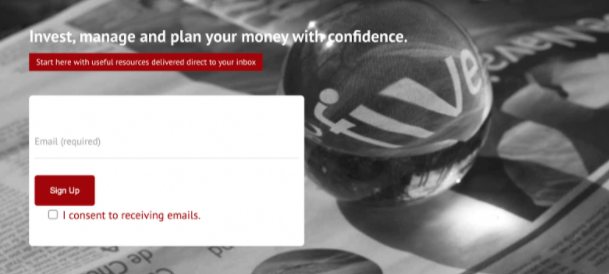 Visitors can continue learning about similar topics by entering their email addresses. What's more, Young and the Invested acquires valuable lead data in the process.
Of course, there are some important considerations to keep in mind.
Including too many fields can hurt conversions, as visitors generally don't like to divulge more information than they have to. But asking for too little information can make it difficult to segment your email list.
Experiment with different forms and measure the results.
4. Design an Attractive Cover
Lead magnets can help you generate more quality leads for your business. But if they're poorly designed or full of formatting issues, you'll achieve the opposite.
The good news is you don't need to be a professional designer. With tools like Canva, you can create attractive designs for your lead magnets. It offers a bunch of free templates that you can easily customize.
No matter what kind of lead magnet you're creating, it should have a professional design. This also applies to other formats.
For example, let's say that you want to use quizzes to generate leads from your site. Your quizzes should have an attractive design to get visitors to interact with them.
Even if you don't have any design experience, our quiz maker makes it easy to create fun and engaging quizzes. Build one from scratch or choose from over 200 different templates to kickstart your efforts.

With the drag-and-drop editor, you can easily customize the look and feel of your quizzes. You can add text, images, videos, and more. Designing your quiz in a professional manner can help you drive more results.
5. Optimize Your Lead Magnet Funnel
A lead magnet funnel is the steps that visitors follow from the time they discover your lead magnet to when they sign up and receive your content. Optimizing this sequence is key to generating more leads.
If your funnel is overly complicated or involves too many steps, visitors will likely give up in frustration. In contrast, if your lead magnet sequence is well-designed, then visitors are more likely to have a positive experience.
Social Media Examiner offers a good example of an optimized lead magnet funnel. Here's the lead magnet that it includes at the bottom of blog posts.
Visitors can fill out the sign-up form to download a free report on how marketers are using social media to grow their business.
Here's the confirmation page that visitors see when they fill out the form.
And here's the email they receive:
Once visitors confirm their subscription, they're automatically directed to a page where they can download the report.
Social Media Examiner's lead magnet does a good job of guiding visitors through its funnel from start to finish. It also includes helpful instructions for visitors to follow to ensure they can download and access the report.
Walk through your lead magnet funnel yourself and look for any areas that you can improve. Consider getting input from your team before launching.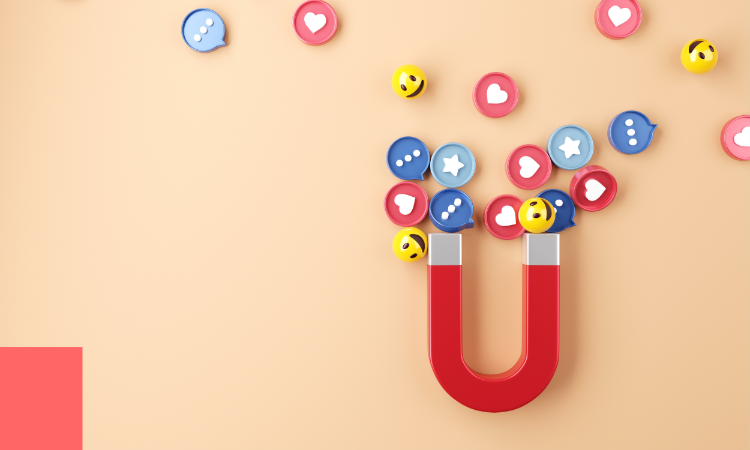 Get Started: Make A Lead Generation Quiz
Using One Of Our 200+ Templates
Conclusion
If you're not already using lead magnets, you're missing out on opportunities to generate leads and grow your business. However, getting visitors to fill out your forms can be challenging.
Follow the tips laid out here to increase your conversions — write a compelling headline, focus on a pain point, keep your forms short, create an attractive design, and optimize your funnel.
Of course, make sure to experiment and measure your results to help determine what works and what doesn't.