Generation Z outnumbers Millennials and Baby Boomers, comprising 32% of the global population. Although they share similarities, Generation Z differs from other generations in unique ways.
Interactive Templates
200+ Editable Drag & Drop Templates
For instance, this group has been named the loneliest and the most educated generation. Therefore, understanding them is crucial for marketers to create relevant content and attract these younger customers.
This article will explain the definition of Gen Z and why this group is important for marketing. We'll also look at seven Gen Z marketing strategies and examples from popular brands.
Who Is Gen Z?
Members of Gen Z, also known as Gen Zers, are people born between 1995 and 2010.
They're true digital natives, having been exposed to the internet from a very young age. As a result, they are known to rely on mobile devices and the internet for educational, informational, and entertainment purposes.
Gen Zers also have unique characteristics. For example, they tend to search for authenticity and have greater freedom of expression and openness in understanding diversity.
One reason for this is that Gen Z is the most racially and ethnically diverse generation. Fifty-two percent of them are non-Hispanic white, followed by Hispanic (25%), Black (14%), Asian (6%), and other (5%).
Why Generation Z Matters for Marketing
As the largest generation, Generation Z has a massive spending power of over $140 billion. Many of them are also starting to enter the workforce, which will increase their earning and buying power and make them a great target market for businesses.
Due to their digital knowledge, over 70% of Gen Zers significantly influence family purchases as family members often ask their opinions when buying products online.
However, targeting this generation requires a different approach.
Compared to other demographics, Gen Z is pragmatic and financially-minded. Many of them grew up watching their parents suffer during times of financial crisis, so they value smart investments.
7 Content Marketing Strategies for Gen Z Consumers
This section explains seven methods to create marketing content for Gen Z audiences with real-life examples from famous brands.
1. Strengthen Your Business Purpose
Although Gen Zers are culturally diverse, they value social causes and purposeful branding. It's therefore no wonder that 68% of them expect brands to do the same through societal contributions.
Some causes they value most include:
✓ Ethical and sustainable practices

✓ Gender equality

✓ Diversity

✓ LGBTQ+ rights
Parade is an excellent example of this marketing method. This brand's values focus on body positivity and self-expression by normalizing diverse and real bodies. They also offer inclusive sizing and use sustainable fabrics.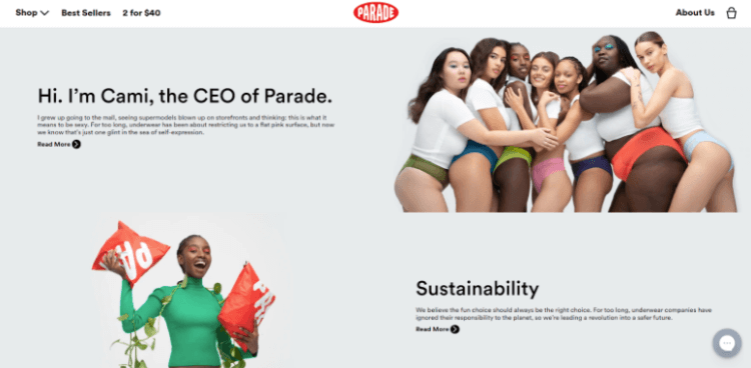 To define a brand purpose, think about why you started the business besides making money. Then, understand what societal changes your potential customers want to see and align them with your purpose.
2. Use Compelling Visuals
Fashionable design matters for 67% of Gen Z consumers, so marketers should use appealing visuals on their platforms.
For websites, consider using web templates curated for a specific purpose like portfolio or eCommerce. This provides an efficient web development process without neglecting key elements.
Then, pick visuals relevant to your brand personality. For instance, 99designs often uses fun illustrations, while Never Too Small showcases simple aesthetic photos.
Also, invest in video marketing. Over 80% of marketers agree that it helps increase engagement, leads, and audiences' understanding of their products or services.
Note that this younger audience has an attention span of only eight seconds when consuming media, so creating short-form videos is ideal. Use overlays, visual and transition effects, and trending music to attract Gen Z, like BuzzFeed and Netflix's Instagram Reels.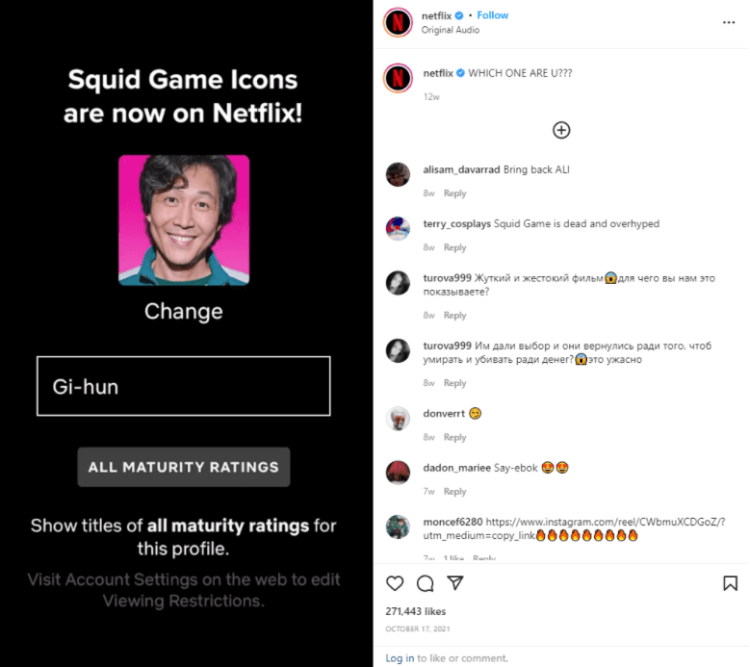 3. Build a Community
Forty-six percent of younger customers have strong brand loyalty and enjoy actively engaging with their favorite brands. They're also more vocal than other generations, so it's important to facilitate these characteristics by developing two-way interactions.
Here are some ways to develop an authentic connection with a Gen Z audience:
✓ Apply user-generated content by resharing their photos on your social platforms.

✓ Create interactive content, such as using polls and questions on Instagram Stories.

✓ Show behind-the-scene processes and ask for feedback.
This marketing strategy can strengthen a sense of community and build brand trust through transparent development.
4. Communicate in a Personal Way
To attract a Gen Z audience, brands need to speak their language, understand their communication preferences, and be up-to-date with the latest trending terms.
Avoid traditional advertising methods with aggressive sales copy. Instead, make your content conversational and relatable.
KFC's Twitter page is a great example of Gen Z-centric communication. The brand uses memes and writes about current trends in a casual and personable way.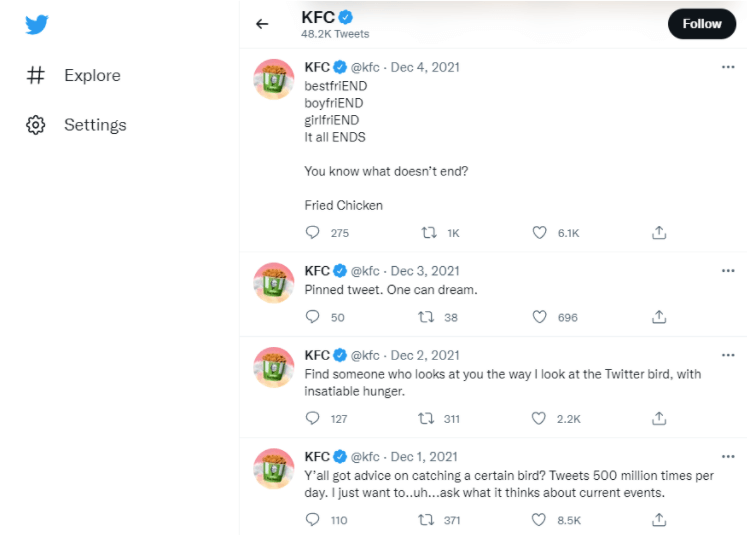 Additionally, 41% of this generation is willing to share their personal details in return for a personalized experience. They want to control the content they consume and prefer to see ads based on their interests and purchase history.
Still, brands need to follow general data protection regulations (GDPR) when applying this personalization method. Send a privacy notice and outline how you collect information and process customers' data.
5. Optimize Mobile Experience
Creating mobile-friendly content is essential when you target Gen Zers, since 75% of them use smartphones over other mobile devices, like tablets or laptops. They also prefer smartphones for entertainment, gaming, and online shopping.
Use these tips to optimize your website and content for mobile:
Use a responsive layout. It helps the web page adapt to any screen size and avoid overflowing content.
Break content into short paragraphs. Reading lengthy text on a smartphone is difficult, so write each paragraph no more than four to five lines.
Add images or videos. These can break up blocks of text and make your content more digestible.
6. Partner with Micro-Influencers
More than 70% of Gen Z and Millennials follow some influencers and even trust them more than traditional celebrities.
If you consider integrating influencer marketing into the business, seek micro-influencers with 10,000 to 50,000 followers on social media channels. They generally have a niche audience with a higher engagement rate than influencers with very large followings.
Sephora works with micro-influencers from diverse backgrounds. The brand has a beauty influencer program called #SephoraSquad and encourages members to give honest product reviews. With this digital marketing approach, Sephora has increased sales and engagement.
Use a tool like Upfluence to find influencers in your niche. It offers real-time data, including influencers' engagement rates and audience demographics. The tool can also measure campaign performance.
7. Understand Your Platform
Gen Z uses social media for entertainment, just like Baby Boomers and Millennials. However, these younger consumers use each platform for a specific purpose, such as to:
✓ Show their best selves on Instagram

✓ Learn about news and trends on Twitter

✓ Share real-time events on Snapchat
Other platforms include TikTok for sharing short videos, Twitch for interactive live streaming, and Spotify for listening to podcasts.
When building a brand and creating content for Gen Z, keep these social media purposes in mind.
You also don't have to launch a brand account on all of these platforms – narrow down the options by determining the type of content you'll create. Instagram, for example, is excellent for visuals but may not be the right fit for long-form content.
Interactive Templates
200+ Editable Drag & Drop Templates
Conclusion
Generation Z is known for its dependence on technology, diversity, and bold characteristics.
Here are seven approaches for marketing to Gen Z:
Have a strong business purpose.

Create appealing visuals on all platforms.

Develop a strong relationship with consumers.

Use conversational language and deliver personalization.

Pay attention to mobile-friendliness.

Work with micro-influencers.

Choose the right platform for your content.
We hope these examples help you plan an excellent Gen Z marketing strategy and gain positive results. Good luck!
Author
Anindya is a free-spirited digital marketing professional and SEO enthusiast with interests in taking long hikes, cooking soul foods and fitness. She writes educational technology articles which proves her interest for content marketing. Has a special excitement towards modern website builders and AI tools as the perfect media for anyone to express creativity through a website.