The more potential leads, the better. But where can you find them? What should you tackle first?
As a member of the marketing team, I've decided to share some in-house hacks to help you create a lead generation funnel that actually works.
What is Lead Generation Funnel?
A lead generation funnel is a marketing framework used to acquire and nurture potential customers, known as "leads," with the ultimate goal of converting them into paying customers. This process involves several stages that guide prospects through a series of steps, from initial awareness of a product or service to making a purchase decision.
To build an effective lead funnel, explore our step-by-step guide and ready-to-use templates that can be used in your marketing strategy:
1. Use a Welcome Survey to Build Your Buyer Persona
To determine the buyer persona, you need to analyze your current customer base.
It can be done manually by just sitting down with your sales team and asking them to answer these questions about the buyers: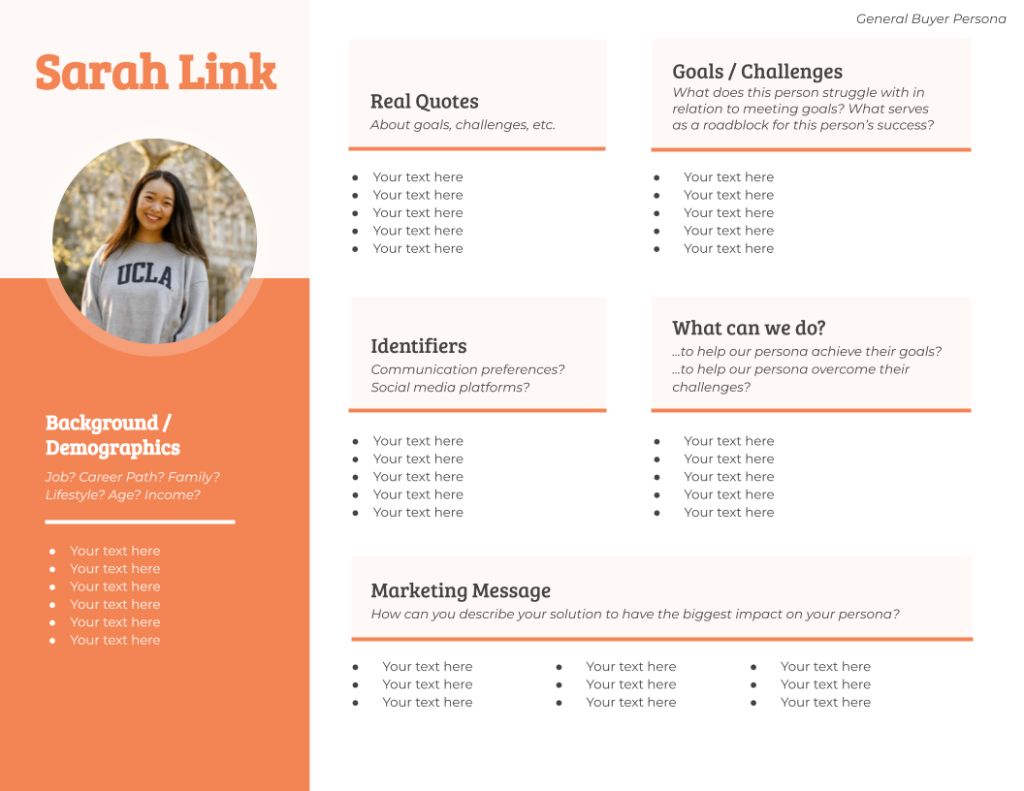 💡HubSpot has a free tool that helps create a buyer persona based on a few questions: LINK
Identifying your ideal customer is best done by considering both the insights provided by your sales team and using quantifiable data.
Here's how we do this in involve.me:
We kindly ask all our new users to fill out the Welcome Survey. This helps us get a clear picture of who we're speaking to and then create relevant content for them.
We not only ask about demographics and industry, but also about how new customers plan to use our product and what features they need. This data is thoroughly analyzed in every meeting to make informed decisions about product development and marketing strategies.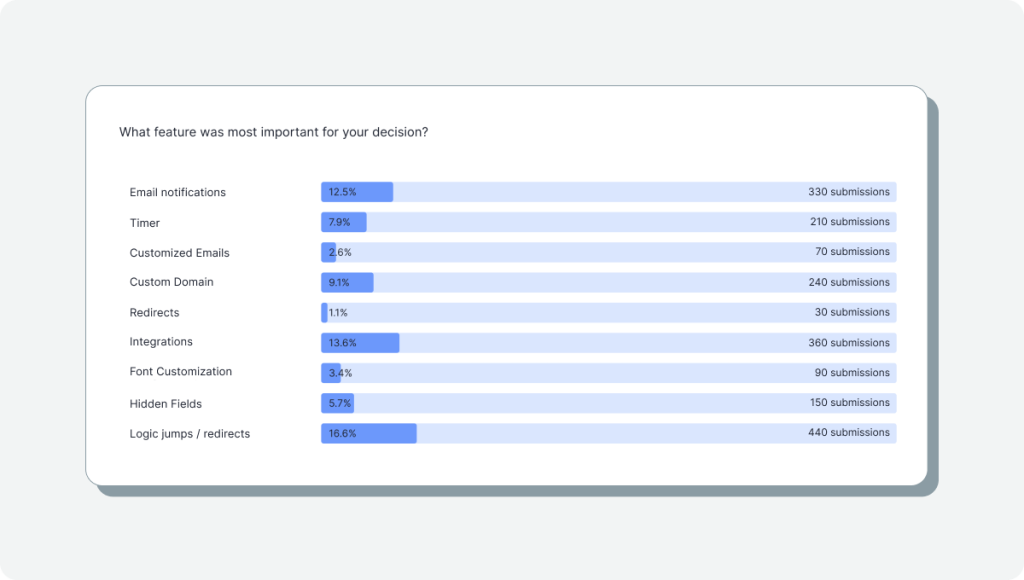 This approach can be highly effective for you too. Customize involve.me's template to create your own welcome survey that will help you get to know your customers better:
Grab this template to build your buyer persona based on the data provided from new customers.
Pro Tip: When you choose to create a survey using involve.me, don't forget to use the AI Insights feature. This feature is especially useful when you have numerous open-ended questions. With involve.me's AI feature, you can receive a comprehensive report that includes all key findings and even recommendations.
2. Collect Leads With a Magnet
Once you have a clear understanding of your target audience, you can create an enticing lead magnet to collect their contact information.
Below, you'll discover a variety of industry-specific ideas along with customizable templates. These templates can easily be embedded into your website, similar to the examples provided in this article. Also, you can share your lead magnets through links, QR codes, or as pop-ups.
E-book
Downloable e-books are still a thing, especially in case of B2B lead generation. You can seamlessly embed the e-book form into your blog, landing pages, or even your homepage.
We've designed a template that you can easily incorporate into your website:
With involve.me, you can craft a personalized email that includes the e-book, and it can be automatically sent to your leads in return for their email address. Also, you can request your visitors to complete a brief survey or provide their name and other details necessary for your lead nurturing campaigns. 
Personality Quiz
During the awareness stage, the focus should be on addressing your audience's needs rather than promoting your products. A personality quiz used as a lead magnet can help you achieve this goal.
We've got a few templates showcasing a personality quiz:
Create A Personality Quiz
Check out these templates
Customize one of the templates to create a branded quiz that will serve multiple purposes: driving organic traffic, generating leads, educating, and gathering valuable data about your target audience.
To maximize the benefits of a personality quiz, encourage users to provide their contact information (email address, phone number) in exchange for receiving their quiz results.
Pro Tip: When creating quizzes with involve.me, it's advisable to integrate your project with your preferred CRM system. This integration allows you to efficiently store information and categorize leads based on their quiz results.
Interactive Contest
Contests have potential to go viral and can be valuable assets at the top of your lead generation funnel. With involve.me you can design a form and conduct a lead generation social media contest similar to the one showcased here:
Pro Tip: When you select involve.me's template, craft an interactive pop-up that includes your contest form. You can tailor the pop-up trigger, size, and style to match your specific preferences.
Price Quote Calculator
If you offer custom solutions, sell products or services in batches, or provide discount codes to specific groups, having a price quote calculator is essential.
Not only does it make your pricing more transparent, but it can also serve as a lead magnet. The key is to ask your visitors for their contact information before providing the price.
Check out this Price Quote Calculator template: 
With involve.me's builder, you can design a custom calculator with your unique logic. For a detailed, step-by-step guide on building a pricing calculator with involve.me, please refer to this article.
ROI Calculator
In the decision-making stage, an ROI Calculator helps potential customers quantify the potential returns on their investment, enabling them to make well-informed choices during the sales process.
Check out this ROI calculator template:
When incorporating an ROI Calculator into your marketing funnel, think about including a link to your sales team's calendar or, at the very least, social media buttons for sharing. This way, you can use the ROI calculator across all your marketing channels.
Pro Tip: Add some social proof like customer testimonials and success stories. By linking case studies to the ROI calculator's results page, you can further help potential customers feel more confident in their choice of your product.
3. Promote Your Lead Magnet
Now that you've crafted an excellent lead magnet for your target audience, consider the channels to use for its promotion. Here are some suggestions based on my experience:
Build a Landing Page
When building a landing page to promote your lead magnet, use these search engine optimization tips: 
Choose a long-tail keyword with an informational search intent.

Target keywords with low Keyword Difficulty (ideally within the range of 1-12, according to Ahrefs).

Integrate your lead magnet directly into the landing page and focus on the design to entice visitors.

Include an FAQ section to address relevant questions from the "People Also Ask" box.

Write your landing page copy using SEO tools such as Surfer SEO or Frase.

Boost the landing page's SEO by incorporating internal links from other pages on your website.
Run Google Ads
Adding a landing page with a lead magnet as a sitelink to your Google Ads campaign is a smart strategy for continuously generating new leads.
Include a direct link to your lead magnet on the ad to provide a seamless and convenient way for interested users to access valuable content and share their contact information.
Use Your Contact Base
If you already have an email list, use it.
Some contacts may be inactive, and some leads might be in the Marketing Qualified (MQ) stage. You can still re-engage them by sharing your lead magnet via a link, assessing their readiness to interact with your brand and buy your products.
Conduct A/B testing to experiment with different email subject lines, content, and CTAs to determine what resonates best with your audience. Share announcements about your lead magnet on your social media platforms, guiding your contacts to the landing page. 
Share As Pop-up
Your lead magnet - form, quiz, calculator can be shared as a pop up on certain pages of your website. This sharing option is available at involve.me: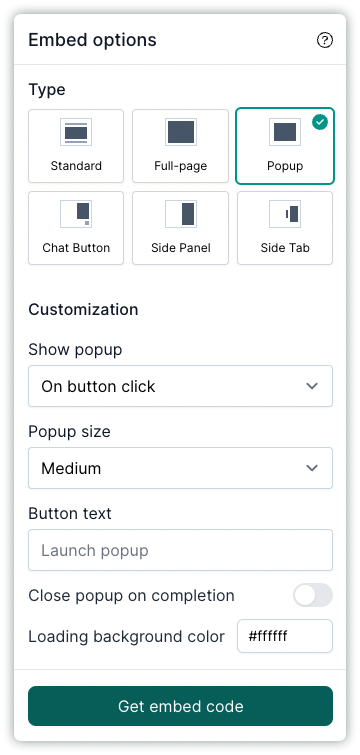 Your project will appear as a standard popup. The appearance and behavior of the popup can be customized. Check out this article to learn how to create a lead magnet pop-up with involve.me.
Take Advantage of Partnerships
Find partners whose target audience aligns with yours. Your partners can share the lead magnet via their newsletter or in social media posts.
Pro Tip: Promote each other's lead magnets to your respective audiences. Offer exclusive deals or discounts to each other's audiences to encourage engagement.
Content Syndication
Distribute/ republish your lead magnet on third-party websites to reach qualified leads and increase visibility. Share your lead magnet on platforms like Medium, LinkedIn, Outbrain, Taboola, etc to drive more traffic to your landing pages.
A few content syndication practices to keep in mind:
1. Publish your content on your website or blog before syndicating it. Search engines prefer to index original content.
2. If you syndicate content across multiple platforms, consider using canonical tags to indicate the original source to search engines.
3. Monitor the leads you're receiving from your content syndication efforts. If you create your lead magnet with involve.me, go to Responses --> Export Data --> Download XLS/CSV to see all leads (submissions) you acquired from all platforms and identify the most effective channels.
3. Segment Leads Into Groups
Include specific questions in your lead magnet to categorize your leads, like Marketing Qualified Leads (MQLs) and Sales Qualified Leads (SQLs).
For instance, if you create a customized price quote calculator for B2B buyers, add questions about their budget, user count, integrations, etc. Connect these parameters to your CRM to segment leads into different groups and create more tailored email campaigns.
For sales-qualified prospects, focus on providing in-depth product information, case studies, and personalized content that addresses their specific pain points and needs. For marketing-qualified leads, continue educating them with valuable content, guiding them towards becoming sales-qualified. Throughout the email sequence, maintain a consistent and relevant dialogue with prospective customers. 
Do Lead Funnels Work?
Lead generation funnels (sales funnels) are highly effective when properly designed. They facilitate lead generation, help segment leads, educate potential customers, guide them through a step-by-step process, and automate lead nurturing. However, their success depends on content quality, audience targeting, and ongoing optimization.
Why Do Funnels Fail?
Funnels (lead gen/ sales funnel) can fail for several reasons. Common reasons for funnel failure include:
1.  Ineffective audience targeting
2. Poor content quality and technical issues
4. Neglecting post-conversion follow-up
5. Neglecting mobile users
6. Misalignment with customer journey
5 Stages of Lead Gen Funnel You Should Consider
When creating a lead magnet, you should consider which stage your target audience is in. Do they already know about your product, or are they still completely unaware of the problem your product can solve?
Here're 5 distinct stages you should consider:
1) Awareness
At the top of the funnel, the goal is to create awareness and attract a broad audience of potential buyers. This is achieved through various marketing efforts such as content marketing, social media, paid advertising, and organic search. The primary objective is to get the attention of people who may have an interest in your product or service.
💡Blog posts are more effective for lead generation in the awareness stage than cold calling or sales pitches because they provide educational value, build trust, and allow potential leads to engage non-intrusively. 
2) Interest
In this stage, you aim to capture the interest of the individuals who have become aware of your offering. This can be done through compelling content, lead magnets (e.g., ebooks, webinars, or free trials), and other tactics that encourage visitors to provide their contact information in exchange for valuable information.
3) Consideration
At consideration stage, you need to nurture these leads by providing them with more educational content. The goal is to help them understand the benefits of your product or service and how it can solve their problems or meet their needs.
4) Intent
At this decision stage, leads have expressed a clear interest in your product or service and may be considering making a purchase. They might request demos, price quotes, or product information to help them make a decision.
5) Evaluation and Purchase
Leads who reach this stage are ready to evaluate your offering and make a buying decision. Your sales team can provide personalized information, address questions, and guide them through the final stages of the decision-making process.
At this stage, you can use your magnets to turn leads into customers. To do that, integrate a payment processor into your forms, calculators, quizzes, and surveys, enabling seamless purchasing within the project.
Find more content ideas for each stage of the sales lead funnel in this article.
Final Words
Building a lead generation funnel is an automated, systematic approach to attract high-quality leads. When building your sales funnel, consider using customizable templates of lead magnets. Speaking from one content marketer to another, they are sure to be a time-saving boon.
With involve.me, you can create all kinds of lead capture forms that you can later embed into your blog posts, share via email, as QR codes, or use as pop-ups. Check them out:
Create Lead Magnets For Your Website
Start with customizable templates