Duolingo, Canva, Asana, LinkedIn – all make use of the most powerful version of ChatGPT. Every respected company implements AI, trying to keep up with the tech trend that has forever changed the way we do our work. 
Our SaaS team found another creative way to use the AI that we believe will save hours, if not days, of manual work.
We used it to analyze customer feedback we collected from 12,193 customers this year. That saved us approximately 611 hours of work (assuming it takes 3 minutes to analyze each feedback).
Here's how we implemented it and made it available to other businesses:
How Do We Collect Customer Feedback?
As a no-code platform designed for crafting online forms, surveys, product finders, quizzes, and calculators, we used our own tool to create a customer feedback form. 
Simplicity was important for us when designing the form, as we wanted to encourage our customers to provide continuous feedback. Our intention is to capture their insights immediately after they've used our product, thus we present the feedback form as a pop-up within our tool.
The feedback form has just two pages. One page features a Net Promoter Score survey, while the other provides an open-ended question field.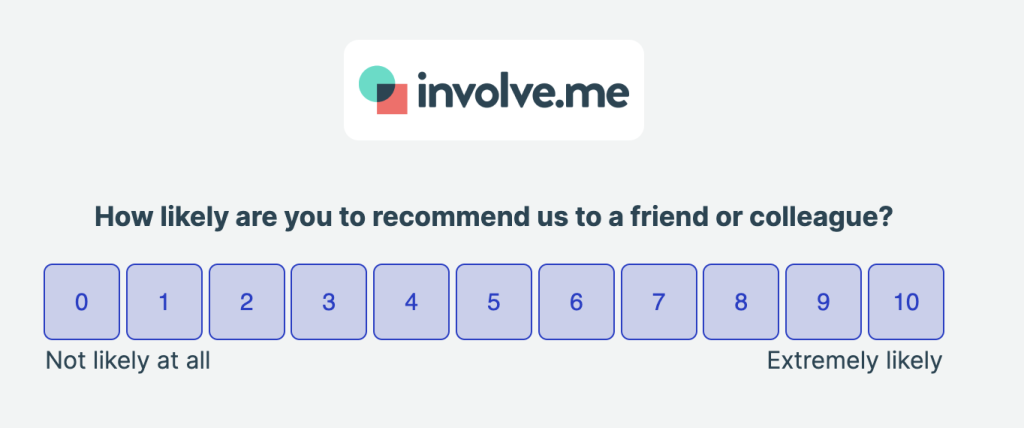 While the form is straightforward, feedback analysis takes a lot of time. Especially if you need to get a summary and an analysis of 12.193 qualitative responses in one set.
Creating a brief for ChatGPT and copying all customer insights into it is both time-consuming and potentially unsafe due to data sensitivity concerns. That's why we came up with AI reports that can make sense of all collected data - complete and partial responses. 

AI Insights in Action
We have lots of marketing and product data, just like our customers who use involve.me forms to gather feedback, contact information, etc.
Knowing that, we created AI Insights ✨ - AI-powered Reports. With just a click, it can transform response data from surveys and forms into comprehensive reports.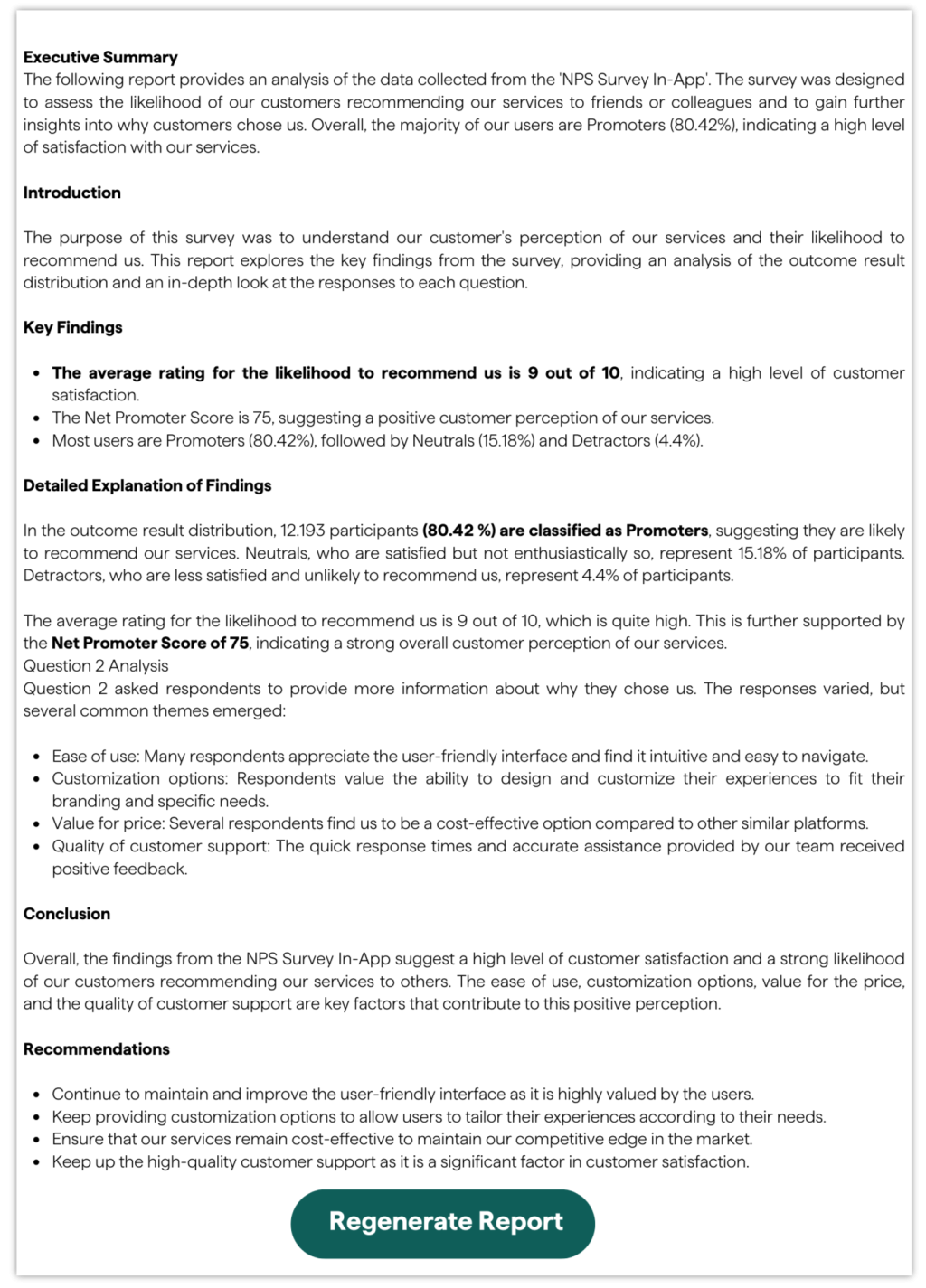 Gathering customer insights through open-ended surveys, forms, and quiz responses can yield significant value. However, the process of analyzing and extracting actionable insights from these inputs can be quite time-consuming.
With automated project reports, our AI Insights will analyze open-ended, qualitative survey responses and provide you with data analysis and a summary of the findings, as well as actionable recommendations for next steps.
That's how we analyzed all the feedback we've recently received, and got precise numbers of promoters, neutrals, and detractors.
We clicked the button and then presented the report during our weekly brainstorming meeting for discussion. Executing strategies is simply more fun than spending hours trying to make sense of data we receive.  
Key Takeaways
Let's take a closer look at the structure of each AI-generated report. It covers these aspects:
- Executive Summary
It's a concise snapshot of the most critical information contained within the report. It's designed for busy professionals or decision-makers who need a quick grasp of the key takeaways without delving into all the details.
- Introduction
The introduction sets the stage by providing context for the report. It outlines the purpose of the survey, the scope of the data collected, and the objectives of the analysis.
- Key Findings
Here, the report highlights the major insights gleaned from the survey responses. This section showcases the significant patterns, trends, and noteworthy data points that emerged from the collected data
- Detailed Explanation
This segment delves deeper into the key findings, offering a more comprehensive exploration of the data. It provides additional context, breaks down complex insights, and offers explanations for the observed trends.
- Conclusion
It offers a holistic perspective on what the data suggests, tying together various insights and their implications. The conclusion aims to provide a clear takeaway message based on the analysis.
- Recommendations
In this part of the report, the AI-generated analysis translates insights into actionable recommendations.
Use Cases
Here are some use cases where these reports can prove exceptionally helpful:
Customer Satisfaction
If your team, just like involve.me, has a big scope of customers and continuously tries to gauge customer satisfaction levels, AI-insights can help you automate the process of analyzing ongoing feedback.
You can get precise information on pain points, numbers of negative, positive, and neutral reviews, and actionable recommendations you can later use in marketing and product planning. 
Market Research
Companies seeking to understand consumer preferences, trends, and opinions can use automated reports to gather actionable insights from survey responses. This data can drive product development, marketing strategies, and overall business decisions.
Employee Feedback
Organizations can use AI-generated reports to analyze employee survey responses, identifying areas of satisfaction and concerns. This information can guide HR policies, training programs, and workplace improvements.
Report Credits
While involve.me has many features available for free, AI reports is a feature that is only available on paid plans. Each subscription plan offers a set monthly allocation of AI credits:
Starter: 50 credits

Professional:100 credits

Business: 200 credits

To give you an idea, 1 AI credit can handle and produce a report for around 10 answered questions from an involve.me project. Keep in mind, this is an estimate, as the length of answers varies. Longer responses require more credits for processing and report generation.
Credit counts reset on the first day of each month. When upgrading, you receive the prorated difference in credits for the current month.
Get Started with AI Insights 
If you're enthusiastic about automating manual tasks for your team, consider creating an involve.me account to fully leverage the benefits of AI-generated reports. We've developed AI insights with privacy-first principles, ensuring that no personal data is shared with third parties.
No more spending hours sifting through huge amounts of open-ended responses and qualitative data. Now everyone can generate AI reports with a single click and quickly identify findings, summaries and key insights.
We're only scratching the surface of what is possible in involve.me with AI and are actively developing enhancements and new AI-driven features.

Get started with involve.me by personalizing one of our pre-designed survey templates:
Create Your Own Survey
Start with a customizable template