With attention spans shrinking by the day, you need to provide an engaging and interactive experience to stand out from the rest. One effective way to achieve this is through quizzes.
Not only do they add an element of fun to your website, but they can also educate and ultimately convert your visitors into loyal customers.
Personality quiz in B2B sales, knowledge quiz for insurance industry and other unusual ways companies use quizzes to keep visitors on their websites longer.
In this article, we will explore different types of quizzes and show you how to create your own quiz with no code (and no tears!).
1. Personality Quiz 
Self-disclosure feels good. We want to talk about ourselves and learn about ourselves. That's how we are hardwired. 
Different types of businesses can benefit from it by creating a personality quiz for their target audience. 
With this type of quiz, you can ask about person's interests, values, and preferences in order to determine their personality. You'd be surprised how far you can go with it.
Once you know your audience's preferences and characteristics, you can use this information to make content or a product recommendation tailored to the individual visitor. Personality quizzes also help with lead generation and customer segmentation (you can email gate the results and effectively collect visitors' email addresses). 
Why don't you take a short break from reading, pal? Take this quiz to see your productivity personality:
We can go even further with this quiz above and recommend articles, videos, or products (even music genres!) for each type of productivity personality. 
Your customers want everything to be about them. If that's a case, they will gladly share their personal information as well as quiz results on their social media, giving extra exposure for your brand.
You don't need to work in the entertainment industry to leverage the power of personality quiz. Find inspiration in these creative use cases.
Creative Use-cases for Personality Quizzes
1. B2B SaaS
B2B companies solve real challenges of real people. Once you have identified your buyer personas and know what their challenges are and how you can help them, you can then create a quiz to generate leads and collect data.
Here is how an e-commerce platform acknowledges the problem of choosing the sales channels: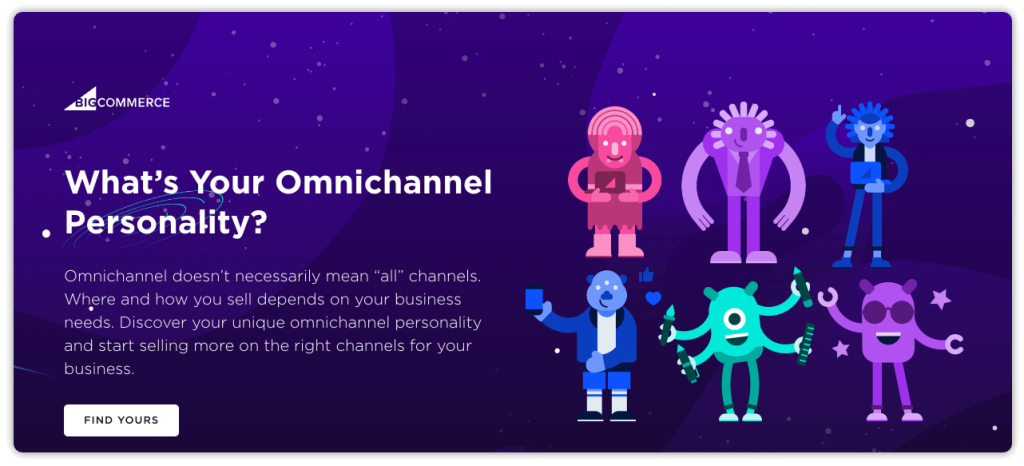 Their customer is a real person who comes to work every day and wonders how to market his company's product because it's his job. He might not care about this quiz on the weekend, but taking it during office hours makes a lot of sense.
2. Marketing and Advertising Companies 
Check this example of a personality quiz from a company specialising in B2B SaaS and medtech marketing: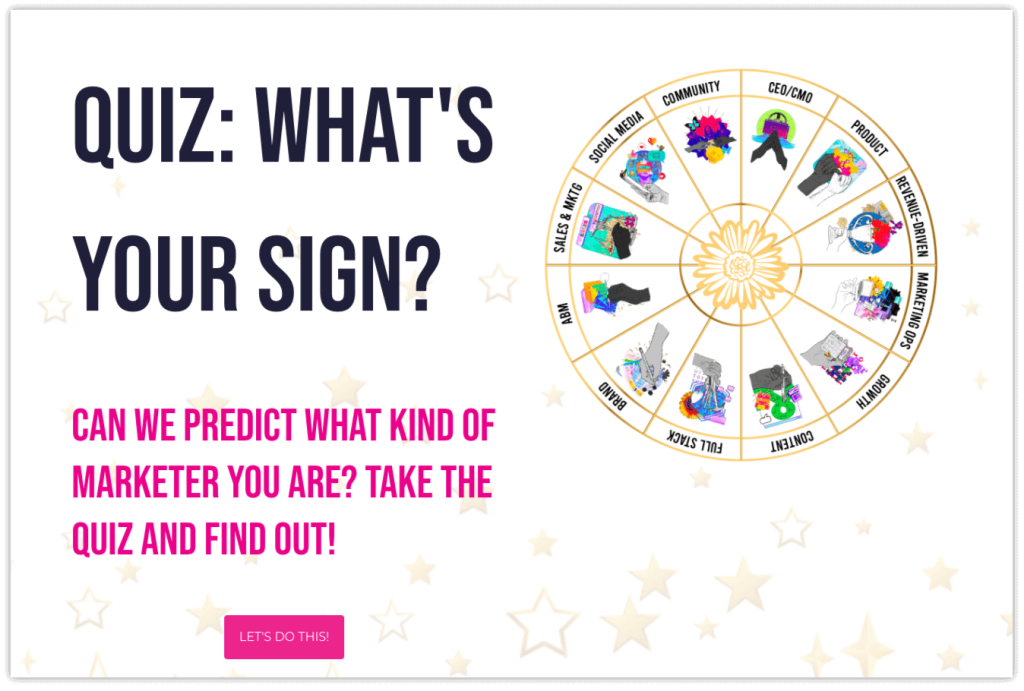 To learn more about their target audience and build an email list, this company created a quiz for marketers to help them determine their strength and find the materials to become even better in their job. 
3. Education or Career Advisors 
Check how this career and college planning website gives value to their visitors with the help of a personality quiz: 
Based on responses, you can learn whether you have an auditory, visual or tactile learning style and get a list of individual tips on how you can learn better. 
4. Financial Industry  
The financial sector cultivates innovative thinking and can leverage the same tactics as marketing agencies to achieve their objectives.
Here is how a company specialising in investment advisory services gathers information on their visitors:
Based on the customer's answers, the quiz could then assign them a financial personality type, such as "conservative investor" or "confident money manager."
The company can use this information to better tailor its communications and marketing efforts to each customer's financial personality.
In this specific example, the company offers to share the results on the social media and suggests content tailored to your financial personality. 
2. Product Recommendation Quiz
If you care about your customers, you will be there for them at every step in their journey.
Become their personal shopping assistance and help them choose the product that is right for them without being annoying.
Product recommendation quizzes increase the likelihood of the visitor making a purchase because they help visitors navigate product pages faster and build trust by providing a personalised offer.
Grab a template from involve.me to build a similar product recommendation quiz:
With a product recommendation quiz, you can get your audience to trust you. By offering a quiz, you can show them that your goal is not to close a deal, but to help them choose the right product.
It's also a great opportunity to cross sell by recommending complementary products. 
Find inspiration in these quiz uses cases from different industries.
Creative Use-cases for Product Recommendation Quizzes
1. Retail
Overchoice. It is something most consumers face when going to the online store. 
When shopping online, you can't try out the products,. You can't even ask anyone for a recommendation. Knowing your customers' problems, you might want to introduce a quiz that solves it. Tell your visitors "we are here not to sell, but to help".
Here is how Sephora does it on their website: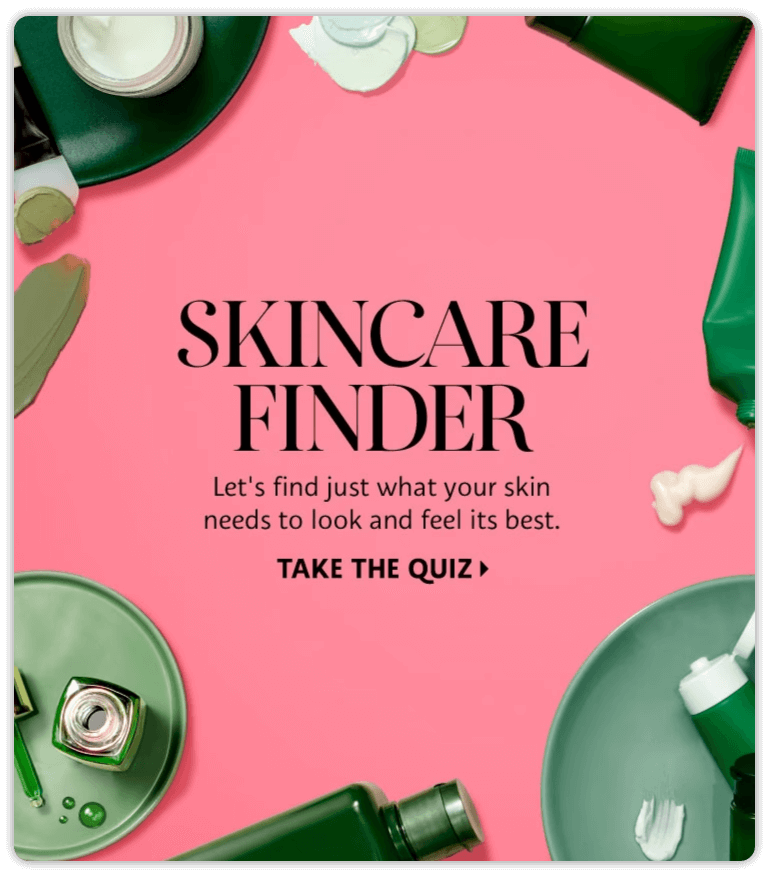 2. Manufacturers 
Choosing solar panels for your roof can also be entertaining and easy. With a quiz of course:)
As a manufacturer you can ask questions about the customer's lifestyle, budget and other preferences and give a personalised recommendation.  
Other companies are already doing it with the slogan "Skip the search ":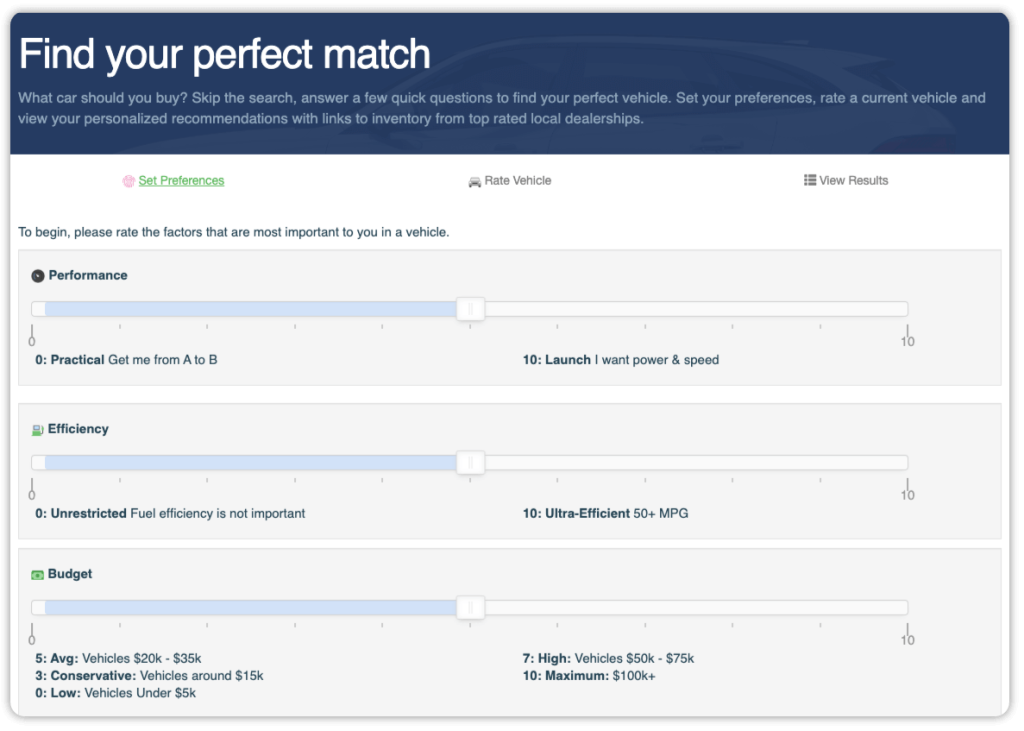 3. Software Houses
Companies offering digital products can also benefit from using a product recommendation quiz on their landing page. 
The quiz can ask questions about the customer's goals, budget, and technical requirements and and then recommend specific software products based on the answers. Even if a visitor doesn't turn into a customer after completing a quiz, you can still use the data collected from a quiz to improve marketing and product development efforts.
3. Knowledge Quiz 
A knowledge quiz is a fun way to kill time and learn something new.
A quiz can be used to check visitors' knowledge on a particular topic or product, providing valuable insights into what your audience already knows and where they may need more information.
If your knowledge quiz is entertaining and useful, you can count on participants to share your quiz on their social media platforms, helping you reach even more people and increase your visibility. 
One of the most common practices is to ask for user's email in exchange of their quiz results (which is a fair deal). Based on their results you can also provide personalised recommendations, product or content suggestions.
You'd be surprised to see what industries can take advantage of a knowledge quiz on their websites.
Use-cases for Knowledge Quizzes
1. Insurance 
Sometimes  you should let your customers to take an initiative and learn more about your offers on their own as this way they won't feel like they are being lured into something. 
Instead of telling horrifying accident statistics, insurance companies can use a knowledge quiz that will help their clients get all the answers they need through the most interactive way possible. Here is how this insurance company made information more accessible for everyone: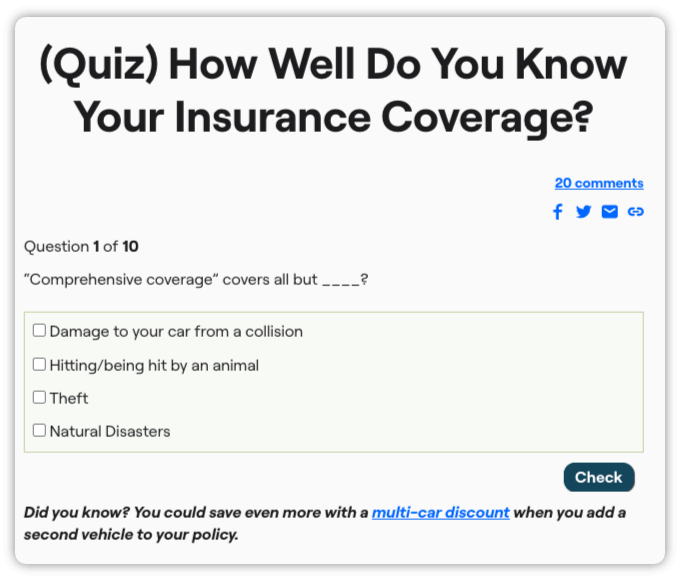 2. Healthcare 
Healthcare organizations (blood banks, clinics and medical offices) can use knowledge quizzes to educate patients about diseases, treatments, and preventive measures.
For example, a hospital may offer a quiz that tests visitors' knowledge of heart disease and provides information on how to reduce risk. Taking guesses is much easier and more fun than reading a long medical article and this quiz below just proves the point: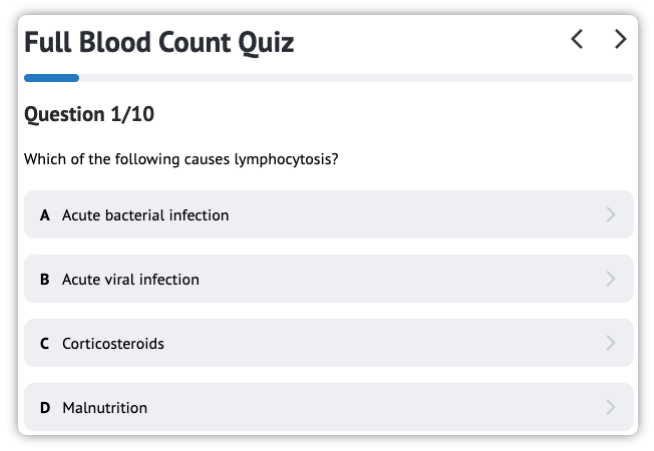 3. Online Media  
Online media and publishers have been using knowledge quizzes the most creative ways. One of the most prominent example is Buzzfeed that went step further and added quizzes to their website menu. 
96% of users who start Buzzfeed quizzes finish them. Their quizzes are all over the place but the most important is that they are fun.
Their audience does want to take quizzes like: "Tell me what you eat in a day and I'll accurately guess your zodiac sign" or "What super rare color matches your vibe". 
Knowledge quizzes are also a big part of their quizz-landia, making Buzzfeed content go viral. 

How to Choose Quiz Questions?
What purpose serves your quiz? Is it to educate, entertain or assess knowledge? Based on your answer, you can select the right questions to hook your audience. Follow these five best practices to create a truly great experience for your participants:
Add numbers to show users how many questions left. Don't leave your participants in the darkness. 

Use a variety of questions types like multiple choice, true/false, fill-in-the-blank, and short answer questions.

Balance difficulty level. A mix of challenging and easy questions will make the quiz more engaging. 

Keep it short. Aim for between 7-12 questions not to overwhelm your participants. 

Ensure accuracy. No matter what software you use for creating quizzes, before you publish one, you will have to test it a lot to make sure it gives accurate answer/score/recommendation.
How to Create a Quiz Without Coding? 
Coding a quiz for your website should never be your option. 
Making interactive quizzes in Python or JavaScripts is expensive because it's time-consuming and it requires a lot of back-and-forth between the marketing and IT departments. Delegating this task to the software engineer might set a lot of limits.
Optimising the quiz or analyzing data will take even longer if you have a middle man. Become that lazy person who does hard job by working smarter.
It will take you less than an hour to create a decent quiz for your target audience. For that job, you need to choose a no-code builder with drag-and-drop features. 
With a free account at involve.me, you can create various types of quizzes for your website. Grab one of our quiz templates to get started. Our templates include real questions for specific use cases. Feel free to add your brand name to the quiz and embed it on your website.
Creating a quiz from scratch is also a pretty straightforward task. Go to involve.me editor, choose the blank canvas and test available content elements from the column on your right.
Content elements available at involve.me

To open an editor, choose "New Project" and then "Start from Scratch". Right after it you will see three project types. Select the one that fits your vision, but don't worry, you can later change the project type if you change your mind.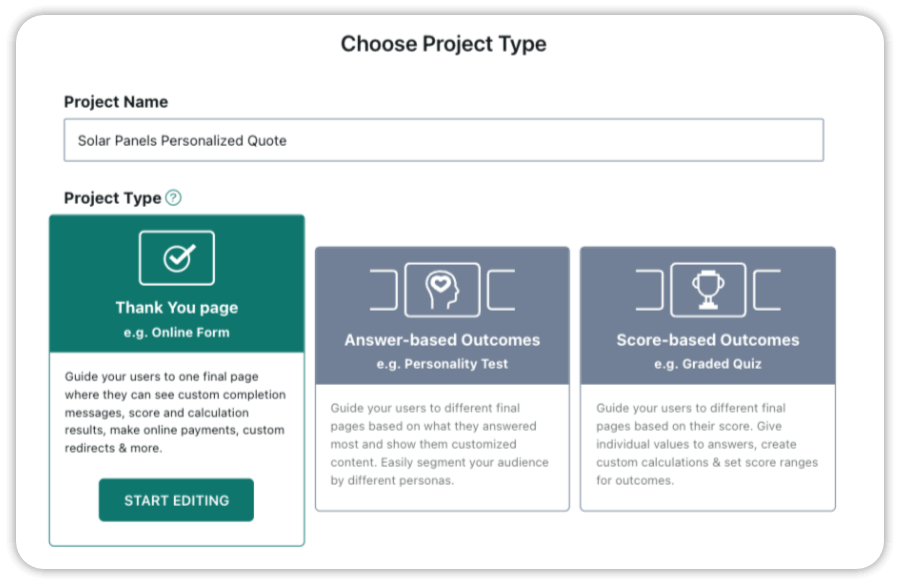 You can choose any layout, change the colors, fonts, and add as many content elements as you want. With involve.me, you can create questions in many different formants. Let's take a look at some examples:
Image choice 
We could have just added "yes" and "no" line but it looks so much better with the graphics, doesn't it? You can add any kind of graphics and photos to your quiz.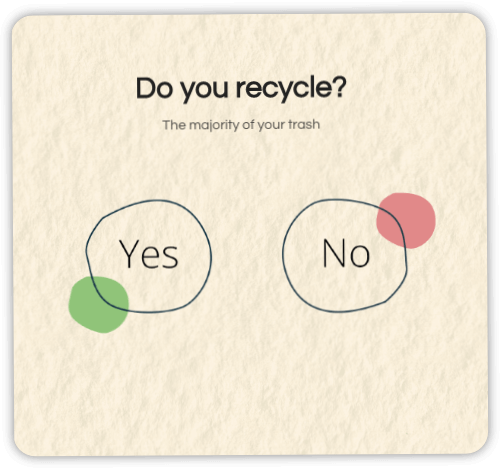 Slider
Ask your question using the Slider content element.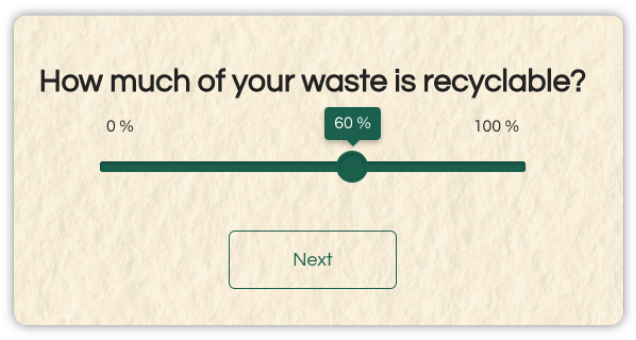 Multiple Choice 
Add questions with single and multiple choice text answers.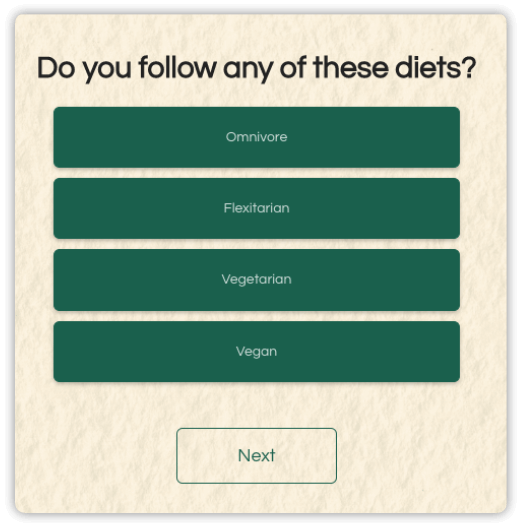 With involve.me, you can add a timer, videos, GIFs, social media icons, rating scales and contact form to your quiz.   
Take a look at involve.me interface and see how easy it is to create an interactive quiz.
Pro Tip: Collect Leads with involve.me Quiz 
The quiz on your website can help you capture email leads easily. All you need to do is to email gate the result inside of your quiz. It's not cruel for your users who want to know what GoT character they are. That's how you can build you email list. 
To do that with involve.me, choose the option "hide from participants".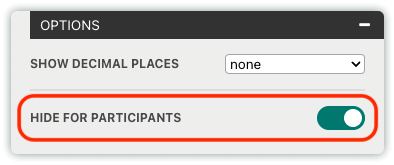 And at the end, add the content element called "contact form".  This way they will be able to learn whether they are Tyrion Lannister or Daenerys Targaryen only after they give you their email address.
Inside of involve.me, you can set up an automated email your quiz users get. Based on the contact email list you will generate with your quiz, create a lead nurturing campaign to turn your visitors into leads.
How to Add a Quiz to Your Website?
Adding a quiz to your website is a matter of a few clicks. 
After you publish your project, go to "Share and Embedding" tab and find the embedding option that works for your website. Customise it the way your inner artist sees it and get the embed code.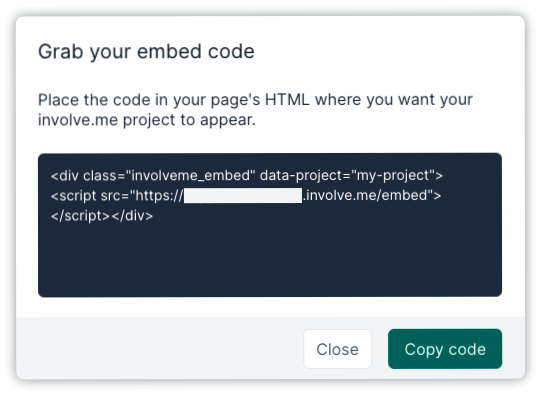 Check this page if you want to add your quiz to Wix, Shopify, Weebly, and Squarespace. 
Get Started
Your visitors want to get some value and be entertained, and these quiz types described above can help you achieve exactly that.
Increase the average time spent on your page by giving your visitors interactive content such as quizzes. 
Create a free account to create an online quiz within minutes. Okey, it will probably take a bit longer, but using one of the involve.me templates will definitely give you fresh ideas and help finish your awesome project faster. 
Get Started: Make Your Online Quiz
Using One of Our 300+ Templates