"What's your Instagram aesthetic?", "What early 2000s boyband is your website?" and "What kind of manager are you?" These are all equally valid questions -- and people would rather answer those types of questions, than mindlessly fill in their name, email, occupation, and time zone. Personality quizzes allow you to have conversations with your audience and turn them into email subscribers and customers.
Get Started: Make Your Own Personality Test
Using One Of Our 200+ Templates
Why You Need a Personality Quiz
A personality quiz will help you grow your email list for free. You can use it on your website or social media.
Clicking answers in a personality quiz is more fun than filling in a contact form. Only 10% of people who click on an average form actually fill out the whole thing. Personality quizzes, however, convert over 58% of clicks into leads.
There are a few reasons personality quizzes work better than forms. First of all, they're more fun. Who wouldn't want to know what tax rate they'd pay if they lived in ancient Egypt?
Using a personality quiz on your website is an honest, personal way to fill your email list and get more sales. Many businesses, entrepreneurs, and influencers use personality quizzes as a non-invasive, value-first way to turn their website visitors and social media audience into sales.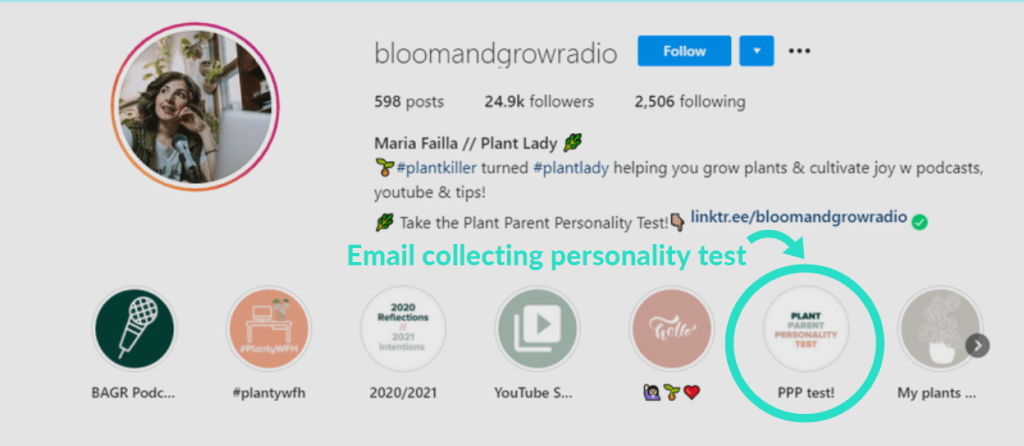 Maria, the host of the Bloom and Grow Radio podcast, uses a Plant Parent Personality Quiz to grow her email list and get more listeners and affiliate sales. She features it heavily on her social media and her website. She even trademarked it, establishing her authority on the subject.
On Maria's website, the quiz is linked right next to the "Subscribe Now" button. They're the first two call-to-actions you see when you go to her website -- because they're the most important!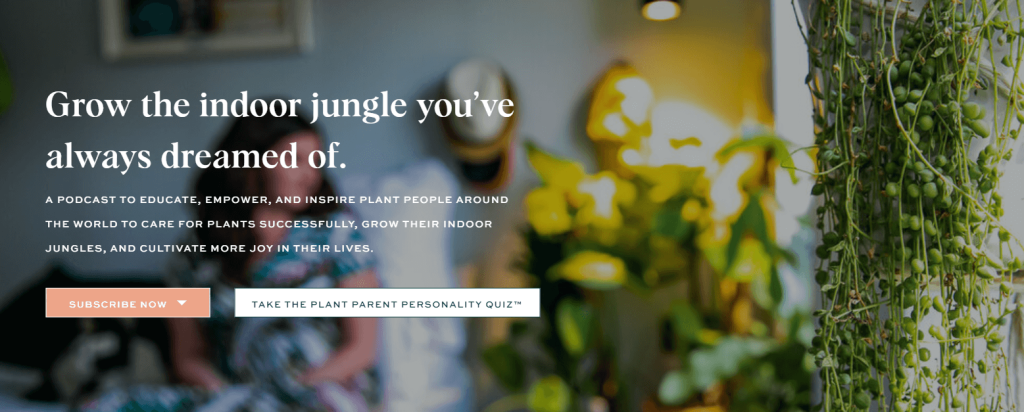 "Subscribe Now" and "Take Plant Parent Personality Quiz" accomplish the exact same thing - getting people to sign up for her email list. More eager visitors can sign up directly by hitting the "Subscribe Now" button and the more hesitant ones can engage in a fun, interactive personality quiz to get further introduced to Maria and her content.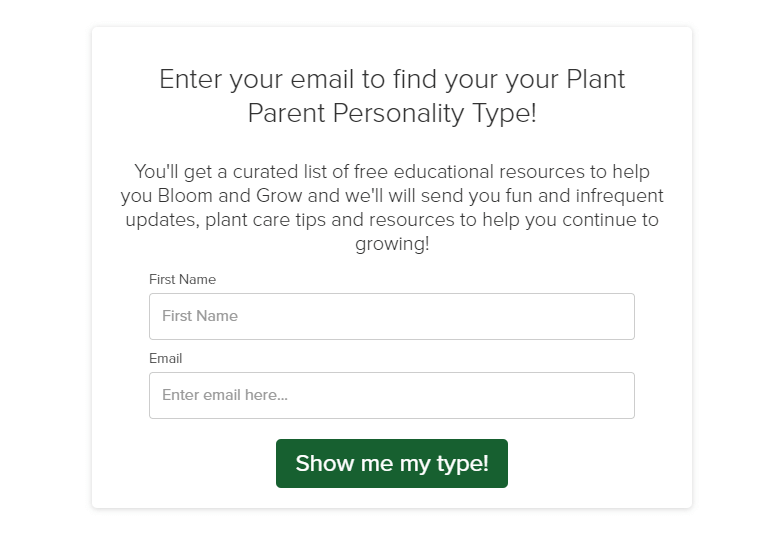 Subscribers who do take the quiz are asked for their email to get the results. Based on the results, Maria can send different product recommendations and content to them, while subscribers who did not take the quiz have to find their own way around her content library.
After passing through the email gate, Maria's quiz takes visitors to a page where they can see what their unique strengths and weaknesses are and what plants are best for their lifestyle and expectations.
Quiz takers have the opportunity to see all the other results in case they don't feel like it's a good match, or they can also retake the quiz as many times as they'd like. Maria gets to keep all this information in her email system that automatically sends curated content to each personality type.
This allows Maria to personalize interactions with her audience. Her content is more likely to get more engagement if it's relevant to each individual email subscriber. Knowing what her subscribers are interested in, she doesn't send "10 tips for juicier tomatoes" to cactus collectors or "Rare succulent alert!" to urban farmers.
People who grow tomatoes on their balconies are very different from people who'd pay $1000 for a cactus. They engage with different content and buy different products. Maria's quiz segments her audience into different buckets to make sure everyone's needs are met.
How can you make a personality quiz like this for your website? It's easier and faster than you think. Keep reading because I'm about to take you through every step of the process.
How to Make a Personality Quiz for Your Website or Social Media
It's not that many years ago when you had to know how to code in order to create any online content, but (thankfully) those days are long gone. (Shout out to everyone who remembers the early versions of WordPress.) Creating even the most complex virtual customer journeys is all possible without writing a single line of code.
There's a new no-code tool on the market every day, but it's hard to know which one is right for you until you've invested some amount of time working with it. For this tutorial we're going to use involve.me.
involve.me comes with 200+ templates that are 100% drag and drop friendly - you grab whatever image, gif, text, or question layout you want to use and drag and drop it in. Each template is adjustable in both look and functionality.
Get Started: Make Your Own Personality Test
Using One Of Our 200+ Templates
Step 1: Pick a Template
First of all, pick a template. It's probably a good idea to pick one from the quiz or personality test category, but if you like the look of a template from a different category, you can easily make it into a personality quiz by adding your own questions.
Before committing to a template, you can preview all pages on desktop and mobile .
Once you're selected a template, you'll be asked what outcome type you'd like to use. An outcome type is a system in which the quiz results will be shown. Each template has the best outcome type preselected already, but you can choose a different one if desired. Most people go with "Answer-based outcomes." You can change the outcome type later, so don't worry about selecting the wrong one.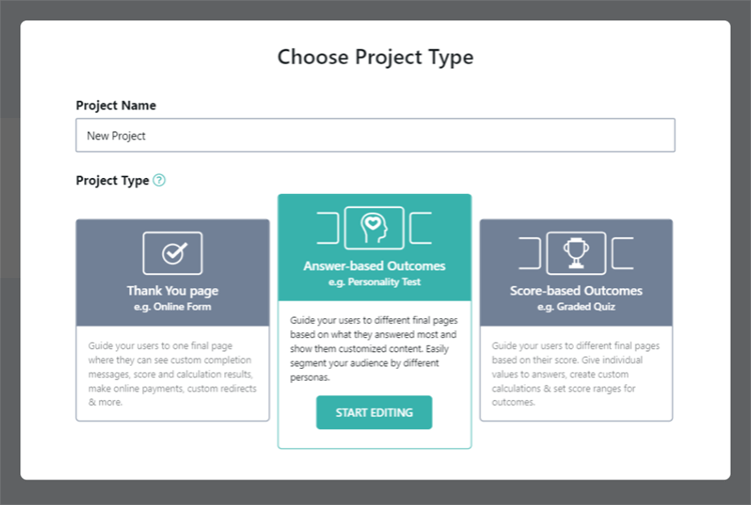 If you'd like to adjust the look of your template, you can do so by clicking the edit icon in the top right corner. Here's where you can change the layout, colors, fonts, and backgrounds. There isn't an aspect of your template that can't be personalized.
Step 2: Replace Template Questions with Your Quiz Questions
Now for the fun part: making the content of your quiz. The majority of your quiz will be asking your audience questions. There are many ways to ask questions in involve.me.
A multiple-choice question is one of the fastest ways to create a quiz. You can type in your question and answer text.
A drop down question is ideal when you have many answers that can look overwhelming. Hiding them in a drop-down question box will save vertical space.
Image answer questions are the most visually striking. They require a bit more work because you need to find visual representations for each answer. But it's worth it, image answers get more clicks.
Sliders and ratings let quiz takers choose from a predetermined range. They're fun to interact with!
Open questions might not be the best choice for personality quizzes, since you can't use them to automatically determine what personality type to show, but they can provide valuable insights. Use them as you see fit.
Step 3: Replace Template Results with Your Quiz Results
The final page of your personality quiz is there to display results.
You can either create a final page for your personality quiz that shows the result or you can direct people to your website. Or you can end your quiz with a "Thank you!" page and send the results via email. (The email can also be sent from involve.me, you don't need any other tools .)
The results pages are the last pages you see in your quiz page layout on the bottom of the editor.
To design the pages, simply click the page and change the text and images or drag and drop in additional elements. You can also delete elements you don't need.
For an additional boost on social media, it's a good idea to add social shares. You can customize the social share text and image for each result .
Pro tip : you can sell directly from this page. Drag and drop in a payment element to connect Stripe and PayPal.
Step 4: Connect Answers to Results
Once you have your questions and answers, it's time to connect each answer to a result. You can connect each answer to one result, multiple results, or no result .
Simply click your question, and on the menu that opens on the right, click "Map to outcome…" and pick the outcome from the drop-down menu.
If this answer is more important than others, you can give it more points by ticking "individual score and calculation" located just above. This allows you to type in values next to each answer.
You can assign different point values to each outcome on each answer. For example answering: "I grow tomatoes on my balcony" will give 10 points to the "Urban farmer" outcome "I'm sort of interested in herbs" will give 5 points to "Urban farmer" "Gardening is a waste of space" will give -20 points to "Urban farmer"
This will make your personality quiz show more accurate personality types.
Step 5: Email Gate Your Personality Quiz
Once you're done with your personality quiz, don't forget to ask for a contact email. Add a page before displaying the results and drag and drop in a contact form.
You can edit this contact form and ask for more, less, or different types of contact details.
To make sure this page cannot be skipped, disable "Show page navigation" on the bottom right of the content element panel.
More about emails here.
Step 6: Set Up Different Emails for Each Result
Setting up emails is super easy in involve.me. Once you're happy with the look and function of your personality quiz, hit the big green "Publish" button.
You will be taken to a settings page. Scroll down until you see email notifications.
Select "Send custom emails to participants" and check "Send different emails for each outcome".
Now you can create your email. You add images, gifs, links, and attachments. You can make heavy use of the personalization tokens that pull answers from your quiz into your email.
Step 7 (optional): Create a Custom Sharing Image and Text for Social Media
After setting up the emails, keep scrolling down until you find "Social Media Sharing." Here you can simply type in the text you'd like to show when your quiz is shared on social media.
You can also upload your own sharing image. The quickest way to create a sharing image for your quiz is to screenshot the first page.
Step 8 (optional): Connect Google Analytics and Facebook Pixel
Keep scrolling down the settings page until you make it to "Tracking."
All you need to do is copy-paste your tracking IDs here.
Here's more help with that if you need it.
Step 9 (optional): Connect Your Other Software
If you'd like for your collected quiz answers to automatically talk with your CRM, email software, or whatever other software you're using, check out involve.me's integrations.
Connecting them only takes a few clicks. Here's how it works.
Step 10: Publish and Share Your Personality Quiz
When your personality quiz is ready, hit "Publish" and you'll get a link, a short link, an embed code, and a QR code to promote and share however you like.
Learn how to view your quiz's performance, clicks, and traffic.
Get Started: Make Your Own Personality Test
Using One Of Our 200+ Templates