For the longest time, marketers have been unable to segment their audience due to the lack of data. Sure, Google Analytics provides various data points, but they are barely enough. Without proper segmentation, marketers can't run targeted campaigns effectively.
Get Started: Make A Lead Generation Quiz
Using One Of Our 300+ Templates
As a result, most businesses have been forced to rely on tech companies like Facebook and Google. These companies have key customer insights that make retargeting look seamless
But what if you don't have the financial muscles to run such ads sustainably? Is there any other way to get the data you need to segment your audience and run your own targeted marketing campaigns?
Yes, there is, and that's through quiz funnels.
In today's quick review, I will tell you how to segment your audience and show you how a quiz funnel can help you with this. I'll then take you through the four main questions that you need to create an effective quiz funnel for your business. Let's get started.
How Can You Segment Your Audience?
Before you start creating different types of quizzes, you need to decide how exactly you want to divide your audience.
Generally speaking, most businesses would segment their target audience based on demographics like age and gender. Others would go a step further to divide each group based on socioeconomic factors. For instance, instead of having one huge category of ladies, you could divide the group further based on factors like purchasing or spending power.
But you don't have to follow this blueprint for your business. You can take a completely different path based on your ultimate goal. After all, a segmentation strategy that has worked for someone else is not guaranteed to produce similar results for you.
Therefore, you need to ask yourself what your goal is. Once you identify the goal, create a buyer persona showing the key data points you need to segment your audience and run your campaign. In case you don't know, a customer persona is a fictional representation of your customers. It carries different data points from age, gender, and income to items like pain points and interests.
Have a look at this example: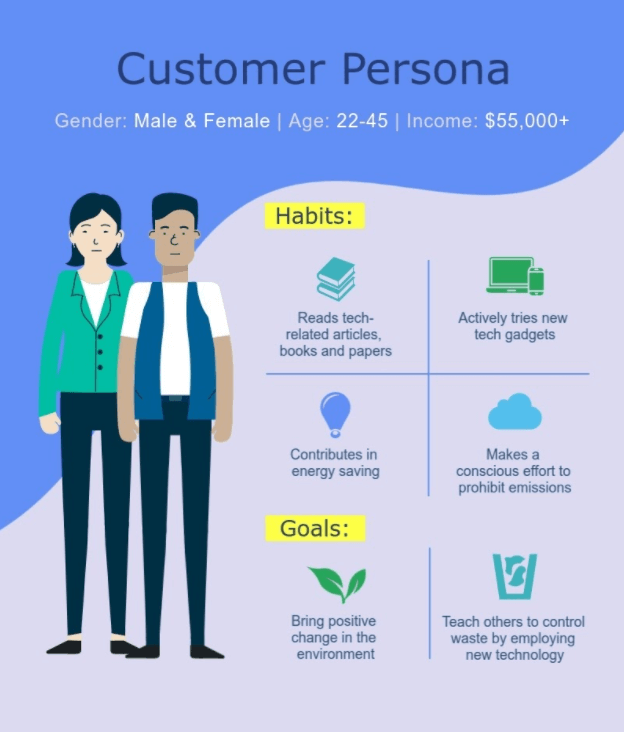 The persona helps you visualize your audience. It also gives you tons of data that you can use to enhance your marketing strategy.
After identifying your ideal segmentation plan and building your buyer personas, it's now time to create the quizzes.
Let's look at some of the questions you could use.
Creating Relevant Questions for Your Quiz Funnels
There are different types of questions you could use for your quiz funnels. While it may be tempting to include too many questions to get as much data as possible, be careful because you might bore your audience with a lengthy questionnaire.
That said, here are the four commonly used questions in quiz funnels:
1. Goal Questions
Knowing your customer's ultimate goal is very crucial for your marketing campaign. It helps you know the exact products or services you can push to each client.
For instance, course creators can use goal questions to know the specific courses that prospects need to achieve their goals. As a result, instead of pushing different courses, you can center your marketing strategy around a specific course.
Your quiz funnel needs at least one goal question. You can then use the answers provided to group your audience into several segments based on their goals.
2. Problem Questions
Problem questions are used to pinpoint your audience's pain points. Of course, the questions and answers need to be relevant to the service you can offer to solve the customer's problems.
So, for instance, if you are in the email marketing niche, you could ask your audience what their biggest challenge is in email marketing. The answers could look something like this:
Growing my email list

Getting relevant templates for different customer segments

Boosting the conversion rate of my emails

Getting affordable email marketing tools
Use the answers to place your audience into four categories. Then market relevant solutions for each group.
For example, you can offer a lead generation quiz to people struggling to grow their email lists.
Meanwhile, marketers struggling with email templates will line up to buy effective templates from you.
Here's another example from an eCommerce quiz funnel by Sephora: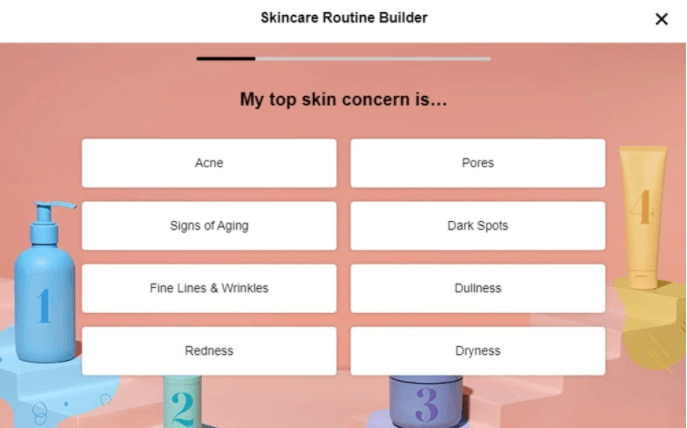 The store uses answers provided to present a personalized product lineup. It boosts sales while delivering a personalized shopping experience, something that customers love.
3. Background Questions
Background questions are more about understanding your audience than anything else. They give you general information about your prospects, like their type of employment.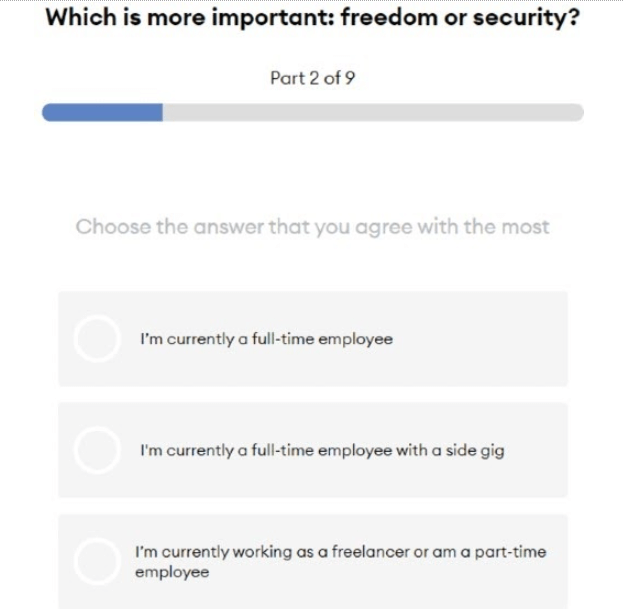 How is that information important to your marketing strategy? Well, it helps you connect with your audience at a deeper level.
For example, a client might be employed full-time. Meanwhile, the answer to the goal question shows they want to run their own business at some point - a business that's relevant to the services you're offering.
You can provide real-life examples of people who went through a similar journey in your interactive marketing content, for example, from full-time employment to independent business ownership. You could even use your testimonial if it's applicable.
Such a marketing copy will have a bigger impact on the audience compared to a general marketing email.
Therefore, grouping your audience based on background questions is a great idea.
4. Budget Questions
Budget questions help you understand how much each prospect is willing to spend on a particular product or service. You can then use the information to place your audience into several price brackets.
Marketing products to an audience that can afford them will boost your conversion rates.
The price brackets can also help you get better results from your discounts or offers. Let's say you have a $400 discount on a product that costs $2,000. Your audience is placed in two brackets, under $2000 and over $2000.
If you market the offer to the over $2000 group, it probably won't have a massive impact. Why? Because these guys can already afford the product as it is. Therefore, they're probably not buying it for other reasons and not its price tag. So, while the discount may encourage them to pull the trigger, the impact is likely to be minimal.
On the other hand, the audience in the under $2000 price bracket will jump on the offer pretty fast since price could be the only thing stopping them from acquiring your product.

Some budget questions are posed in terms of income, i.e., how much do you earn? These questions can give you the answer you need, but it's too broad. A better question is, what's your budget for product X?
We also cannot ignore the sensitivity of money matters. Many people won't be willing to share their income or budget online. More so if they are coming across your brand for the first time.
If you notice your audience is hesitant in sharing budget details, consider a more indirect question.
Here's how Maggie Sottero does it in their bridal quiz: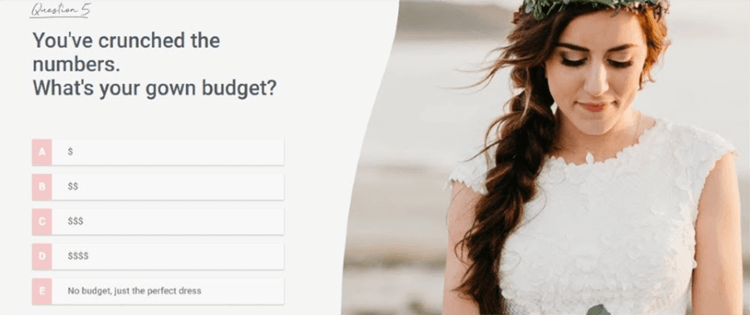 From the answers, it's fairly easy to know which products to market to every group. For instance, it would be unnecessary to market the most expensive gown to the audience who selected option B.
Segmenting Your Email List with Quiz Funnels
Email segmentation is crucial if you want to get better results from your email marketing campaign. Without it, you're more or less playing a game of chance, throwing anything and everything to your audience, hoping one thing sticks. That's simply not efficient or good enough by today's standards.
That's why you need a quiz funnel.
The funnel gives you valuable insights into your audience. You'll learn of their demographic, budget, goals and objectives, pain points, interests, etc.
It doesn't just work for new subscribers. You can also use it with your existing email list. Just send a newsletter with the questionnaire, and most of your active subscribers will fill it right away.
Once you acquire the information, place your email list into various groups. Then get relevant templates and create targeted content for each group.
With this strategy, you'll definitely witness better open rates, click rates, and, most importantly, conversions. Isn't that what you want for your business?
In Closing
Quiz funnels bridge a very crucial gap in marketing. They help marketers gain critical information about their existing and potential customers. The information then makes it possible to segment an audience into several groups for a more efficient targeted marketing campaign.
From this article, we've learned that an effective quiz funnel can have four types of questions; goal, problem, background, and budget questions. We've also shown you some good examples of how to incorporate each of these questions in your quizzes.
With all this information at your fingertips, we're confident that you can now build a powerful quiz funnel for your business. Best of luck!
While quiz funnels are very powerful, they aren't the only weapon you can use to conquer the market. There are various other types of funnels that can help you unlock tremendous growth. Have a look at some examples of best sales funnels used by market leaders, so you can learn how to build your own properly.
Get Started: Make A Lead Generation Quiz
Using One Of Our 300+ Templates
Author
Baidhurya Mani is the founder of SellCoursesOnline.com. He regularly shares tips, tools, and strategies to help creators build a successful online courses business.