Interactive marketing is trending in ecommerce, and there's no question why. Compared to static traditional content, interactive content tends to be more personalized and gets higher levels of engagement.
Combine interactive marketing with shoppability, and it goes even further.
According to Accenture, 91% of consumers prefer to shop with brands that provide a personalized experience. What's more, 83% are willing to provide their personal information to get that kind of experience. Interactive shoppable content seizes upon these preferences by capturing users' attention and enabling them to become paying customers immediately.
Look around, and you'll see many retailers and ecommerce brands already shifting their marketing strategies to take advantage of interactive and shoppable content. In particular, you may notice one type that's especially gaining traction: shoppable quizzes.
What Are Shoppable Quizzes?
Shoppable quizzes combine the best aspects of social quizzes and personalized marketing. Just like a standard quiz, they ask users a series of questions about their preferences. However, users' answers lead to a customized results page that ultimately invites quiz-takers to make a purchase—or at least bookmark the recommended products for later.
Whereas traditional marketing efforts gently nudge customers along the buyer's journey, shoppable quizzes practically hold their hands through the sales funnel. How so? By directly asking users what they need and want, these quizzes narrow down and identify curated products—meaning customers don't need to do as much browsing and sifting on their own.
The result: a shorter path to purchase.
Get Started: Make Your Online Quiz
Using One Of Our 200+ Templates
Curious how real-life brands are using shoppable quizzes to shape the ecommerce experience? Check out these five effective examples.
1. Brooks Running
Brooks Running specializes in running shoes and apparel for men and women, so it's no surprise it offers the Shoe Finder quiz to help runners find their perfect shoe. The quiz consists broadly of three major parts, asking users about:
1. Their running style
The quiz kicks off with questions about the user's running habits, like whether they run at a gym or on a trail, how many miles they log on a weekly basis, and whether they're running for health or training for a specific event.
2. How they're built
It then moves on to ask quiz-takers about their history of foot/leg injuries, foot position, balance, flexibility, and knee bend.
3. What they want out of their shoes
Finally, the Shoe Finder quiz hones in on users' preferences by asking whether they want more cushion or weightlessness as well as the level of impact they'd like in their footwear.
Clear checkpoints divide each section, like one that tells users to take off their shoes.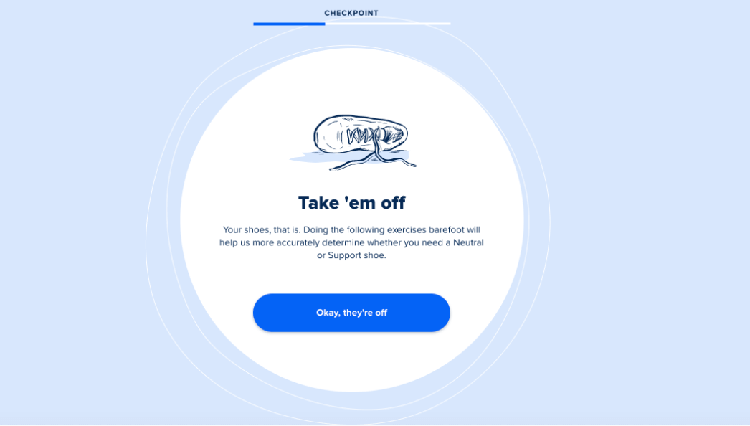 In this way, Brooks Running's Shoe Finder feels more involved than the average quiz. Beyond simply removing their shoes, the quiz even asks users to walk around a bit, balance on one leg, and perform a shallow squat. Each movement has a purpose, and the quiz assures users of this through a quick explanation of each activity.
Why It Works
It's Solution-focused
Brooks Running's quiz has a user-centric purpose that goes beyond the simple question "Which of our products will be best for you?" Its introduction explicitly states its goal to help people find the right support for their training needs.
This is also apparent in the matter-of-fact questions that make up the quiz. For instance, it asks, "In the past six months, about how much did you run each week?" and "What are you training for?" As a whole, this approach makes the quiz feel less sales-oriented and more focused on the user.
It's Science-based
For most questions, the Shoe Finder quiz offers a clickable "Behind the Science" link that briefly explains the purpose behind a particular question. Each answer focuses on how that question benefits the user and helps the algorithm to select the best shoe.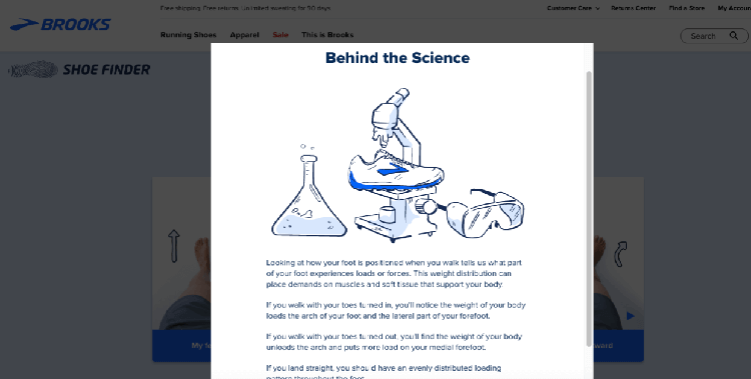 In addition, each time the user answers a question about their body, a pop-up appears to explain the significance of their response when selecting a running shoe. For instance, those who note that their feet remain parallel to one another when walking will find out:
"Your parallel foot positioning carries weight properly across your foot. This is an indicator of needing a neutral shoe."
To users unfamiliar with Brooks Running, especially those who happen to be running novices, these explanations convey the brand's expertise and help cement its authority.
2. Warby Parker
Online eyewear brand Warby Parker offers a simple quiz as the lead-up to its home try-on experience. It's a low-commitment quiz with only eight questions, primarily about users' style preferences and the shape of their face.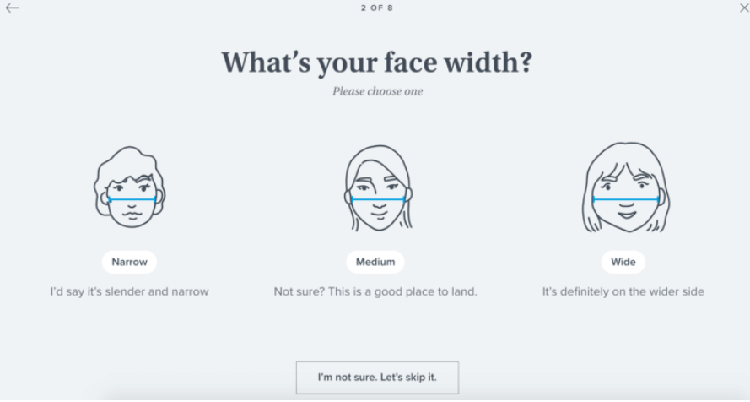 Before anyone can get their results, Warby Parker explains how the purchase process works:
Select five frames from the ones shown and try them for five days. The user can then buy their favorite pair right away, and pay upfront or with a payment plan.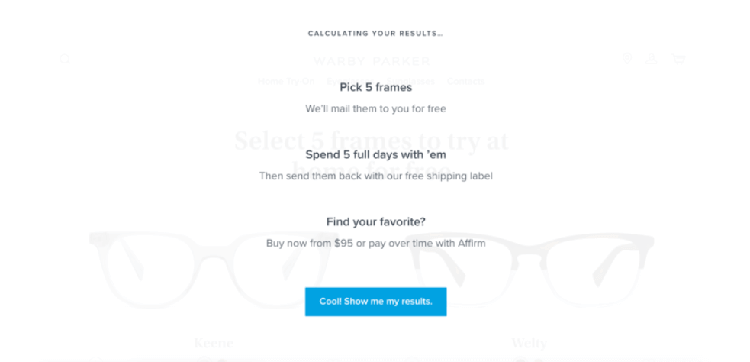 The product page that follows includes the images and names of recommended styles with the options to select a color, add a style to your cart, or favorite it.
Why It Works
There's No Pressure
Users can always skip a question if they don't know the answer or have no preference. In addition, they can select multiple options for certain questions like what color glasses they want.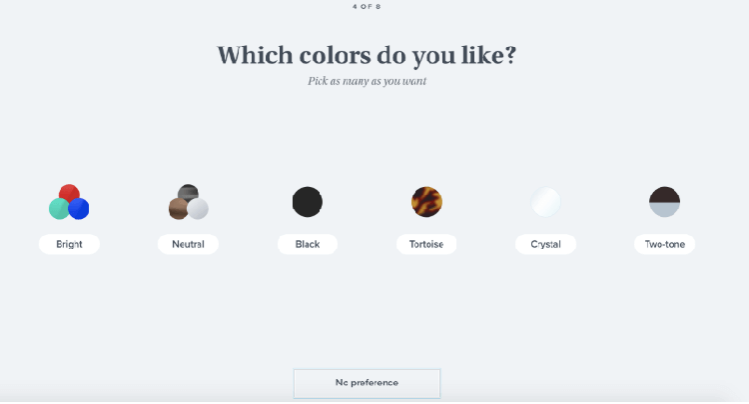 While this may not seem like a particularly big deal, the flexibility of user response makes the quiz more inviting for indecisive users that might otherwise get stuck on a question.
It Captures Users' Email Addresses
The last question asks for users' email address so that Warby Parker can send them their quiz results. At the time of signing up, users can also opt in to receive messages about "the inside scoop" on eyewear.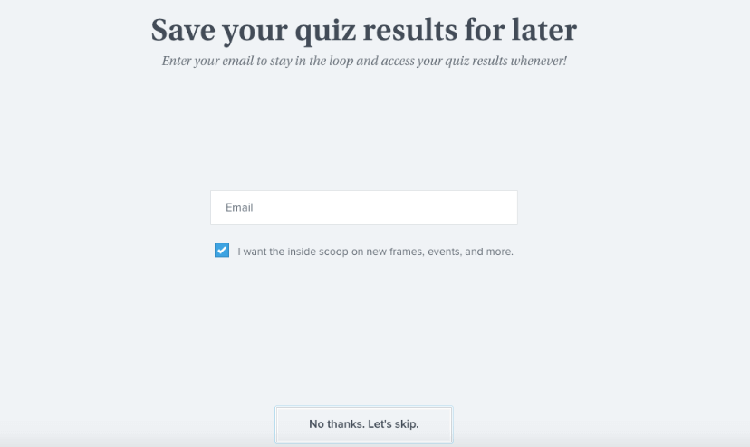 You can, of course, skip this part, but the button for doing so isn't so obvious—it's distant and matches the background of the screen. While this may come across as sneaky, it's also clever. Many users quickly clicking through the quiz may provide their email address without second thought; after all, it'd be helpful to receive your results via email to reference later.
You Can Retake It
The results page offers a link for retaking the quiz just in case users want to explore more options. This is a win-win for both Warby Parker and the consumer: as the consumer, you'll get to see additional products, potentially one that's more to your liking. For Warby Parker, it means keeping the customer's attention by retaining them on the site.
3. Z Gallerie
Home decor brand Z Gallerie's shoppable quiz points users toward items that match their style. The quiz's aesthetic matches the brand personality of Z Gallerie: understated yet sophisticated, with a luxurious touch.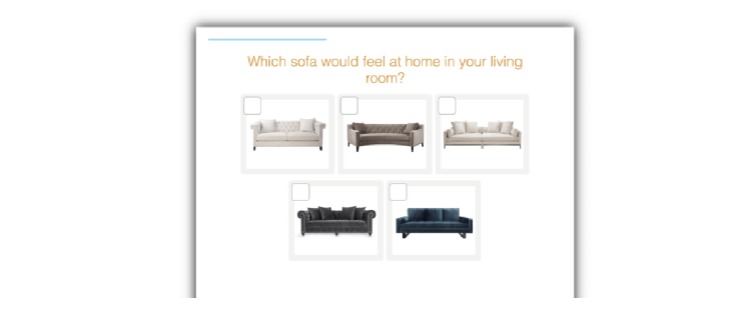 Before users can see their results, though, the quiz asks for their name and email. While this design choice ordinarily risks scaring off users, the quiz is intriguing enough to maintain their interest.
Upon completing the quiz, the initial results page offers just three elements:
1. The name of the user's style personality
2. A high-level description of this style
3. An invitation to click and find out more about this personality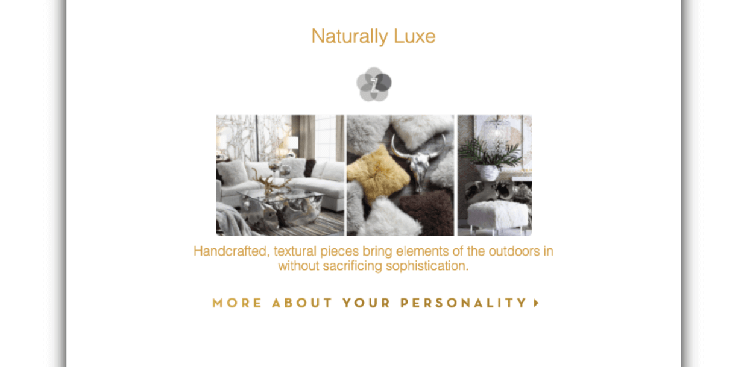 Clicking on "More About Your Personality" leads to a shoppable results page with a longer description and curated furniture pieces based on the user's results.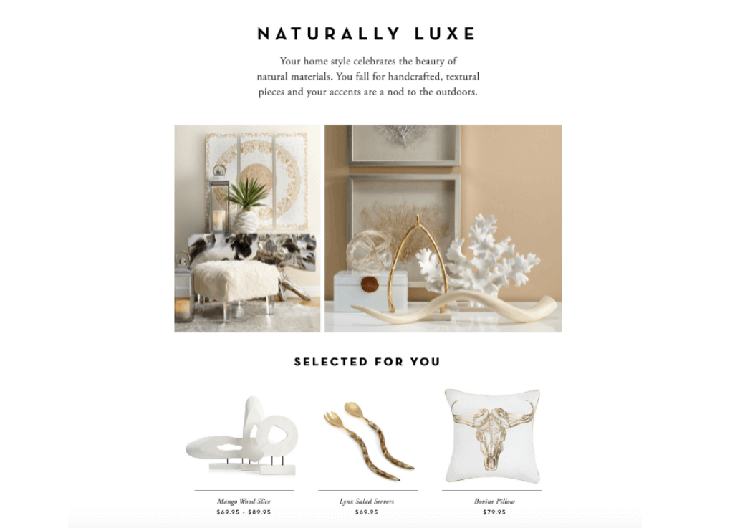 But that's not all. Scroll further, and you'll see complementary style personalities as well as links to their respective results pages. This means that if users think their results were a bit off, they can do some exploring and find a style that better suits their taste.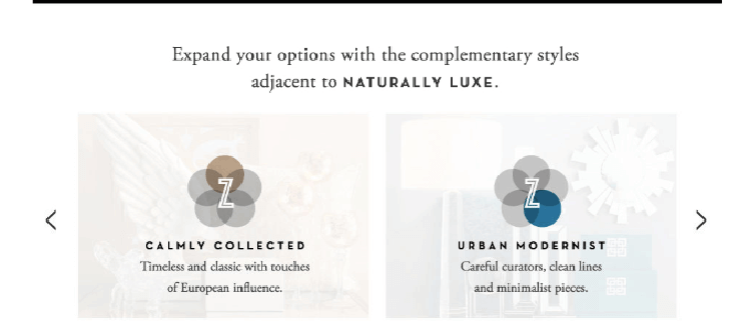 There's a big advantage to readily including these style personalities: users don't have to retake the quiz. Instead, they can immediately browse the other results pages and check out the curated decor items there.
Why would Z Gallerie want this? It means more exposure to additional shoppable content, even if the other style personalities don't fully align with the user's quiz responses.
Finally, as if that wasn't enough, Z Gallerie's results page ends with a section devoted to user-generated content—that is, social media posts that match the given style personality.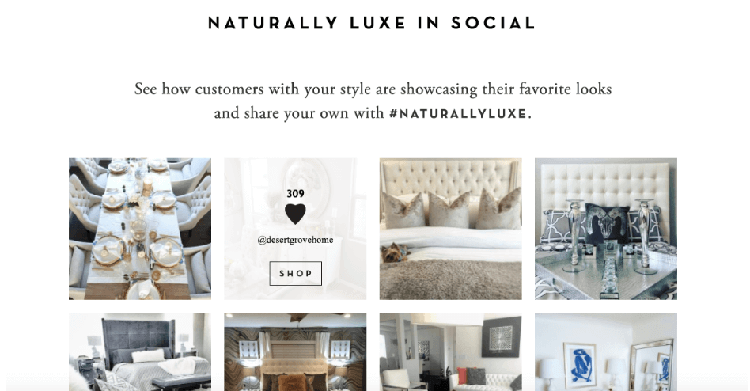 Hovering your cursor over any image reveals the "Shop" CTA button, and clicking it leads to a pop-up that links to specific products. The results page of Z Gallerie's quiz thus has double the shoppability, showcasing curated products on their own at the top and as part of user-generated content at the bottom.
Why It Works
It Uses a Double Dose of Shoppable Content
It shouldn't come as a surprise that Z Gallerie's quiz is especially effective because of its decision to feature shoppable content in two places on its results page. If the stand-alone product images at the top aren't enough to grab users' interest, then perhaps the social media posts will do the trick. After all, these Instagram images give more context to Z Gallerie's furniture and decor, making it easier for shoppers to envision its products in their own homes.
It's Engaging
Z Gallerie knows that people choose decor based on their individual taste, and it plays on this by asking about preferences in texture, fashion, and wall decor. It's easy to move through the quiz: all you do is choose your favorite from a small group of engaging images.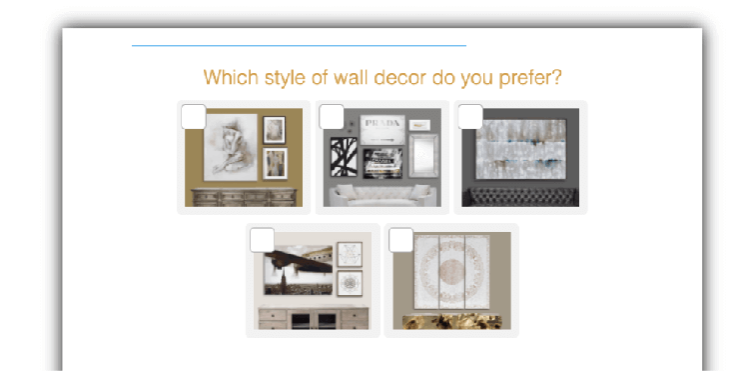 The Questions Are Simple but Evocative
What do you expect will happen when you ask someone, "What's your style?" Though a simple question, its open-ended nature makes it difficult to answer—respondents can't quite verbalize or clearly explain their style without stumbling.
But give someone a number of options, and they'll be able to easily pick their favorite. That's what Z Gallerie does with its quiz questions: it prompts users to decide between different types of decor and fashion style. You don't have to know anything about decor; you just need to select what you're drawn toward.
4. Sephora
Sephora's Skincare Finder quiz helps users "find just what your skin needs to look and feel its best." It starts by asking whether quiz-takers want to shop by skin issue or product type, with an additional option for shopping only Sephora's green products (those labeled with its "Clean at Sephora label").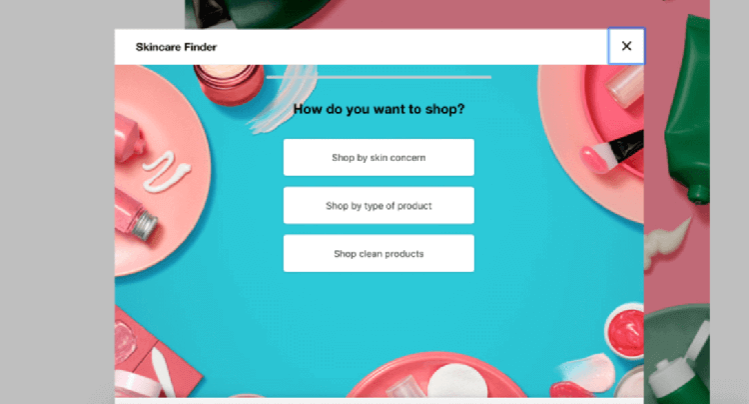 From there, the quiz ventures into discovering what type of product the user wants and, if applicable, what subtype of product they prefer. For example, if you respond that you're looking for a moisturizer to fight signs of aging, the quiz will ask whether you prefer cream, gel, or oil.
Why It Works
It's Short and Sweet
Sephora's quiz asks only what it needs to know to provide users with tailored recommendations. Depending on the user's responses, they may have to give as few as two or three answers.
Consequently, it doesn't take long to reach the quiz's results—you'll get there in less than a minute. The results page then provides a selection of eight products, each with an "Add to Basket" CTA.
It's Easy to Retake
Customers might want to retake the Skincare Finder quiz to find products for other skincare woes. Sephora facilitates this in its results page's banner above the fold—an image that simultaneously announces the quiz's results and invites users to retake it.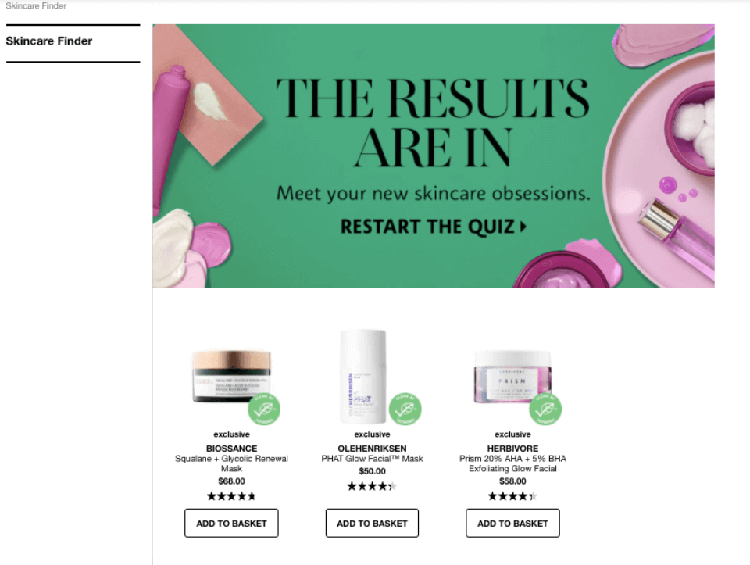 Users thus don't need to fuss about clicking back and forth between product pages. Using the instant "Add to Basket" button, they can go ahead and add products to their cart before retaking the quiz, repeating the process as many times as they want.
5. Hulu
Hulu's "What Should I Watch?" quiz offers television show and movie recommendations for users clueless about what to watch next. It guides them through a few questions about what kind of viewing experience they want—for instance, an escape, an emotional watch, a "LOL", or something else.
It then narrows in specificity, requesting more details about what users want to see, before finally asking whether they'd prefer a movie or TV show.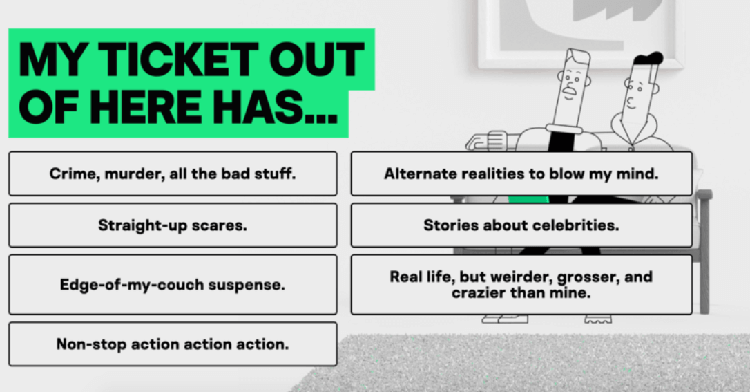 The results page is straightforward: Hulu presents a single movie or television series currently available on its platform, along with a brief description. Users can then choose one of the following options:
Begin watching immediately
Get another suggestion
Retake the quiz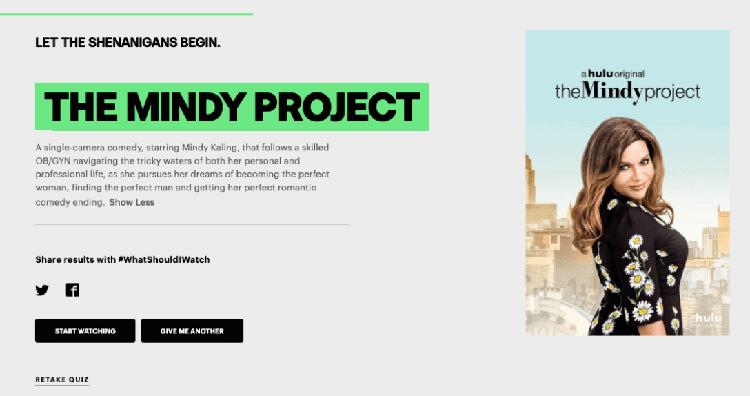 If you feel like it's on the right track, the "Give Me Another" button provides alternate suggestions based on your answers. However, if you're itching for something else, you can retake the quiz to browse additional entertainment genres.
Why It Works
It's On-brand
The response choices reflect a consistent brand voice: casual and lighthearted with phrases like "I could use a LOL" and "I want to feel all the feels." Moreover, adding to this tone are the cartoony graphics in Hulu's distinct brand colors, which accompany each question. The end result: a fun and cohesive voice and personality.
It's Responsive
Each question builds off the last. For instance, if the user selects the response, "I want to feel all the feels," the quiz then prompts: "We have all the feels. Which one?" This flow helps the experience to feel more personal.
It Works for Current and Future Customers
Given that Hulu is a streaming service, this interactive test doesn't quite follow the standard shoppable quiz formula common across ecommerce sites, i.e., a CTA button for making a purchase. Nonetheless, it still invites users to act right away.
For Hulu members, the final screen provides the option to start watching the recommended show immediately—just click "Start Watching" and Hulu will direct you to the show page. As long as you're logged in, you can instantly start streaming a new show or movie.
Even if you're not a Hulu user, you can still click "Start Watching." The subsequent show page that appears includes a CTA button for starting a free trial of Hulu, which then brings users to a signup screen. In this way, Hulu's "What Should I Watch?" quiz guides new leads straight into converting.
Conclusion
Shoppable quizzes represent a new frontier in interactive marketing, one that combines the power of engagement and personalization. With new brands constantly emerging and vying for users' attention, this innovative piece of content is sure to grow in popularity. To start connecting with customers on a deeper level, consider adding one to your own marketing strategy today.
Get Started: Make Your Online Quiz
Using One Of Our 200+ Templates
Author
Joyce Chou is a Content Marketing Strategist at Compose.ly, a content platform that matches businesses with seasoned freelance writers. Apart from managing and writing for Compose.ly's blog, Joyce also contributes to other publications about digital marketing, personal finance, and business and ecommerce.