Increasingly, brands are getting more creative than simply asking their potential customers to sign up for a newsletter or follow them on social media. Enter quiz marketing.
Quizzes are a great way to both grab your audience's attention and give them content that will educate or entertain them. In this article, we'll look at how to create a high-quality quiz, and most importantly, how to best promote it for lead generation, data collection, and enhanced audience engagement.
So, to boost your online marketing presence and start interacting with your audience, read on.
How to Create an Engaging Quiz
You can use quizzes across all kinds of industries, from food and drink to luxury and retail. Take time to think about what you're trying to achieve and what your prospects expect to get from you.
While you should be looking to make your quiz fun and entertaining, always keep your audience in mind. If the appeal of your quiz is too general, you'll find yourself with a pool of low-quality leads - in other words, with a long list of people who will never convert into customers.
Here are some tips for figuring out your quiz type and how to execute it:
Assess your campaign goals: Before you create your first quiz, you should consider your campaign goal. Having a clear purpose for your quiz will assist you in more efficiently planning the content. For example, you could use quizzes to increase your social media following and engagement.

Choose a relevant quiz topic: Once you've settled on a goal and quiz type, you can start thinking about potential topics for your quiz. It's essential to ensure that the topic of your quiz will appeal to your target audience. Otherwise, your quizzes might fail to generate engagement and overall interest. Adobe's Creative Type is a great example of a quiz that's super targeted to the audience (creatives), appealing to their desire to better understand their own creative style and how it compares to others in the industry.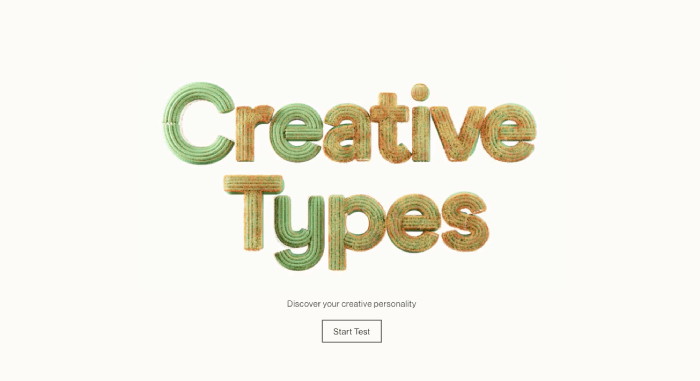 Keep it simple: Quizzes should be brief and straightforward. Participants will abandon them halfway through if they're too long or complicated, and they may not share them with others either. It's critical to create content that will maintain the interest of your participants until the end.

Craft an appealing title: Now that you've decided on a topic and questions, it's time to add some context to your quiz. Create a headline that will immediately grab your audience's attention–such as researcher, academic, and podcast host Brené Brown's Wholehearted Inventory, which aims to assess the quiz taker's strengths and opportunities for growth. Ideally, the title of your quiz should be posed as a question that invites people to participate (e.g. How many of these famous cities can you name?).

Use compelling supporting imagery & video: Along with a snappy headline, remember to include eye-catching imagery. Consider having images in your content to make it more attractive and digestible. To add some fun, you could also use animated GIFs or videos.

Remember to collect information: Whether you're looking to create a quiz to drive lead capture, or you just see it as an opportunity to learn more about your audience, remember to put all the necessary tracking in place to collect the data that you need.
How To Get Conversion Rate Improvement On Your Online Business's Homepage
As we said at the start of this piece, once you've crafted a quiz that fits your brief, it's equally important to consider your strategy and approach to promotion. In fact, this should be considered as you design your quiz, too. The title and visual design will have a big impact on how effective your promotion is, and aligning the quiz topic with the right channels of promotion is key.
1. Encourage Users to Share Their Results on Social Media
First up is social media sharing. A lot of the time, this will be the only type of sharing marketers go for. For effective promotion, you shouldn't stop here, but it's a good place to start.
Remember, a quiz is not a survey. While you may be using quizzes to learn more about your audience, it should always have an outcome for the person taking the quiz. In this way, quizzes tap into people's curiosity - and so can quickly turn passive members of your audience into a segment who are actively engaging with your brand.
Start by sharing your own promotional posts across any platforms you use. If you have an advertising budget, go for paid ads to get more eyes on your post. If not, then think about where you might be able to tactically target a specific audience, like in Facebook groups - but only if you've been active in them in the past. Without genuine engagement in relevant groups, you run the risk of your post being flagged as spam. To make sure you're hitting the right tone with your audience, keep an eye on relevant social media trends.
Then, start encouraging your audience to share their own results. For workplace-related content, such as quizzes about working environments, management styles, or personality types, LinkedIn will be a place where users have a reason to share it. For creative quizzes, Instagram is the platform where participants will be most likely to share highly visual or aspirational content, for example, their results from a quiz like 'What kind of sneakers are you?' or 'What's your sunglasses style this summer?'. You could even direct them to share via Instagram stories.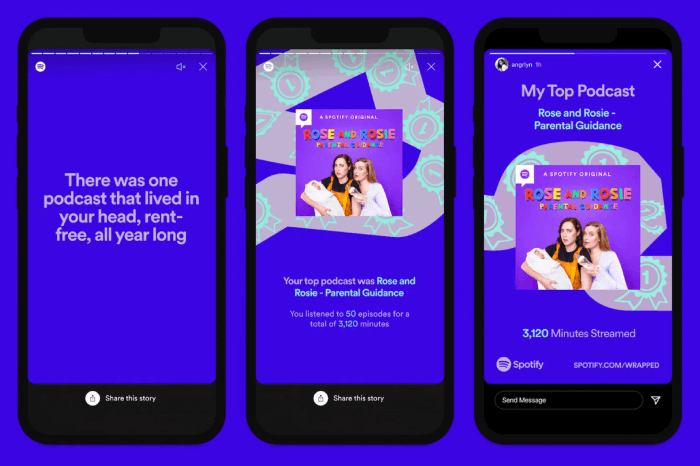 While not exactly a quiz, Spotify offers a great example of encouraging social sharing of their users' "results" with their annual Spotify Wrapped campaign. As well as providing listeners with a rundown of their key stats for the year, Spotify packages up the data in a way that's easy to share–particularly via Instagram Stories–and provides personalized insights into their tastes and interests.
2. Use Social Polls to Tease the Answers
After social media posts that alert your audience to the existence of your quiz, social polls are a great option to take this promotion a step further. Often a poll will involve just a single click, so viewers are less wary of signing up for something that's potentially time-consuming or difficult. With that in mind, polls provide a building block of engagement that you can leverage to encourage responders to take the full quiz.
To put this into practice, try promoting your quiz on Instagram or Facebook stories, and then follow up with one or two teaser questions from your quiz. This gives your audience instant gratification, where as soon as they respond, they can see how their answer compares to others.
Also, consider sharing quiz outcomes or answers as teaser content, so your audience knows what kind of insights or recommendations they might see for themselves when they take your quiz. For example, in a 'What's your leadership style?' quiz, you might think about posting one possible result with its key actions or strategies.
3. Send to Your Email List
Your email subscribers, whether they've been engaging with newsletters, exclusive deals, or have purchased from you in the past, are an audience already receptive to your content - and so potentially a perfect target for your quiz.
Keep the email to a clear heading and call out which links through to your quiz, and carry through the design you employed when creating the quiz. Promoting your quiz this way can also help you segment your email list for future direct marketing.
4. Promote on Your Website
While it's important to think of all types of platforms, don't overlook your very own: your website. Whether you're hosting your quiz on your website, or featuring it and sharing it through your email newsletters, your homepage should point to it the same way your social posts and email promotions do.
On your homepage, this could be a banner or floating ad. It could also be a pop-up - where instead of offering sign-up straight to a newsletter, you ask visitors to your site to take a quiz to understand how your brand or service could help them. Buzzfeed goes as far as to include Quizzes as a navigation category, which makes the format a key part of the user experience.

5. Create a Giveaway or Competition for Entries
Lastly, consider sweetening the deal. For example, if you're a skincare brand, you might put together a quiz that asks users a series of questions about their preferences and needs, ending in a personalized recommendation or a product referral.
To encourage existing or new customers to take your quiz, why not add everyone who completes the quiz to a competition draw to win their recommended product? You could also consider combining this strategy with our first promotion tactic, and encourage quiz takers to share their results on social media to go in the running for the prize.
Promote Your Quiz for Better Engagement
In summary, quizzes for marketing are a great tool. Take the time to learn how to create a quiz that fits your purpose and marketing goals, and take care to promote it in the right way and in the right places.
Then watch your audience engage and have fun with your brand, creating more - and better quality - leads and customer data. Happy quiz-making!
Start Now with Interactive Quizzes
With One of Our 200+ Templates
Author
Lachean Humphreys is a writer and editor based in London. With a background in content marketing, she has spent the last few years working in the world of business publishing, focusing on marketing, communications and advertising, including writing for Envato.