Running an eCommerce business means that you have to maintain a steady flow of customers. And in the fight for eyeballs out there, that's definitely no small feat.
One of the secrets to getting more customers is to get more leads. Today's leads are your tomorrow customers. That is what makes lead generation strategy a must for the eCommerce business.
It should come as no surprise that 60% of marketers name lead generation as one of their top three priorities, while 26% of them say it's their highest priority.
With a winning lead generation strategy, you can attract more qualified traffic to your eCommerce site and move them through the sales funnel until they're ready to make a purchase.
In this post, we'll dive into four top actionable eCommerce lead generation strategies to leave your competition in the dust.
1. Invest In Gated Content
Gated content or locked content is one of the most friendly ways to collect visitor's contact information. It's about creating valuable content and using it to entice visitors to submit their email addresses and names before they can access it.
So, instead of giving away free content, you create the exclusive ones that only visitors who submit their contact information can read, watch, or download. The content can be in any form; ebooks, whitepapers, explainer videos, courses, even trials, etc.
However, since it's not free content, make sure you make it worthy and more valuable -- where you've invested a ton of time researching the best solution to a problem.
Shopify's free trial is a good example of gated content. Until visitors submit their email addresses, they can't upgrade on one of its paid plans.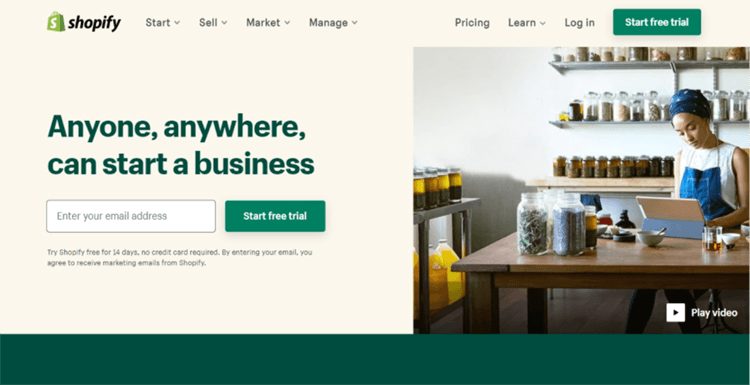 2. Use Exit-Intent Popups
Popups have been gaining a bad rap: it's annoying if not invasive or distracting. In fact, if you know how to use it well, it can be your eCommerce lead generation machine instead.
Exit-intent popups are less intrusive as they'll appear when a visitor is going to leave your site to re-focus visitors' attention. So, not only does it help you with lead generation, but it also reduces cart or site abandonment rate.
According to Conversion Sciences, 10 to 15% of lost visitors can be 'saved' by using exit-intent popups. This number shows that visitors responded to valuable messages before they decided to leave a site, indicating the exit-intent popups do work.
Here's how Misen uses a giveaway to collect the leads of potential customers right before they close the tab: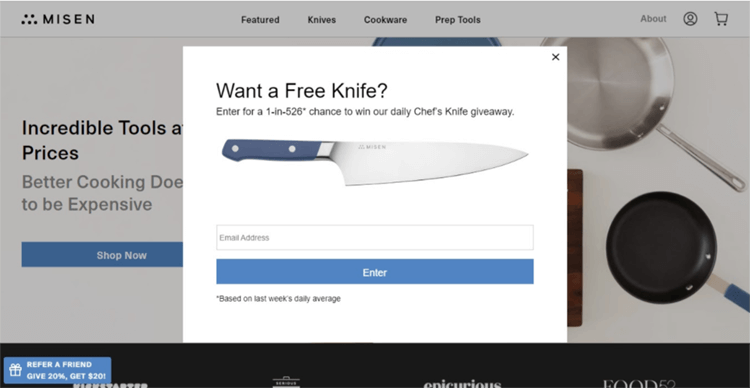 3. Take Advantage of Cookies
Many eCommerce sites use cookies to understand how visitors interact with their site so that they can improve user experiences. Now, you can also use cookies to collect more leads.
Cookies store and keep your visitor's data. So, you can give incentives or offerings without consistently asking them to log into their accounts or do any other data, as their preferences are stored already.
This way, it lets you retarget people who have already visited your store or shown an interest in your product. As a result, it'd be much easier for you to show preferred products or even seek out visitors who have abandoned shopping carts.
Look how Airbnb created a cookies banner to inform their visitors about the privacy settings: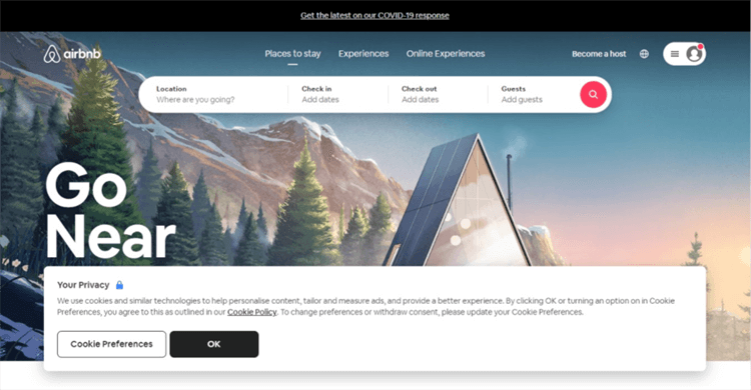 4. Offer Incentives or Special Discounts
Not all of your site visitors will be ready to buy on their first visit. Most of them prefer to explore before they make purchasing decisions and let themselves familiar with your brand first.
But, many of them will be ready to provide their email address in exchange for getting a special offer, a discount, a free sample, or even free shipping. After all, who doesn't like discounts? Anyone?
Therefore, you can use incentives as a lead magnet to collect more qualified leads.
You need to make sure that visitors see your special offerings. Your homepage seems like an ideal page where you can display the special offerings. As an alternative, you can create a pop-up for that too or share offerings in abandoned cart emails to motivate a customer finish previous purchase and add promo items to the cart
Here's an example from Flash Tattoos that use a pop-up to offer their freebies for visitors who wills to join their email list: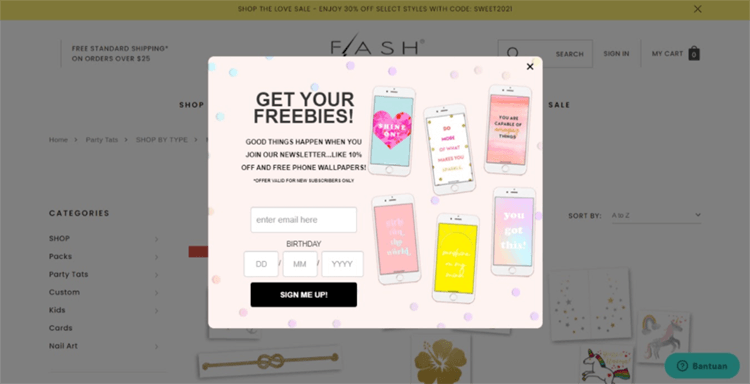 To make it more memorable and fun, you can gamify the user experience by using lucky wheels, games of cards, lead generation quizzes, scratch coupons, and more. This way, visitors will get more excited about submitting their contact information.
See how Hockey Empire nailed their offerings using a lucky wheel: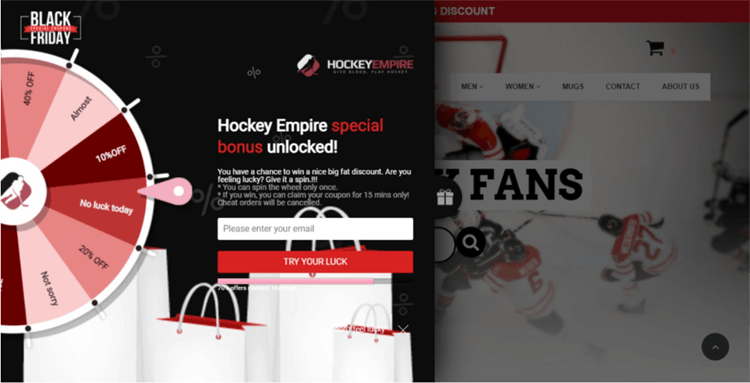 Final Thoughts
There you have it. As an eCommerce marketer yourself, you must understand that in this digital world, it's only getting hard for the eCommerce business to capture the attention of visitors -- it becomes a demanding and expensive task. That's what makes lead generation is a must-have strategy for every savvy eCommerce business to outpace the competition.
Thankfully, with those four actionable ways mentioned above, you should have no problem collecting more qualified leads to your online stores and increase your conversions.
Of course, you don't have to adapt all of those strategies. You can choose one that matches your eCommerce preferences and budgets. Later on, you can add other lead generation strategies as your business expands or as a situation calls for it.
Author
Andre Oentoro is the founder of Breadnbeyond, an award-winning explainer video company. He helps businesses increase conversion rates, close more sales, and get positive ROI from explainer videos (in that order).