While most CRMs have pre-built forms, there may be situations where using custom forms outside of the CRM platform is more suitable.
Today, let's delve into when you should consider implementing a custom form and how to seamlessly connect it with the CRM of your choice.
When to Consider Custom Forms?
Online forms are a simple and straightforward solution. You embed them on your website, and when leads or customers fill them out, you obtain their email address or other necessary information you require.
You might want to look into advanced forms in case you need:
Advanced Analytics
For instance, you may want to analyze the user behavior within your form to identify drop-off points, determine if they predominantly use mobile or desktop devices, or even track the geographical origin of form submissions. Forms can provide much more data than just an email address 💡
External System Integrations
In some cases, you may require forms to integrate with external systems or third-party applications (customer support systems, email marketing platforms, payment getaways). Using a custom form solution can enable you to ensure seamless data flow between systems.
Payments
You may also encounter scenarios where you need to accept one-time or recurring payments through online forms, which may not be supported by all CRMs. This is where custom online forms can prove to be beneficial, allowing you to seamlessly integrate payment processing capabilities. 
User Experience Considerations
If you prioritize a specific user/ customer experience or have unique user interaction requirements, using a custom form solution can provide more control over the form's behavior, user interface, and overall user experience for a better conversion rate. You can get very creative with your forms, just like I did when creating this feedback form, to emphasize the point:
 Choose a Compatible Form Builder
The first step is to find an online form builder the meets your requirements.
Ideally, the form builder you choose should offer essential elements such as form customization options, diverse field types, conditional logic, and the ability to incorporate file uploads or payment processing. It is also important to verify its mobile responsiveness, compliance with data protection regulations like GDPR, and ease of use.
Also, your form settings should offer the flexibility to embed the form directly into your website, share it as a pop-up, or distribute it through a link.
Remember that forms can take various formats, extending beyond standard form fields. Take a look at these embedded forms created using involve.me, a drag and drop form builder:
Embed Interactive Forms
Start with a template code free
When selecting your form builder, it is preferable to choose one that offers a built-in integration with your CRM platform. I would like to demonstrate how you can integrate your form with the CRM of your choice, both when it has a native integration and when it doesn't.
Set Up Native Integration  
Let's explore how involve.me form builder can be connected to the CRM of your choice with its native integration.
To provide some context, with forms created with involve.me you can capture contact information, conduct surveys, generate and qualify leads, and even process payments.
involve.me has native integrations with most popular CRMs such as HubSpot, Keap, Salesforce, Marketo Engage, Pipedrive, SALESmango, Zendesk Sell, Zoho CRM, Brevo, Freshales.
Here's how to set up integration with HubSpot:
Head over to the "Integrations" tab on the top bar, find a tool you want to integrate (in our case, it's HubSpot CRM), click "Connect".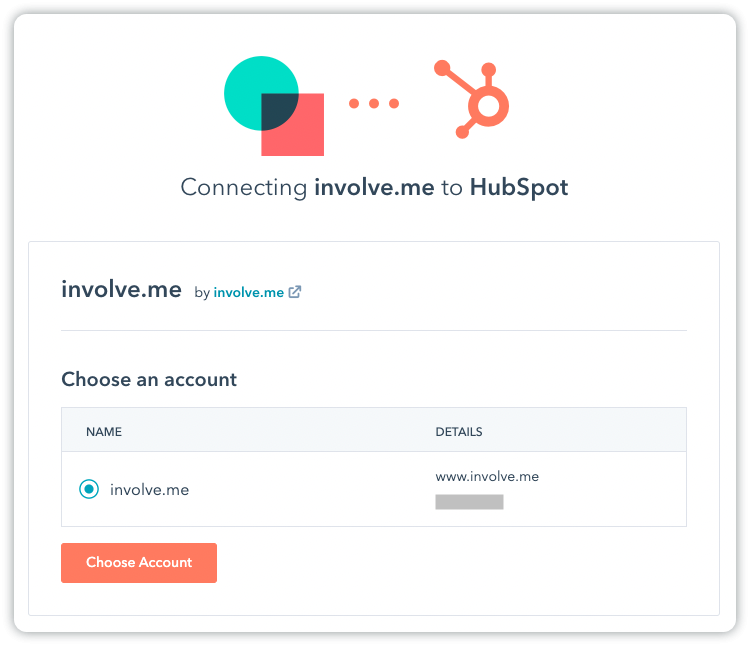 After successfully establishing the integration with involve.me, you have the option to rename the connection by clicking on the pencil icon.This way you can maintain organization and avoid any potential confusion, particularly if you have multiple connections in place.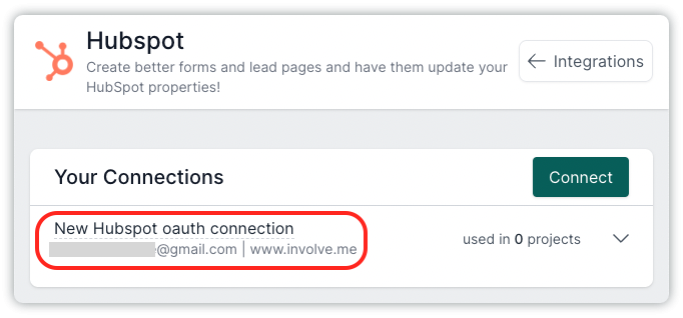 The integration will automatically send emails and default properties without any manual intervention. 
Once you have established the integration, the next step is to connect it to the specific project you wish to use it on. To accomplish this, navigate to your dashboard or workspace where your project is located. From there, access the dropdown menu on your project card and choose the "Connect" option.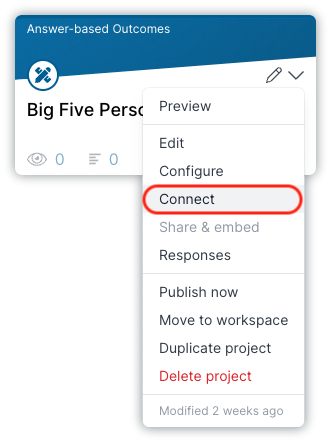 Pro Tip: If maintaining GDPR compliance is a priority for you, incorporate an Opt-in Checkbox in your projects to obtain user consent.
To begin, ensure that you enable the option "Only trigger integration when opt-in checkbox was selected" in the settings of your integration. This setting ensures that the integration will only be activated when the user has actively selected the Opt-in Checkbox.

Connect Your CRM to Forms with Zapier
If there's no direct integration, you can connect your software with custom webhooks or Zapier.
Zapier is a user-friendly platform that simplifies this process of connecting a form builder with your CRM (and other 5,000+ supported apps).
To connect your CRM to an online form builder using Zapier, start by signing up for an account on Zapier if you don't already have one. Zapier has both free and paid plans with different features and usage limits.
Choose the form builder you want to connect (for example, involve.me). Then, choose your CRM (I chose Pipedrive) and specify the trigger event that will initiate the integration, such as a new form submission.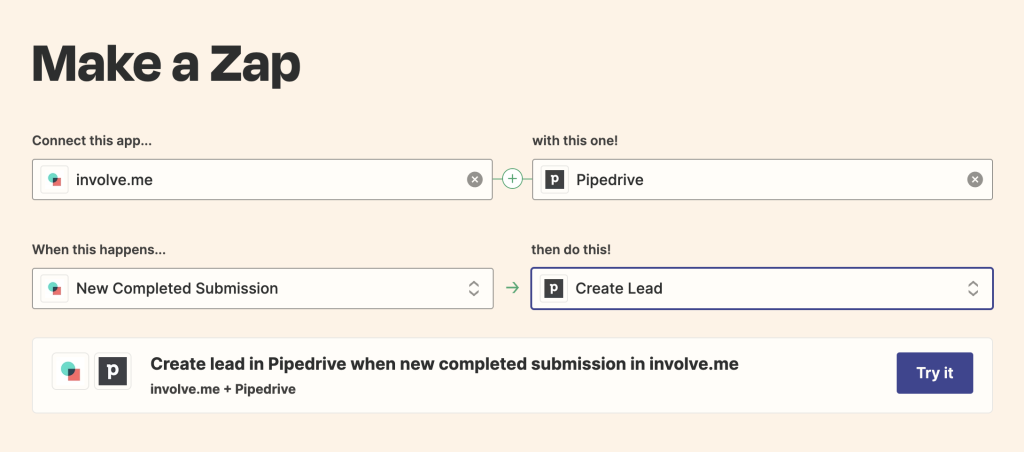 Configure the action settings based on your requirements. Test the action to ensure it is functioning as expected. Name your zap and turn it on to activate the automation.
Once the zap is active, it will run automatically whenever the trigger event occurs, performing the specified action based on your settings. You can create multiple steps and complex workflows by adding additional actions or using filters and conditions within Zapier.
The Bottom Line
Leveraging custom forms alongside your CRM can provide immense value in specific scenarios where the CRM's pre-built forms may not fully meet your requirements. Incorporate custom forms, tailor user experience, capture specific data, and integrate with external systems seamlessly using Zapier or native integrations.
Harness the power of custom forms to enhance your CRM workflows and deliver exceptional experiences to your customers. Happy form-building!