NPS surveys are a powerful tool to collect customer feedback. After running your first NPS survey, you could face a brute reality — there is a number of customers who are not happy with the service or product you provide. It can be quite demotivating, right?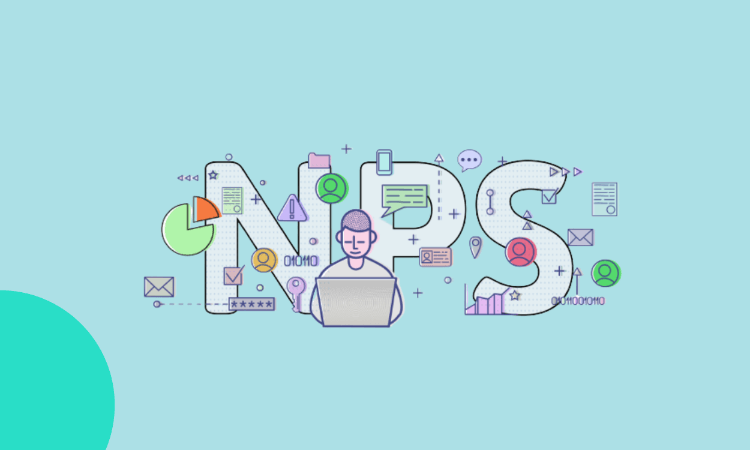 Get Started with Online Surveys
With One Of Our 200+ Templates
But here is a thing — the responses from detractors can teach you a lot about what you need to improve to make your detractors happy again and also make sure your future customers rank your service high.
So what should you do now once you are aware you are dealing with unhappy customers who are at risk of churn? How should you react to their feedback and what steps should you take to fix the issue?
In this article, we will walk you through the process, so you will get the right knowledge and learn about tools to help you turn detractors into promoters.
Let's first see how you should understand the term "NPS detractor".
Who Are NPS Detractors?
Detractors are the customers who are not happy with the service your company provides. When talking about detractors, we usually mean a segment of customers that give a score between 0 and 6 in an NPS survey.

Once you are aware that they are customers who are not happy with your service, you might ask yourself a question — "What exactly should our company response be to this feedback and how much time do we have to fix it?"
The hard truth is — the more time passes from your last survey, the higher the chance of bad consequences. Let's quickly see what can happen if you react too slowly to negative feedback from customers.
Reasons to Turn Detractors Into Promoters
If you are not taking responses from detractors seriously, here is what can follow.
1) Detractors Can Hurt Your Business
When customers are not happy with the service they pay for, they can spread a bad word about your business on forums, Facebook groups, or Quora threads. All they need is a spark — someone asks a question "What do you think of…? Is it worth it?", like the one below to get the conversation started.

Some of your customers will be quite formal and rational at sharing negative feedback on public forums, but others — more annoyed customers — can even engage in negative word-of-mouth marketing.
2) Create a Leaky Bucket
Detractors are at a high risk of churn. As more customers churn every month, you will have to invest more money in acquiring new customers to keep up with your growth targets.
Not dealing with product or customer service issues that detractors point out will eventually result in a leaky bucket in sales.
Bottom line: the cost of acquiring a customer will grow and you will have to spend more money in marketing and sales to compensate for the churned users.
3) Lose Clients to Competition
When your customer problem is not considered and resolved, it won't take long for customers to run a Google search like "Your business name vs. Your competitor". If you do a quick search, you'll see your competitors have already created comparison pages showing how their business compares to yours.
Another place where your customers start asking about alternatives to your product are various groups and forums. In both cases, if your competitor already offers what your product lacks, there is a high chance a customer will quickly switch to your competitor.
Now — you have probably realized you have to react to NPS feedback from detractors as fast as possible. So let's look into what exactly you have to do to avoid those bad consequences.
How to Turn NPS Detractors Into Promoters?
In most cases, you can't turn detractors into promoters overnight as you will need to introduce extensive product changes and improvements to your company process.
Don't worry if the process can look too complicated and time-consuming — just follow the steps we are sharing.
If you do everything the right way, you will see an impact not only in your NPS score, but also on your revenue metrics.
Bottom line: it's worth it so let's see what it takes!
1. Collect In-depth Feedback
Surveys are often used by market research companies running paid online surveys to measure customer loyalty.
However, you shouldn't always have to pay your customers to get their feedback. In fact, you'd most likely have to do it with remote usability testing, because you'd have to have live conversations with users often taking more than 30 minutes. To fill in an NPS survey, it takes not more than a minute to share feedback and these surveys are easy to build.
With involve.me, you can choose among different templates and create NPS without the help of a developer. Apart from displaying a 0-10 score, you can ask the additional open-ended question to collect more feedback.
Get Started with Online Surveys
With One Of Our 200+ Templates
If you want to take meaningful steps to improvement, you should have more information on the table on what has caused your customer's unhappiness.
Here is what you need to do to get more feedback from customers:
Ask open-ended questions and let customers share their opinion in more detail.

Don't be afraid to call or write an email if you need to get more information or details.

Prepare another survey for the customers who have turned out to be detractors. You can do it in-app, via email, or through chat using the software that can track and segment your customers based on responses. In this survey, ask more specific questions.

Cater to different user needs — some customers might be responsive to emails rather than phone calls, so you have to make sure you use a multi-channel approach. Also, remember to cater to groups with disabilities and make your communication ADA compliant.
2. Send an Automated, but Personalized Response
Once you receive feedback from detractors, send a quick response — it can even be sent as an email autoresponder (with small personalization). This way, you can let them know they have been heard, their problem is now reviewed, and will shortly be dealt with.
By giving a promise that a problem will be resolved, you can win some time and calm down detractors.
When you create an NPS survey using involve.me, you can segment your autoresponder response based on the outcome. This means, you can create a separate email for detractors, passives, and promoters.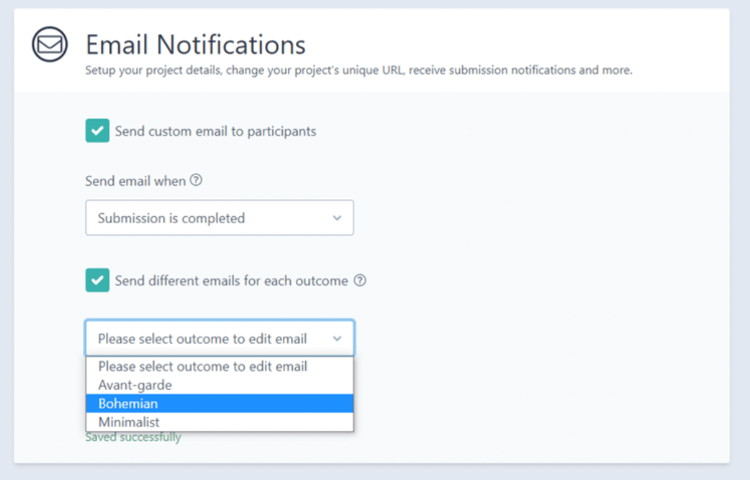 3. Analyze the Results
Companies often conduct NPS surveys routinely. Achieving a score between 8 and 10 can be an indicator of success for many, so why would you dig deeper into responses?
Without a proper analysis of your NPS survey results, you won't make any steps towards making detractors into promoters. Finding the main issues and patterns in your customer responses is the first step towards the goal of making every customer happy.
So here is what you have to do once you have collected responses from your customers. Export your NPS survey results — into Excel or another format that is easy to edit. Mark responses — you will quickly notice that some of your customers mention the same problem, so make sure you batch them. Define issue priority — you have to understand what issues to start working on first. Focus your attention on the issues that can be fixed the fastest and have the biggest impact on your customer satisfaction.
4. Mark Detractors in CRM
Imagine you take two pills and one of them helps cure your disease. The problem is that you don't know which one. You will have the same problem with measuring impact of any product improvements if you don't record NPS responses in a central place — your CRM.
By integrating your NPS data in CRM, you can tag customer responses from different NPS responses. The key benefit the integration with CRM brings is tracking progress product improvements have on detractors' NPS score. All information is at your fingertips — you can check previous and the latest score to understand if there is any positive impact.
Most marketing automation software — Mailchimp or its alternatives give you a chance to tag contacts when importing in a CSV file.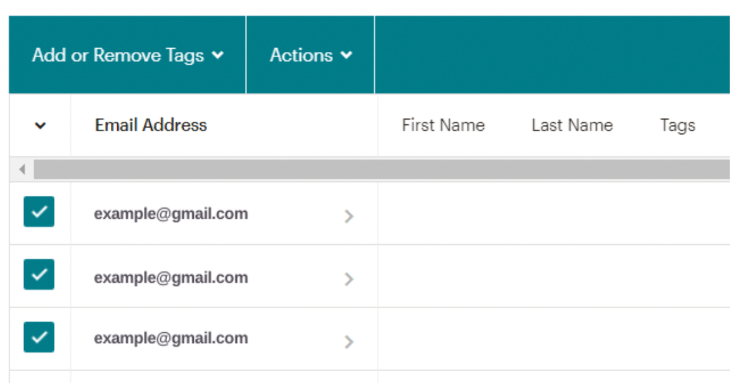 By tagging your contacts, you can also send them targeted email marketing campaigns announcing new product updates and asking them to rank your product again.
5. Take Action to Implement Feedback
So you have an extensive analysis of the issues your detractors face. Now — time to act on it!
Work out a plan of action — think of how to structure work, what has to be done, and who can be in charge of it.
Discuss the plan internally and assign roles to your teammates. When working on implementing product improvements, set up deadlines.
Remember that you have to be quick at fixing critical issues that detractors spot — spending 6 months on introducing a minor change to a product is definitely too long. If it takes you too long, your detractors might already switch to a competitor solution.
Once you roll out new features, make sure you involve people to test it and make necessary fixes based on the collected feedback.
6. Let Your Detractors Know
Once you unroll the changes, let detractors know that their feedback has been considered.
The worst thing that can happen is you doing a lot of work on product updates and not letting your customers know they can start using it.
Here are some steps you can take to announce product improvements:
Use product changelog — get your customers to read about product improvements when they are actively using your product.

Add a post in your knowledge base — write a how-to article in your knowledge base that would explain how to use a new feature from A to Z.

Send a newsletter — send a separate personalized email campaign with the updates on your work only to detractors asking them to test it out and provide feedback.

Call them — you can also try outreaching your customers directly with tools like VoIP.

Use a company podcast — You can also discuss product news in your online podcasts that are often listened by active users.
7. Ask for Feedback Again
You have delivered on your promise by unrolling a critical product update and your customers got a chance to test it out. Now, it's time to check how they rate your product.
To do it, you can set up an NPS survey for a certain customer group on the page where you unrolled a new feature.
You can also send a targeted email campaign to your detractors that will later direct them to an NPS survey like in the example below.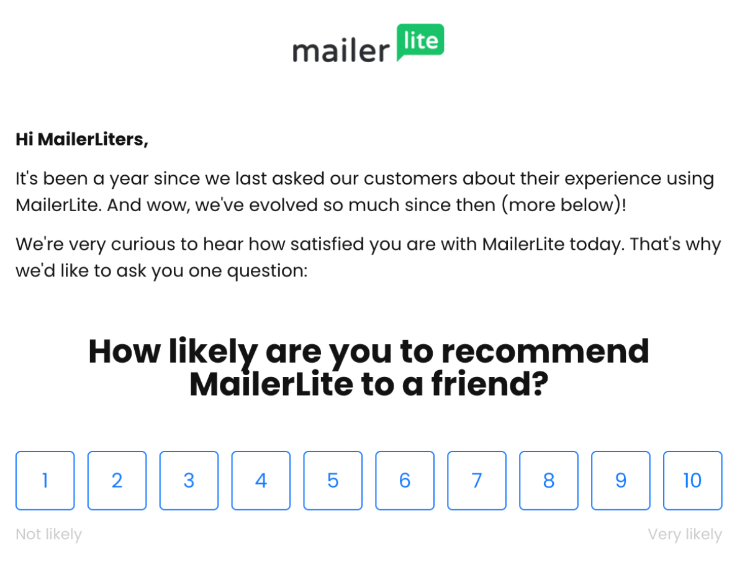 Over to You
Converting detractors into promoters requires a good plan of action and time as you often have to carry out serious product changes. In some cases, you will also have to improve processes in other areas of your business such as website design or customer support.
In all cases, your customers will not want to wait for too long for their feedback to be considered and implemented.
Hopefully, by following the tips we have shared in this article, you will be able to collect the right feedback and know what product improvements will be the easiest to introduce, but also the most impactful to turn more detractors into promoters. Good luck with the process!
Get Started with Online Surveys
With One Of Our 200+ Templates