Don't tell your customer how awesome your product is.

Instead, show them how your high-quality product can benefit them in the long run.
This not only grabs the interest of potential customers but also prompts them to move forward in their buyer journey. To show the benefit, use a custom return-on-investment calculator (ROI).
You don't need to be a tech-savvy expert to create and embed an ROI calculator into your website. There are plenty of third-party tools that can help you create a customized and interactive ROI calculator to kickstart your B2B marketing campaign and attract a wider audience.
Let's dive into how online calculators can help you achieve your business goals and how you can create your own ROI calculator using third-party tools. Get ready to see those leads rolling in!
Why Should You Use ROI Calculator?
Return on Investment (ROI) is a metric that determines the profitability of an investment. An interactive ROI calculator is a tool that helps businesses to calculate the expected return on investment for their products or services.
There are several advantages to using an ROI calculator, including:
Conversion Rates Boost
Suppose you run a digital marketing agency that offers PPC services to businesses. To increase your conversion rates, you can create a calculator that shows potential clients the ROI of using your PPC services.
By inputting budget and other relevant information, the calculator shows revenue your customers can generate through PPC advertising. This information helps them make an informed decision about whether or not to use your services, leading to higher conversion rates. 
Here is an example ROI calculator: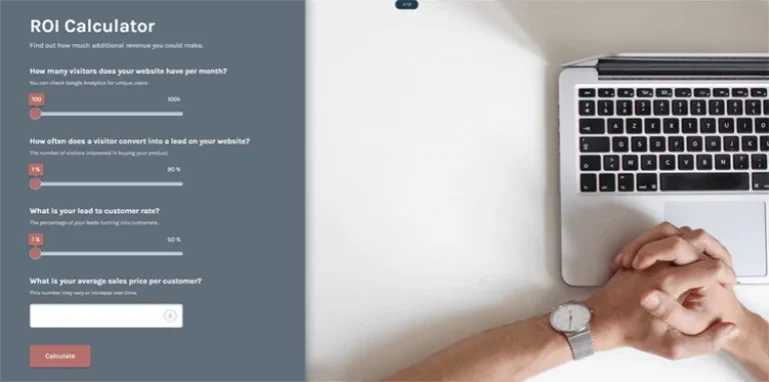 Streamlined Sales Process
Let's take a company that offers a software product for small businesses. They could create an ROI calculator that allows potential customers to input their current revenue, their estimated revenue growth with the software, and the cost of the software.
The calculator could then provide an estimate of the return on investment and the payback period. This information can positively impact the sales process, motivating potential customers to make a decision faster.
Individual Approach 
An ROI calculator can be customized to fit the unique needs of your business. Whether you want to use it as a marketing channel or a customer acquisition funnel, you can tailor this customer acquisition tool to your specific goals.
For example, a financial advisory firm can use ROI calculator that allows its clients to input their financial data and get instant estimate of their ROI. This helps companies to provide personalized approach to their potential customers by customizing the calculator as per their specific needs.
Gain Valuable Insights
With the help of an ROI calculator, you can get valuable insights into your target audience's needs and pain points. This can help refine your marketing and sales strategy, allowing you to reach your target market effectively.
Suppose you own an e-commerce business that sells skincare products. By using an ROI calculator to track customer behavior and spending patterns, you can gain valuable insights into which products are most popular, which marketing campaigns are most effective, and which customer segments are most profitable.
Data Collection
You can also use it for collecting important data that will help you optimize content in your marketing automation programs.
For example, collect data on frequently requested product and then create a unique campaign that promotes this specific product to new markets. Or include some open-ended questions in your calculator, such as: How did you find our company?
Companies Using Lead Generation ROI Calculators
B2B lead generation ROI calculators have become increasingly popular among companies. Let's take a look at some examples:
HubSpot's Ad Spend ROI Calculator
HubSpot introduced a powerful tool to help businesses determine the return on investment of their advertising spend. 
HubSpot's leads can quickly calculate ROI and get detailed insights into the performance of their ad campaigns. All they have to do is to input data on advertising costs, lead generation, and sales.
This custom calculator also provides helpful tips on improving ROI based on the data entered: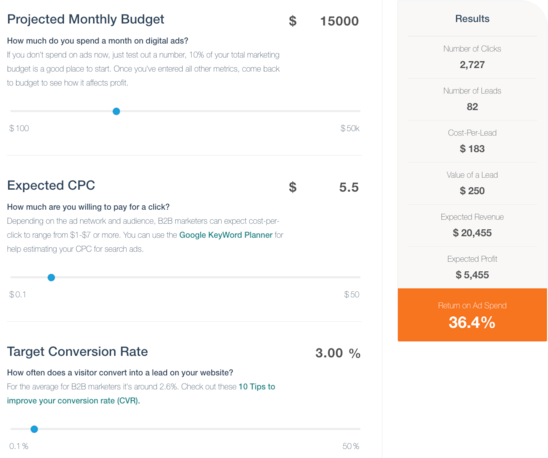 Notably, HubSpot's calculator is user-friendly and requires only simple number ranges, making it accessible and easy to use for businesses of all sizes. In addition, the calculator is designed to encourage sharing, with a clear call to action that invites users to share the tool with others. This increases the calculator's popularity and generates more leads.
Salesforce's B2B ROI Calculator
This calculator helps businesses to understand the potential return on investment and identify strategies to improve gross margin, revenue and cost control. You need to input variables such as company's revenue, average order value, etc to calculate estimated B2B ROI.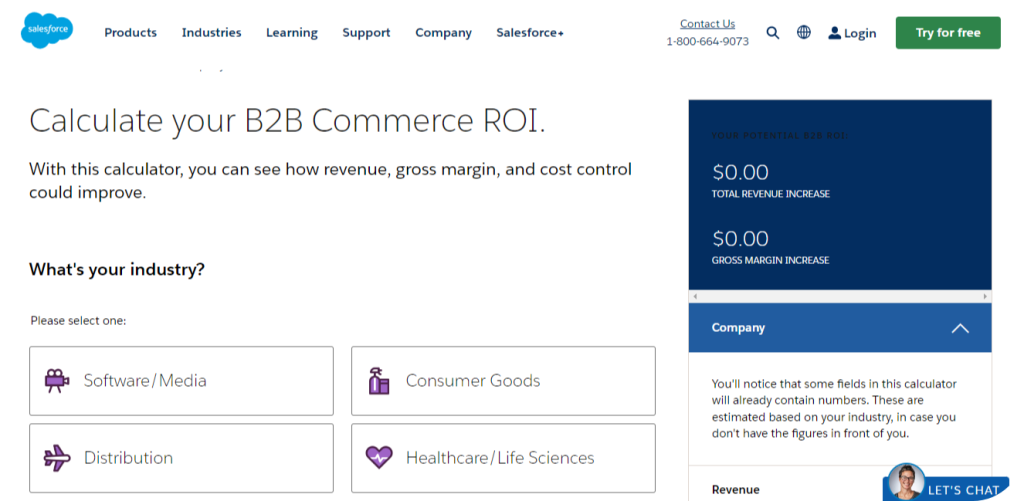 Create Your Own ROI Calculator
Don't be intimidated by the idea of creating your online ROI calculator. With a no-code builder, like involve.me, you can create a converting calculator quickly. involve.me is a user-friendly platform with customizable features that simplifies the process of creating your own calculator.
As a member of my company's marketing team, I was assigned a task of assessing the potential return on investment for our marketing campaigns.
Surprisingly, it only took me 10 minutes to create a ROI calculator.
By following just a few simple steps, you can also create a fully personalized design and calculator formula using the drag-and-drop features. Let me show you how:
Step 1: Get Started with involve.me
To begin using involve.me, create a free account: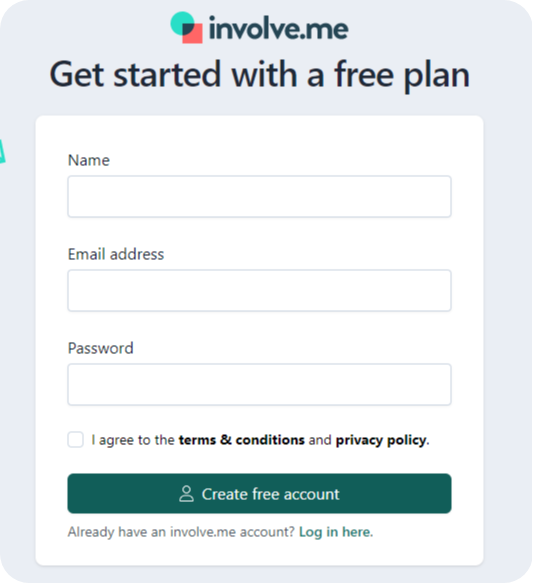 From there, navigate to the "Calculator" tab in the templates section to view the available options. With a wide variety of calculator templates provided by involve.me, you can select one as the basis for your ROI calculator, make a few adjustments, and have your customized online calculator up and running in no time.
If you prefer, you can also choose to create your calculator on a blank page. In the next step, I will create a calculator from scratch.
Step 2: Choose the Project Type
Come up with a suitable name for your project. In my case, I will opt for "Lead Generation ROI Calculator" as the project name.
Then, select the appropriate project type. For calculators, the "Thank You" page type works best. This is because calculators direct users to one final page to view their completion messages, score, calculation results, custom redirects, and more.
Step 3: Customize Using Content Elements and Design Tab
You will see a range of design options to customize the look and feel of your ROI calculator. You can choose from pre-designed templates or create designs that match your branding. Experiment with fonts, colors and background images. 
Step 4: Determine Your Variables, ROI Formula and Create Questions
Identify the variables that you want to include in your ROI calculator. These variables may include the cost of your product or service, the expected revenue, the time frame, and other relevant factors that may affect the ROI. Here is the formula I'm using:
ROI: Current leads per month*(Visitors to leads conversion rate/100)*(Leads to customers conversion rate/100)* Average Selling Price
Based on the ROI formula, I need the following variables to accurately calculate ROI:
Current leads per month

Visitors to leads conversion rates

Leads to customers conversion rates

Average selling price
The next step is to create a set of questions that correspond to these variables. These questions will help you gather the necessary data and calculate the ROI. I use the "Slider" and "Free Text Input" options from Content Elements to create calculator questions.

Step 5: Use Formula Builder
Go to Formula Builder option to customize the formula and calculate the ROI based on your business needs and the complexity of your product or service.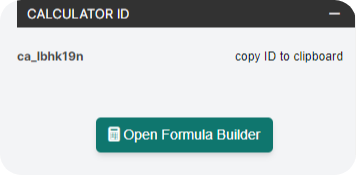 involve.me will automatically calculate the ROI based on the inputs from your questions.
Step 6: Customize the "Thank You" Page
After building the calculator, the next step is to create a Thank You Page that will display the results. To gather customer data, you can add a contact form to the page before displaying the final results.
If you wish to keep the results private, you can enable the "Hide for Participants" option. This will prevent the results from being displayed on the Thank You Page and instead allow you to email them directly to the user.

Step 6: Preview and Publish
Once you have created your ROI calculator, test it out.
involve.me provides testing and preview features. You can preview how it will appear on desktop and mobile. Once you are satisfied with your calculator, you can embed it on your website, share it on your social media channels or send it via email.
Tips to Boost Lead Generation
Now that you have published your calculator, it is time to unleash its potential in your B2B lead generation plan. Learn how to use your calculator effectively to get your business more leads:
Make It a Part of Marketing and Sales Processes
To get the most out of your ROI calculator, integrate it into your marketing and sales processes. For example, embed it on your website, share it with your email marketing list, and use it in your sales pitches.
Also, use it across a variety of channels, from social media platforms and email campaigns to landing pages and webinars. 
Follow Up with Leads
Once you've generated leads through your ROI calculator, it's essential to follow up promptly and effectively. This means reaching out to potential customers through email, phone, or other channels to provide additional information about your product or service.  
Final Words
An ROI calculator can prove to be an immensely valuable asset in jumpstarting your B2B lead generation endeavors. Utilizing a third-party platform, such as involve.me, allows for the creation of a tailored and efficient ROI calculator in under an hour.
Whether your objective is to draw in new clients. augment revenue streams, or acquire customer insights, an ROI calculator can furnish the sales team with the necessary data to optimize performance. 
Grab a template to get started: 
Get Started With ROI Calculator Templates
300+ Mobile Friendly Templates