Every business strives to bring the best product experience to its customers. From Amazon to Etsy or other niche organizations, all of them focus actively on delivering the best services to their customers.
Let's have a look at customer feedback survey examples from Amazon, Uber, Dirft and other companies buidling customer loyalty.
If you are already eager to create your own survey, check out involve.me ;) It's a super easy to use online no-code builder for surveys, quizzes and more! Try involve.me now --> It's Free!
But maybe before that, let's have a look at some best practices and guidelines for creating highly engaging customer feedback surveys:
Customer Feedback Surveys - What For?
Business operations are always a work in progress. The need for quality assessment and control is crucial for complete customer satisfaction. So, how does one know what their areas of improvement are?
Since it's not possible for business owners to take personal feedback from millions of customers, creating customer feedback surveys is a highly efficient way to get the job done. These are easy to answer and take only a couple of minutes of the customer's time, but leave behind a gold mine of insight for the quality control team.
Additionally, showcasing your customer's positive reviews can help you exponentially. As per a study by eMarketer and Bizrates, 98% of customers read online reviews prior to making a purchase decision.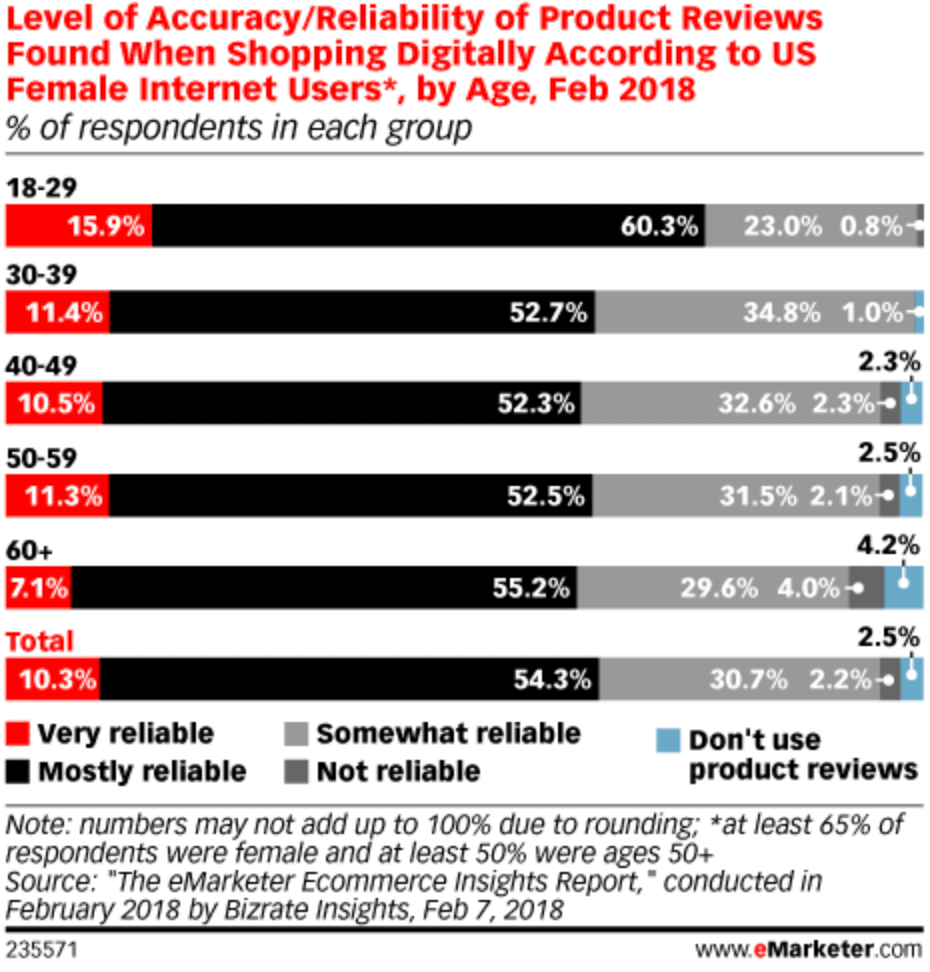 If you're still slacking when it comes to developing your customer feedback surveys, here's a guide that will help you get the job done quickly. Read on below to understand everything you need to know about feedback surveys. We've included a few sample templates that make your job easier.
Without any further ado, let's dive right into it!
Why Should I Pay Attention to Customer Satisfaction Feedback Surveys?
Customer experience depends on several factors. It can be based on anything - ranging from their personal expectations from your brand to their experiences with other brands on the market.
This is where customer feedback comes into play. Learning directly from your customers gives you a new perspective and understanding of their opinions. Essentially there is a fresh set of eyes for every customer that comes forward with their input.
Your online reviews influence your online and sometimes offline reputation.
This is essential when attracting new leads, converting them, and encouraging existing customers to be repeat buyers.
Conducting customer survey feedback is a sure shot way to understand the areas that make your customers happy. But especially, to know about the areas that disappoint them.
The voice of your customers is a game changer when it comes to sustaining a successful business that grows and shifts with time. The perspective and opinion of customers is forever changing based on the age we live in. It also shifts with the generation that holds the most purchasing capacity.
So, listening to these opinions can help you leverage your connection with customers to evolve with them.
Great Questions to Ask in a Customer Satisfaction Survey
Sometimes, businesses don't prioritize creating and running customer feedback surveys.
Even though they are very simple to create, they either choose not to (which is a big mistake) or it is simply because they don't know how to! Honestly, it is a little odd to lose out on such a substantial competitive advantage that can push you leagues ahead into ROI.
Take a page out of our books and form your feedback survey questionnaire based on the question hints mentioned below. We've added various areas that you can cover so that you prepare a well-rounded survey.
However, keep in mind to use these questions contextually. You don't have to ask or add a question just because you can. All the questions in the survey must serve a purpose and not just be added for the sake of it. The less questions you ask, the more questions will get answered.
For example, one of the most common questions asked in any survey is the age of the consumer. But, do you actually need to know their age? If you need it to segment your products or services to fit their age demographic well - go ahead! But, if not; you might want to rethink adding in that question!
Demographics
How old are you?

If it applies, what gender do you identify as?

Where are you based?

What is your occupational position?

What is your marital status?

Do you have children?

What is your educational qualification?

What is your estimated annual income?

Where are you employed and what's your job designation?

If self-employed, what's your business industry?
Psychographics
Which device do you prefer to shop online?

Questions based on the order of priority based on preference. For instance, what is your priority when it comes to your wardrobe aesthetic, fast fashion, or sustainable fashion?

Questions regarding their challenges pertaining to a certain aspect.
Product Use
How long have you been using our services?

Which brands did you look up before buying from us?

How often do you use these services or products?

Does our product bring a positive change to your day?

What is your favorite part of using this product or service?

What would you improve about it if you could?

Which are your favorite product features?

Which is the most productive feature?

What challenges did you experience while using the product?

If you could suggest an improvement in functionality or service, what would it be and why?
Open Questions
The open questions come with a text box for your customers to write their reviews and experience in length. This often is useful for retail businesses, service providers, restaurants or outlets where you can gauge your customer's emotions better.
Satisfaction Scale
A scale that measures their feedback from 1-10

Emojis ranging from very satisfied to disappointed

A scale of agreement to disagreement
How to Make an Effective Customer Feedback Survey?
Making a customer feedback survey shouldn't take anyone on your team more than an hour. A good survey builder comes with mobile friendly templates you can edit to match your brand, so all you really have to do is think of survey questions to ask. You can see for yourself... just try out involve.me and create your customized survey. Try involve.me now --> It's Free! :)
Once you've selected a great survey builder, the next steps are to:
1. Select a Feedback Survey Template
All templates linked below are editable in both design and funcitonality. So grab any template you like and customize it to your liking.
2. Customize the Design
Brand identity is extremely important when collecting customer feedback. You want customers to recognize your brand in order to give detailed, actionable feedback. Add your logo, a background that matches your website, upload your font and round the buttons to match the ones in your survey email.
3. Ask Actionable Questions
When asking feedback questions, less is always more. People's attention spans are getting lower by the minute, so only ask for information you can use.
4. Dipsplay Coupon Codes
Coupons are the most common incentive when it comes to collecting customer feedback.
Get Started with Online Surveys
With One Of Our 200+ Templates
Customer Feedback Survey Best Practices
If you've read this far along, now's the time when you get the juiciest tips on creating the most productive customer feedback surveys. One of the best aspects of going about this is that you can easily switch up your surveys from time to time if there's something specific you'd like to understand.
However, the basic premise and structure of these templates remain the same. Use these guidelines described below to make the most of your customer feedback survey.
1. Use the Correct Tool to Develop Interesting Surveys:
What makes a difference between a great survey and having several abandoned by the customers? Using the correct tool to build your survey can be a game-changer. Make sure that you use an efficient resource to create your surveys so that they look great, transition great, and take as little time to complete. Try involve.me now --> It's Free! :)
2. Give Incentives to Customers
Your customers need a gentle push to provide their opinion at times. Who can blame them, it's a fast-moving world! In order to entice them to take these surveys, make sure to send them an incentive. These can range from discounts, coupon codes and free resources to gifts.
3. Send Surveys at the Right Time
Surveys can get ignored because the timing was a miss. For instance, asking a new member of your YouTube channel for a review wouldn't give you much information to work with. Make sure to get your timing right, such as a month after the launch of your product to gauge customer response.
4. Keep the Questions Short, Relevant, and Unambiguous
One of the biggest errors while creating surveys for customer feedback is a lack of clarity. Ensure that the questions you ask are short and crisp in order to avoid any misinterpretation.
5. A/B Test the Surveys
When in doubt which feedback surveys work the most effectively, run a quick A/B test on yours! This will take note of the response between two surveys; you can push the one getting the most accurate responses.
6. Thank Customers for Taking the Survey
It is highly essential to respect the time your customer has foregone to attend your survey. Once the customer provides their feedback, express your gratitude to them by writing them a note, or adding a bonus gift to sweeten the relationship.
The 7 Best Customer Feedback Survey Examples
To make sure you get the job done perfectly on the first attempt, here's some inspiration. Here are some of the better customer feedback examples out there that you can get inspired from:
1. Uber
Uber has a simple aesthetic that gets downright to business. It has a star rating system where a user can rate the driver's service. They also have a text box if a customer wishes to pay the driver a compliment or any additional feedback.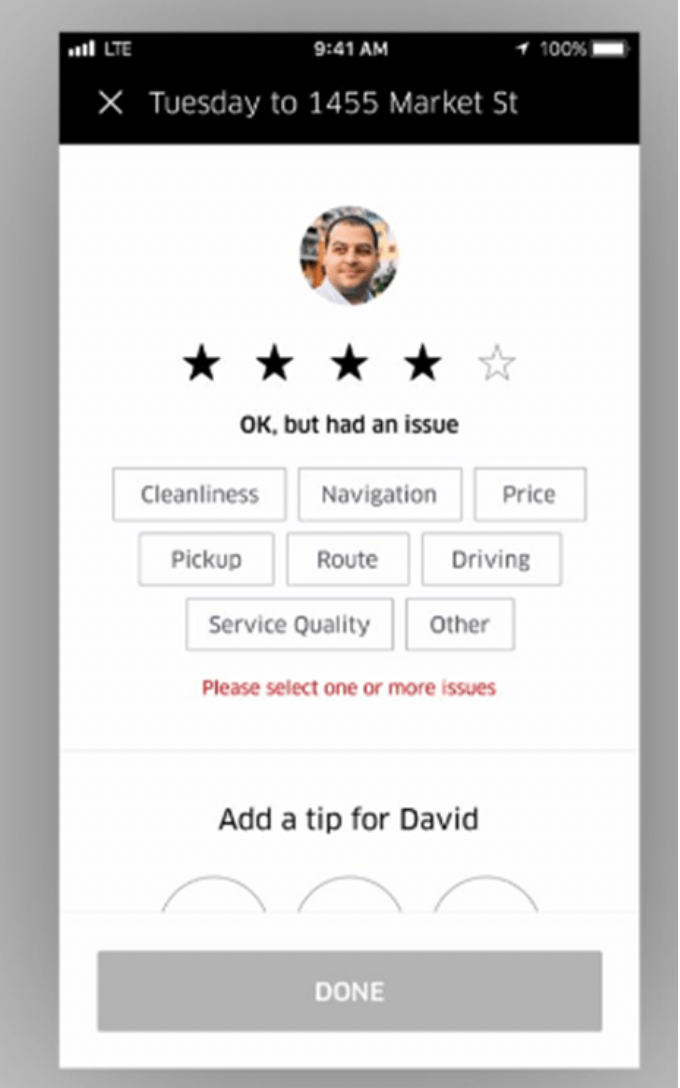 This goes both ways, where the driver, too, rates their passenger. Based on these ratings an uber customer can reject a ride from a low-rated driver, or the driver can decline a low-rated customer.
2. Amazon
Amazon surveys are one of the best customer feedback examples in the market. If you've ever had an unpleasant experience with the retail giant and made it known, they try to make sure your feedback is taken seriously and any problem is resolved instantaneously.
The star rating with a text box keeps things at a minimum yet has room to add long and descriptive details. What's more, customers can also add images and videos to their feedback.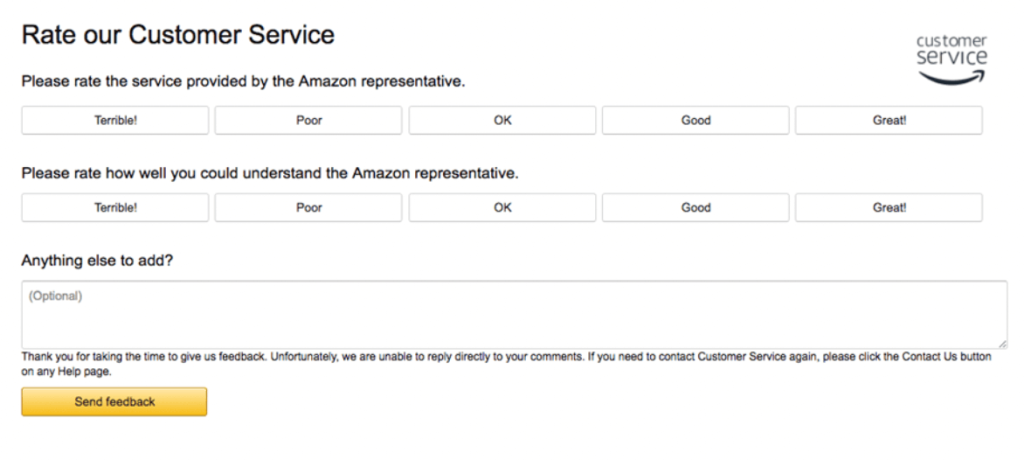 3. Apple
Apple is known for making the lives of their customers easier, and their surveys are no different. The questions are concise, and the multiple option selection allows for an in-depth look into customer perspectives.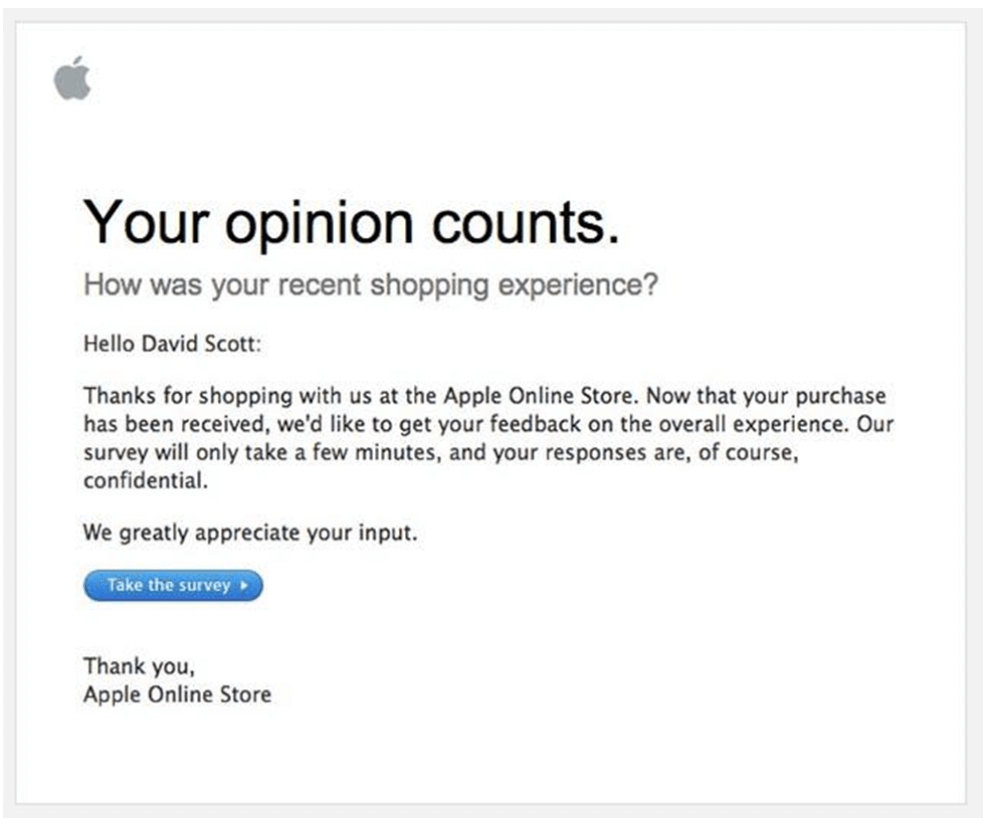 4. Hubspot
These surveys do extremely well due to their simplicity. All that's needed from the customer is a star rating, which can shorten the time spent. Hubspot also makes it possible for users to attend these surveys from their email instead of redirecting to an external link.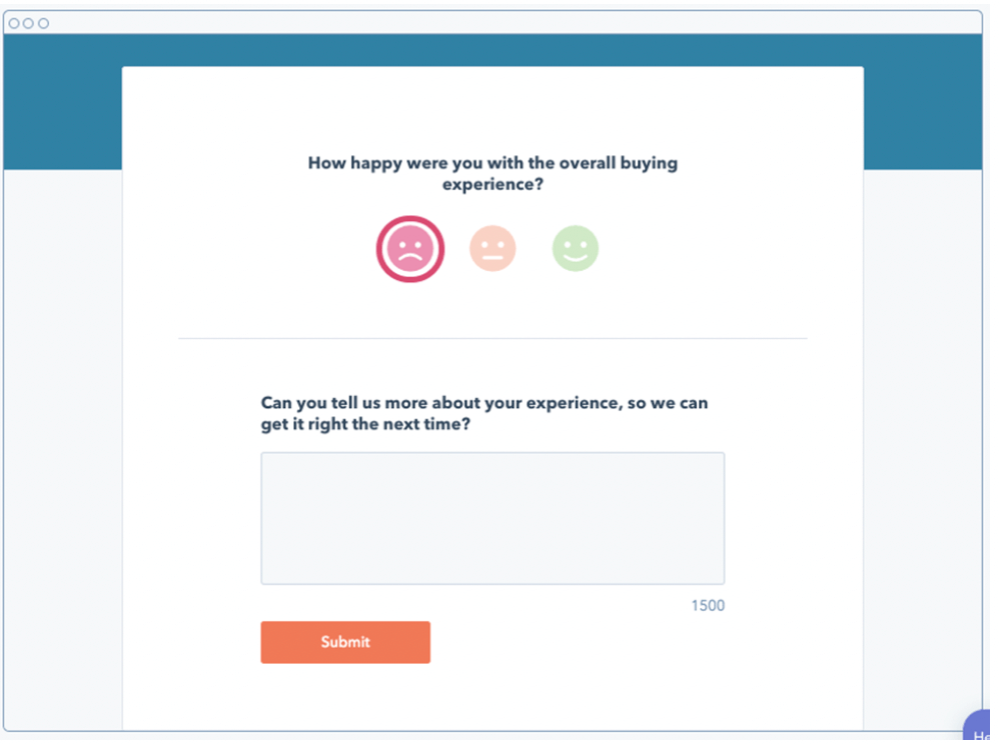 5. McDonald's
McDonald's is a fast-food chain that serves millions of customers every day globally. What can be noted is how relevant they keep their surveys. The feedback survey sent to a customer will display the receipt of the order so that the reviews are as accurate as possible.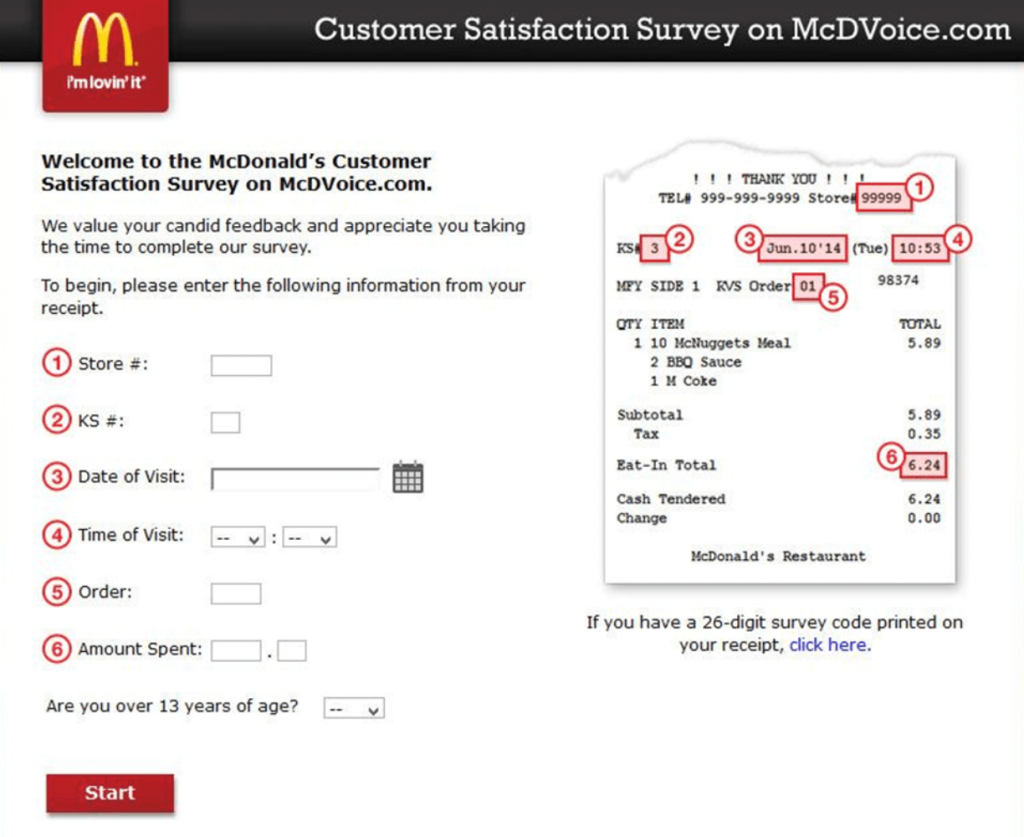 6. Paytm
Paytm is one of the applications that always listens to what the customers are saying. Their customer feedback survey is based on a numbered score that delivers a quick resolution. This gives the customers the opportunity to report glitches personally. The customers receive an acknowledgment and are informed when the bug gets fixed.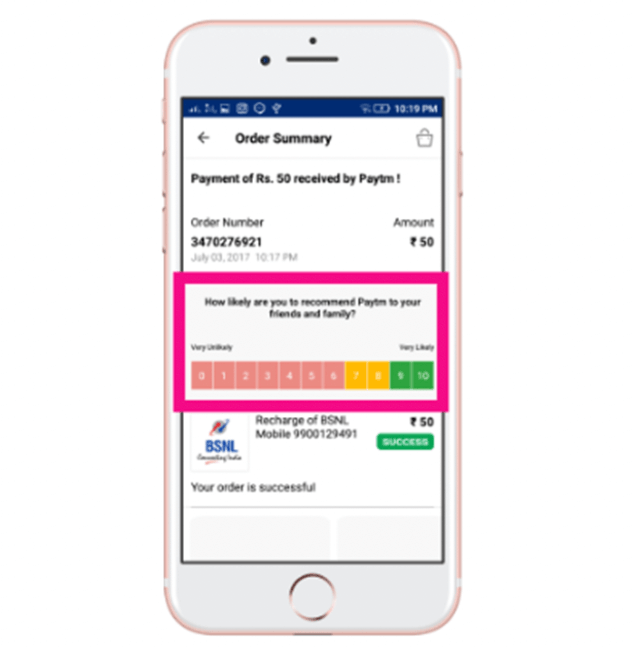 7. Drift
Drift has a Net Promoter Score survey to collect customer feedback. Being a vital metric to gauge customer satisfaction in SaaS, the only question asked is the customer's likeliness to recommend their services.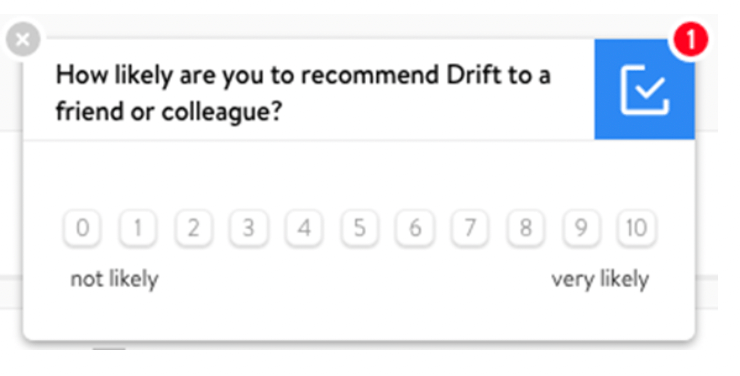 Refer to the Experts: Customer Feedback Survey Templates
Here are a few more customer feedback survey templates which involve.me created. This will give you a few more alternatives to choose from. These templates are completely customizable: add questions specific to your domain, change the background, add GIFs to make it more fun, customize the buttons - do anything you want.
Get Started with Online Surveys
With One Of Our 200+ Templates
Wrapping Up
A deep dive into what your customers think of your business is pivotal towards business growth. Customer feedback surveys are an excellent instrument to clean information. It can assist businesses to test their performance and course-correct. When you understand the brand perception of your customers, you can amp up your quality control and customer service!
Now it's time to start creating engaging surveys. Try involve.me now --> It's Free!