Have you ever wondered why your competitors have way more reviews than you?
Definitely not because their customers love them more, or just happen to be extremely vocal and public about their praise. Your competitors simply managed to automate the process of collecting and filtering reviews from their customers.
Do the same to stay in the race.
Just like your competitors, you can also ask your customer base questions to learn how much they like you, filter out your biggest fans and invite them to leave a review on a platform of your choice. Using a dedicated funnel for this purpose may be your best shot at scaling up review generation.
Here is how you can create a customer review funnel:
What Is a Review Funnel?
A review funnel is a system or process that helps businesses collect and manage customer feedback automatically. A review funnel is often referred as "automated review generation funnel".
The goal of a review funnel is to gather as much constructive feedback as possible to both improve online reputation and the product or services. Here is an example of the customer review funnel:
How Different Businesses Use Review Funnels?
Let's take a closer look at how different businesses use review funnels to drive customer engagement and improve their online reputation. Some examples of how a review funnel might be used:
A restaurant might set up a feedback form on its website and ask customers to rate their experience and provide comments. The restaurant could then review the responses and use the feedback to improve the menu, service, or ambiance.

An online retailer might send out surveys to customers after they make a purchase. The retailer could then use the feedback to improve the product selection, website design, or shipping processes.

A software company might use social media channels to ask customers for feedback on its products. The company could then review the responses and use the feedback to improve the user experience and fix bugs.
How Can You Benefit from Review Funnels?
Every business needs some social proof to attract potential customers. But why do you need to build a funnel for that if you can ask your customer directly?
There are actually some hidden benefits to review funnels:
Handle Negative Feedback Before It's Published As a Negative Review
It is difficult to completely avoid negative online reviews, especially when you invite thousands of users to rate your product. You can get one star due to different expectations your customers might have or even simple human error.
With a funnel, you can actually filter negative and positive reviews. To do that, you need to identify the sentiment of each review first.
For instance, if your customer gives your one star out of ten, you'd definitely want to hear their opinion, but not publicly. So, you'd invite your unhappy customers to share their feedback directly with you. In case of customers who give 8, 9, or 10 stars, you can ask them nicely to give you feedback on one of the review sites like Capterra, Trustpilot, Angie's List etc.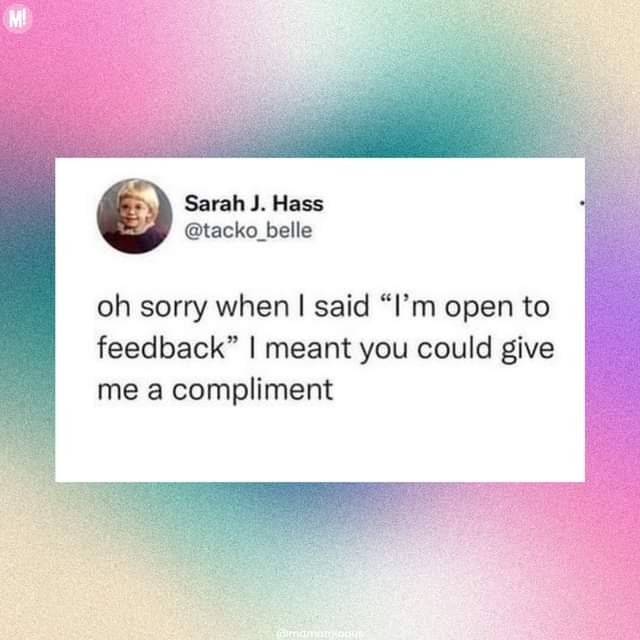 Not all review platforms allow you to remove negative reviews so easily. For instance, if you get a negative review on G2, you'd have to "report a concern", wait for the G2 team to review your request and then prove why the points in the review are not valid. In many cases, reviews may not be removed so easily, even if they are negative and hurt your business.
To avoid the hustle, test various methods to filter your customers and only ask your satisfied customers for public reviews.
Build a Better Product Roadmap
Heated discussions with the product team behind closed doors might not be an effective way to improve a product roadmap.
Building a desired product requires constant communication with your...unhappy customers!
Review funnels can be a valuable source of customer insights, as they allow you to see what customers like and dislike about your product or service. This can help you identify product/service areas for improvement.
Strike While the Iron is Hot
Asking for feedback requires your customers to spend a bit of their precious time and many will not bother spending it on giving you feedback. That's why you need to find the right timing to ask for feedback and make it as convenient as possible. Automated review funnels allow you to plan exactly the time when customers get asked for feedback. This way you can choose the perfect timing which makes most sense and can potentially increase feedback collection rates.
Additionally, automating review collection can help you if you have a large customer base. With a funnel you can put your feedback collection on auto-fly mode and collect all responses in an organized way into one place. Meaning, you and your staff will not have to waste their time sending and filtering all requests manually.
Nurture Customer Relationships
By systematically collecting and responding to customer feedback, you can show your customers that their opinions matter to you and that you are committed to improving your products and services based on their feedback. This customer centricity is a sure way in itself to getting plenty of positive reviews.
How to Create an Effective Customer Review Funnel?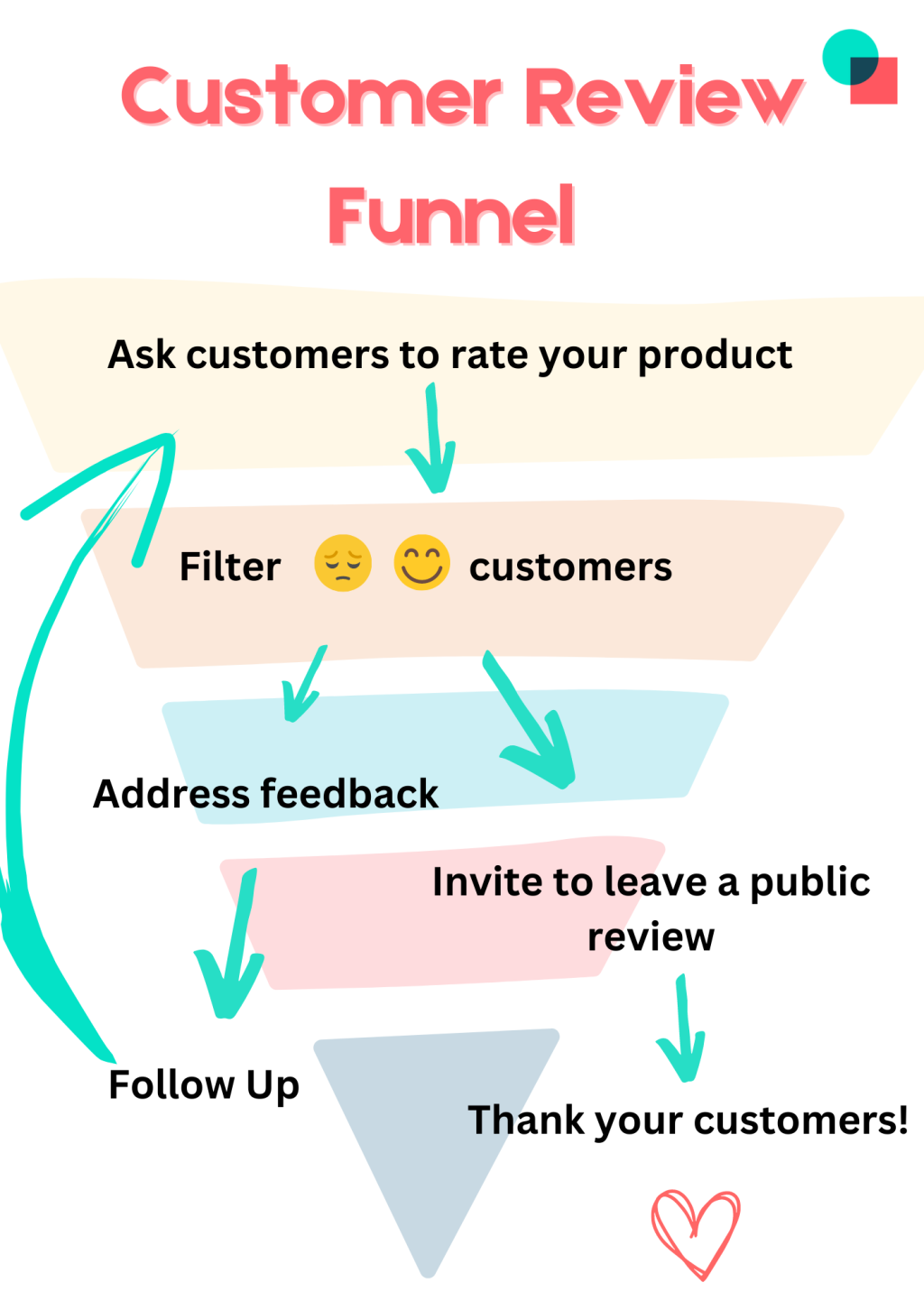 The method of collecting feedback will, of course, depend on your business. Here are some ideas on how to build your very first review collection funnel:
1. Create a Survey, Then Embed on Your Website or Share It Via Email
Gather and filter reviews using a survey that you can share via email or embed on your website.
I created this one with involve.me in less than 10 minutes:
Here is a step-by-step guide on how to build and embed a funnel survey on your website:
Use these templates to create your own survey:
Get Started with Review Funnel Templates
200+ Mobile Friendly Templates
2. Use Social Media Automation Tools
You can use social media automation tools to schedule and post requests for reviews on your social media accounts. These tools often allow you to schedule posts in advance and target specific audiences based on demographics or interests.
3. Engage with Customers with the Help of Chatbots
You can use chatbots to send customers survey questions or prompts asking for their feedback on specific aspects of your products or services. These surveys can be integrated into your chatbot's conversation flow and can be triggered based on specific actions or interactions with the chatbot.
Chatbots can be configured to collect feedback from customers in real-time, as they are interacting with the chatbot. This can be useful for gathering more immediate or spontaneous feedback from customers.
4. Let Customer Support Ask For Feedback
Talk to your customers when they are most likely to be satisfied with your products or services and have the most positive experience. This could be immediately after a purchase or after a customer service interaction. Include review requests in customer service processes such as follow-up emails or SMS messages after your customers have received the help they need.
How to Respond to Reviews?
Addressing feedback and responding to reviews demonstrates that you value your customers' opinions. Whether you have a negative, positive, or neutral review, make sure to reply to it in a positive and helpful manner:
Neutral Feedback
A 3-star rating might hurt, especially when not too many details were given.
Unclear public reviews should also be addressed.
To reply to such a review, start by acknowledging the customer's experience and the points they raised in their review (if there are any) and offer your assistance in case of any concerns.
Positive Feedback
Mention specific aspects of the customer's experience that they appreciated or enjoyed, as this helps personalize the response and show that you are paying attention to their feedback. Consider sharing the review on company's social media to showcase positive customer experiences.
Here is how involve.me team responds to feedback: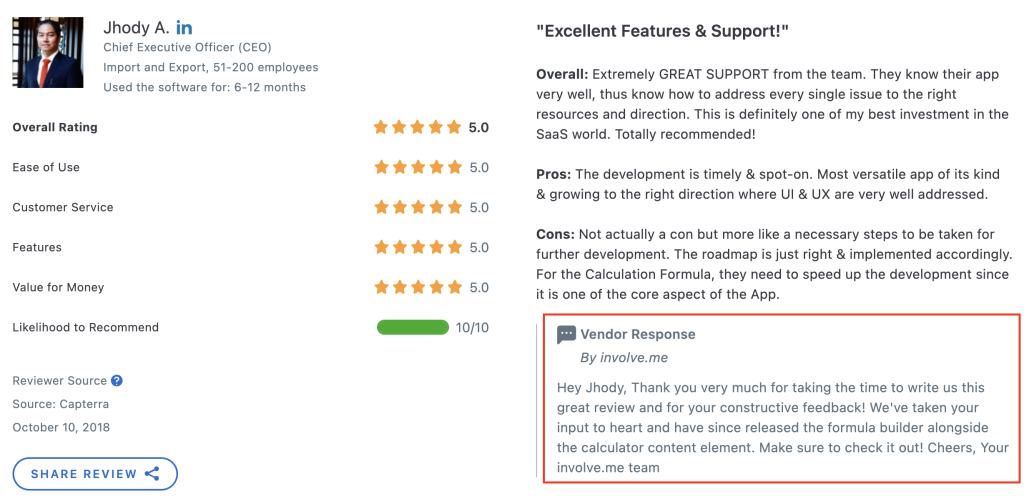 Negative Feedback
The customer is always right, especially when they go public with their feedback.
Here is an example of counterproductive communication when addressing customer's feedback* ( found this one while looking for a hotel):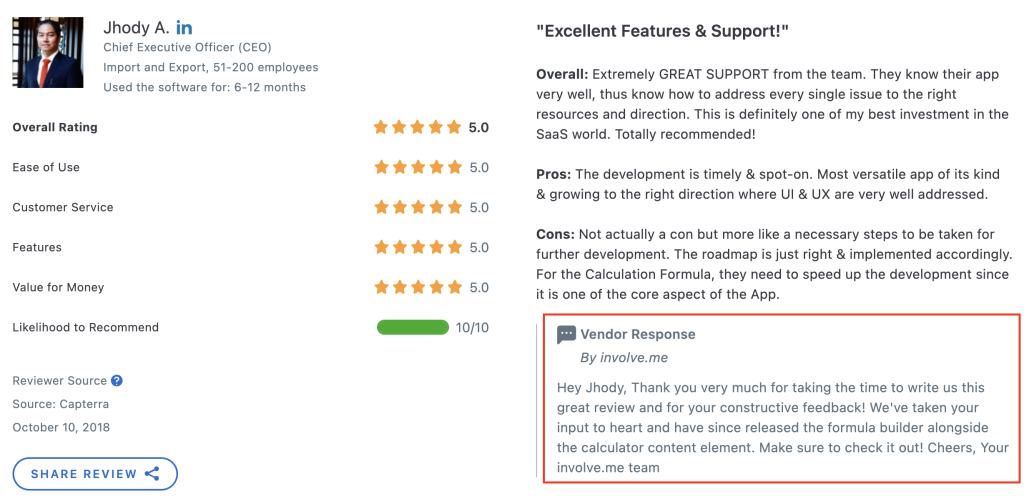 Acknowledge that the customer had a negative experience and apologize for any inconvenience or frustration they may have experienced. Provide a clear and concise explanation for what happened and offer a solution or compensation to the customer to help resolve the issue and improve their experience.
After responding to the review publicly, follow up with the customer privately to address any further concerns they may have and to see if there is anything else you can do to resolve the issue.
* Fun fact: I discovered this hotel with exceptionally negative reviews over a year ago. Obviously I didn't stay there, yet for some reason I remembered the owner's inability to address negative feedback publicly.
Handling negative feedback is an art and when done right, it can actually turn into an opportunity for business growth. We have a detailed article to help you master the art of turning a negative review to something positive for your business.
Final Thoughts
If you also spend quite some time reading online reviews before buying the product, welcome to the club of 93% consumers.
You can never have "too many customer reviews". And the good thing is that there is a way to streamline the process of getting more online reviews by building the funnels like in the examples above. Create a review funnel, test it and use the gathered data to improve it further. A well-crafted review funnel will help you get better, delight customers with your approach to handling their concerns and will make sure that positive reviews outweigh the negative ones out-there. All that without begging and bribing! Amazing, no? ;)
So let's get started. Just choose a template and get your review collection funnel up and running.
Get Started with Review Funnel Templates
200+ Mobile Friendly Templates