Whether you're targeting millennials, retailers, or increasing your brand presence, surviving in the ecommerce space is not easy. You have to stand out from the rest, and there are a number of strategies you can use to achieve this.
And if you're using WooCommerce, you're already on the right path.
WooCommerce is an open-source e-commerce solution that is quickly becoming one of the most popular online store builders. It's free to use, fun to set up, and is widely supported with a massive blogging community behind it.
However, you still need some tips and tricks to scale up your WooCommerce and boost sales.
Tips and Tricks to Boost WooCommerce Sales
1. Offer Coupons
You need a coupon code system for your WooCommerce store. A coupon code system will help you attract more customers that otherwise wouldn't have shopped with you due to the fact that they can get a deal.
And if you have a coupon code system, it'll also mean your customers are getting discounts which will keep loyal traffic on your site and generate repeat business.
Coupons spread the word about your WooCommerce store. And since the deal can be customized, it is an excellent opportunity to leverage the data from your past promotions and come up with an irresistible offer.
You can also control the impact, validity duration, and target customers. There are WooCommerce coupon plugins like Smart Coupons that let you create attractive coupons.
As per stats, online coupon users spend 24% more as compared to regular shoppers.
Consider Adding Discounts to Lead Forms As Biko Did: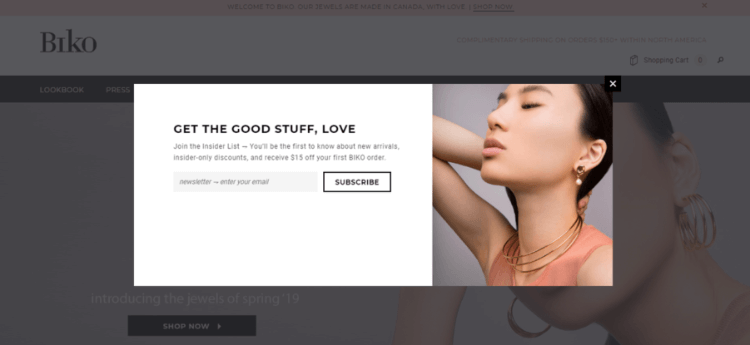 Or you can use limited-time offers, use creative visuals, and create customer reward programs. And ensure that you use different distribution channels.
2. Quizzes and Surveys
Quizzes drive engagement, improve search engine rankings, promote your service, gather data about your audience, reduce cost per lead, grow your email list, and ultimately drive sales.
Brands like Sephora are doing a great job at it. It has a page called Quizzes & Buying Guides where they show many quizzes, including skincare quiz, mascara quiz, and lip quiz. Visitors take these quizzes and get relevant product recommendations.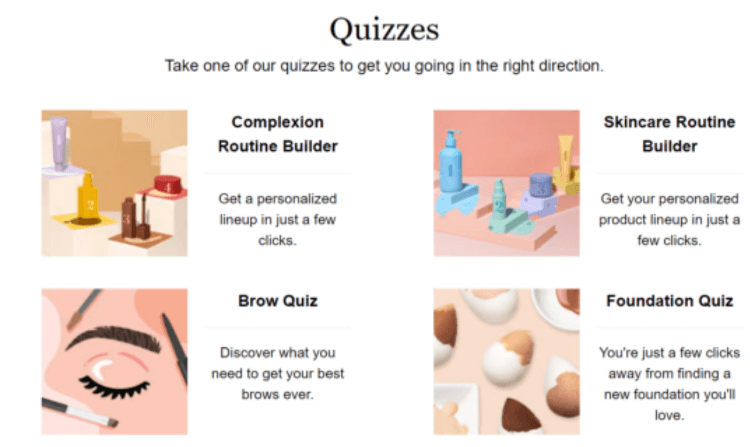 Surveys, on the other hand, help you increase sales by letting you find areas for improvement and know your positive areas.
What's more, it helps you build awareness about your offerings, understand your customers better, get feedback from staff, and make better business decisions.
Here's an example of an e-commerce survey from the ASOS brand.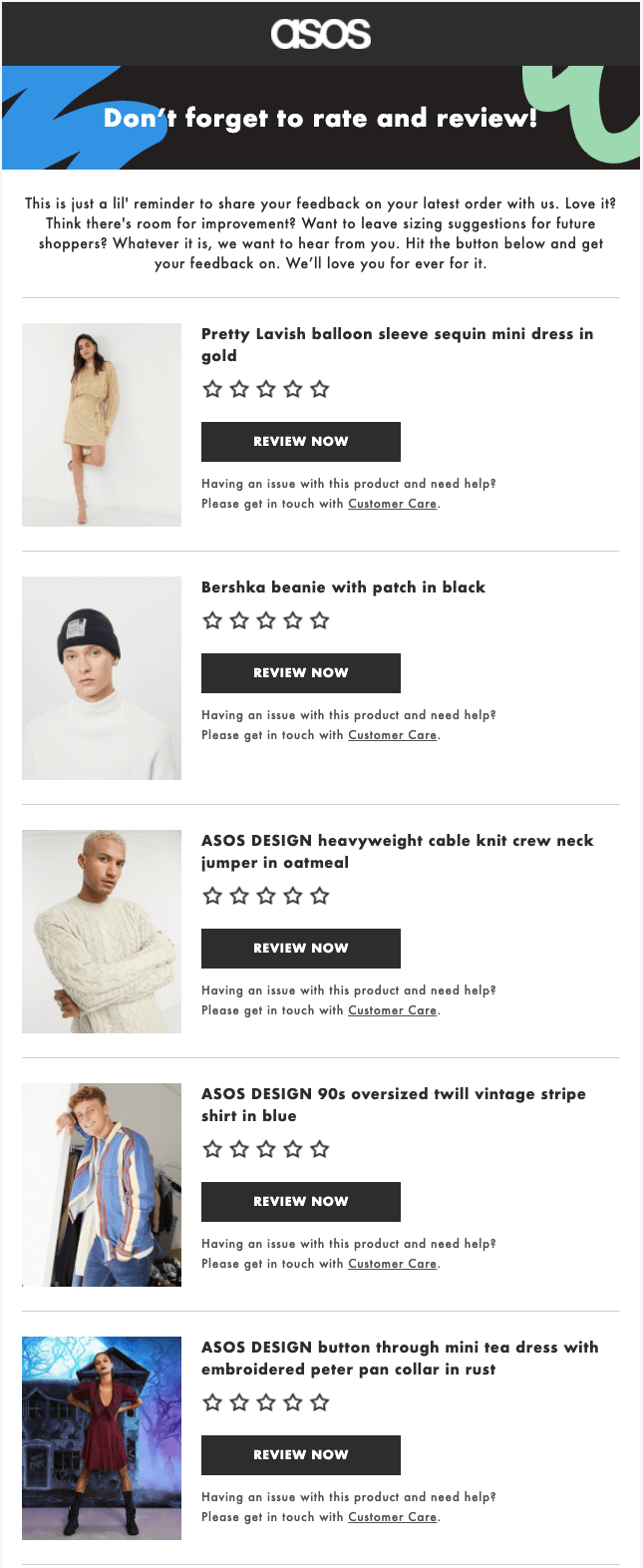 They ask for a star rating and encourage their buyers to leave feedback by giving them a few examples of the type of feedback they could provide.
3. Leverage Commercial Holidays
The festive season is the perfect time to start thinking about increasing your ecommerce sales, or building on your current performance for this year.
People are motivated to purchase more because of the wide variety of special offers, good pricing, and festive vibes which are the part and parcel of holidays.
Naturally, commercial holidays are sales events that see massive sales activities. As per stats, holiday sales crossed the trillion-dollar mark for the first time in 2019.
Black Friday and Cyber Monday events are already a staple of WooCommerce marketers. However, other events such as the Singles Day that falls in November can increase your sales.
Exposing top-selling product as Amazon does is a great way to leverage commercial holidays:
Other Excellent Tips to Boost Sales During Commercial Holidays Include:
Giving out exciting offers for first-time buyers.

Retargeting your existing customers.

Including countdown for offers, giving your site a festive look.

Offering free shipping and easy return.

Building a customer base prior to sale season.
And more.
4. Flash Sales
Flash sales, also called the deal of the day, can increase lead conversion, improve brand visibility, boost loyal customers, sell products that are not in demand, and boost revenue.
This technique works as flash sales play upon the sense of urgency. Buyers can actually see the number of available stock going down. Couple it with a visible ticking timer, and flash sales will increase sales.
Consider promoting flash sales via social media, push notifications, or email newsletters. You will see increased traffic on the categories added in the flash sales.
Here is how MAC Cosmetics nailed their promotional email.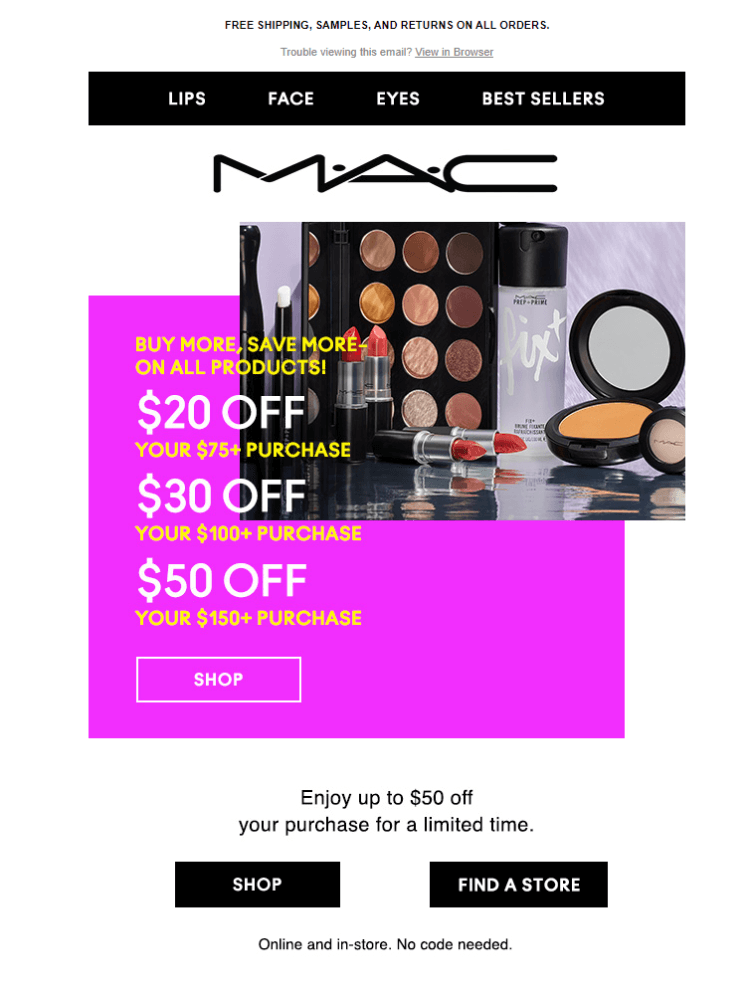 In their short and sweet email, they included the discount amount and stated that the offer is valid for a limited time. The CTA "Shop" entices shoppers to click and view the items that are in discount.
5. Make Your Products Easy to Find
If you let your visitors scour through pages to reach your product page, then you will probably lose them halfway.
See that the product page of your WooCommerce store is easy to access. Plus, the checkout process should be quick and easy too. Ensure to incorporate features such as filters, menu elements, price sort, and so on.
For that, you need to install good themes that already have these features. However, if your theme does not have all the necessary features, you can always use a plugin.
Plugins like the YITH WooCommerce Essentials kit are a good choice. It comes with added features for ajax search, product comparison, product filters, product image zoom, quick view, wishlist, shop infinite scroll, product add-ons, catalog mode, and more.
Besides easily finding products, it should be easy for your prospect to actually buy them. WooCommerce comes with straightforward buy buttons. However, to streamline the process even more, you can use plugins such as Checkout X and WooCommerce Direct Checkout.
Also, don't forget to allow share to reach new customers and experience increased conversions.
Consider WordPress design and development services to help you with the design process.
Wrap-Up
WooCommerce is one of the most popular platforms for creating e-commerce websites. However, you still need some strategies in your arsenal to be able to garner traction and sales.
Increasing your e commerce sale is no easy task. You have put most of your money into advertising, SEO, PPC, Facebook, Twitter, and a lot more.
However, best way to boost sales is through organic methods. That's why this article talked about some of the easiest ways to increase your WooCommerce sales.
Start Now With Lead Generation Quizzes
200+ Editable Drag & Drop Templates
Author
Lucy is a creative content writer and strategist at Marketing Digest. She specializes in writing about digital marketing, technology, entrepreneurship, and education. When she is not writing or editing, she spends time reading books, cooking and traveling.